Airbnb Exceeds Pre-Pandemic Revenue Levels With US$6.0 Billion For 2021
The world of travel is changing. This is what the Q4 and 2021 financial results of Airbnb (Nasdaq: ABNB) have reflected, ending the year with annual revenue of US$5.99 billion. The revenue for the year – claimed as the "best year" in the firm's history – is a jump from 2020's US$3.38 billion and more importantly, exceeds the pre-pandemic 2019 revenue of US$4.81 billion.
"What our results show is that we've been able to respond to this changing world of travel," said CEO Brian Chesky in the earnings call on Tuesday. "And we've been able to respond to these changes because our model is inherently adaptable."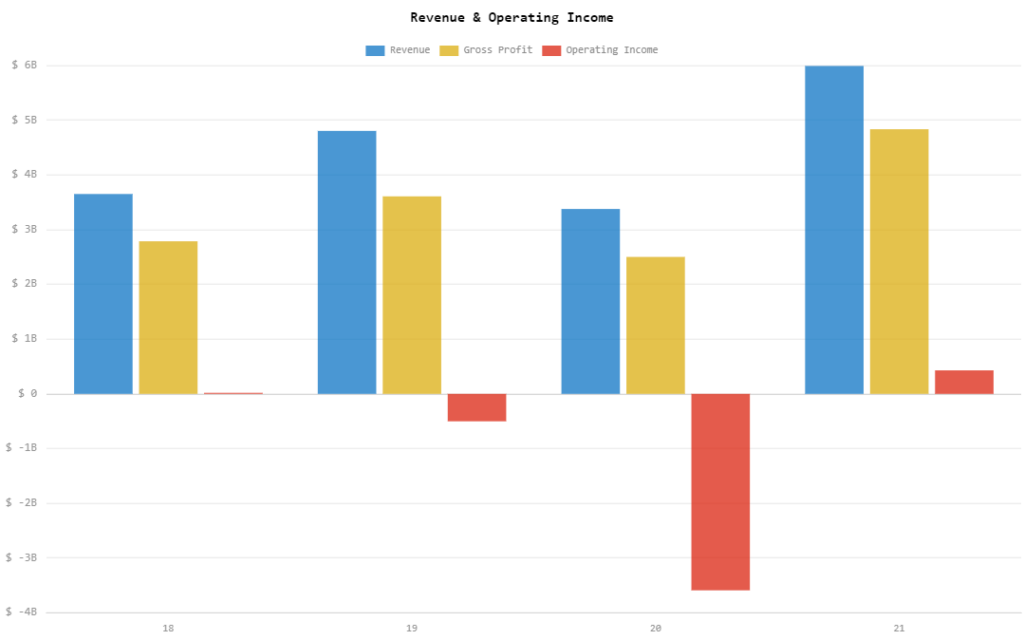 In the company's letter to its shareholders, it was announced that the recorded gross booking value for 2021 came in at US$46.9 billion, which is an increase of 96% and 23% over 2020 and 2019 counterparts, respectively. The lodging platform also recorded its first positive annual operating income since 2019, ending the year with US$429.2 million versus an operating loss of US$3.59 billion in 2020.
While the firm ended with a net loss of US$352 million for the year, it is an improvement both on the 2020 and 2019 losses of US$4.6 billion and US$674 million, respectively.
In Q4 2021, the company earned US$1.53 billion in revenue, down from Q3 2021's US$2.24 billion but up from Q4 2020's US$859.3 million. This also beat the quarterly revenue guidance of US$1.46 billion.
Despite the emergence of the Omicron variant in the tail-end of 2021, the firm recorded a gross booking value of US$11.3 billion for the quarter, also beating its pre-pandemic numbers. The increase is mainly attributed to higher bookings combined with higher average booking rates.
"Adjusted EBITDA in Q4 2021 of $333 million was our highest Q4 ever, increasing significantly from losses in both Q4 2020 and Q4 2019," the company said in its shareholder letter. The quarterly number also beat the guidance of US$286 million.
Looking forward, the firm anticipates its Q1 2022 revenue to be US$1.41 – US$1.46 billion. It also expects to earn its first Q1 positive adjusted EBITDA quarter during the three-month period.
The hospitality sharing giant noted trends in the travel industry that contributed to its 2021 performance including an increase in non-urban bookings, growth of the urban bookings closer to its pre-pandemic state, and a surge of long-term bookings plus a decrease in cancellations. The company also noted a 15% increase in average trip length, with over 7-day stays now comprising half of its gross bookings. This led the firm to conclude that "guests aren't just traveling on Airbnb—they're living on Airbnb."
In the earnings call, Chesky reiterated that he will "follow [in] the footsteps of [Airbnb's] community," as he plans to live in its listings moving forward. The chief officer plans to stay in a different town or city every couple of weeks.
For 2022, Chesky said the firm's focus is to "accelerate [its] pace of innovation," which includes incorporating the insight of guests living in Airbnb listings into their strategy. He also mentioned that the company has worked on simplifying its application for potential hosts of listings and the guest experience, aiming to "unlock the next generation of hosts" and make Airbnb "the ultimate host."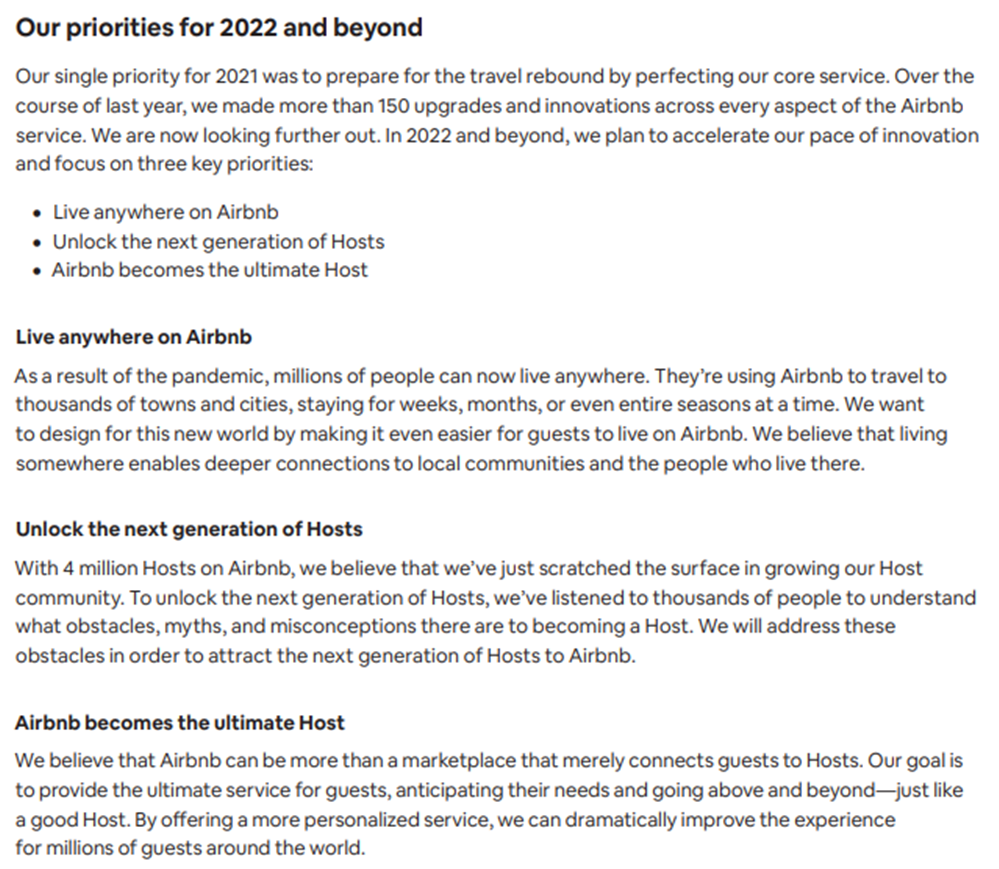 The company touted that it has introduced around 150 upgrades in the past year, including a more flexible search process for guests that allows choices of date ranges up to 12 months and nearly 30 categories of unique stays.
After the announcement of the financial results on Tuesday, the firm's shares rose by 6.14% on the day and reached as high as US$194.43 after the markets close.
But beyond the shareholder earnings, the company is potentially creating wealth for investment firms amid the changes in travel demand. According to a The Wall Street Journal article, a number of institutional investment firms have plans to purchase vacation homes and list them on the platform. New York-based Saluda Grade is earmarking US$500 million to buy homes in a joint venture with rental firm AvantStay, while Chilean firm WEG Capital plans to invest US$80 million in properties.
Airbnb last traded at US$180.07 on the Nasdaq, up 6.14% on the day.
---
Information for this briefing was found via the companies mentioned. The author has no securities or affiliations related to this organization. Not a recommendation to buy or sell. Always do additional research and consult a professional before purchasing a security. The author holds no licenses.