Alberta Reelects Danielle Smith But Party Seats Declined
Alberta voted and the United Conservative Party (UCP) is keeping the provincial leadership for the second term, with Premier Danielle Smith still at the top.
Elections Alberta had counted only 1.1 million votes out of 2.8 million eligible voters by the time the UCP was announcing a majority victory shortly after 11 p.m. The UCP led in 50 ridings, while the NDP led in 37, relegating Rachel Notley's New Democrats to the opposition benches.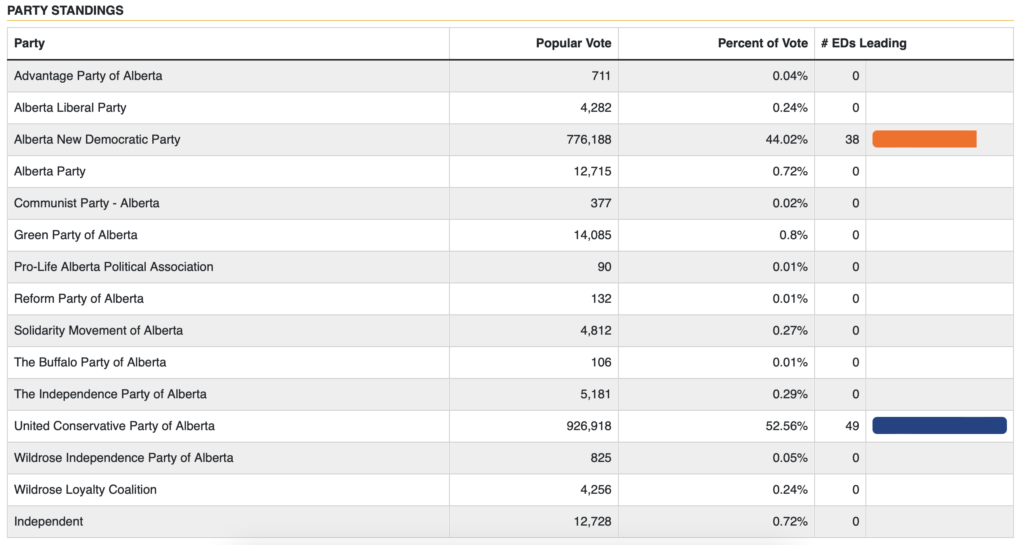 As of this morning, around 1.76 million votes have been counted out of the 2.84 million registered voters.
The UCP will be weakened under Smith after winning 63 seats under Jason Kenney in 2019. Following the defeats of several cabinet ministers, notably Kaycee Madu in Edmonton South-West, Jason Copping in Calgary-Varsity, Jason Luan in Calgary-Foothills, and Nicholas Milliken in Calgary-Currie, Smith's UCP is likely to have more rural representation in cabinet than it did in its previous term.
From 63 seats, UCP was able to win 49 this election. NDP gained 15 seats more, ending with 38.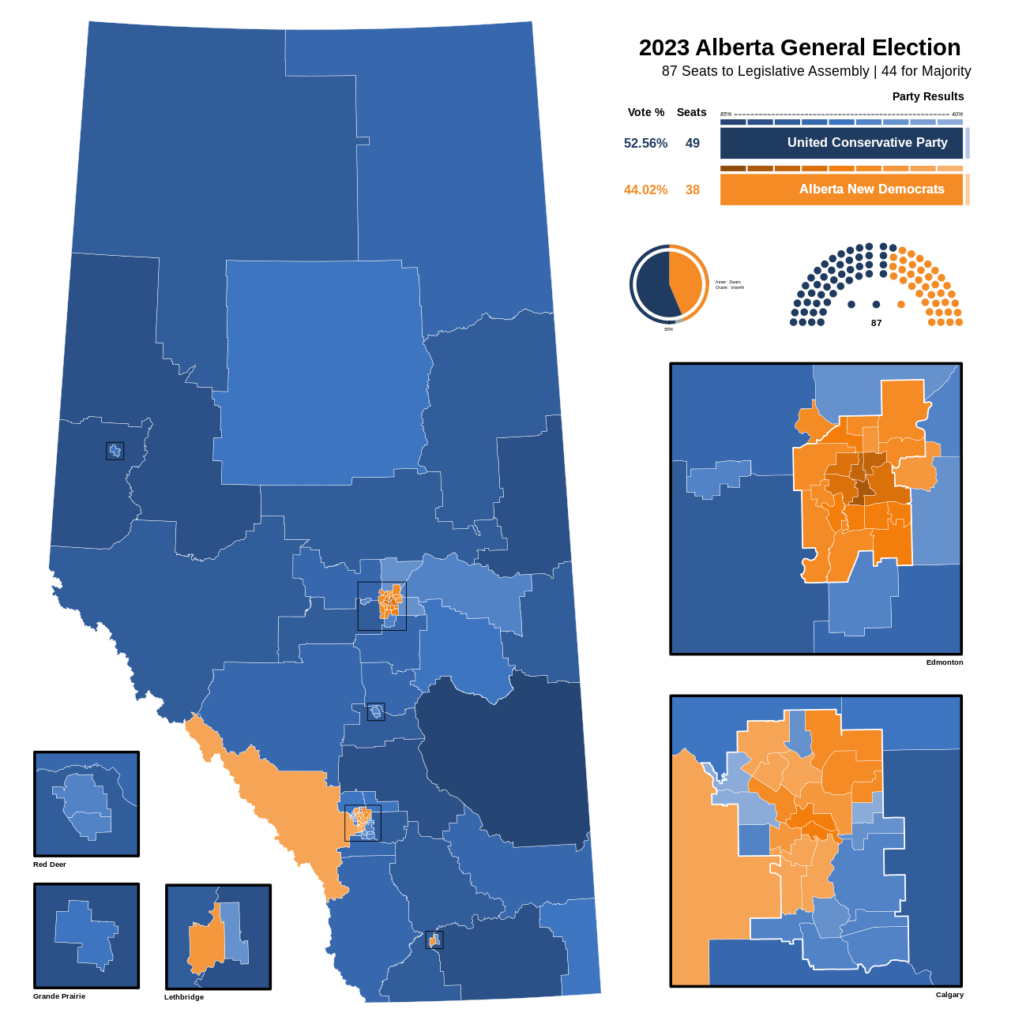 Notley, however, clinched to her seat, winning her campaign in the Edmonton-Strathcona district.
Smith, a 52-year-old former radio show host, newspaper columnist, and Wildrose leader, expected voters to care more about traditional conservative issues like the economy and a low corporate tax rate than her shifting positions, such as her public embrace of fringe ideas during the COVID-19 pandemic.
"My fellow Albertans, we need to come together no matter how we have voted to stand shoulder to shoulder against soon-to-be-announced Ottawa policies that would significantly harm our provincial economy," she said in her victory speech to supporters in Calgary.
Premier-elect Smith acknowledged the campaign was hard-fought by a well-funded and coordinated NDP, and committed to serve all Albertans, regardless of how they voted.
"It is time to put partisanship division and personal and political attacks in the rearview mirror," she said. "I won't be perfect. Of course, we all know that. But when I make a mistake, I will listen, correct course and learn from it so that I can improve and become a better leader."
Days prior to the election, a report by the ethics commissioner in Alberta pulled focus into Smith's alleged interference with Crown Prosecutors and conflicts of interest pertaining cases arising from Albertans who protested in Coutts.
Ethics Commissioner Marguerite Trussler concluded that Smith didn't breach any conflict of interest in the now infamous leaked tape call between the Premier and Artur Pawlowski, the leader of the Solidarity Movement Party who was facing criminal charges in relation to the Coutts blockade. She also said that there was no evidence that "that the Premier ever spoke to any Crown Prosecutor."
However, Trussler did find it appropriate when Smith called up Minister of Justice Tyler Shandro following her call with Pawlowski.
"She wanted him to make it go away, although she did not direct him to do so. She was concerned about a press conference that Mr. Pawlowski said he was going to have and how bad the optics would be for the Party," Trussler found in her investigation.
The ethics commissioner described the call as "not acceptable" as Smith is the sole person–through her position–that could clearly exert influence over the Attorney General and can have him removed. While Shandro reiterated the independence of the Crown Prosecutors, Trussler concluded that "there was an improper attempt to influence the independence of the legal system" on Smith's part.
"In my opinion, Premier Smith contravened s.3 of the Conflicts of Interest Act in her interaction with the Minister of Justice and Attorney General in relation to the criminal charges Mr. Pawlowski was facing," the commissioner said.
Prime Minister Justin Trudeau congratulated Smith and the UCP for their victory in Alberta, adding that he looks forward "to continuing to work with Premier Smith and the provincial government to deliver results for Albertans," including continuing to position Alberta as a leader in clean energy.
In her victory speech, Smith said she wants Trudeau to postpone the implementation of new planned regulations on natural gas energy generation as well as a ceiling on oil and gas emissions.
"As premier I cannot under any circumstances allow these contemplated federal policies to be inflicted upon Albertans – I simply can't and I won't," said Smith.
Climate is one area where Smith and Trudeau are expected to clash. The premier has slammed the Liberal government's "Sustainable Jobs Plan," which aims to transition Canada's economy away from fossil fuels and toward renewable energy while ensuring oil and gas workers are trained for future jobs.
Smith has lobbied for Alberta to be excused from the plan, claiming that it violates Alberta's freedom to develop its own natural resources and manage its workforce.
Smith has also questioned Ottawa's carbon price and its target of reducing emissions by 40 to 45 percent below 2005 levels by the end of this decade, as well as achieving a net-zero energy grid by 2035.
Notley, on the other hand, took responsibility for the loss, but vowed to stay on as Opposition leader.
"Our values will be represented in the legislature, we will have a say in the future of this great province, we will continue to speak up on behalf of Albertans who struggle to have their voice heard," said Notley, adding even though the party didn't win, it saw unprecedented growth. "We will be your voice when this government refuses to listen."
---
Information for this story was found via Edmonton Journal, CBC, Elections Alberta, and the sources mentioned. The author has no securities or affiliations related to the organizations discussed. Not a recommendation to buy or sell. Always do additional research and consult a professional before purchasing a security. The author holds no licenses.