CFTC: Sam Bankman-Fried Designed Alameda With Unlimited Credit Line To FTX Deposits
At one point, FTX reallocated Alameda's approximately $8 billion in liabilities to a customer account that the former FTX chief would later refer to as "our Korean friend's account."
US Commodity Futures Trading Commission joined the growing list of authorities going after the former FTX chief Sam Bankman-Fried related to the scheme he allegedly ran that cause the downfall of the bankrupt crypto exchange. The commission suggested that the sister trading firm Alameda Research had a covert speed advantage when processing orders on FTX.
The CFTC filed a complaint on Tuesday against Bankman-Fried with the Southern District Court of New York, the same time that the Securities and Exchange Commission also filed charges against the FTX founder.
"At Bankman-Fried's direction, FTX executives created features in the underlying code for FTX that allowed Alameda to maintain an essentially unlimited line of credit on FTX. FTX Trading executives also created other exceptions to FTX's standard processes that allowed Alameda to have an unfair advantage when transacting on the platform, including quicker execution times and an exemption from the platform's distinctive auto-liquidation risk management process," the commission said in its filing.
While most or all other customers who accessed the FTX platform via an application programming interface (API) "had their transaction orders routed through the FTX system," Alameda was able to bypass certain elements of the system and acquire speedier access to the API, according to the suit.
"Alameda's transaction orders were received several milliseconds faster than those of other API users," the CFTC said. "In the high-frequency trading sector, this is a significant time advantage."
According to the lawsuit, the attributes of Alameda's account at FTX also allowed the trading business to circumvent automated measures such as checking available money before conducting a trade.
The CFTC alleged that if other FTX customers "placed several orders at once, these checks occurred in sequential order, so that each transaction could be confirmed as viable," this did not apply to the Alameda account.
Most of what the commission laid out in its complaint are similar to the SEC fraud charge, which also alleged that FTX essentially gave Alameda a "carte blanche to use FTX customer assets for its own trading operations."
Alameda did not segregate these customer funds, but instead commingled them with its other assets, and used them indiscriminately to fund its trading operations and Bankman-Fried's other ventures, said the commission. Alameda was not also required to pay interest on the multi-billion-dollar liability reflected by this internal FTX account.
SEC also described that the FTX platform, by design, "granted special treatment to Alameda" that allowed it to easily divert FTX customer assets to the hedge fund. Bankman-Fried directed software code to be written in or around August 2019, and updated in or around May 2020, that ultimately allowed Alameda to maintain a negative balance in its account, untethered from any collateral requirements.
Also, on multiple occasions, Bankman-Fried directed FTX to increase the amount by which Alameda could maintain a negative balance in its account, giving the firm an unofficial "line of credit." He also directed that Alameda be exempted from the "auto-liquidation" feature of FTX's spot margin trading services. This essentially allowed the hedge fund to "fall below the requisite margin levels" without triggering a liquidation.
"All of these special privileges were afforded to Alameda—and only Alameda—at Bankman-Fried's direction, and all were hidden from investors," the SEC said. These were not disclosed to FTX investors, the commission added.
At one point, the CFTC complaint described how FTX redirected Alameda's liability of around $8 billion to a customer account that Bankman-Fried would later refer to as "our Korean friend's account." The commission said this is technically a sub-account of Alameda, but "it was not opened under an '@alameda-research.com' identifier and was not otherwise readily identifiable as being an Alameda-associated account." The result: the liability will no longer be reflected on FTX's ledger on Alameda.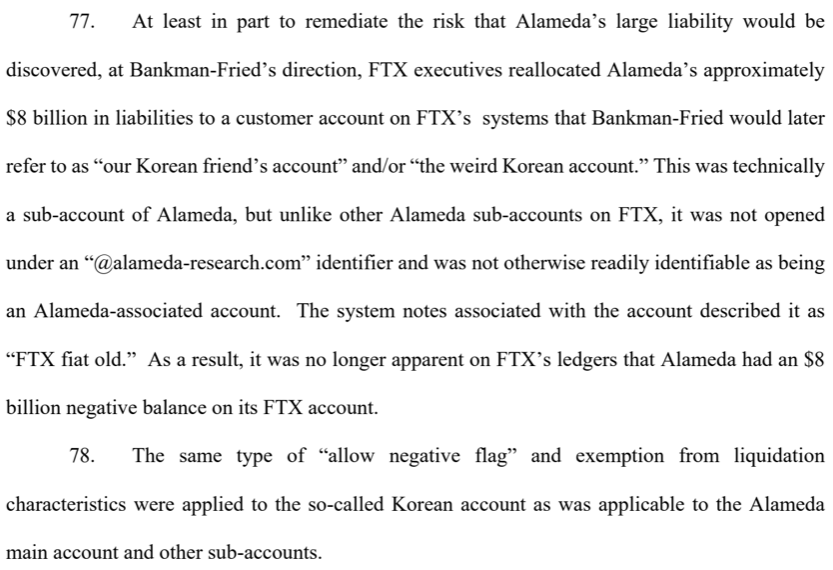 CFTC further claimed that the FTX implosion "had a significant, observable negative impact on digital commodity markets."
"For example, between the release of the November 2 Coindesk article and the November 9 announcement that Binance declined to acquire FTX Trading, the price of bitcoin futures fell more than 23%, to two-year low prices," the complaint read.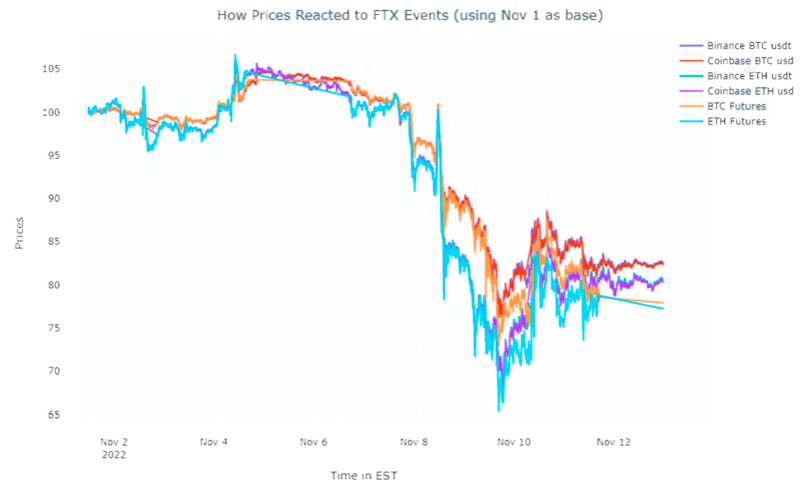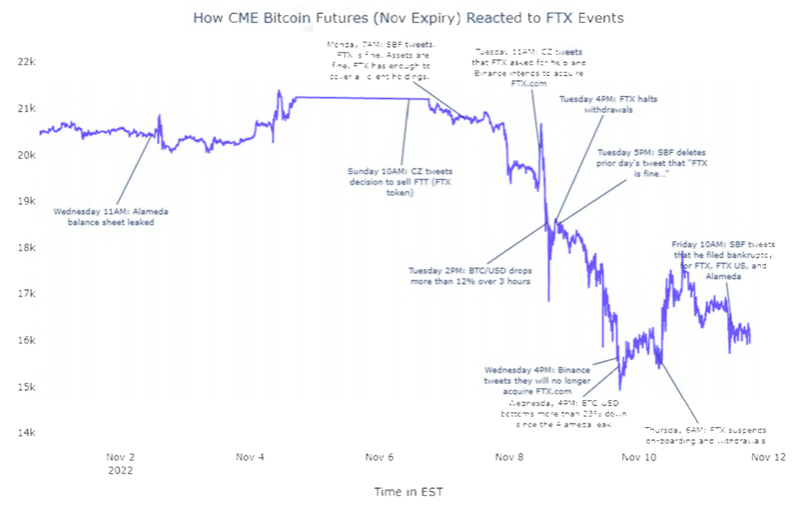 The commission is charging Bankman-Fried, FTX, and Alameda with two counts of fraud, requesting the court to bar the defendants from trading and to compel them to make each customer whole with full restitution.
---
Information for this briefing was found via Bloomberg and the sources mentioned. The author has no securities or affiliations related to this organization. Not a recommendation to buy or sell. Always do additional research and consult a professional before purchasing a security. The author holds no licenses.