Chrystia Freeland's Fall Budget Unveils Over $30B in New Spending Measures to Tackle Inflation Pressures
The Liberal government unveiled a series of new spending measures alongside the promise to balance the budget within five years time.
Finance Minister Chrystia Freeland on Thursday announced a series of new fiscal support initiatives aimed at alleviating the rising cost of living for low-income Canadians and post-secondary students. According to the Fall Economic Statement, Canada's budget deficit is projected to hit $36.4 billion for fiscal 2022, which is substantially below the $52.8 billion initially forecast during the last federal budget unveiled back in spring, largely due to surging inflation, lower spending, and higher corporate profits.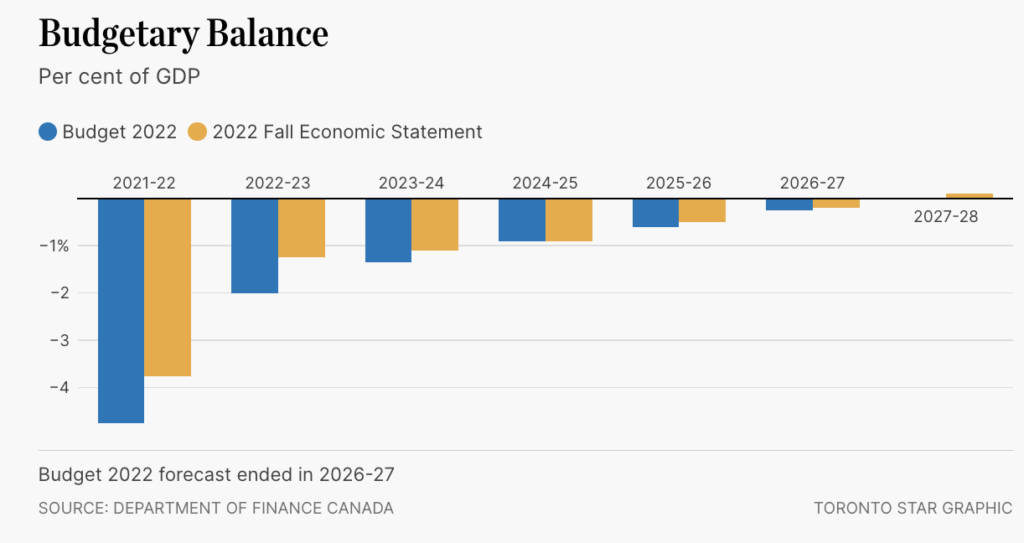 Freeland announced three new initiatives, along with reiterating previously-announced measures, against a growing divergence to cut back government spending whilst provide financial relief for at-risk Canadians struggling with rising borrowing costs and soaring inflation. "We are providing targeted inflation relief because that is the right thing to do, but we cannot support every single Canadian in the way we did with emergency measures at the height of the pandemic," Freeland explained. "To do so would force the Bank of Canada to raise interest rates even higher. It would make life more expensive, for everyone, for longer."
First and foremost, the Liberals announced that all federally-funded student loans will become permanently interest-free, including those loans currently in repayment. The move is expected to cost Ottawa about $2.7 billion over five years, and then another $556.3 million each year following the initial five-year period. Freeland also proposed expediting the Canada Workers Benefit to recipients that qualified in the prior year, which will ultimately cost the government $4 billion. "The CWB would provide up to $1,428 for single workers or up to $2,461 for a family this spring through the existing tax return payment, and then new advance payments for 2023 across three quarterly advance payments starting in July," the economic statement read.
The Liberals also plan to overhaul the Payment Card Networks Act and negotiate lower credit card transaction fees for small businesses, warning credit card companies they will need to find a solution before the end of next year. "Should the industry not come to an agreed solution in the months to come, the government will move forward with these draft legislative proposals in the New Year and move forward on regulating credit card transaction fees," the government warned.
The Federal government also reiterated previous fiscal promises including doubling the GST credit for 11 million Canadians, ultimately resulting in $2.48 billion new spending charges. In addition, the Liberals also plan to go ahead with topping up the Canada Housing Benefit to $500 for families earning below $35,000 or single individuals making less than $20,000 annually, ultimately costing Ottawa about $1.16 billion in the current fiscal year. Freeland also touched base on upcoming legislation to bring into effect the Canada Dental Benefit. "For those without dental coverage and with an annual family income under $90,000 per year, the Canada Dental Benefit will provide payments of up to $650 per year, over the next two years," the Economic Statement read.
"We think we need to strike a balance today between, on the one hand, being fiscally responsible, keeping our powder dry … and on the other hand, being compassionate, providing support to those people who need it," Freeland explained to reporters.
Information for this briefing was found via the Government of Canada. The author has no securities or affiliations related to this organization. Not a recommendation to buy or sell. Always do additional research and consult a professional before purchasing a security. The author holds no licenses.