Coinbase Widens Net Loss In Q2 2022 At US$1.09 Billion, Bloats Asset Size Five Times By Assuming Liability Of Customers' Assets
Coinbase Global (Nasdaq: COIN) reported its Q2 2022 financials, toplined by a quarterly net revenue of US$802.6 million. This is a decline from Q1 2022's US$1.16 billion and Q2 2021's US$2.03 billion, as well as misses the consensus estimate of US$854 million.
But for Coinbase, this is just yet another part of the cycle, asserting the company remaining "bullish as ever on the future of this technology."
"We have long advocated that the best way to evaluate Coinbase through these early years of
this nascent industry, is through the same lens we evaluate crypto — over a price cycle," the company said in its letter to shareholders.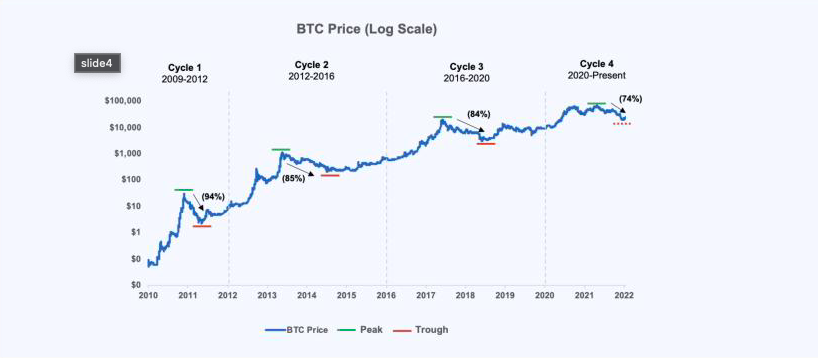 The firm also believes the cooled down crypto market would "create financial headwinds," pointing to the firm's 44% year-over-year growth in subscription and services revenues. Breaking down the topline revenue figure, subscription and services contributed US$147.7 million while transactions made up the remaining US$655.2 million. These figures compare to last quarter's US$151.9 million and US$1.01 billion, and US$102.6 million and US$1.93 billion, respectively.
However, Coinbase argues again that the quarter's performance should be viewed within the context of the so-called crypto price cycles.
"When applying constant crypto asset prices for Q2 and Q1, Subscription and services revenue would have been up approximately 29% in Q2 compared to Q1," the company noted.

Further down, with operating expenses totaling US$1.85 billion–larger than revenue–the firm recorded a US$1.24 billion operating loss. This compares to a loss of US$609.4 million last quarter and an income of US$868.9 million last year.
The firm said that, as part of streamlining its cost structure, it has reduced its workforce by 18% in June–or roughly 1,092 jobs to end at its current 4,977 headcount. For comparison, the firm's workforce last quarter ended at 4,948 employees.
The quarter then ended with a net loss of US$1.09 billion, down from the previous quarter's loss of US$429.7 million and year-ago period's income of US$1.61 billion. The bottomline figure translates to US$4.98 loss per diluted share.
The firm also ended the quarter with US$5.68 billion in cash and cash equivalents, consisting of US$2.77 billion in money market funds, US$2.74 billion in corporate cash, and US$169 million in corporate cash held in third party venues. Including its position in stablecoin USDC and accounting for so-called custodial account overfunding (which functions as receivables from "transaction fees that have been paid but not yet been transferred into a corporate bank account – since crypto trades 24/7 and banks are not open 24/7"), the firm said it has US$6.15 billion in total dollar liquidity.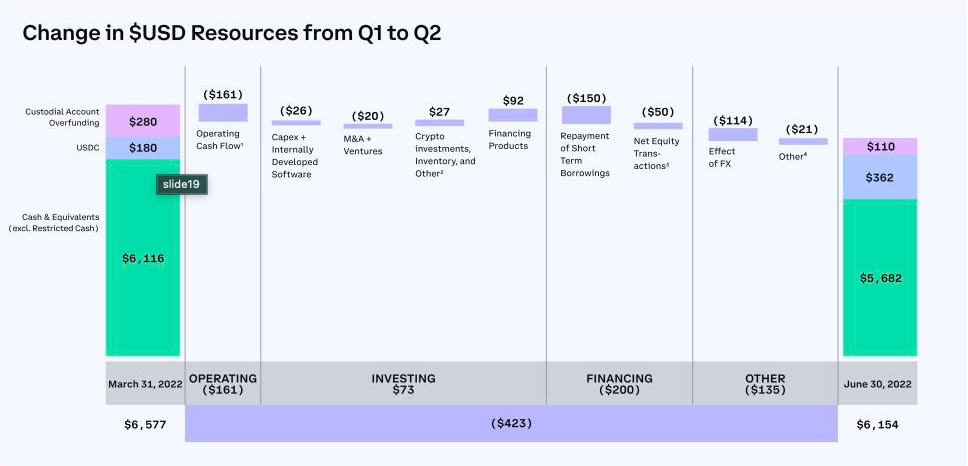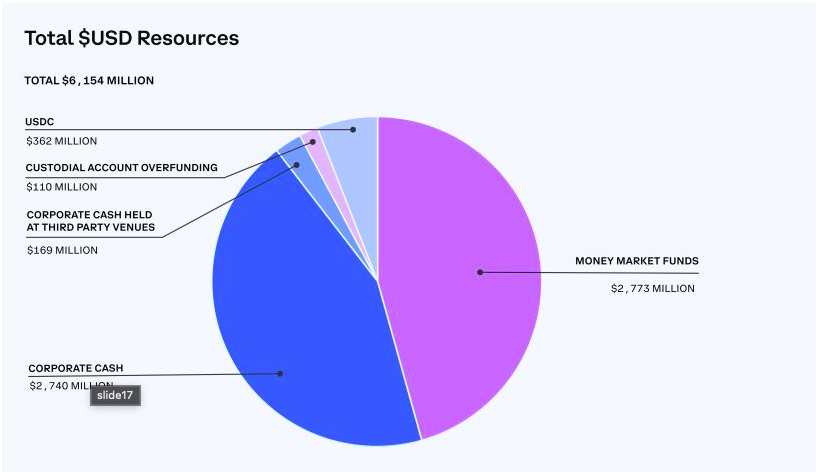 Also noteworthy in the company's financials this quarter is the huge jump of its total assets to US$105.47 billion from last quarter's US$20.90 billion. This is due to the firm's decision to start recognizing the "obligation to safeguard customers' crypto assets in digital wallets" on its platform. The assumed "customer crypto liability" and the "corresponding crypto assets" amounted to US$88.45 billion at fair value.
Currently, assets on the firm's platform are valued at US$96 billion, down from last quarter's US$256 billion and last year's US$180 billion.
Looking at Q3 2022, the firm's outlook includes seeing its monthly transacting users to be lower than Q2 2022's 9.0 million, which declined to 8.0 million in July 2022 alone. The number is also expected to remain within the 7.0 – 9.0 million range for the full year.
Coinbase Global last traded at US$92.37 on the Nasdaq.
---
Information for this briefing was found via Edgar and the sources mentioned. The author has no securities or affiliations related to the organizations discussed. Not a recommendation to buy or sell. Always do additional research and consult a professional before purchasing a security. The author holds no licenses.