The Investment Thesis
We can break the investment thesis for AgraFlora Organics (CSE: AGRA) into the following key points:
AgraFlora has a large diversified plan to be a leader in global cannabis production. Coupled with best in class growing expertise from the Houwelings Group.
The restrictions on branding in Canada will reward the operators with top growing expertise and the best ability to produce product at scale.
Based on company estimates, by the end of 2020, AgraFlora will be a leader for all LPs in terms of greenhouse square footage.
The company has a much smaller market capitalization than companies with similar growing capacity in Canada.
AgraFlora has joint ventures in Greece that will begin to pave the way for production and distribution into the European Union.
About Agraflora Organics
Within the US cannabis marketplace, branding is key. Due to much heavier branding laws in the legal cannabis sector in Canada, branding is simply unable to play such a prominent role. The Canadian equivalent in terms of measures of success is something much more simplified and easier to analyze: cultivation space.
The measure of a companies cultivation space within the Canadian market reveals much about a company. First and foremost, it represents potential revenues on a per gram basis. With fairly standard pricing across the country, its easy to determine a rough estimate of annual earnings for a licensed producer dealing largely in dry flower.
However, other aspects of the operation can also be measured from this data. For instance, market position and thus market share is a large factor in this equation. The more market share a company has, the better positioned it is to acquire a better price for its product.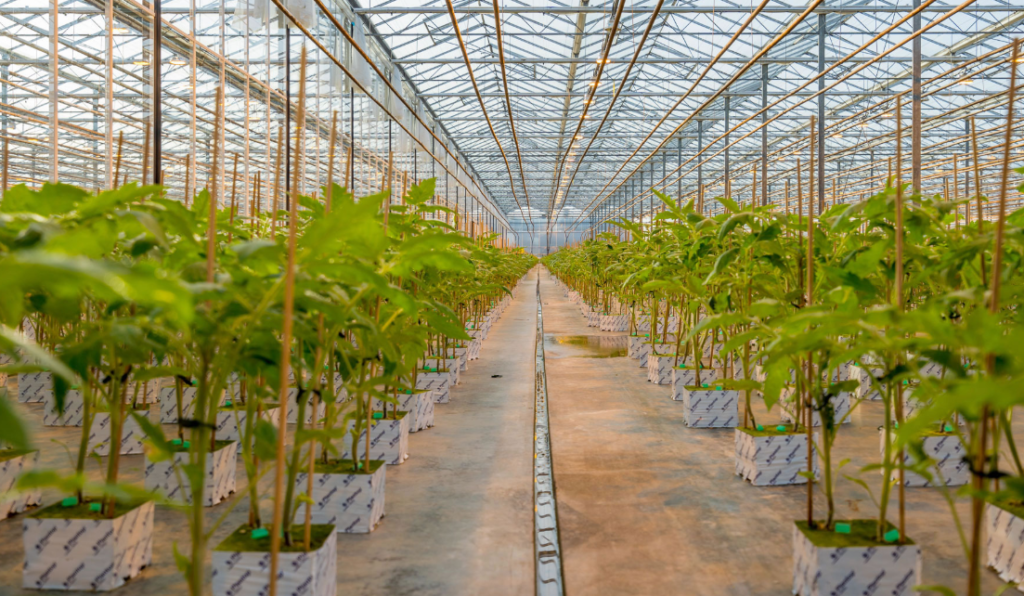 In this respect, one company that has gone relatively unnoticed by the market is that of Agraflora Organics. With a cultivation license through its wholly owned subsidiary in Ontario and a joint venture underway in British Columbia, it will have one of the largest cultivation footprints within Canada upon the completion of the fully funded expansion.
Agraflora Organics Operations
In terms of operations, Agraflora currently has two facilities for the purpose of cannabis production. The first, AAA Heidelberg, is a 100% owned entity that recently received its cultivation license. The second, a joint venture in Delta, BC with Houweling's Group, will be 40% owned by Agraflora upon completion.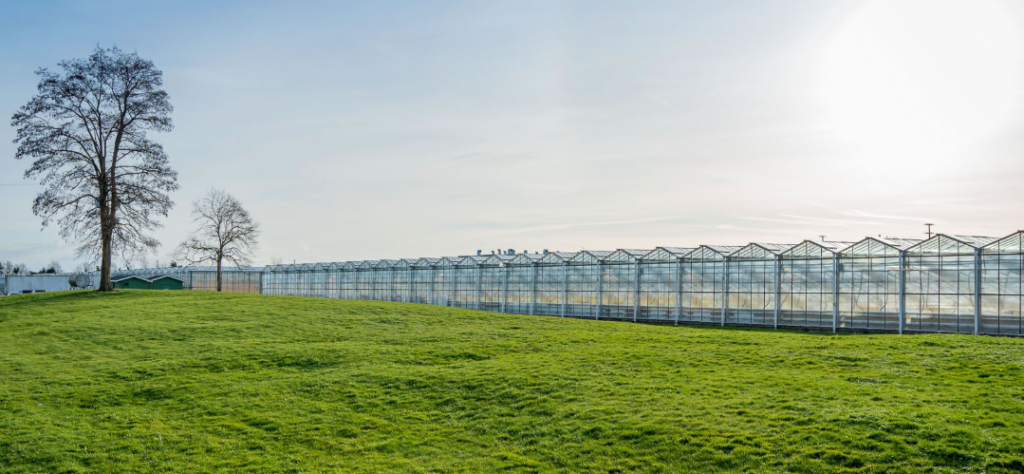 AAA Heidelberg
Agraflora's dealings with AAA Heidelberg began back in 2015, when the firm entered into an agreement under which Agraflora received the right to acquire AAA upon the receipt of a cultivation license with Health Canada. Prior to the execution of this right on December 15, the company owned 54.49% of the firm.
AAA Heidelberg, which received its license to cultivate cannabis on October 15, 2018, is an 8,800 square foot facility based in London, Ontario. It is currently in the process of acquiring its sales license, with its growers being supervised by employees of Canopy Growth as it conducts its first grows.
Delta, BC
When it comes to sizeable greenhouses, Agraflora has the jump on the majority of other operators. When fully completed, only one facility within the country will be larger than the Delta, BC greenhouse currently being retrofitted. At a total 2,200,000 square feet, only Canopy Growth's Smith Falls location will be larger in stature.
With projections of annual cannabis production pegged at 250,000 KG at this single facility, Agraflora Organics is expecting substantial revenues from its BC operations.
The facility, part of a joint venture known as Propagation Services Canada, is expected to have its first phase completed this summer, which will be a total of 250,000 square feet. From here, the company expects the entire facility to see completion by the end of 2020.
The joint venture itself will be 50% owned by Agraflora upon completion, meaning that the firm will be privy to 50% of the cannabis produced at the facility – roughly 125,000 KG per year in total. Outside of Agraflora's ownership, 30% will be owned by the Houwelings Group, and 20% by Delta Organics Cannabis Corp.
The Houwelings Group, for those that are unaware, is a BC based vegetable grower that has been in operation since the 1950's, which has now increased its footprint to California and Utah. The facility under which Propagation Services Canada will be located is owned by this group, and is in the process of being converted from growing tomato' to that of cannabis.
Agraflora currently has a contract in place with Namaste Technologies' Cannmart for the purchase of up to 25,000 KG, or 10% of the annual harvest at the Delta, BC location. Pricing has been locked in at a rate of $4.00 per gram, which translates to $100mm annually at full capacity.
AgraFlora Organics Investments
Empower Clinics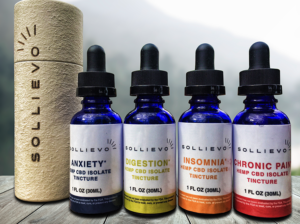 Empower is a leading owner/operator of a network of physician-staffed clinics focused on helping patients improve and protect their health through innovative uses of medical cannabis. It is expected that Empower's proprietary product line "Sollievo" will offer patients a variety of delivery methods of doctor recommended cannabidiol (CBD) based product options in its clinics, online and at major retailers. With over 120,000 patients, an expanding clinic footprint, a focus on new technologies, including tele-medicine, and an expanded product development strategy, Empower is undertaking new growth initiatives to be positioned as a vertically integrated, diverse, market-leading service provider for complex patient requirements in 2019 and beyond.
"AgraFlora committed $1 million as a lead strategic investor in the recent financing by Empower Clinics Inc. as we continue to expand our footprint through strategic partnerships and co-operation in the global cannabis sector,"

Derek Ivany, President & CEO
Glow
Glow is a private company founded by Relay and AgraFlora in December 2018 to pursue technology opportunities in the global cannabis sector. The newly formed entity combines Relay's technocommercial leadership with AgraFlora's accumulated knowledge, expertise and access to cannabis industries across the sector. Glow will benefit from Relay's infrastructure, technical leadership and business knowledge for the research, vetting, product development and validation of innovative technologies and AgraFlora will support the Company in the pursuit of technology opportunities in scientific validation, diagnostics, health & safety, screening, compliance and quality control/assurance within the cannabis industry.
"With the market place opening and the stigma around cannabis use fading, consumers are looking for guidance as to how to safely and confidently evaluate the potential benefits of cannabis products for both recreational and medical use… The mandate of Glow LifeTech is to develop and support innovation in the cannabis sector to give consumers, producers and the industry at large, access to solutions to elevate industry standards and encourage responsible use. The Smart Consumption System is a great first step in addressing this initiative."

Derek Ivany, President & CEO
Nature's Hemp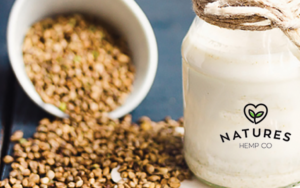 Nature's Hemp is a biotechnology and consumer products company focused on unlocking the true value of hemp and developing a new generation of plant-based, nutrient rich cannabidiol (CBD) food, beverage and healthcare related products. It is establishing its own farms to produce high quality organic hemp plants and using a proprietary extraction technology to produce legal hemp fibers and CBD extract. It is also launching a premium brand of quality CBD products with an emphasis on health and wellness.
ICC International Cannabis
Through a joint venture announced April 9, 2019, AgraFlora has 1,000,000 shares of ICC International. This company has operating assets and is developing a worldclass platform for cultivation, extraction, formulation and distribution across the globe in the United Kingdom, Denmark, Poland, Switzerland, Germany, Macedonia, Bulgaria, Serbia, Croatia, Greece, Italy, Portugal, Malta, Colombia, Argentina, Australia, South Africa and Lesotho.

A Joint Venture In Greece: AgraLeaf
AgraFlora and Liberty Leaf Holdings announced on April 3, 2019, they are entering Greece through a joint venture. The two companies formed a jointly owned Greek company named AgraLeaf SA. AgraFlora and Liberty Leaf will own an equal equity stake in AgraLeaf. They have established a team in Greece consisting of personnel with expertise in commercial horticulture, government affairs, legal and finance.

"We have assembled an experienced local management team in Greece and I am confident they possess the skillsets necessary to ensure our success. I look forward to working with Will and the team at Liberty Leaf as we advance this significant opportunity to the mutual benefit of all stakeholders."

Derek Ivany, President & CEO
A Joint Venture with Blox Labs
On January 7, 2019 the company announced they are working towards a definitive agreement on a joint venture with Blox Labs.
Derek has built an impressive management and operations team for AgraFlora and its large-scale greenhouse complex in Delta, BC and we will work together to do the same for the Leamington cannabis greenhouse and other projects. AgraFlora brings years of large-scale greenhouse experience to BLOX and the Leamington project and we will leverage this experience to introduce industry best practices to create the most efficient operation possible.

Jeff Zanini, CEO and Director, Blox Labs Inc
BLOX has executed a letter of intent with Best Cannabis Products Inc. to enter into a definitive agreement to acquire a 180,000 sq. ft greenhouse facility on 50 acres of land in Leamington, Ontario.
We can see a video of the facility here, in a tweet from Jeff Zanini's twitter feed:
The LOI between AgraFlora and BLOX is structured whereby AgraFlora would receive up to 19.99% ownership, subject to the satisfaction of certain milestones, in BLOX or the "Newco" upon closing of the arrangement.
Compelling Valuation Relative to Peers
In a press release from March 20, 2019, the company showed their estimated 2020 growing capacity relative to similar comparables in Canada: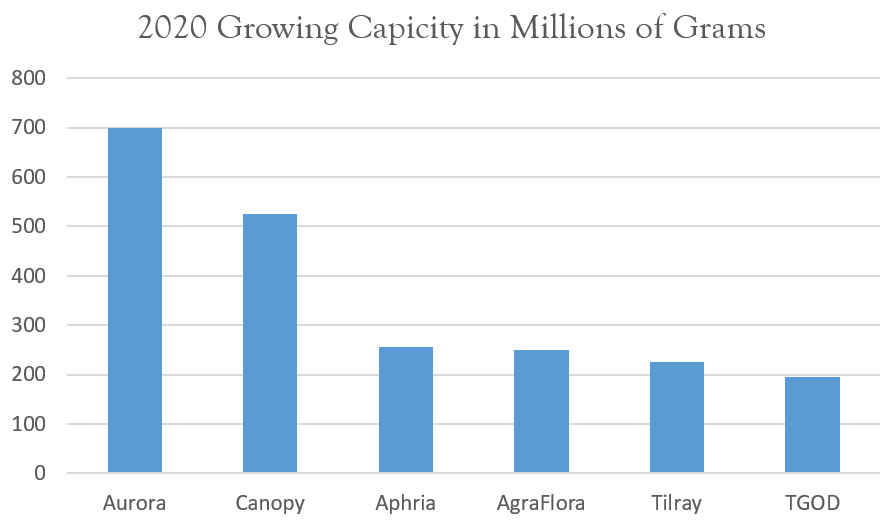 Then when we compare the market caps of these comparables we get the following chart: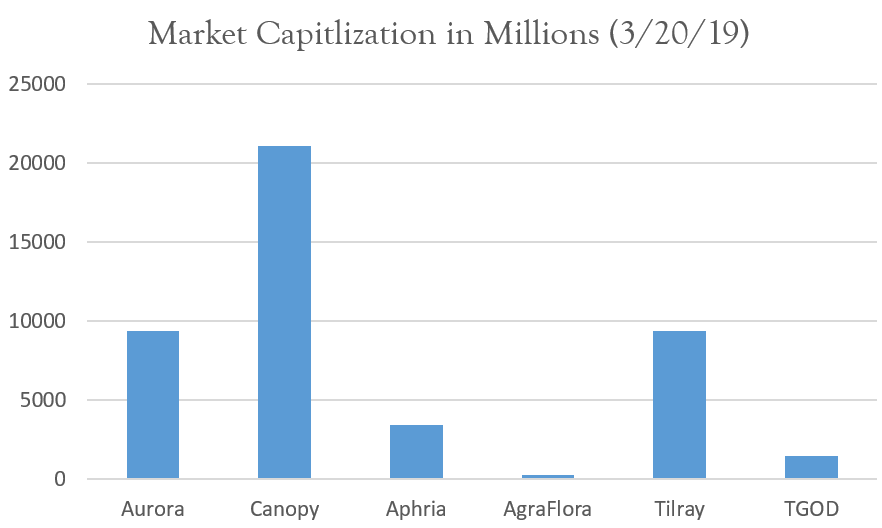 The Share Structure of Agraflora
The share structure of Agraflora Organics is rather straight forward compared to that of many entities within the sector. As it currently stands, 450,803,056 shares are outstanding. This is including the recent financing tranches that occurred in relation to the Propagation Services Canada joint venture.
Outside of these shares, there are also 37,837,500 options outstanding as of March 22, 2019. The last dispersion of these were at $0.55 and provide a potential source of income for the firm in the near term upon being exercised.
Conclusion
AgraFlora is part of the second group of LPs who went public and is relatively unknown amongst many investors. They have acquired or set up joint ventures in some of the most desired locations to produce cannabis in Canada. They have valuable strain IP in Colombia and have set up a joint venture to enter the medical cannabis market in the European Union. Lastly, they are relatively undervalued to Canadian peers in terms of expected green house square footage and market capitalization.
FULL DISCLOSURE: AgraFlora Organics is a client of Canacom Group, the parent company of The Deep Dive. The author has been paid for this work and may or may not own shares of the company. Not a recommendation to buy or sell. Always do additional research and consult a professional before purchasing a security.