The Investment Thesis
The Investment thesis for Tinley Beverage Co (CSE: TNY) (OTCMKTS: TNYBF) can be broken down into the following key points:
The beverage market is currently a non-existent segment of the overall cannabis market due to availability and quality of product.
Tinley Beverages has created a drink with quick onset, great taste (early proof of concept), and large distribution in the largest cannabis market in the world.
The President is a former Coca-Cola and Alcohol distribution executive who understands how to build distribution and brands for any beverage market.
Tinley has a prudent strategy to buildout the largest distribution network for cannabis beverages in the largest cannabis market in the world (California).
If Cannabis beverages gain traction, and achieve a 10% share of the overall market, Tinley will be positioned to have the largest distribution in the segment in a potential $10B+ market ($1B+ @ 10%, California only).
The company has maintained a tight share structure despite early struggles and is now positioned with appropriate capital to execute on their strategy. Resulting in a small share count, with capital requirements (less dilution) than a typical Multi-State Operator.
Overall, the investment thesis for Tinley is based on products and distribution being established in the largest cannabis market in the world should the segment ever take off. While cannabis infused beverages are currently a small portion of the overall market, the segment is expected to grow rapidly as adoption takes place.
About Tinley Beverage Co
The cannabis beverage industry is a tough one to crack. While many have tried to create their own product, many have failed due to one simple reason: the solubility of THC in water. The difficulty of this challenge is apparent in many cannabis based drinks available on the Californian market.
Tinley Beverage Co, however, has taken the time and spent the money to find the best solution to the solubility problem. Their history of developing Hemplify, a CBD drink that was one of the dominant players in the new market, led them to the success they found when developing their current product iteration: THC based drinks.
Despite the difficulties of infusing cannabis into a beverage format, there is significant hope for the sector from industry analysts. A recent study conducted be Deloitte expects the segment to see annual sales in Canada of $529 million per year, while a Zenith Global study estimates that the US cannabis infused beverage sector will be worth $1.4 billion by 2024.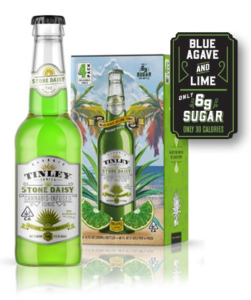 Certain entities have gone as far as to state that they believe the legal cannabis market will consist of up to 20% – 30% of cannabis beverages alone. Using a much more conservative figure of 5% of overall recreational sales, the Californian recreational cannabis market of US$1.2 billion can be estimated to have at least a $60 million cannabis beverage market. While current sales from the subsector of the industry are just beginning, now that technology has been refined there is a strong belief by many industry players that beverages will be one of the next hit items.
With their phase two facility now up and running, and California regulations finally settled, Tinley has hit the ground running with their product to capitalize on this growing market. To this end, the firm has been working to place their own fridges within retailers so as to control product placement. Their two flagship products, Stone Daisy and High Horse, have been delivered to dispensaries across the state, while their newest line known as the Tinley '27 Collection has finished production and is enroute to Tinley's sales channels.
Tinley's Beverage products
Known as Tinley Tonics, the company's flagship products consist of two ready-to-drink beverages that are alcohol free. Sold in a four pack, each beverage contains 5 mg of THC – perfect for a party. Tinley has perfected the infusion process, allowing users to feel effects in a matter of ten minutes from first consumption, which is a considerable leap ahead of edibles and other ingestibles.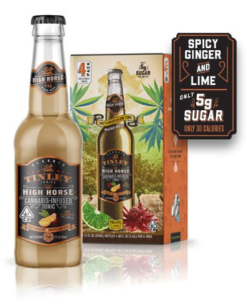 Based on two of America's favourite alcoholic beverages, the beverages, known as High Horse and Stone Daisy, closely replicate a lime margarita and a Moscow mule. Made from extracts, ethers, and spices from their alcohol-based counterparts, the drinks are alcohol and gluten free. And certified vegan, which is an added benefit within in the Californian market. Infused with Pineapple Jack sativa, the drinks contain full spectrum cannabis extract with a reduced duration, so that the consumer is not left with an eight hour long buzz.
The drinks are intended to be consumed in a setting similar to that of beverage alcohol. The difference, however, is that it's a much healthier alternative with only 30 calories per bottle – compared to a traditional margarita or Moscow mule, which can have anywhere from 182 calories to 680 calories for a similar sized beverage. And the best part? No hangover. Tinley's single serve offerings will be sold wholesale to retailers at a price of $3-4 per bottle.
Tinley '27 Collection
Recently brought to market by Tinley Beverage, the Tinley '27 Collection is the company's take on classic hard alcohol, from a cannabis infused perspective. The intent is that the three product offerings are used in place of their alcoholic counterparts.
Since Californian cannabis regulations state that there can't be references to beverage alcohol (which is why the company had to recently rebrand its product names), the '27 Collection closely resembles their alcohol-based counterparts as much as regulations allow. With a very similar taste palette, the three offerings of Coconut Cask, Almond Cask, and Cinnamon Cask closely resemble that of Coconut Rum, Amarillo, and Cinnamon Whiskey.
Sold in a multi serve bottle, each bottle contains 8.5 servings of alcohol-free, cannabis infused beverage which can then be mixed into any concoction that it's alcoholic counterpart would typically be used within. Each serving contains 10 mg of Pineapple Jack sativa, and boasts only 10 calories.
Tinley's '27 Collection multi serve offerings will be sold to retailers at a wholesale price of $15-17 per bottle.
Tinley Beverage's Co-Pack Strategy
While the company has taken the time to develop a recognizable brand name, which is rare in the current industry, they have an advantage that many others don't. The firm is very open to co-packing arrangements, which will enable production lines to run continuously while the demand curve increases for its own products.
To this end, the company has a management team that is primed with experience in this regard. Many executives, including CEO Jeff Maser, Director Ted Zittell, and many members of their advisory board are alumni of Cott Beverages, from the time when the company was the third largest beverage distributor in the United States, behind only Coca-Cola and PepsiCo. These members held roles such as President of Cott Beverage International and Cott Canada. The firm largely saw their success due to its willingness to co-pack for clients, knowledge which has been brought to Tinley.
Tinley currently offers co-packing solutions that consist of formulation, direct store delivery (DSD) distribution, and retail merchandising.
The Production Strategy
Tinley Beverage Co has broken down its production strategy into three simple phases, so as to ensure production effectively meets demand. The first phase, which occurred from June to November 2018, consisted of pilot production of Tinley's THC beverages to determine demand for the product without resulting in excess inventory.
Throughout this phase, the company faced constantly changing Californian regulations on label requirements. These changes led the company to decommission the line in November 2018, while they took the time to rebrand labels and slightly alter the formulation of its single serve products. The decommissioning was also due in part to the oncoming phase II of production which was commissioned in April 2019.
Phase II consists of production lines with a 3 million bottle per annum capacity. Located in Coachella Valley, California, the line has been in operation since April producing the next generation of Tinley products. The beauty of this production line however, is that it was built in a manner that allows it to be packed up and shipped easily. Why is this important? Tinley has hinted that upon commissioning of its phase III production line, the Coachella Valley production line will be packed up and shipped to a new jurisdiction, allowing Tinley to penetrate new markets.
The final phase of Tinley's manufacturing strategy, known as phase III, culminates in Long Beach, California. The company has acquired a 45,000 square foot facility here which will be able to accommodate production needs for the foreseeable future. Upon completion, the facility will have a bottling capacity of 12 million bottles per annum – with the necessary space to implement two more production lines if needed as well.
The facility will be comprehensive in nature. With the capacity to produce dealcoholized wine, beer and spirits, as well as teas, sodas, coffees, and flavoured drinks, the facility was established with its own needs as well as co-packing needs in mind. All means of cannabis beverages were considered in the development of the site, and an R&D center will be housed onsite to ensure Tinley is utilizing the latest technology within its formulations.
Also critical to Tinley's strategy, is that the Long Beach facility includes a purpose-built cannabis beverage distribution center. This distribution centre will allow the company to capitalize on its DSD distribution strategy, as well as retail merchandising. This center is critical to the strategy of the company when it comes to co-packing arrangements, as they can handle the process for clients from bottle to sale. Tinley intends to focus on acquiring co-packing clients upon completion of this facility. As previously mentioned, the firm also intends to relocate its phase two line upon completion of the Long Beach, California facility. This line will be relocated from Coachella Valley to one of Tinley's target expansion markets, with possibilities including Nevada, New York, and Canada as per the latest investor presentation.
Tinley's Management
The executive team of Tinley Beverage Co is one of the most compelling arguments in favour of the company. While it has already established a degree of brand recognition and success in the local market, the experience of Tinley's management team remains among the highest in the cannabis sector. Management is broken into three categories for the firm, consisting of the standard C-suite and board of directors, as well as an advisory board that is high in experience.
Jeff Maser
CEO & Director
►10 years in venture capital, merchant and investment banking
►Previously served in branding and product strategy for a subsidiary of Cott Beverage
►Founder of Tinley Beverage Co
Rick Gillis
President
►EVP/General Manager of Coca-Cola Enterprises, Southwest USA
►Previously served at President of Young's Market Company, seeing US$3 billion in annual sales. Young's is the 2nd largest beverage distributor in the Western US
►Has spent over 30 years in senior positions for the beverage and CPG sectors
David Berman
Chief Financial Officer
►18 years of experience in Canada's capital markets as a CFO and financial consultant for US and Canadian-listed and private companies
►Has served the role of CFO for Nasdaq and TSX-Venture listed firms
►Extensive experience in compliance, and M&A for vertical integration, which includes manufacturing, distribution, sales, and retail
Ted Zittell
Director & Brand Advisor
►Previously President of Cott's Retail Brands International
►Recent executive-level engagements include work for Walmart, Kroger, CVS Pharmacy, P&G, Nestlé, Loblaws, Sainsbury's and Tesco
►Senior partner at The Watt Design Group for 17 years
David Ellison
Director
►Principal at Acuity Corporate Securities Lawyers in Toronto
►Has worked with US based cannabis firms over the last two years to provide capital markets, legal, and operationa services
Douglas Fulton
Director
►Co-Founder of LA Christine, a line of premium skincare products
►European Emmy Award-winning television executive; consultant to US State Department and other organizations internationally on media affairs
Curt Marvis
Director
►Founder and CEO, QYOU Media (TSXV:QYOU), a millennial-focused television & media company distributed in 35 countries
►Previously President, Digital Media, Lionsgate Entertainment (NYSE:LGF.A)
Andrew Stodart
Advisory Board
►International brand manager for Black Velvet Whisky (Constellation Brands) which was built from a declining brand into the 3rd largest selling brand in its category
►Launched Crystal Head Vodka and brought from concept to nationwide North American distribution in 18 months
Mark Benadiba
Advisory Board
►Board of Directors, Cott Corporation (2008-2017)
►Previously CEO, Cott Canada and EVP Operations, USA
Ben Knight
Advisory Board
►Founder of 420 Central Brand Stores, which operates one of Southern California's largest cannabis dispensaries
►Founder of CMZ Distribution, which was the first cannabis distributor in SoCal to become licensed in an urban center
---
FULL DISCLOSURE: Tinley Beverage is a client of Canacom Group, the parent company of The Deep Dive. The author has been compensated to cover Tinley Beverage on The Deep Dive, with The Deep Dive having full editorial control. Not a recommendation to buy or sell. Always do additional research and consult a professional before purchasing a security.