AUX Resources Corporation (TSXV: AUX) is a gold mining company focused on the Stewart Mining Camp in the Golden Triangle region of British Columbia, one of the most prolific mineralized districts in the world.

AUX owns 25,500 hectares of strategic claims, assembled over a 12-year period, in the largely-ignored southern end of the region and is embarking on one of the first comprehensive exploration and drilling programs there. Approximately 35 known mineral showings have been documented in AUX's claims area, including five past-producing mining operations.
Investment Thesis
The investment thesis for AUX Resources is based on the following:
AUX in essence represents a cheap call option on the potential for a major gold discovery in what is widely acknowledged to be one of the richest mineralized districts in the world.

The company's flagship Georgia Project is along trend from several huge gold projects, including the Brucejack mine (owned by Pretium Resources; NYSE: PVG) and the Premier Gold Project (owned by Ascot Resources; TSX: AOT). Brucejack has produced nearly one million ounces of gold since it began commercial operation in July 2017 and has estimated total mineral reserves of 4.2 million ounces of gold. The Premier Gold Project has total estimated mineral resources (indicated plus inferred) of 2.3 million ounces of gold equivalent.


AUX's projects are located in one of the most mining-friendly jurisdictions in the world.

If the company were to announce a significant gold discovery, the region is blessed with excellent infrastructure already in place, including a paved highway to major transportation routes; a deep-water port which can be used twelve months a year; and a reliable electric grid powered by low-cost hydroelectric generating facilities.


Unlike many junior gold miners, AUX has an excellent balance sheet.

At June 30, 2020, its cash balance was $1.4 million, and the company had no debt. This figure doesn't take into consideration that AUX recently completed a financing for a whopping $5.5 million, ensuring AUX is fully financed for an aggressive 2020 exploration season.


At AUX's Georgia Project, a large hydrothermal system containing substantial gold may exist.

To put the potential of Georgia in perspective, a historic, non-compliant estimate of the mineral resources remaining in a past-producing mine on the property is 276,400 tonnes at a grade of 27.6 grams of gold per tonne (g/t). The World Gold Council defines a high-quality underground mine as having gold density of 8-10 g/t.


Governments of virtually all countries have accelerated the printing and distribution of paper currencies to fight the economic devastation of the COVID-19 pandemic.

In turn, investors have been buying gold, fearing this fiat printing of currencies will ultimately lead to a diminution in purchasing power of paper money. However, gold mining company stock prices, relative to the price of physical gold, remain at about the lowest levels seen over the last 35 years.

A high ratio of the XAU index (market cap-weighted index of the stocks of gold and silver miners) to the price of physical gold implies a premium value for the stocks versus the yellow metal. A low value (which currently prevails) implies the opposite.


Junior mining stocks can react dramatically to good news.

For example, in early July 2020, fellow Golden Triangle-miner Enduro Metals (TSXV: ENDR) announced that it had intersected 144 meters of gold and silver resources at concentrations of 3.18 g/t and 3.66 g/t, respectively, at its Newmont Lake Project. The market immediately doubled ENDR's equity valuation to $70 million from $35 million.


AUX's management team is highly experienced and has close ties with other Golden Triangle junior miners.

For example, AUX CEO Ian Slater is also CEO of Libero Copper & Gold Corp. (TSXV: LBC; $21 million market cap), and Board member Bradley Rourke is the CEO of Scottie Resources Corp. (TSXV: SCOT; $40 million market cap). These relationships could lead to a consolidation transaction.
Business Model
AUX Resources' business model consists of the following:
Golden Triangle Location of Strategic Claims

High-Value Drilling Programs
GOLDEN TRIANGLE
The Golden Triangle's mineral wealth is directly attributable to tectonic shifts in the earth's plates which occurred millions of years ago. The Hazelton Group is a Jurassic (201 million to 145 million years ago) volcanic and sedimentary series of strata, or rock units, that was deposited on the Stikine Terrane (Stikinia) of the Canadian Cordillera. (A terrane is a fragment of crustal material broken off from one tectonic plate and "sutured" to crust lying on another plate.)
Mineral deposits were formed in British Columbia (BC), and especially the Golden Triangle, when Stikinia was formed following the break-up of a geological supercontinent in the Jurassic period. Indeed, the area holds most of BC's gold, silver and copper in porphyry, epithermal and volcanic massive sulfide (VMS) deposits. See below.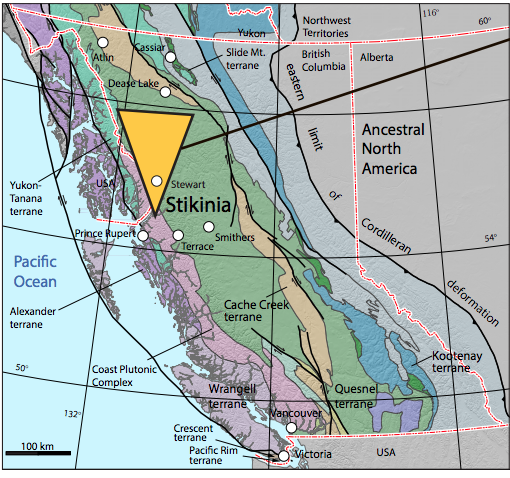 Equally important from an investment perspective: despite numerous significant discoveries over the last 15-20 years, the British Columbia government estimated in a 2009 report that only 0.0006% of the Golden Triangle's mineral riches has been mined.
HIGH-VALUE DRILLING PROGRAMS
In August 2020, AUX initiated a 3,500-meter diamond drilling program at its 7,900-hectare Georgia Project. The company believes that a large intrusion-related mineralized system, or gold target, exists on the property. Electromagnetic surveys show an area of anomalously high conductivity levels, implying a significant mineral resource presence.
Surface sampling over a square kilometer which showed gold concentrations of 1+ g/t near the surface, plus visible gold veins, support this thesis. Most of the prior work in the region was focused inside the perimeter of a past-producing gold mine (the Georgia River Mine) on the property, but the mine now appears to be only on the periphery of the potential hydrothermal system.
The Georgie River Mine, last operated in 1939, consists of a total of 1.2 kilometres of underground access on three levels in total. While explored multiple times since the 70's, any now-historic work conducted on the mine following the halt of production focused almost exclusively on the area of the existing mine workings, rather than the currently perceived much larger hydrothermal system.
Further, the property hosts a historic, non-compliant resource estimate of 276,400 tonnes of rock grading 27.6 grams per tonne gold and 20.9 grams per tonne silver which is said to be remaining in the mine. The location of the property itself also provides year round access to tidewater, an important aspect should the property get to production.
The Georgia Project is currently being drilled, with results expected to be released in September 2020.
AUX's Independence and Silver Crown Projects may also include high concentrations of gold and silver. Independence abuts the historic, high-grade Red Cliff mine. A 2019 surface sampling program at Silver Crown yielded high gold grades over a 900-kilometer strike length.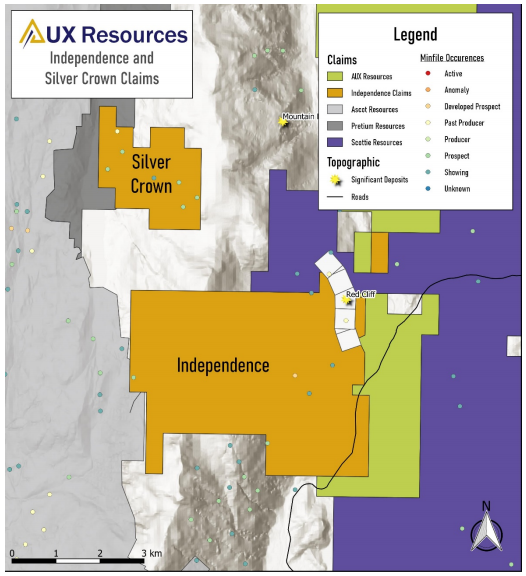 Management Team
Ian Slater | Chief Executive Officer
Entrepreneur who has founded numerous ventures and has been involved in the Mining industry for over twenty-five years. A Chartered Accountant, Mr. Slater was previously the Managing Partner of both Ernst & Young's Canadian and Arthur Andersen's Central Asian Mining Practices. He is currently the CEO of Libero Copper & Gold.
Paul Metcalfe, Ph.D., P. Geo | Director, VP Exploration
Mineral exploration geologist with over thirty years of experience in regional and property-scale exploration for metalliferous deposits in volcanic and igneous terrains, with a specific focus on the Golden Triangle.
Bradley Rourke | Director
Corporate Finance Executive with over 30 years of experience in Mining, Energy and Real Estate in Western Canada and valuable experience as a principal partner at an investment firm. Mr. Rourke is a resident of Smithers, BC and is currently the CEO of Scottie Resources with significant experience in the Stewart Mining Camp.
Thomas Mumford, Ph.D., P.Geo | Technical Advisor
Professional exploration geologist with a comprehensive field, technical and academic background in the Golden Triangle. He is currently the VP Exploration of Scottie Resources.
Lawrence Roulston | Director
Former CEO of Primero Mining and Minera Panama. Over 25 years of experience in all stages of mining projects in Canada and globally. Mr. Roulston has extensive experience in the Golden Triangle and is currently CEO of Mountain Boy and a Director of Enduro Metals.
Judy McCall | Corporate Secretary
Ms. McCall brings over 13 years of experience as a corporate and securities paralegal working in both the private and public natural resource sector. She is responsible for supporting the board of directors and its executives in regulatory, governance and corporate secretarial management. She has an active role in shareholder and stakeholder engagement as well, and has obtained proficient experience in providing corporate assistance to companies who operate within multiple jurisdictions such as US, BVI and various parts of Latin America. Ms. McCall has been a member of the Canadian Society of Corporate Secretaries since 2015.
Craig Stewart, Ph.D. | Exploration Manager
Mineral exploration geologist with over ten years of experience. Craig has a diverse field and academic background in base and precious metal deposits with a focus on gold. He has worked on several major exploration programs, including Kaminak's Coffee Creek, McEwen Mining's Grey Fox and Nordgold's Pistol Bay projects.
Risks
We would advise investors to consider the following risks:
Gold Production Still Years Away. Even if AUX were to announce impressive gold intercept and concentration data from its Georgia Project drilling program, any gold production and cash flow will not occur for some time.

No Mineral Resource Estimates Completed Yet. AUX has not yet hired a third party to create a mineral resource estimate or a preliminary economic assessment (PEA) on any of its properties.

Company Could Have to Raise Additional Cash Next Year. Admittedly this would be a high-class problem, but if the Georgia Project drilling program is successful, AUX will probably have to raise equity in 2021 to fund further exploration activities. If so, the company would likely be selling new equity at prices much higher than its current valuation.
Comparables
Many Canadian junior gold mining companies trade on the TSX. Below we list a few which have primary projects located in the Golden Triangle.
| Company | Ticker Symbol | Market Capitalization | Brief Description |
| --- | --- | --- | --- |
| Abel Resourced Ltd | ABN.v | $17.8 M | Key Forrest Kerr Gold project located in heart of Golden Triangle. |
| Scottie Resources | SCOT.v | $39.7 M | Holds 24,589 hectares of mineral claims in Golden triangle. |
| Libero Copper & Gold | LBC.v | $20.7 M | Gold discovery in Golden Triangle; Copper porphyry deposits in Colorado and Columbia. |
| Enduro Metals Corp | ENDR.v | $51.3 M | Font lake project located in northwestern part of golden triangle. |
| AUX Resources Corp | AUX.v | $15.1 M | Projects in southern area of golden triangle. |
Catalysts
Some potential catalysts that could have a significant impact on AUX's share price include:
Drilling results at the Georgia Project. Initial assay results are currently expected to be released in September 2020.
Junior miner consolidation activity.
Movements in the price of gold and fluctuations in US dollar exchange rate.
Conclusion
Gold mining is, by definition, a risky undertaking. However, AUX Resources appears very well positioned to succeed. AUX has accumulated 25,500 hectares of mining claims in one of the world's premier mining regions. Its 2020 exploration program on its flagship property is fully funded, and the company's management and Board have many years of gold mining experience in the Golden Triangle.
In terms of valuation, the stock prices of junior mining companies, including AUX Resources, are trading at near-historic discounts to the physical price of gold, which itself seems poised to continue to rally as worldwide governments are showing no interest in slowing money printing operations put in place to battle the COVID-19 pandemic.
---
AUX Resources Corporation is a marketing client of the CanaCom Group. This is not intended to be used as financial advice. This Report is meant for general information purposes only. This report is not a buy or sell recommendation. The authors are not licensed financial advisors. We encourage readers to seek a licensed financial professional in making investment decisions. Please do your own due diligence and understand the risks before investing.
The information collected for this Report is collected on a best-efforts basis, and/or may not accurately reflect up to date information. All charts and diagrams refer to the prices as of market close September 2, 2020.
For more information, please email info@canacomgroup.com – or contact us on twitter @thedeepdive_ca