MustGrow Biologics (CSE: MGRO) is a biotech firm focused on the agricultural sector, where they aim to revolutionize the current standard in pesticide use. The company has 100% patented tech for a mustard-derived biopesticide, that has been proven effective against a number of diseases and pests across multiple billion dollar segments, along with other biopesticide offerings.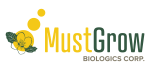 The company, whom is based in Saskatoon, Saskatchewan, currently is in the process of obtaining registration from both the Pest Management Regulatory Agency (PMRA) in Canada and the US Food and Drug Administration (FDA), anticipated to arrive in Q1 2021. Once approved, the company will be able to sell its liquid format of its patented tech across both the US and Canada.
The Investment Thesis
The investment thesis behind MustGrow Biologics can be broken down into the following key points:
Biopesticides present a natural alternative to synthetically produced chemicals, which have begun to be banned globally.
MustGrow owns 100% of the patented mustard-derived technology.
Consumers are demanding organic, natural means of food production.
MustGrow's technology has been proven effective against some of the most devastating diseases, including fusarium and clubroot diseases.
The tech has been proven useful across numerous multi-billion dollar industries.
Overall, we feel that MustGrow Biologics presents an interesting opportunity for exposure to a burgeoning sector. The company is one of few microcaps involved within the biopesticides space, while most competitors within the pesticides space are valued at many multiples higher than that of the firm. With the firm owning the patents related to the technology, it presents interesting opportunities should it arrive at the commercialization phase.
The Market Opportunity
There is a substantial market opportunity with regards to Biopesticides. Consumers are shifting demand in favour of natural, safer, produce in their households due to increasing awareness of the potential dangers of synthetic chemicals, many of which are found in pesticides.
Pesticides play an important role in food production. Due to increasing human population and lack of additional agriculture land, food shortages are likely to increase; the most adequate way to combat this potential crisis is to increase crop yield and crop rotation. The use of pesticides in agriculture substantially reduces crop losses all while increasing production.
There are however, growing health risks with the use of synthetic pesticides in food production. According to Health Canada, some of the chemical ingredients in pesticides are harmful to humans if induced in larger quantities. This risk is even more severe for infants and children, since they have an increased susceptibility to chemical hazards since their brain and organ systems are still in the development stage. According to the World Health Organization, which one of its responsibilities is to assess the risks of pesticides to humans, mandates that such synthetic chemicals need to be strictly regulated in order to prevent over-exposure and environmental contamination.
Although the World Health Organization sets out firm guidelines regarding the use of pesticides- which are then further enforced by other governing bodies, there are still instances where overexposure results, as well as environmental contamination due to chemical oversaturation in the soil. Due to this, consumers and producers are becoming more aware of the potential dangers of traditional synthetic pesticides, and are increasing the use of natural biopesticides to prevent crop losses and increase crop yield.
Further to this, a global movement has developed as consumers look to eliminate pesticides from their daily lives. A result of this, is the banning of several name-brand pesticides in several European nations as consumers fight back on what chemicals are being utilized in the product of their food. The consumer is demanding a return to natural methods of crop protection – a solution that is offered through the use of biopesticides, such as that of MustGrow's patented technology.
The Business Model
Presently, an estimated ten to sixteen percent of global harvests are believed to be lost to a combination of pests and diseases. This loss costs consumers an estimated $220 billion annually, as per the Food & Agriculture Organization of the United Nations. These pests and weeds are responsible for the loss of more than 40% of the worlds food supply, which is compounded by limitations on pesticide and fertilizer use.
MustGrow Biologics Corp entered the agriculture market with the intention of producing a pesticide that is naturally-derived, safe for consumers, and is just as effective as synthetic pesticides. MustGrow utilizes mustard seed, a natural pest and disease deterrent, in its organic and natural formula. The business model as a result is simple – develop the technology, receive regulatory approvals, and commercialize the product.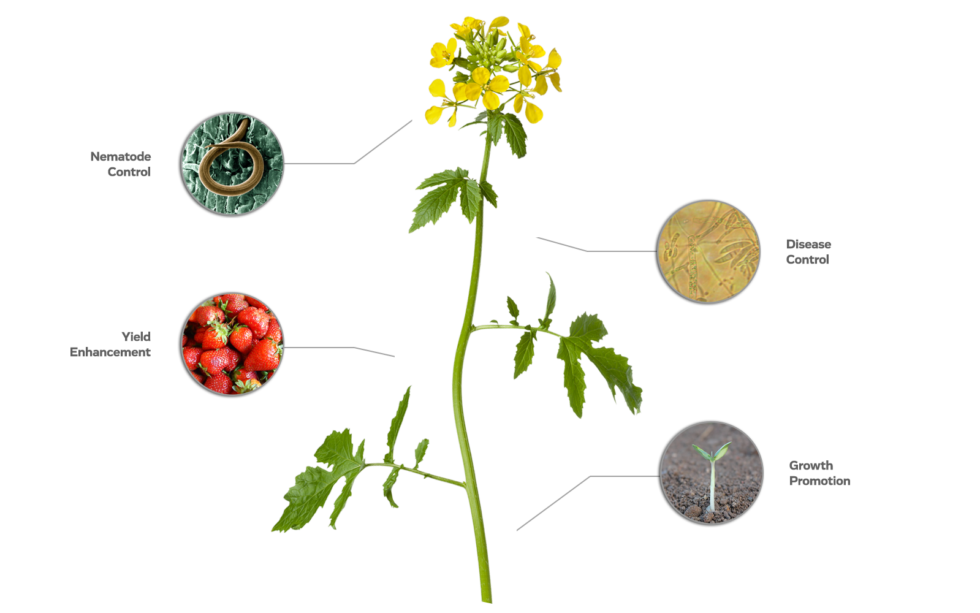 This patented formula has been USA EPA-approved as a pesticide and fertilizer, and validated through 110 independent tests. In addition, the formula is also legitimized through the Pest Management Regulatory Agency of Health Canada.
Currently, the company offers the solution in several formats, including granules and a liquid concentrate – which can be applied to the crop via spray or drop equipment. While the granular format is available to the market, the liquid concentrate format is currently undergoing regulatory approval. The company's main focus is on high-value crops that are strongly regulated such as vegetables, fruit, and cannabis.
Further, the company also has access to other formulations for use in crop protection. One formulation in particular has proven effective against powdery mildew in cannabis plants, with the company currently awaiting approval from Health Canada for recertification of the product. Previously available to licensed producers, the product was removed from shelves by a prior distributor solely as a business decision.
The mustard-derived tech owned by the company has be reformulated for numerous diseases and pests. The full list of MustGrow's ongoing research into biopesticide tech and their stages of commercialization can be seen below.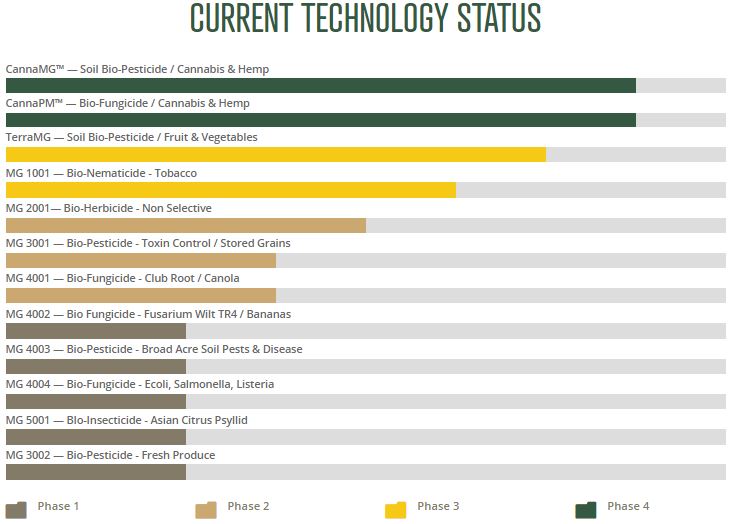 The Tech
Mustgrow's technology – a patented, mustard-derived formulation – arrives to the market via a product called TerraMG, among others. The granular format of the tech has been EPA-approved for use, while the liquid formulation is currently seeking registration. The tech has been deemed as organic as well as safe and effective for use, particularly for the purposes of both nematode and disease control.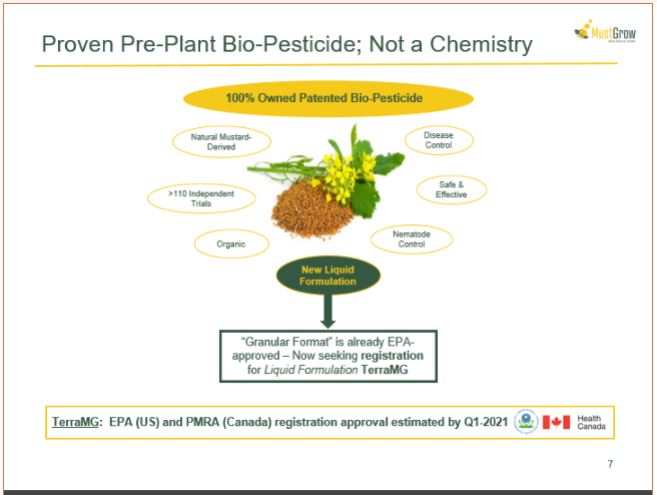 While having excellent efficacy, the original granular product suffered from poor market penetration, which was largely a function of cost. While effective, the granular format makes it costly to transport which translates to a high end use price per acre for the consumer. In a world of ever-increasing operating costs, producers need to cut expenses where they can. Further slowing market penetration for the product, is that most growers of high value crops tend to utilize drip irrigation – which requires a liquid fertilizer or biopesticide – than that of a broadcast method which hosts higher labour costs.
The result of this realization is that the company is now in the process of seeking registration for its liquid formulation, which has a much higher potential for competing on cost. At rates of just 2.5 to 5.0 gallons per acre, the new formulation has proven 100% control of key soil based funguses, while also hosting lower costs when compared to its granular format. Development of the liquid formulation also brings with it the potential for it to be used via spraying on conventional farms, which is an opportunity that wasn't as readily-available for the granular product due to spreading methods.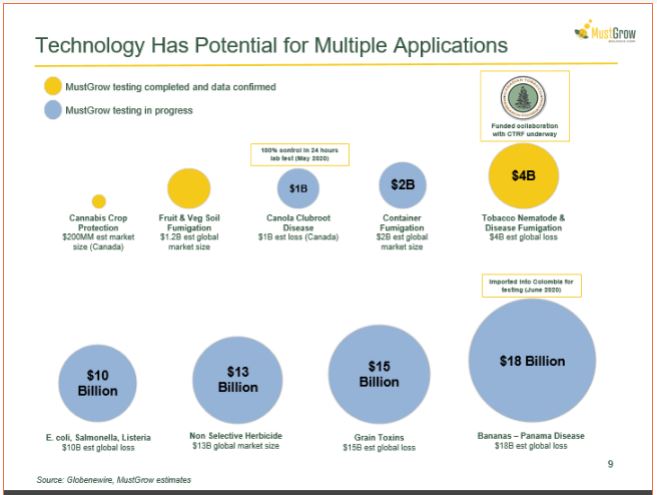 The biotechnology itself has the potential for multiple applications. While testing has been completed to confirm effectiveness on a number of items, such as cannabis crop protection, fruit and vegetable soil fumigation, and tobacco nematode and disease fumigation, much research remains to determine what other multi-billion dollar industries that tech can be effective against.
For example, recently, the company began researching the effectiveness of the tech against panama disease, a disease that threatens the global $18 billion banana industry. The latest data suggests there is potential for the use of the product here, with MustGrow's mustard derived tech already having proven that its effective against at least 9 separate diseases and pests, including clubroot, botrytis (gray mold), fusarium (root rot) and nematodes among others.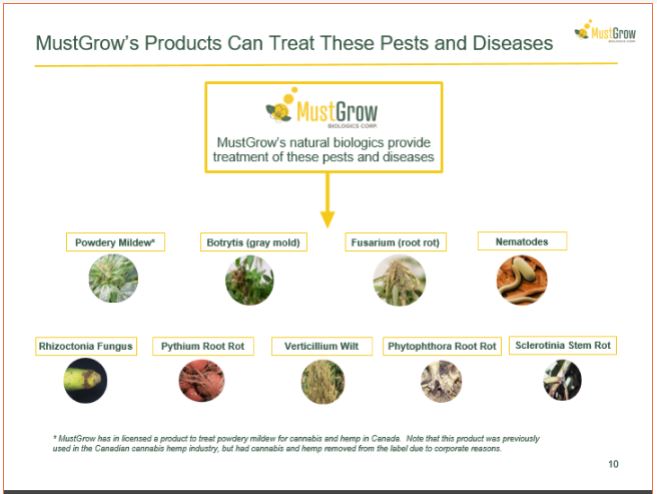 MustGrow's Share Structure
The share structure of MustGrow is relatively simple, with the micro cap showing strong inside ownership, an anomaly on the markets as of late. The structure of the company breaks down as follows:
Basic Shares Outstanding
37,571,339
Options
3,500,000
Warrants
8,654,921
Fully Diluted Shares Outstanding
49,526,260
Inside Ownership
8,091,733
(22%)
Management
Corey Giasson, CEO, President & Director
Corey leads MustGrow Biologics with over 20 years of agriculture experience. His experience in the field started with obtaining a Bachelors of Science in Ag Economics from the University of Saskatchewan, which was later followed by an MBA. Corey is an entrepreneur with previous experience in agriculture, potash, oil and gas, mining and real estate, while also being the co founder of Legacy Capital Corp, a private equity firm. Past experiences include the sale of Rallyemont Energy, a company he founded, to that of Husky Energy, as well as consultancy roles for numerous public companies.
Colin Bletsky, COO & Director
Colin, the COO of MustGrow, also hosts a wealth of experience in terms of the agricultural sector. Holding a Bachelor of Science in Agriculture from the University of Saskatchewan, Colin has over 30 years of experience in agriculture, which includes time spent on a third generation family farm growing several crops. Outside of MustGrow, Colin operates an agriculture consulting firm while previously serving as Vice President of Novozymes BioAg, where he was responsible for the company's global agriculture business.
Todd Lahti, CFO
Serving as MustGrow's chief financial officer, Todd is heavily experienced in the field of mergers and acquisitions as well as in managing firms in the biotech, agriculture, and oil and gas sectors. Prior to working with MustGrow, Lahti served as the treasurer of PartnerRE, a reinsurance company, where he was focused in large international mergers and acquisitions. Throughout his career, Todd has closed over fifty mergers and acquisitions and financing transactions valued at over $2.4 billion on a combined basis.
Brad Munro, Chairman
Holding the title of Chairman of MustGrow, Brad is experienced in the area of private investment and advisory. Armed with a Bachelors of Commerce from the University of Saskatchewan, he has served as a consultant, director, and contractor for several firms, with the most significant being that of GrowthWorks Capital WV, where he acted as Vice President of Investments for a period of three years.
Risks
Like any business, there are a number or risks associated with MustGrow that should be considered by anyone interested in the company, including:
The ability to secure regulatory approval on its products.
The efficacy of its product against pests and disease.
Import and export restrictions on chemicals.
The ability of the company to continue to fund its research.
The ability of the company to commercialize its products.
Conclusion
Overall, we feel that MustGrow presents an interesting opportunity for exposure to the agricultural chemical segment of the market. While most peers are typically valued in the billions of dollars range due to decades of operations, MustGrow, with its 100% owned patented technology, poses a unique opportunity. If the firm can manage to achieve commercialization of several of its currently in-development products, it could potentially take on its synthetic chemical peers, and eventually present itself as a buyout opportunity for some of the major chemical producers whom are currently seeing their synthetic products removed from shelves at an increasing rate. With its organic and natural formulation, MustGrow may be on the cusp of a movement towards biotech-fueled pesticides.
---
FULL DISCLOSURE: MustGrow Biologics Corp is a client of Canacom Group, the parent company of The Deep Dive. The author has been compensated to cover MustGrow Biologics Corp on The Deep Dive, with The Deep Dive having full editorial control. Not a recommendation to buy or sell. Always do additional research and consult a professional before purchasing a security.