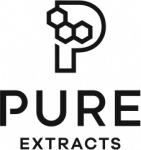 Pure Extracts (CSE: PULL) is positioned for growth in the commercial cannabis and functional mushroom space based on extensive extraction and production experience. With a team of qualified experts in the space and state-of-the-art CO² extraction technology, the Company is set up for long-term strategic distribution and product innovation. Their facility, located in Pemberton, BC, is built for EU-GMP certification (allowing for international sales) and aims to produce high quality, high purity formulations on a commercial scale. Solvent free, scalable production allows the Company to develop and deliver white-label formulations to service contract sales.
The Investment Thesis
Our investment thesis for Pure Extracts can be broken down into the following key points:
Pure Extracts has 4 main pillars to their business, which each offer interesting optionality for investors:
i) Cannabis and hemp extraction tolling services for Canadian LPs
ii) White-label production for Canadian and international customers
iii) Sales of proprietary 'in-house' products under the "Pure Pulls" brand
iv) The production and sale of functional mushroom products.
The Deep Dive sees manufactured infused products (MIPs) and beverages in particular as an area where investors may will see the highest growth within the cannabis category.
It is our view, that branded manufactured products will create the most defensible margins within the cannabis space over the long run.
The final pillar to Pure Extracts business, functional mushrooms, is a rapidly involving space, where Pure Extracts has the opportunity to develop new products and have a first mover advantage.
The Pure Extracts executive team has a history of success within both the cannabis and beverage space in Canada.
Overall, we believe that being a leader in manufactured infused products is the prize that most cannabis companies are trying to win. Pure Extracts has the management team, infrastructure, and licensing in place to offer an attractive risk reward profile for investors.
The Business Model
Pure Extracts is in the process of signing LOIs with several Licensed Producers ("LPs") and cultivators to procure hemp and cannabis biomass on a contractual basis at historically low prices. They also intend to use cash on hand to make spot purchases and take advantage of lower prices should they continue to fall.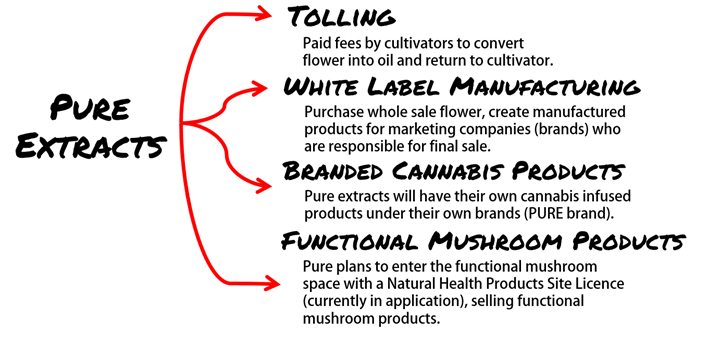 There is an abundance of biomass available as licensed producers often produce low quality product that is difficult to sell. Turning it into higher value oil through extraction tolling service agreements is the obvious way for them to monetize their production while also ridding themselves of their previously poor quality inventory.
Many LPs lack the experience and the expensive equipment required to produce high-quality, extracted oils, be they full-spectrum or otherwise. These are our primary target customers for 'white-label' agreements where Pure Extracts creates vape pens and edible products, and then places the customer's brand on them for retail sale.
With growth in mind and Phase 1 expansion nearly complete, Pure Extracts' facility is designed to meet EU-GMP standards. This will allow the Company to distribute products internationally, especially in Germany and the U.K. The distribution for recreational cannabis in Canada is largely handled by the provincial governments. They buy from the producers and manufacturers and sell to the public through approved dispensaries. Thus, the strategy is two-fold. One, use a push marketing strategy to sell the product to the government. Two, use a pull marketing strategy to get the dispensaries to request and buy our product from the government, which feeds into our push strategy in a feedback loop.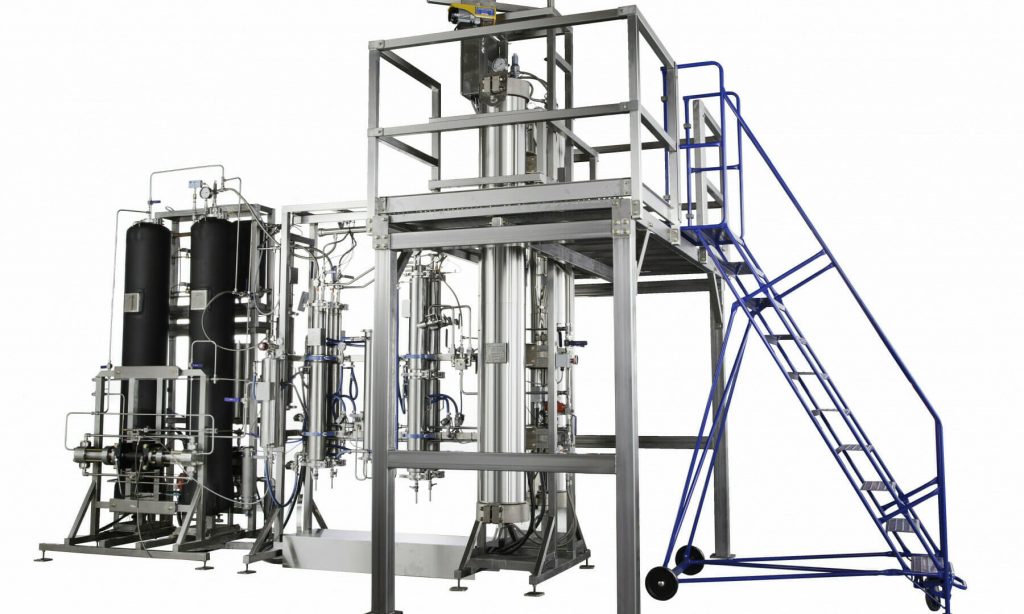 Pure Extracts is also applying to Health Canada for a Natural Health Products Site Licence which will allow the Company to enter the functional mushroom space – a precursor to eventual involvement in the psychedelic mushroom space. Here, the company intends to involve itself within the functional space, providing many of the same services it currently does to the cannabis space.
The functional mushroom space features an immediate revenue opportunity for the company, in what is expected to be a US$13.9 billion marketplace by 2022. Research on functional mushroom varieties are showing benefits such as immune boosting, mental wellness, anti-tumor, anti-viral and other properties from the plant, while the sector is in the process of morphing from holistic production practices to that of extraction based of near-pharma grade products.
Once granted, the Natural Health Products Site License will enable Pure to produce functional mushroom products in an EU GMP environment, while also becoming a critical partner to companies who plan to develop both functional and psychedelic products. The space offers an immediate opportunity for the company as brands pivot to offer psilocybin products yet lack the ability to perform extraction processes.
The result, is that Pure is positioned to be a premier commercialization and manufacturing partner for mushroom-focused companies by providing a consistent source of extracted ingredients.
Pure's Management Team
Ben Nikolaevsky
Chief Executive Officer
Mr. Nikolaevsky holds over a decade of experience in corporate leadership roles across the natural products, agriculture and cannabis sectors. Under his recent leadership as President & CEO of Natura Naturals Inc., a private Canadian cannabis licensed producer, the company was acquired by Tilray Inc. (NASDAQ: TLRY). Prior to Natura, he was president & CEO of Blue Goose Capital Corp. Mr. Nikolaevsky served as Market Vice President, National Accounts at CIBC and as Chief Credit Officer & Capital Markets Manager at IBM Global Financing Canada.
Doug Benville
Chief Operations Officer, Founder
Doug Benville has several years of experience in the cannabis space. He is highly proficient in cannabis cultivation, system operations and oil extraction. Mr. Benville has been with Pure Extracts since the company's inception.
Alexander Logie
Director of Business Development
Mr. Logie is a serial entrepreneur with 30+ years of experience in the financial services sector. He co-founded Crane Capital and Mercury Capital, both successfully acquired by asset management firms. Mr. Logie recently held the position of interim CFO, acting COO and SVP of Business Development at Natura Naturals Inc., a privately held licensed producer of cannabis that was acquired by Tilray Inc. at the start of 2019.
Andy Gauvin
Director of Sales
Mr. Gauvin is an accomplished, bilingual, senior sales leader that brings over 30 years of experience in the Cannabis and Beverage Alcohol space. Most recently, Mr. Gauvin was the Vice President of Sales with a startup licensed cannabis producer, Natura Naturals. He established relationships with key provincial cannabis customers, developed sales strategies and played an important role in product development.
In his previous role as Vice President of Sales Canada with Moosehead Breweries, he built and developed a national sales strategy that incorporated all of the unique aspects from each province including jurisdiction P&L, formal sales management and built a sales culture that held sales people accountable and focused on results. Andy also brings extensive knowledge of navigating the complex federal and provincial regulatory environment given his background in beverage alcohol.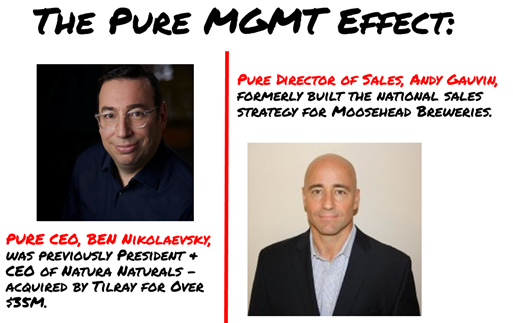 Potential Catalysts
A number of potential catalysts are present for Pure Extracts, including:
Pure Extracts is equipped to offer a variety of different product formulations in the near future, each with specific functionalities.
Product formulations will be of optimal quality, composed of Pure Extracts' full spectrum oils (FSO) and blends of natural ingredients. Pure Extract's long-term product expansion plan will be strategically rolled out in three phases.
A very limited number of companies are focused on CBD & THC oil extraction. This provides an opportunity for a company with proven ability and perspective to leverage extensive experience in the field.
In-house brand development is also unique to the business model and makes Pure Extracts the only sector-specialized extractor to enter the Canadian Market with a comprehensive brand expansion plan.
The functional mushroom products and emerging psychedelic compounds markets represent outstanding growth opportunities in uncrowded sectors.
Alongside our cannabis and CBD business lines, Pure Extracts is ideally positioned to rapidly develop and commercialize functional wellness products to serve the R&D and drug discovery growth drivers of this exciting new sector.
Conclusion
With a state-of-the art facility, one of the most experienced cannabis teams in the industry, 4 accretive revenue pillars (extraction tolling, white labelling, Pure Pulls branded products and functional mushroom wellness products), low biomass prices and a very capital efficient business, Pure Extracts is highly focused on delivering exceptional risk-adjusted returns to shareholders. From our viewpoint, Pure Extracts offers investors an attractive risk/reward profile based on their multi-pronged approach to cannabis infused products.
---
Pure Extracts is a marketing client of the CanaCom Group. This is not intended to be used as financial advice. This Report is meant for general information purposes only. This report is not a buy or sell recommendation. The authors are not licensed financial advisors. We encourage readers to seek a licensed financial professional in making investment decisions. Please do your own due diligence and understand the risks before investing.
The information collected for this Report is collected on a best-efforts basis, and/or may not accurately reflect up to date information. All charts and diagrams refer to the prices as of market close September 26, 2020.
For more information, please email info@canacomgroup.com – or contact us on twitter @thedeepdive_ca