French Labor Unions Are Angry They'll Need To Work Longer, New Retirement Age Will Still Be Below EU, G7 Average
The French government on Tuesday announced plans to extend the official retirement age from 62 to 64 by 2030. Labor unions have responded by calling for nationwide strikes beginning next week to protest the reform.
The new legislation will gradually increase the retirement age by three months each year until 2030. It would also require a person to have worked for 43 years to be able to receive full state pension benefits beginning 2027. These proposed changes are part of the long-delayed reform of the country's pension system.
"I am well aware that changing our pension system raises questions and fears among the French people," Prime Minister Élisabeth Borne told reporters on Tuesday, saying that raising the retirement age would address a pension funding deficit. She also said that it would be "inexcusable" to allow the deficit to grow.
The country's public finances have been stretched by the massive spending during the Covid-19 pandemic and last year's energy crisis. The Pensions Advisory Council says that without changes to the country's retirement system, it is projected to carry an annual deficit of as much as 0.8% of annual economic output in the next decade.
Finance Minister Bruno Le Maire said that the reforms would bring in about €17.7 billion ($19 billion) per year by 2030.
But labor unions do not see the deficit as a threat. "The pension system is not in danger, nothing justifies such a brutal reform," said Laurent Berger, head of CFDT, France's largest union. The unions have agreed to launch mobilizations to stop the reform beginning January 19.
President Emmanuel Macron had previously pushed for reforms in the pensions system in 2019, but was met with nationwide strikes. He was ultimately forced to abandon the reform then as the Covid-19 pandemic started.
"It hasn't escaped us that all labor unions are opposed to raising the legal minimum age for retirement," Borne said. "But our responsibility is to preserve our pension system."
France's neighbors can't help but criticize the taboo-level avoidance of pension system reforms, as among its neighbors in the European Union and peers in the G7, the French will still get to retire younger than most.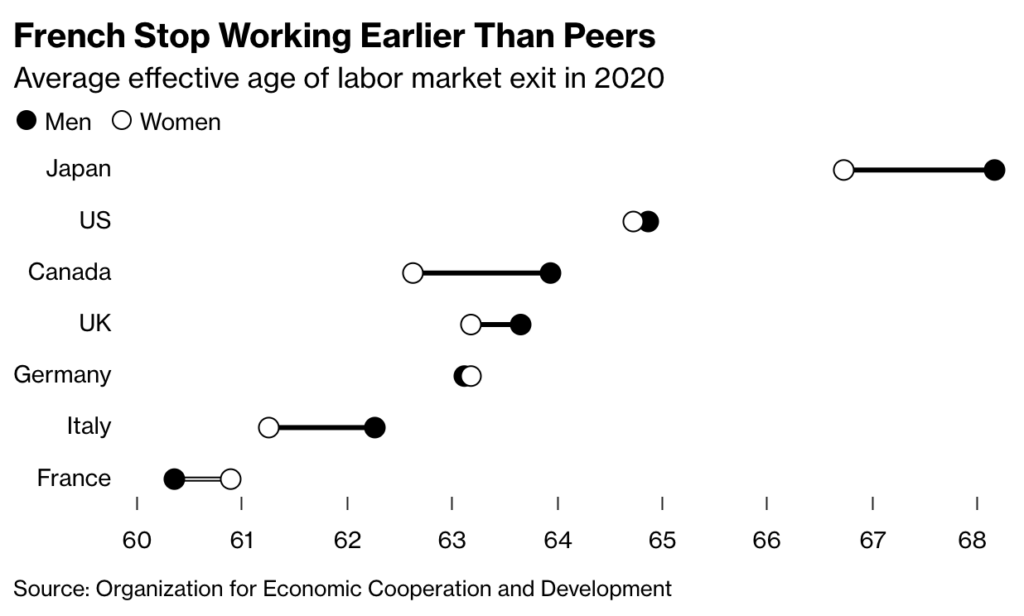 In the EU, many other nations in the region have begun the process of extending their retirement age. Austria, for example, is adjusting the women's retirement age of 60 to be equal to men's at 65 by 2033. Belgium is increasing it from 65 to 67 by 2030. Denmark has already raised it to 67 this year and will continue adjusting depending on the average lifespan after 2030. Spain, which started extending its retirement age in 2015, will be at 67 by 2027.
The reforms would also include an increase in the minimum monthly pension allowance, the inclusion of maternity leaves in a woman's total years of work, and the ability to retire two years before the minimum age for workers who started working before 16 as well as those with work-related or health difficulties.
If passed, it would also create a ​​€1 billion ($1.1 billion) fund to support the health of workers.
Macron's government intends to submit the bill to parliament next month, and if they are unable to convince opposition lawmakers to support it, they may leverage a special constitutional measure that will allow them to bypass a vote.
---
Information for this story was found via Twitter, Bloomberg, CNN, and the sources and companies mentioned. The author has no securities or affiliations related to this organization. Not a recommendation to buy or sell. Always do additional research and consult a professional before purchasing a security. The author holds no licenses.