FTC Vs. The Microsoft-Activision Deal, Explained
The commission is concerned that Activision's titles, particularly its leading franchise Call of Duty, will be made exclusive to Xbox–a concern Microsoft said it already addressed in a ten-year extension proposal to keep the game available on Playstation, a deal Sony refuses to take.
Saying Microsoft's (Nasdaq: MSFT) $68.7 billion acquisition of Activision Blizzard (Nasdaq: ATVI) is facing hurdles would be an understatement. At least two active lawsuits are trying to prevent the merger from happening, citing competition concerns.
First stop: the Federal Trade Commission (FTC) on Thursday filed an antitrust case against Microsoft, claiming the deal is an "illegal acquisition." The commissioners, in a 3-1 vote, decided to pursue the agency's administrative case after reports that the agency was investigating the deal. The case will be heard by the FTC's own administrative law judge.
"With control of Activision's content, Microsoft would have the ability and increased incentive to withhold or degrade Activision's content in ways that substantially lessen competition," the FTC complaint read.
The tech giant immediately responded to the complaint, reiterating the pledge it made that it won't make Activision's games exclusive to Microsoft's Xbox, unlike some of its current titles under its belt.
"[Microsoft's] vision for the transaction is simple: Xbox wants to grow its presence in mobile gaming, and three quarters of Activision's gamers and more than a third of its revenues come from mobile offerings," the company said in its filed response. "Xbox also believes it is good business to make Activision's limited portfolio of popular games more accessible to consumers, by putting them on more platforms and making them more affordable."
Activision publishes both console and mobile games with Call of Duty, World of Warcraft, and Candy Crush being some of its most popular titles.
Competition concerns
The FTC asserted in its complaint that Microsoft is "one of only two manufacturers of high-performance video game consoles" with Xbox. The gaming unit has its own "first-party" titles and video game subscription service Xbox Game Pass, both of which contributed to cultivating an exclusive gaming environment within its assets.
"Microsoft has acquired over ten third-party studios and their titles in recent years to expand its offerings. Microsoft has frequently made those acquired titles exclusive to its own consoles and/or subscription services, eliminating the opportunity for consumers to play those titles on rival products or services," the commission explained.
On the other hand, Activision is said to be a creator and publisher of high-quality video games for video game consoles, personal computers, and mobile devices, with most of its titles referred to as "AAA" in the industry. Because of the creative talent, money, and time necessary for development, AAA games are expensive to make.
"Activision and industry participants recognize Call of Duty as Activision's 'key product franchise'," the FTC said, adding that "from its launch in 2003 up through 2020, it generated $27 billion in revenues"–making it "one of the most successful console-game franchises ever."
In response, Microsoft prefaced it by saying "this case involves a transaction between the third-place manufacturer of gaming consoles and one of many publishers of popular video games."
"Xbox started behind Nintendo and Sony when it began making consoles 20 years ago, and it remains in third place today. Xbox also has next to no presence in mobile gaming, the fastest-growing segment of gaming and the place where 94% of gamers spend their time today," Microsoft replied.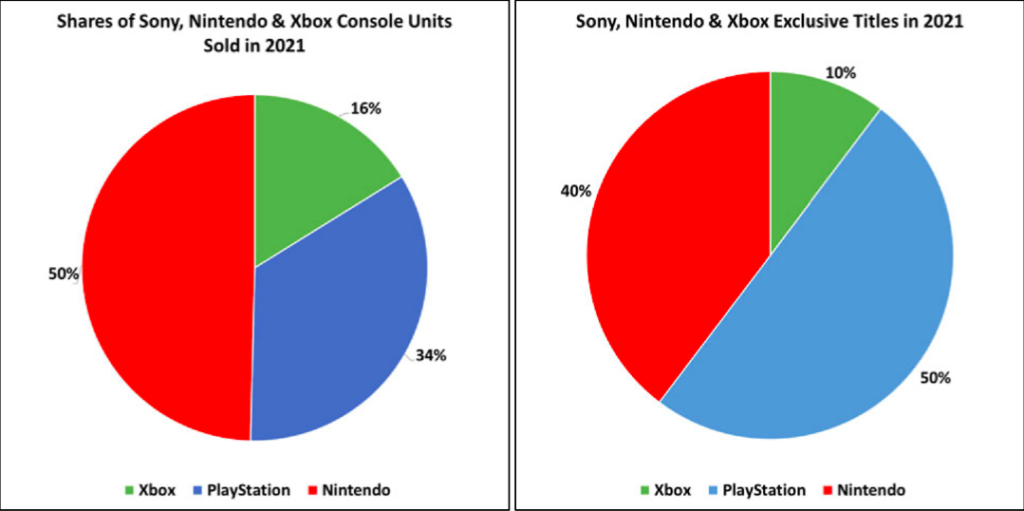 In essence, the firm explained that it is "good business" to offer Activision's titles to a broader selection of gaming platforms, not by making it exclusive to one.
"A substantial portion of Activision's financial value to Xbox comes from business as usual, including the continued sale of Call of Duty—its most popular game—on Sony's PlayStation. Paying $68.7 billion for Activision makes no financial sense if that revenue stream goes away," the firm further explained.
Microsoft also added that should it make Call of Duty exclusive, the "reputational hit to Xbox would not be worth any theoretical economic benefit from taking Call of Duty away from competitors."
As it has maintained, the firm promised to keep Call of Duty on PlayStation "from the moment this deal was announced." Xbox's proposal to its competitor extends the offering for "ten years—an unheard-of length for contracts in the gaming industry."
"Xbox has made this same offer to other competitors, and at least one (Nintendo) has accepted to date. Sony refuses to deal," the firm said, highlighting that "the fact that Xbox's dominant competitor has thus far refused to accept Xbox's proposal does not justify blocking a transaction that will benefit consumers."
"The acquisition of a single game by the third-place console manufacturer cannot upend a highly competitive industry," Microsoft summed.
Past behavior concerns
In outlining its complaint, the FTC cited Microsoft's past acquisition deal to buy ZeniMax Media in March 2021. ZeniMax Media is the parent company of game developer and publisher Bethesda Softworks.
The commission noted that while Microsoft pledged that it "would not have the incentive to withhold ZeniMax titles from rival consoles" during the antitrust review by the European Commission (EC), the firm still made three of the newly-acquired games exclusive to its platform–Starfield, Redfall, and Elder Scrolls VI.
"Although previous titles in ZeniMax's [redacted] franchise were released on PlayStation, Microsoft has confirmed that the upcoming [redacted] will be available only on Xbox consoles, Windows PCs, and Xbox Game Pass subscription services," the commission added.
The FTC also noted that Microsoft then announced "Starfield and Redfall, two of the highly anticipated new titles under development at the time of Microsoft's acquisition of ZeniMax, will be Xbox platform and Xbox Game Pass exclusives when they are released."
"Microsoft's past behavior should also cast more suspicion on its non-binding public commitments to keep Call of Duty available on PlayStation consoles through the end of Activision's existing agreement with Sony," said the commission.
But for Microsoft, the ZeniMax transaction "has no relevance to the current transaction." The firm further asserted that ZeniMax's first two new titles were made exclusive to PlayStation for a year after the purchase completed.
In explaining why it made ZeniMax's three future titles exclusive to Xbox and PCs, Microsoft explained that these were all "designed to be played primarily alone or in small groups." However, it touted that it continued to release new updates of existing ZeniMax games such as Fallout 76 and Elder Scrolls Online on both Xbox and PlayStation, "because these games are designed to be played together by broad communities of gamers on different platforms," adding that the latter set of games should be considered the ones that are more analogous to the Call of Duty game.
"Any suggestion that Microsoft's statements to the European Commission about ZeniMax were misleading is incorrect. Microsoft explicitly said it would honor Sony's existing exclusivity rights and approach exclusivity for future game titles on a case-by-case basis, which is exactly what it has done," the firm reiterated.
The EC also agrees it was not misled, saying Microsoft did not make any "commitments" nor did the commission "rely on any statements made by Microsoft about the future distribution strategy concerning ZeniMax's games" when it made the decision to approve the acquisition.
Legal battle awaits
The FTC is suing the acquisition deal for the violation of Section 5 of the Federal Trade Commission Act and Section 7 of the Clayton Act, asking the court to prohibit "any transaction between Microsoft and Activision that combines their businesses."
If the combination ensues, the FTC asked the court to order the merging firms to divest and reconstitute "all associated and necessary assets" in a way that they will function as two or more distinct and separate businesses. The commission also requests that the firms will not "acquire, merge with, consolidate, or combine their businesses with any other company engaged in business activity in the relevant markets" for a period of time following the acquisition.
For its part, Microsoft said that the commission "cannot provide clear proof that the combination of Microsoft's gaming business and Activision's business would restrain trade" in the relevant markets.
"The combination of Microsoft's gaming business with Activision's business will be procompetitive. The transaction will result in substantial acquisition-specific efficiencies, synergies, and other procompetitive effects that will directly benefit consumers," the firm summed up.
Activision stated in its own response to the FTC's lawsuit that "taking Call of Duty exclusive would be disastrous for Xbox."
"If Xbox withheld Call of Duty from Sony's PlayStation or other platforms that compete with Xbox, Xbox would immediately forgo billions of dollars in lost game sales and cleave off a massive portion of the garners that Activision has worked so hard to attract and retain," the game publisher said.
The company added that it is "facially absurd and contradicted by the plain facts" for the FTC to assume "that a gaming platform cannot succeed without Call of Duty."
Outside of the United States, Brazil approved the deal, while the United Kingdom is reviewing it.
READ: Microsoft-Activision US$69 Billion Deal Is Set For A Deep Probe Amid Anti-Competition Concerns
The FTC suit follows a legal battle put forth by a group of video gamers, suing Microsoft to also stop the pending Activision acquisition for potential stifling of the competition.
The case was filed late Tuesday in a federal court in San Francisco on behalf of ten individual gamers who enjoy Activision Blizzard's Call of Duty franchise as well as other popular titles like World of Warcraft, Overwatch, and Diablo.
According to the lawsuit, the proposed acquisition would give Microsoft "far-outsized market power in the video game industry," with the capacity to "foreclose rivals, limit output, reduce consumer choice, raise prices, and further inhibit competition."
Several of the plaintiffs in the private antitrust complaint stated that they play Activision Blizzard games on Sony's PlayStation, Microsoft's primary rival. Others stated that they play them on their laptops, Xbox, or Nintendo's Switch.
As it had previously stated, Microsoft responded to the suit, saying that the merger "will expand competition and create more opportunities for gamers and game developers as we seek to bring more games to more people."
It was back in January 2022 that Microsoft announced the plan to acquire Activision at US$95 per share.
Microsoft last traded at US$238.73 while Activision last traded at US$75.95 on the Nasdaq.
---
Information for this briefing was found via BBC, CNBC, and the sources mentioned. The author has no affiliations related to this organization. Not a recommendation to buy or sell. Always do additional research and consult a professional before purchasing a security. The author holds no licenses.