Fyre Festival 2: Redemption or Disaster?
Ladies and gentlemen, brace yourselves for the comeback of the century, or should we say, the potential disaster of the decade. Billy McFarland, the low-quality mastermind behind the notorious Fyre Festival fiasco, is back and planning to take another stab at event planning.
Released from prison in March 2022 after serving four years for wire and bank fraud, McFarland has a $26 million debt to repay to festival goers. And he plans to do it with PYRT, his new media firm, Fyre Festival 2, and the metaverse.
It's like a cocktail of bad ideas mixed with a sprinkle of virtual insanity. So, buckle up and prepare for a wild ride as we dive deep into the twisted world of Billy McFarland and his audacious plan for Fyre Festival 2.
The original Fyre Fest
Let's start with the original Fyre Festival. The most infamous disaster of an event that nearly broke the internet. Let's take a little trip down memory lane, shall we?
It all started when Billy McFarland and his buddy Ja Rule had an impromptu layover on Exuma Island. One might say they had a love-at-first-landing moment, after being forced to land on the island when their plane ran out of gas. This inadvertently led to a half-baked idea to hold a music festival, but they failed to notice the island's "slight" infrastructure issues – you know, minor things like lack of drinking water and proper sewage lines.
But hey, who cares about that when you've got beautiful beaches, right?
In their quest for festival fame, the organizers hopped aboard the influencer train, inviting models like Bella Hadid and Emily Ratajkowski to frolic on the beach for promotional purposes. They even managed to rope in Kendall Jenner, who offered her followers exclusive access to after-parties with a special promo code in her now-deleted post. 
The hype took off.
Tickets initially pegged in the hundreds of dollars were now selling for upwards of $250,000. But beneath the glamorous surface, the festival was shaping up to be more dumpster than Fyre. The day before the festival headliner Blink-182 pulled out, citing concerns about the organizers' ability to provide adequate production. 
Attendees meanwhile were arriving. And instead of experiencing the promised VIP treatment with extravagant villas, "world-class cuisine", and secure areas to store valuables, they were being greeted by a barren wasteland of flimsy disaster relief tents, cold cheese sandwiches in foam containers, and lock-less lockers. 
Guests attempted to leave as fast as they arrived, only to find that the airport had closed.
The show ultimately was forced to be canceled, with guests left scrambling to get home. Lawsuits started piling up faster than you can say "fraud," and McFarland and Rule were banned from ever attempting another festival in the Bahamas.
Fyre's aftermath
Billy didn't just face the wrath of angry ticket holders; he found himself in a legal inferno that made Dante's Inferno look like a backyard barbecue. After being slapped with a $100 million class-action lawsuit, McFarland had the pleasure of dealing with a grand total of 6 federal and 4 individual lawsuits related to his luxurious island dumpster fire.
In June 2017, our dear friend Billy was arrested and charged with wire fraud, ultimately securing a "cozy" $300,000 bail. McFarland couldn't even keep a legal team, as they hadn't been paid enough to represent him. Talk about karma.
Oh, and let's not forget his penchant for "overpromising luxury experiences that were not delivered," which, according to Manhattan U.S. Attorney Geoffrey Berman, demonstrated a "pattern of deception." While out on bail, the ever-resourceful Billy continued his fraudulent ways with a sham ticket scheme called "NYC VIP Access." Unfortunately for him, this escapade was caught on camera.
Ultimately, McFarland was sentenced to 6 years in prison and ordered to repay a cool $26 million to the victims of his fraud. Lucky for him, he was able to get out a couple years early in March 2022.
The national media tour
After being released from jail, old Billy took some time to reflect before beginning a national media tour in October.
He then kicked it off officially with ABC's Good Morning America.
"I was driven by a desperate desire to prove people right. I think I was so insecure that I thought the only way to prove myself was to succeed which lead me down this terrible path," he whined to host Michael Strahan.
He then went on the Full Send Podcast in an attempt to rub shoulders with influencers that were more his style of people, where he discussed jail, partying with models, and of course, scamming.
Half a month later, he showed up on set with Piers Morgan Uncensored, where he gushed about how he can't get himself to watch the documentaries on him, and how he "was so wrong" while working to rewrite history on how he was trying to bring together people "from diverse backgrounds."
"I was so wrong and I lost everything I had in the process. I lost the support, the relationships, and trust of all my friends.. I truly thought I could pull off the event.. I was wrong, I messed up," he claimed, followed up with an apologetic, "I need to find pride by trying to right my wrongs."
What is PYRT?
Looking to find a way to recoup funds owed to his victims (and stop the feds from taking a cut of his money), McFarland in November launched PYRT. The company bills itself as "an adventure where the virtual world and reality meet." And one can't help but wonder if he's just daring us to watch another train wreck unfold. 
This time, McFarland's grand idea is to create a small, remote venue for entrepreneurs and artists in the Bahamas, at the same location as the infamous Fyre Festival. The plan? Bring together influential people, from musicians to investors, and launch a live, virtual replica of the location where anyone can participate. McFarland insists it's not a metaverse, but let's be honest, it's only a matter of time before someone coins the term "Fyre-verse."
As if that weren't enough, PYRT's website is hawking a $249 PYRT Crew jacket ($50 of which goes to "recovery"), promising instant daily access to Billy and other crew members via a Discord, plus "experimental adventures" and first dibs on the "virtual immersive decentralized/reality" platform. 
In an interview on the Full Send podcast, McFarland quipped, "People who hate me will be the first ones who want to come." 
Fyre Fest 2.0
Fast forward to April 10, 2023, and McFarland announced on Twitter that Fyre Festival 2 is in the works. Because the first go wasn't enough of a disaster, he's looking for people to pitch why they should be invited. Because nothing says "exclusive" like begging for an invitation to a sequel nobody asked for.
With this announcement, Billy McFarland has officially become the boomerang of bad ideas: no matter how hard you throw him away, he just keeps coming back.
But wait, there's more! Andy King, the man who became famous for offering to "take one for the team" in the original Fyre Festival documentary, is on board with the idea. He retweeted McFarland's announcement, stating he's working on zero waste events and doing his best to save the planet.
On April 19, McFarland tweeted a teaser and a website containing a sign-up form, presumably for those who enjoy playing Russian roulette with their vacation plans.
This is probably where we should mention that the Bahamas views Billy as a fugitive, and that hes not allowed to conduct festivals in the country.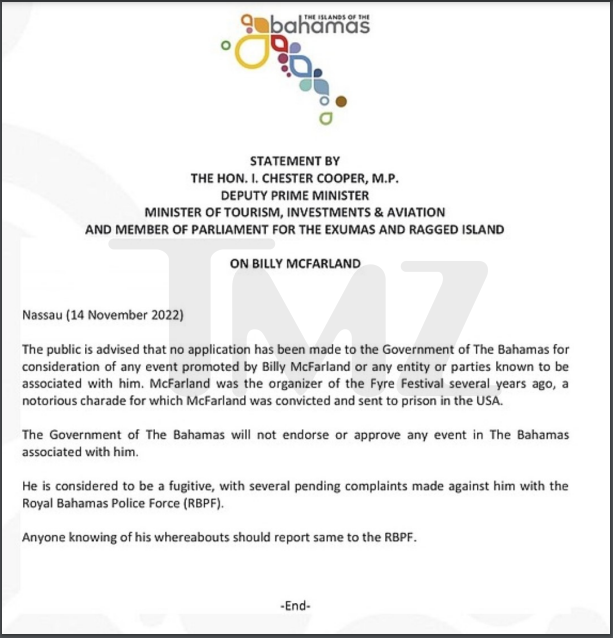 No further details about Fyre Festival 2 have been provided, but one can't help but wonder if this time Billy will actually deliver on his promises of luxury and exclusivity. Or maybe he's just setting the stage for another round of scamming rich kids out of their trust funds.
How has Billy made money?
At this point you're probably begging to know – has Billy always been a fraud?
McFarland has a knack for making money in, shall we say, creative ways. In August 2013, he seeded payments company Magnises with $1.5 million of investor funding, which he claimed to sell for $40 million, and later launched Fyre Media Inc., the parent company of Fyre Festival. According to Bloomberg, despite Fyre Media claiming to be worth $90 million, the company only raked in about $60,000 in business.
It's hard to come up with an analogy for how big of stretch that is. But you know it's hard when it's worse than anything George Santos has said.
McFarland's history of, let's call it "alternative facts," doesn't end there. He reportedly forged a Scottrade statement showing $2.5 million in nonexistent Facebook shares and claimed to own an $8 million private island in the Bahamas in an attempt to lure investors to fund the OG festival while still trying to get it off the ground.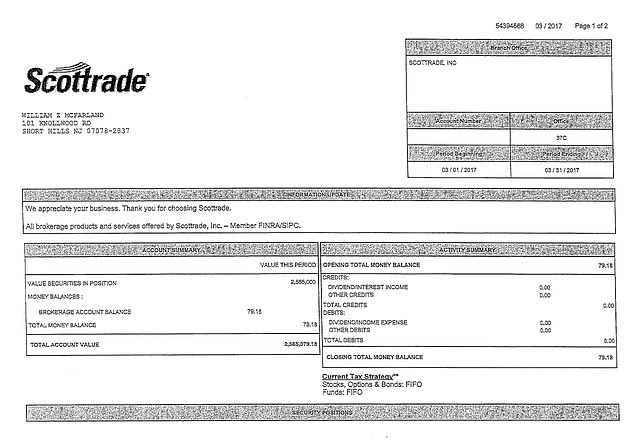 And now, according to Bloomberg, he's set to be paid $19,000 to share his "unique business insights" with German entrepreneurs. It seems that McFarland has turned fraud into a lucrative speaking engagement.
The Nelk Boys and Billy
Fyre Festival 2.0 meanwhile appears to be headed down the same path as the first rendition. As part of the launch of PYRT, Billy hopped on with the Nelk Boys back in November to talk jail, partying, scamming, and to reveal what he had in the works, extending an invitation for the influencers to be some of the first guests at Fyre Fest 2.0.
For those not in the loop, Nelk, founded by Kyle Forgeard, is a Canadian-American YouTube sensation known for their prank videos, vlogs, and their brand "Full Send Entertainment." Their videos, which often revolve around North American college culture, are a blend of party-lifestyle vlogs and actual prank footage.
The whole idea sounds like a match made in party heaven, or in Billy's case, another potential disaster waiting to happen. But hey, if the Nelk boys attend Fyre Festival 2.0, at least we'll get some entertaining footage out of it, right?
In conclusion
The mere idea of Fyre Festival 2 has us, well, curious. It's not like anything these days is that shocking. And people have always loved a good comeback story. If you can can call it that…
With the support of his partner-in-crime, Andy King, and the possibility of the Nelk boys joining the fray, the stage is set for another unforgettable event. Whether Fyre Festival 2 will be a glorious redemption story or a catastrophic sequel to its predecessor remains to be seen.
And at this point, it seems more likely to be held at Epstein Island than in the Bahamas.
One thing's for sure, though. We'll be watching from the safety of our screens, popcorn in hand, as the drama unfolds. After all, some fires never truly burn out—they just smolder, waiting for the right moment to ignite once more.
---
Information for this briefing was found via ABC News, YouTube, Twitter, Bloomberg, Wall Street Journal, and the sources mentioned. The author has no securities or affiliations related to this organization. Not a recommendation to buy or sell. Always do additional research and consult a professional before purchasing a security. The author holds no licenses.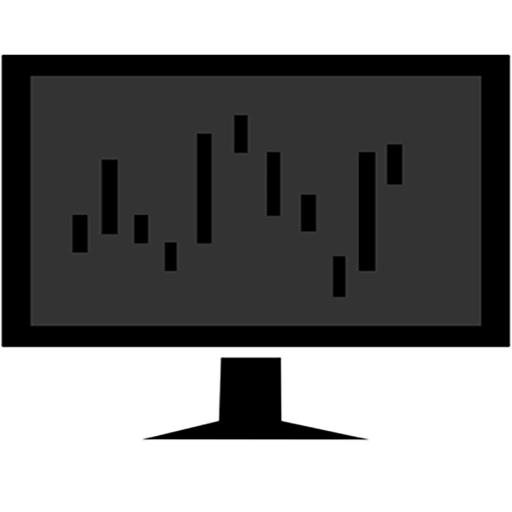 As the founder of The Deep Dive, Jay is focused on all aspects of the firm. This includes operations, as well as acting as the primary writer for The Deep Dive's stock analysis. In addition to The Deep Dive, Jay performs freelance writing for a number of firms and has been published on Stockhouse.com and CannaInvestor Magazine among others.