Hut 8 Mining: Pressured By Declining Revenue And Rising Costs
Hut 8 Mining Corp (TSX: HUT), one of the largest publicly traded Bitcoin miners in Canada, is facing two major challenges affecting both its revenue potential and its cost structure. These issues – the Bitcoin halving event and network difficulty – pose a substantial problem to the go-forward path of the company.
First, the May 2020 Bitcoin halving event effectively reduces the number of Bitcoins the company can mine by 50% and therefore its revenue opportunity, expressed in Bitcoins, by a similar amount. Of course, if the price of Bitcoin were to appreciate, its revenue opportunity expressed in dollars, would not be similarly constrained. However, this is not presently the case.
Bitcoin mining is performed by a collection of many computers on the Bitcoin network where these powerful Bitcoin mining tools solve extremely complex math problems. The answer to such a problem is a long string of numbers, called a hash or proof of work. The Bitcoin network adjusts the difficulty of the mathematical problem (see below) so that a valid hash is generated, thereby enabling a block to be added to the blockchain about every ten minutes.
After the creation of every 210,000 blocks, which takes approximately every four years, the block reward is halved. As of May 11, 2020, the winning miner from the hash process receives 6.25 bitcoins (plus transaction costs), down from 12.5, 25, and 50 in the previous four-year periods, respectively. Phrased differently, the number of newly minted bitcoins dropped to a 900 per-day pace on May 11, 2020, down from an 1,800-daily rate over the four years ended May 10, 2020.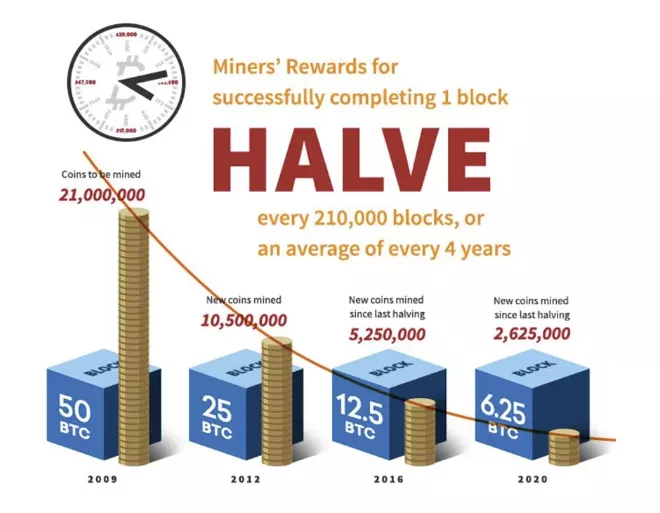 Second, Bitcoin network difficulty levels are at an all-time high. Generally, the greater the participation of miners in the network, the greater the network difficulty level. Mathematically, difficulty is the amount of long strings of numbers, or hashes, a miner finds per second (referred to as a hash rate) times 10 minutes for a block to be created, divided by two raised to the 32nd power.
The only way for a Bitcoin miner to counteract this higher difficulty level is to add more computing power, which entails increased expenditures on computer equipment and, in turn, increased required electricity consumption. Indeed, Hut 8 recently raised $8.3 million of new equity to purchase new computing equipment, demonstrating the expense of continued participation.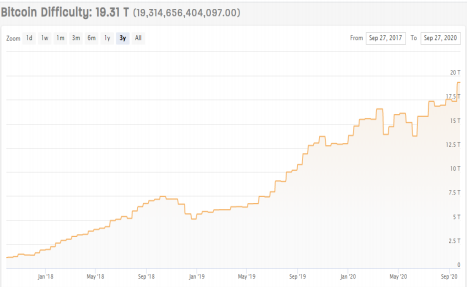 Key Financial Parameters Trending Down
Hut 8's key operating parameters have deteriorated dramatically over the last three quarters. Revenue in the quarter ended June 30, 2020 declined approximately 65% from 3Q 2019 levels.
Gross profits, after depreciating primarily computing equipment, turned negative beginning in 4Q 2019 and operating cash flow turned negative starting in 1Q 2020, a turnaround in both measures from robust results posted in 3Q 2019. It should be noted that there are essentially no seasonality effects in Bitcoin mining as well.
| (in thousands CAD) | 2Q 2020 | 1Q 2020 | 4Q 2019 | 3Q 2019 |
| --- | --- | --- | --- | --- |
| Revenue | $9,230 | $12,740 | $14,858 | $26,750 |
| Gross Profit | ($6,372) | ($5,036) | ($11,629) | $10,665 |
| Operating Income | $2,460 | ($7,227) | ($18,491) | ($249) |
| Adjusted EBITDA | ($86) | ($558) | $2,855 | $14,690 |
| Operating Cash Flow | ($969) | ($1,466) | $5,691 | $5,624 |
| Cash | $8,677 | $1,026 | $2,946 | $3,183 |
| Digital Assets | $12,386 | $1,401 | $10,484 | $9,277 |
| Debt | $27,583 | $28,700 | $26,039 | $26,456 |
Significant deterioration in Hut 8's key operating metrics and financial statistics over the last three quarters.
Hut 8's balance sheet is in reasonable shape. Its effective cash balance, including cash and cryptocurrency it has not yet converted to dollars, totals about $21 million. Offsetting this is the company's $27.2 million of loans with maturities of eight months or sooner from today ($6.8 million in February 2021 and $20.4 million in May 2021).
Hut 8's results could improve if the price of Bitcoin were to increase quite dramatically to offset the effects of the halving event. Indeed, after past halving actions, the price has increased significantly based on perceptions of a diminishing supply of Bitcoin. Bitcoin has risen about 23% since the May 2020 halving event. Also, Bitcoin network difficulty levels could possibly normalize back to lower levels, reducing the company's outlays on computer costs and electricity costs.
Conclusion
Hut 8's enterprise value is approximately $102 million, implying that investors believe that reduced revenues and higher costs due to the halving event and higher network difficulty levels are transitory events. Keep in mind, however, that the halving occurred 4 1/2 months ago, yet the difficulty level has risen persistently throughout that period and the price of Bitcoin has risen only 23%.
In simple terms, a transaction where a miner can receive only about half the Bitcoin rewards it did prior to May 2020, yet the dollar value of those reward increases by only about 23%, does not have favorable economics. If the market were to believe that the company's operating cash flow were to remain at these lower levels for some time to come, Hut 8's stock market value would likely have to adjust lower.
Hut 8 Mining last traded at $0.98 on the TSX Exchange.
---
Information for this briefing was found via Sedar and Hut 8 Mining Corp. The author has no securities or affiliations related to this organization. Not a recommendation to buy or sell. Always do additional research and consult a professional before purchasing a security. The author holds no licenses.