Is Namaste Technologies back?
Namaste Technologies (TSX.V: N) was the number one traded TSX Venture stock yesterday by volume, building a third solid day of heavy trading and climbing 11% to close at $0.69. The sudden interest comes without official news and, while the volume in the Namaste social media sphere has picked up right along with the trading volume, most of the chat is about the market action. So what's got Namaste on the hop?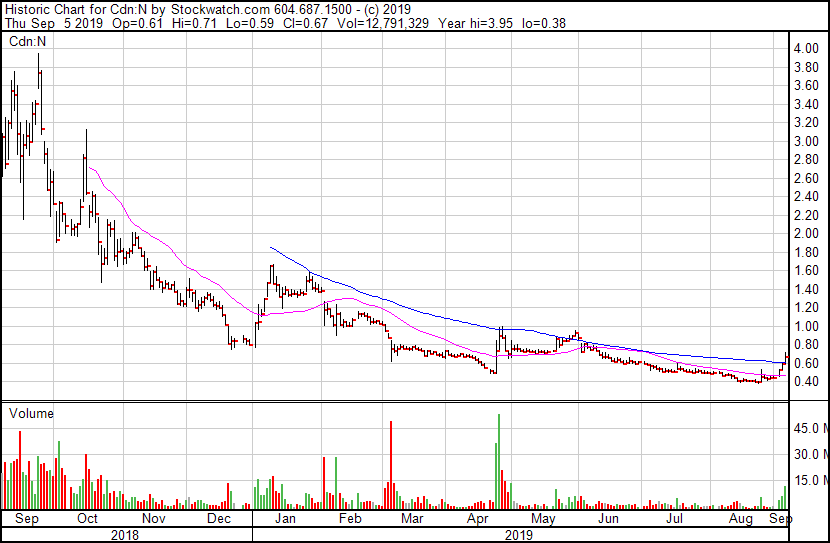 Direction?
We last got news out of Namaste headquarters two weeks ago when they cemented previously-interim CEO Meni Morim's spot at the helm. The former lead of AI subsidiary Findify (acquired by N for $12 million cash and stock in May of 2018) took the reins in February, following the departure of controversial former CEO Sean Dollinger. The release quotes the new skipper in an apparent attempt at showing focus and direction, that stays true to Namaste's nature as a scattered mess:
"In the last six months we have increased our focus on the right business units and markets, made significant progress in settling outstanding class action lawsuits, announced an array of new licensed producers, added key staff and board members to help us grow our business, and made key acquisitions to support Namaste's expansion plans and go-to-market strategy. I will continuously look at ways to strengthen the Company's performance and management team and ensure we are all committed to the Company's success. With the majority of these challenges behind us, I am excited about the future and our ability to add new customers and expand our marketplace. I expect to provide additional details on the latter in the next few weeks."

Namaste CEO Meni Morim

Morim doesn't fill us in on what the "right" business units or markets are, and progress towards the settlement of class action lawsuits is both a hard thing to judge and an odd thing to mention. Namaste is presently subject to three class-action lawsuits, one suit for breach of faith, and a dispute with Supreme Cannabis (TSX:FIRE) subsidiary 7 Acres over not having fulfilled a $6 million purchase commitment. He teases an expansion of their marketplace towards the end, but doesn't say if it's for the cannabis, vapes or software division.
Cannabis 2.0?
Namaste bought a 49% stake in chocolate-making company Choklat in March of this year for $1.5 million in cash plus some stock, and the grocery-store-availability of their products in Alberta – the province leading the country in gross cannabis sales – scans well to those who aren't inclined to think about it too much.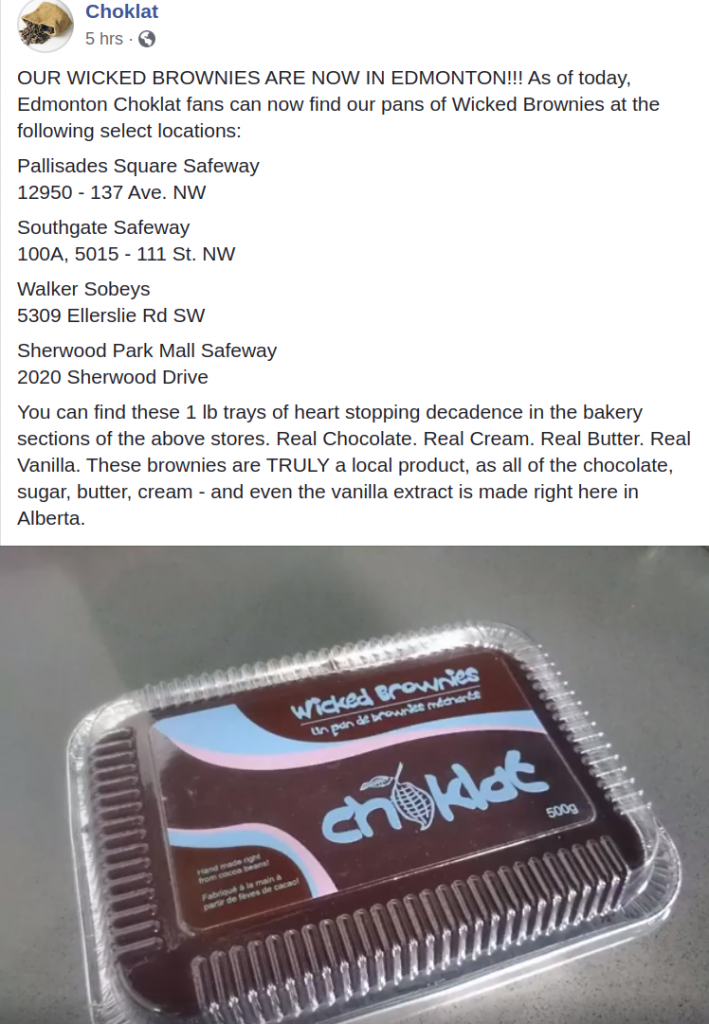 But Namaste can't just roll into the Calgary Sobey's and start slinging weed brownies. They're going to have to sell it to the province or directly to medical patients online, and the e-retailer's consumer sales have so far failed to impress.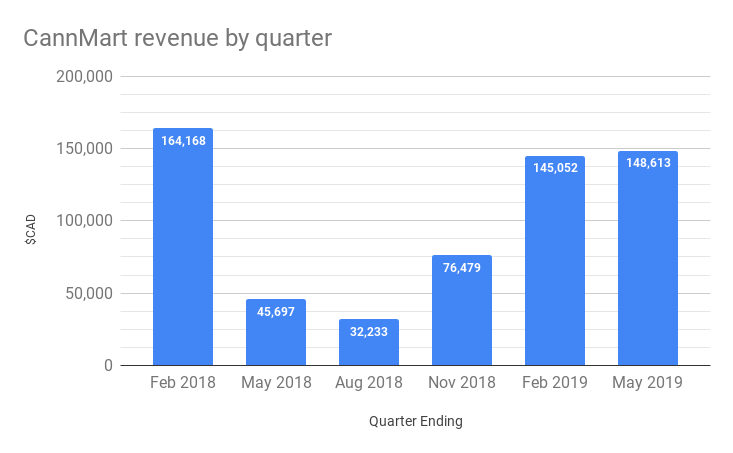 Namaste cannabis e-retail segment CannMart's revenue showed virtually no growth QoQ in the quarter ending May, returning $148,000 in sales. CannMart hasn't managed to crack $170,000 in any quarter. 51% owned extraction subsidiary CannMart Labs isn't yet licensed, so it's unclear where the extracts for an edibles biz would come from. Choklat founder Brad Churchill was bullish on Namaste's distribution network back in March, ostensibly before he learned that it's only good for ~$600,000 / yr in gross cannabis sales.
Did Namaste Tech have a big August?
The sluggish performance of their e-retail infrastructure means Namaste has been sitting on a steadily climbing cannabis inventory since they first got their license. 10 months into legalization, a provincial distributor who needs stock may well come looking for a deal that clears out Namaste's backlog. A large wholesale transaction booked in the past 3 months would show up as a big QoQ bump in revenue for Namaste's quarter ending August, 2019. Since the company doesn't break out the cost of the cannabis sold in any period, a falling (or negative) cannabis-segment margin would be easy to bury.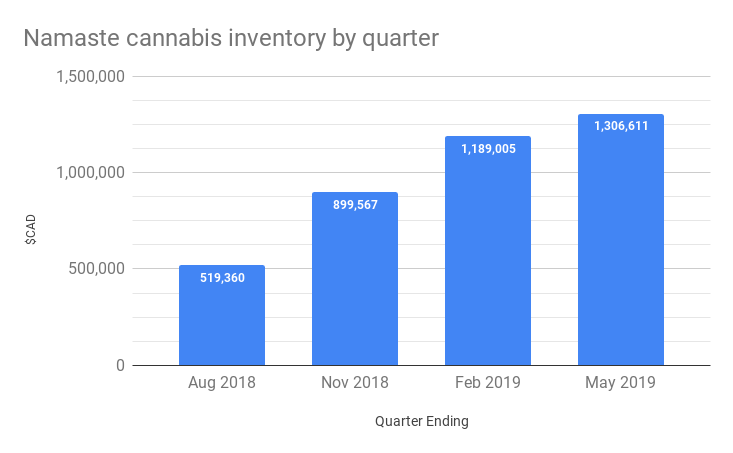 A pivot to wholesale would be no permanent solution for the firm, as most LP's prefer to sell directly to the provinces when they can.
Since Namaste is a well-tangled mess with a $55 million cash balance (at the end of May), this volume could have come from anything or nothing. The sector is enjoying a post-Labour-Day bump, and the Namaste name still rings out. After three days of the market having bought this unidentified rumor, it's about time we found out what it does when it hears some news.
---
Information for this analysis was found via Sedar and Namaste Technologies. The author has no securities or affiliations related to this organization. Not a recommendation to buy or sell. Always do additional research and consult a professional before purchasing a security.