Is Upstart Heading For A Downturn?
On paper, Upstart Holdings, Inc. (Nasdaq: UPST) reported an at par Q1 2022 performance, beating mostly the firm's own guidance. However, the firm's shares crashed down by 56% on the day yesterday, setting a record-low price since going public.
This happened despite the firm recording a quarterly revenue of US$310.1 million, up from Q4 2021's US$304.8 million and Q1 2021's US$121.3 million. The lending platform also recorded its highest total number of borrowers served for the quarter.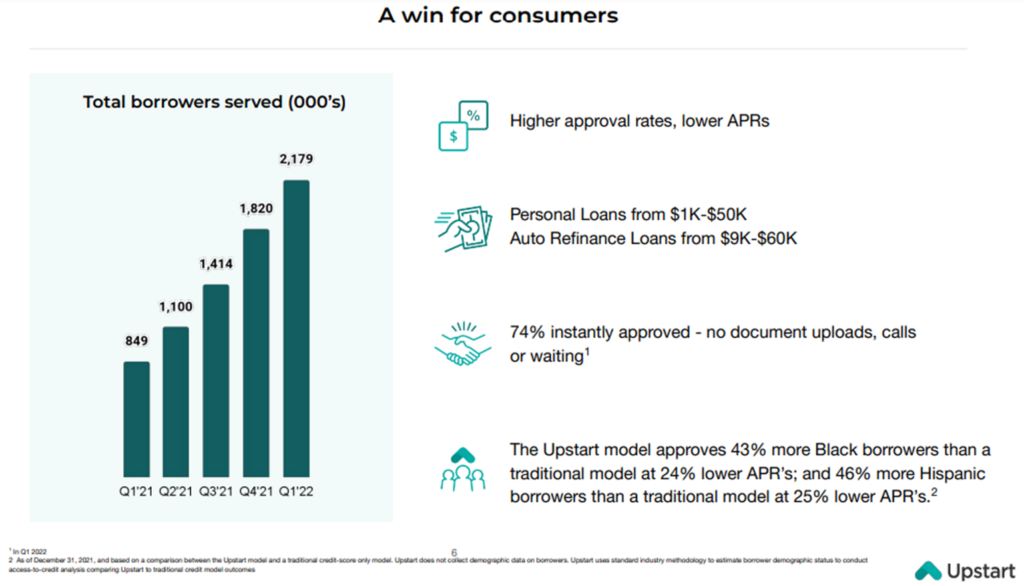 "Upstart just delivered our seventh consecutive profitable quarter and our fourth straight quarter with triple-digit year-on-year revenue growth," said Dave Girouard co-founder and CEO of Upstart. "While this year is shaping up to be a challenging one for the economy, we know the drill and are confident that we can navigate whatever 2022 and beyond might hold."
So the question is, what triggered the share price and investor sentiment collapse?
Cut guidance
Majority of the investors have been looking at the firm's reduced guidance for the succeeding quarter and the remainder of 2022. The firm is guiding its annual revenue around US$1.25 billion, down from the estimated US$1.4 billion.
Even the Q2 2022 revenue guidance of US$295 – US$305 million missed the estimated US$335 million revenue for the next quarter. This is further contrasted by the fact that the firm beat the estimates for Q1 2022 revenue by US$10 million.
Further, while net income fell to US$32.7 million during the quarter from US$58.9 million last quarter, it was an increase from last year's US$10.1 million. However, the firm is guiding a possible net loss in Q2 2022 of up to US$4 million.
Adjusted EBITDA for the quarter came in at US$62.6 million compared to last quarter's US$91.0 million and last year's US$21.0 million. Still, the firm is guiding a shrinking figure for next quarter at US$32 – US$34 million.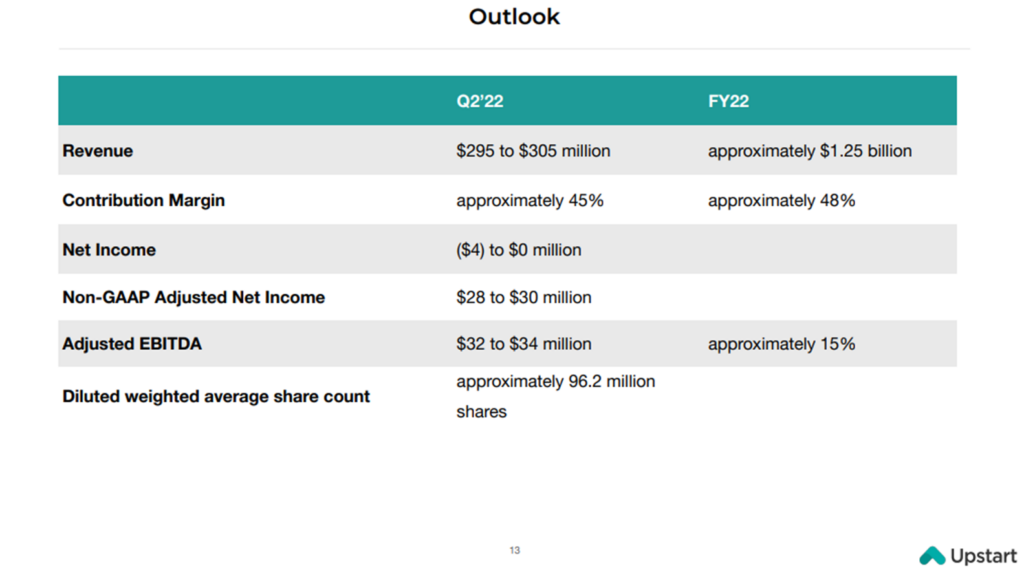 Rising rates and falling demand
When asked about the shrunken guidance, CEO David Girouard points to expected lower volume due to higher prices chiefly brought by increasing interest rates.
"I think we've always said, we're not, in some sense, a terribly interest rate-sensitive thing," said Girouard in the earnings call. "And we've kind of said interest rate changes of 50 basis points or 100 basis points are something that could well be offset by improvements to our platform. But in this case, it's much more significant than that."
"We aren't — we're not — in no way predicting a recession or anything like that… We're just reflecting the prevailing rates in the marketplace and the loan transactions that, that typically translates to, and that's what you're seeing there," he added.
Girouard explained that as consumer rates go up, there's an expectation for fewer approved loans or approvals rejected by customers at that high interest cost.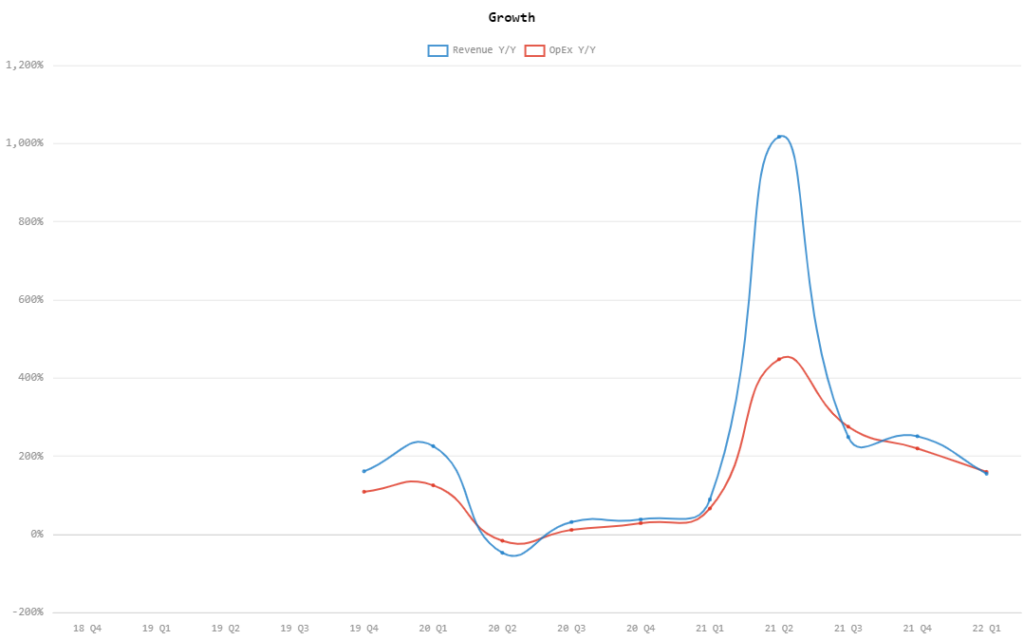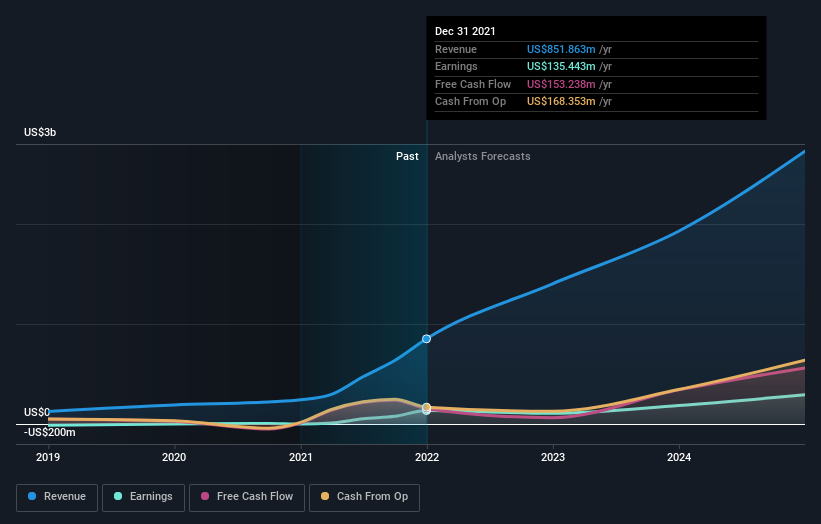 Auto refi
Still, the revised revenue guidance for Q2 2022 and full-year are 55% and 47% year-on-year growth increases, respectively. So where is Upstart going to get this?
"Based on what we now know, we expect the auto retail lending business to contribute meaningfully to Upstart's monthly transaction volumes by the end of the year, setting us up for a significant ramp in 2023," said Girouard.
He further referenced around 11,000 auto refi loan transactions, twice the volume from the comparable period last year. The firm saw its contribution margin decline during the quarter and is assessing this as a "function of the expected ramp in auto lending, which remains contribution-negative at this early stage."
"On auto refi, I would just say there's a lot influx because it is a new product and because it's also a refi product, meaning it has interest rate sensitivity to it. So a little hard to judge how those things will balance over the course of the year," said Girouard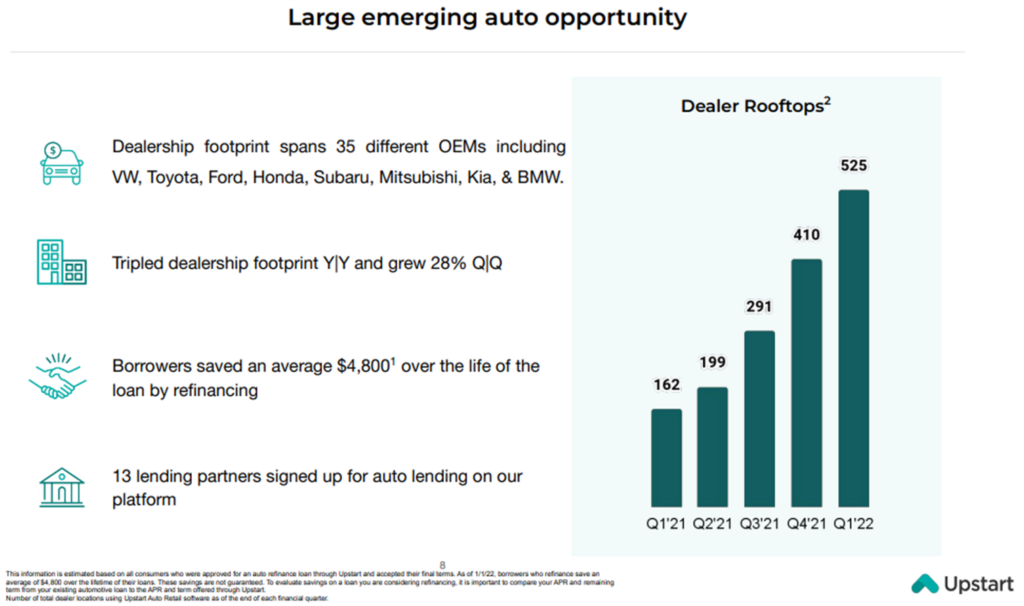 Loans in balance sheet
Another key item being discussed is the huge quarter-on-quarter jump on loans item in the company's assets.
"We've continued to deploy our balance sheet assertively in the service of R&D in both auto lending and new segments of personal lending as well as using it to smooth fluctuations in funding of corporate loans," said CFO Sanjay Datta in the earnings call.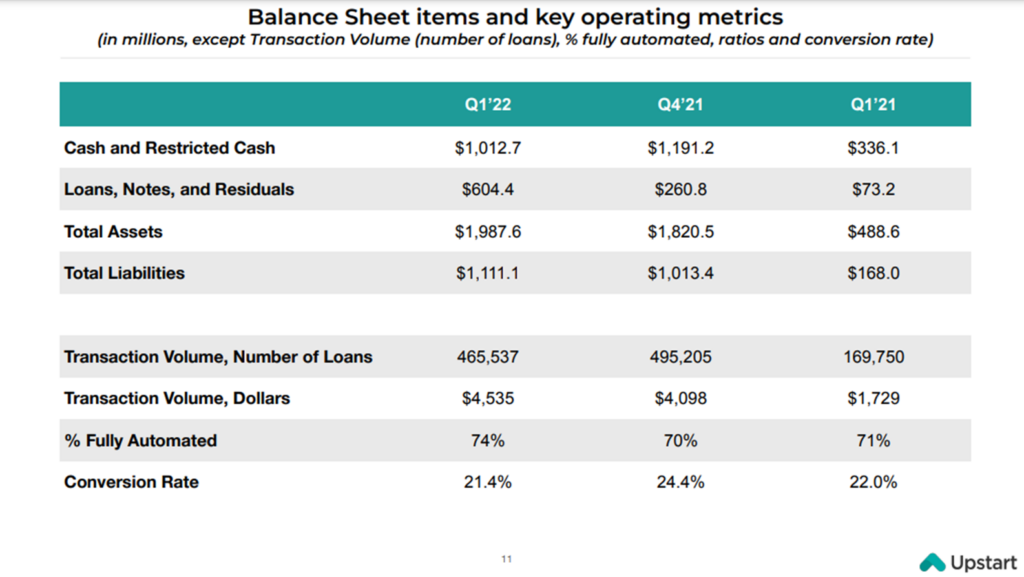 While there are concerns on the increased risk this poses, Datta assured that this is still a "relatively small percentage."
"I think the amount of the total platform loans that ended up on our balance sheet this quarter was still a single-digit percentage. And of that amount, probably close to three quarters of it is still — was still R&D-style spending on predominantly auto loans and other new products and segments," he added.
Girouard seconded this, saying that the new strategy is an adaption of the increasingly volatile market climate.
"So when something changes as quickly as it did in interest rates and the risk premiums in the market changed very rapidly, then we stepped in to sort of bridge that, but it's sort of a temporary thing. It is an intention of ours to make the system more automated and more fluid so we don't have any need to do that."
"It's not part of our business to hold loans generate net interest income from loans in our balance sheet, but we certainly want to make sure there's fluidity in the system," said Girouard.
The Upstart CEO further defended the increase in loan balance, saying that nothing has changed to the company's model.
"Just to make it really clear, in the first quarter, a single-digit percentage of the loans that were originated on our platform came to our balance sheet," Girouard said in a CNBC's Mad Money interview. "That hasn't changed in our history."
"We've said we use putting loans on our balance sheet to test new products and new models, and that's largely what those represented," he added.
However, investors on Twitter are torn on the company's outlook for the rest of the year.
Given these glaring contrasts in performance and outlooks, once could only assume where is Upstart going to finish in the succeeding quarters.
Upstart last traded at US$33.61 on the Nasdaq, down 56.42% on the day.
---
Information for this briefing was found via Edgar, Simply Wall St, CNBC, Seeking Alpha and the companies mentioned. The author has no securities or affiliations related to this organization. Not a recommendation to buy or sell. Always do additional research and consult a professional before purchasing a security. The author holds no licenses.