Jewish Orgs Petition To Cancel "The Danger Elon Musk And X Represent To Jews"
In a resounding chorus of disapproval, nearly 100 leaders from Jewish organizations, journalists, and rabbis have united in a letter denouncing Elon Musk for his alleged role in fostering an environment of rampant antisemitism on X, the social media platform formerly recognized as Twitter. The missive outlines a comprehensive critique, arguing that it is not merely the lack of content moderation on X or Musk's reinstatement of unrepentant antisemites that has ignited this outcry.
"We are a group of rabbis, leaders of Jewish organizations, artists, activists, and academics. We have diverse ideologies and beliefs, but we have come together to address the danger Elon Musk and X represent to Jews and others," the letter begins.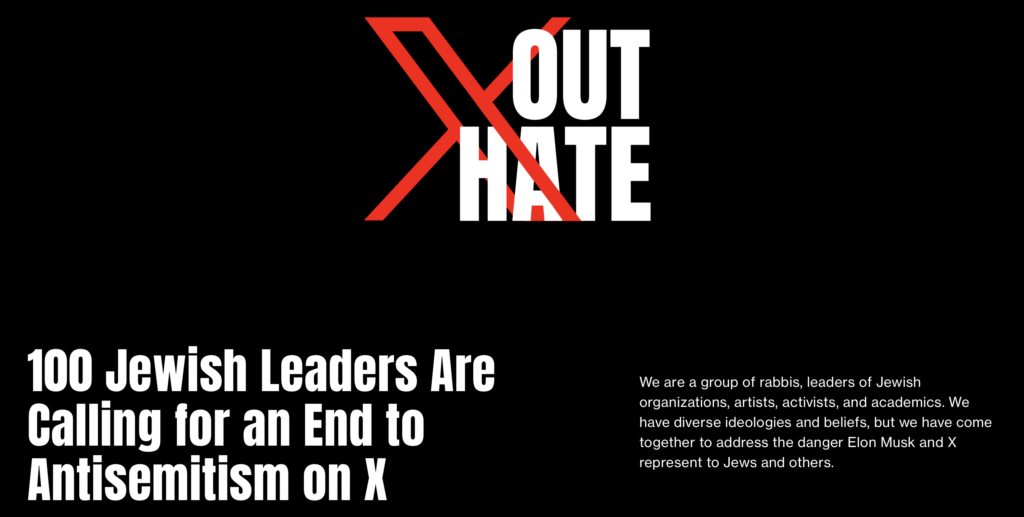 The letter highlights another dimension of concern – Musk's own participation in disseminating what it terms "overt antisemitism," coupled with his attacks on the Anti-Defamation League (ADL), a prominent Jewish advocacy group. It contends that Musk's actions have contributed to the normalization of antisemitic rhetoric in America, fueling a troubling environment.
"We are alarmed by his targeting of the ADL: not because of our views of the organization (we represent a wide range of views, including some who fundamentally oppose the ADL as well as staunch supporters), but because of the way he has used the organization as a very clear stand-in for an antisemitic representation of Jewish power," the letter reads.
The letter is signed by a number of rabbis, journalists, and academics, among others. It further contends that Musk's behavior has a long history going back to his purchase of Twitter.
"The list is long, but some of the most egregious examples include:
His taking part in the #BanTheADL hashtag, a campaign that was started by neo-Nazi figures like Nick Fuentes. His first engagement with the campaign was with another neo-Nazi, Keith Woods.
Spreading overt antisemitism, such as the false idea that '65% of Jewish college students support censorship.'
Repeatedly engaging with and promoting antisemitic accounts.
Engaging in antisemitic conspiracy theories, such as linking George Soros with the Rothschilds as well as the Great Replacement conspiracy theory.
Reinstating some of the most vicious antisemites in America and beyond, including Andrew Anglin (founder of The Daily Stormer, one of the largest neo-Nazi publications in America) and David Icke (popularizer of the Jews as lizard people conspiracy theory)."
The hashtag in question, #BanTheADL, emerged earlier this month, with several accounts advocating for the removal of the ADL from X. Momentum for this movement seems to have been triggered by a recent meeting between the ADL's national director, Jonathan Greenblatt, and X's CEO Linda Yaccarino. The discussion revolved around strategies to curb the proliferation of hate speech and toxic propaganda on X since Musk's acquisition of the platform last year.
Amidst this surge of extremism, Musk engaged with Keith Woods, initially endorsing a post in which Woods falsely claimed that the ADL was "financially blackmailing social media companies into removing free speech on their platform."
Musk went on to assert that "ADL has tried very hard to strangle X/Twitter." His apparent enthusiasm for these attacks further bolstered their prominence, undermining Yaccarino's ongoing efforts to reassure advertisers that X is actively addressing hate accounts on the platform. Notably, the day before, Woods had celebrated the impact of the #BanTheADL campaign on his Telegram account and shared a 2017 video of Richard Spencer declaring a "great victory."
The X chief even went further and said that it seems the platform is left with no choice "but to file a defamation lawsuit against the Anti-Defamation League," adding that the ADL is "potentially" on the hook for up to $22 billion in lost value for X.
"In short, X has become a breeding ground for antisemitism and represents one of the largest dangers to Jews in years. If something does not change, we know what will happen: hate speech and radicalization are always the precursor to violence," the letter further appealed.
Singling out major corporations, the letter calls upon Disney, Apple, and Amazon to cease funding X through their advertising expenditures. Furthermore, it urges tech giants Google and Apple to remove X from their app stores, citing its alleged role in propagating antisemitism.
---
Information for this briefing was found via Daily Beast and the sources mentioned. The author has no securities or affiliations related to this organization. Not a recommendation to buy or sell. Always do additional research and consult a professional before purchasing a security. The author holds no licenses.