JPMorgan Chase vs. Frank, Explained
The world's biggest bank duped by a student loan startup in an expensive $175 million deal–with a Forbes 30 Under 30 honoree at the center.
JPMorgan Chase (NYSE: JPM) shut down on Thursday the website of Frank, the college financial aid network it purchased for $175 million, citing allegations that the company's 30-year old founder lied about the startup's scale and success via a fake list of users.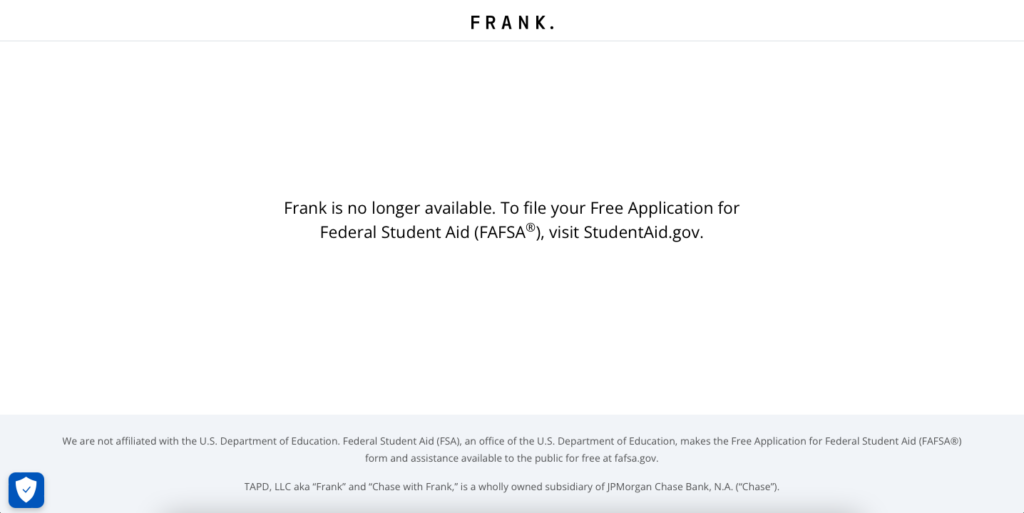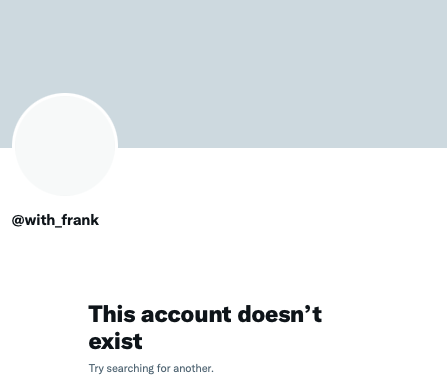 Frank was founded by Charlie Javice in 2016, working on the premise of providing software to help young Americans seeking financial aid with their student loan applications. According to Crunchbase, billionaire Marc Rowan is Frank's lead investor, and the business has received backing from renowned venture funds such as Aleph, Chegg, Reach Capital, Gingerbread Capital, and SWAT Equity Partners.
Javice then approached JPMorgan in mid-2021 about a potential sale, suitably fitting for Chase which then targeted to increase its client network with college students. According to the bank's complaint filed late last year against the Frank founder, Javice claimed in her pitch that over 4 million people had signed up to use Frank's tools to qualify for federal financial assistance.
"Javice represented in documents placed in the acquisition data room, in pitch materials, and through verbal presentations [that] more than 4.25 million students had created Frank accounts," the bank said.
JPMorgan Chase then acquired Frank in September 2021, touting that the platform "currently serves more than five million students at over 6,000 higher education institutions across the country"–a piece of information it parroted from Javice. The then-Frank CEO also announced the same on her LinkedIn page, claiming the same scale.
When the bank acquired the startup, it absorbed its workforce as full-time employees, including Javice as Head of Student Solutions at Chase, Frank's Chief Growth Officer Olivier Amar as Executive Director in the same department, and other staffers.
The real number
JPMorgan said in its complaint that when it first asked Javice for proof of its 4-million user database, the founder argued she could not share her customer list due to privacy concerns. After the bank prodded, Frank responded with the requested database of around 4.25 million users.
Months after the acquisition, the bank then sent test marketing emails to around 400,000 Frank clients from the database. According to the lawsuit, the bank saw only roughly a quarter of the emails delivered, and just 1% of those were opened.
JPMorgan alleged that at that time, Frank had less than 300,000 customer accounts in reality. Instead of acquiring a firm with 4.25 million students, the bank got one with "fewer than 300,000 clients," according to its suit.
Apparently, during the time JPMorgan was asking Frank for its database, Javice and Amar asked their chief engineer to create a fake customer list. When he refused, Javice approached "a data science professor at a New York City area college" to help. Using data from people who had already begun using Frank, he generated 4.265 million false customer accounts and had them confirmed by a third-party vendor at her request.
Javice paid the data science professor $18,000 for the service. Amar, on the other hand, paid $105,000 on a different data set of 4.5 million students from the firm ASL Marketing.
The lawsuit contains incriminating screenshots of the professor's bills, as well as claims that Javice went to great efforts to ensure that documentation of this work was either destroyed or altered in order to avoid raising eyebrows. For example, Javice apparently asked the professor: "Will the fake emails look real with an eye check or better to use unique ID?"
According to a person familiar with the issue who told CNBC, JPMorgan had access to the emails since it had purchased Frank's technological systems as part of the transaction.
False accusations
If the situation is not convoluted enough, Javice suing JPMorgan surely made it so. In the same week the bank filed its complaint, the Frank founder filed a suit against JPMorgan claiming the latter "manufactured" grounds to fire her late last year in order to avoid paying her $28 million as part of the acquisition.
"After JPMC rushed to acquire Charlie's rocketship business, JPMC realized they couldn't work around existing student privacy laws, committed misconduct and then tried to retrade the deal," Javice's lawyer, Alex Spiro, said in a statement. "Charlie blew the whistle and then sued. JPMC's newest suit is nothing but a cover."
As part of the merger, Javice received roughly $10 million, and she negotiated an extra $20 million retention incentive to be paid after a later vesting date if she stayed in good standing. Amar also collected around $5 million from the deal and similarly fought for a $3 million retention bonus, according to the complaint.
In the suit, Javice claimed that the bank "commenced a series of groundless investigations into Ms. Javice's conduct," and later "manufactured a for-cause termination in bad faith" and "worked to force Ms. Javice out of the [JP Morgan] organization."
She added that the bank failed to "harness Ms. Javice and Frank's acumen for attracting a young, diverse new audience to Chase's services" and instead pursued "poorly conceived business plans" focused on "Frank's historical customers."
"Chase grossly mismanaged its investment from the start, and it decided it would rather walk the investment back than work on it further," Javice said in her complaint.
Javice was fired in November and Amar a month before. However, the Frank founder's LinkedIn page still shows her presently working at JPMorgan as of this writing.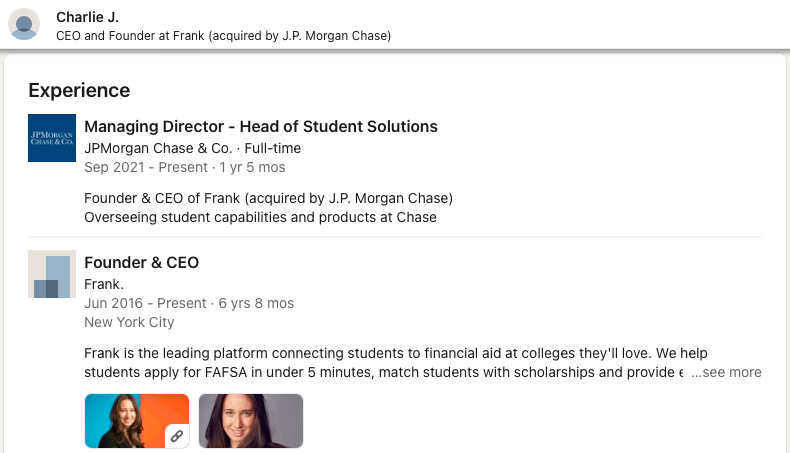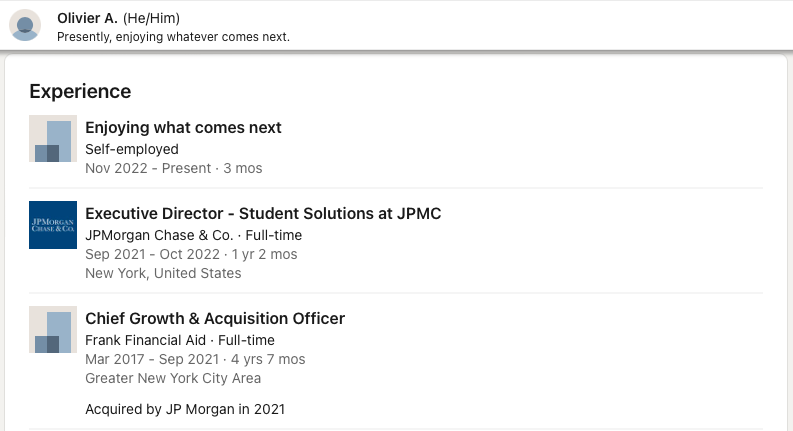 Not the first time
The kerfuffle with JPMorgan is not the first time Javice and Frank got involved in a legal bout. The financial aid platform settled a case put forth by the Department of Education in 2017 for violating its trademark on FAFSA, the Free Application for Federal Student Aid. FAFSA is a form that prospective college students and their families fill out to determine their eligibility for various grants and loans.
According to the settlement documents obtained by Insider, Frank's website domain around that time was frankfafsa.com. The platform even referred to its form as "Frank's FAFSA" on social media and elsewhere. The federal department said that the domain name in particular "was confusingly similar" to its own website, fafsa.gov, and "was likely to confuse customers."
On fafsa.gov, students and their families can fill out the FAFSA for free. Frank provided a free service while also attempting to upsell people on more expensive subscriptions. Students and their families, for example, may pay Frank $500 to negotiate greater financial help with schools on their behalf.
The startup then settled the case with the government in 2018, with the settlement mandating Frank to provide disclaimers stating that it was not linked with the Department of Education and to relocate to a new website, the recently closed down withfrank.org.
Javice was part of Forbes 30 Under 30 List in the finance category back in 2019, who the firm said has raised $16 million since the startup was founded and has helped "300,000 users apply for financial aid."
The prestigious list has recently seen more fintech and crypto personalities being added to it. In 2021, the finance category included FTX founder Sam Bankman-Fried and BlockFi co-founder Flori Marquez, while the 2022 batch included Alameda Research co-founder Caroline Ellison.
---
Information for this briefing was found via Forbes, CNBC, and the sources mentioned. The author has no securities or affiliations related to this organization. Not a recommendation to buy or sell. Always do additional research and consult a professional before purchasing a security. The author holds no licenses.