Market Movers: Environmental Waste International
Environmental Waste International (TSX.V:EWS) came out of nowhere to lead the TSX Venture exchange in volume Tuesday, the obscure issue climbing +$0.16 from $0.10 to $0.26 on 8.5 million shares of volume, a 160% gain on the day, and the highest close it printed since anyone could remember. The sudden relevance has to do with Ontario's Ministry of Environment, Conservation and Parks granting permission for the commercial operation of a tire recycling plant in Sault Ste. Marie, ON. There isn't much out there in the way of research on smallcap tire recyclers in the making, so The Dive dug in for a closer look.
Environmental Waste International's Sault Ste. Marie plant uses microwaves to break used tires down into carbon black, synthetic natural gas (syngas), and scrap steel. The process is apparently powered by the syngas being generated by the waste tires, and the carbon black and scrap steel are sold at market.
The literature doesn't say much about the revenue or margin the company might expect from a tire recycling plant, which is fair, because this is a new thing. The Sault Ste. Marie instance will be the first commercial application. The company plans to sell the new plant installations to gain a market foothold, while charging a service fee on revenues from the plants built. A franchise model of sorts. It's unclear what that margin might be because, again, the company has furnished no model, but we get the sense that the majority of the revenue would be coming from governments paying to have tires recycled, as opposed to from the sale of the byproduct.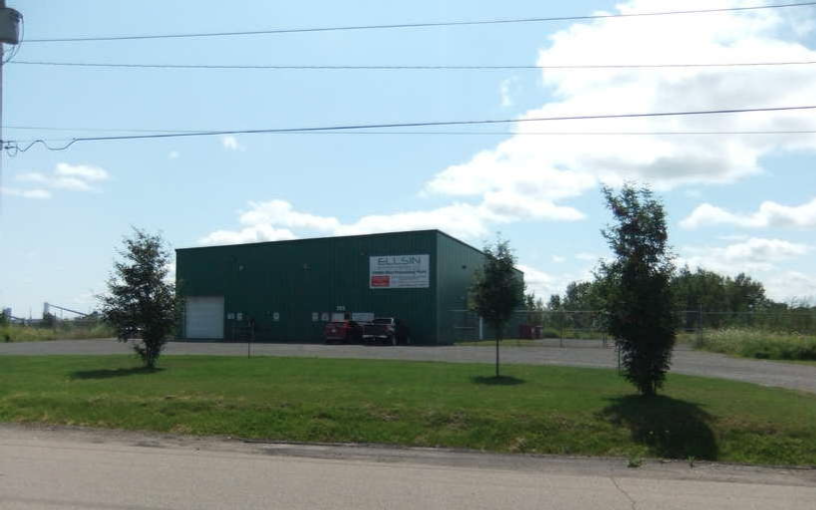 Many jurisdictions already add disposal fees to the purchase of new tires, effectively taking responsibility for their disposal. EWS will try to convince those jurisdictions (or perhaps some intermediary) that their way is superior to whatever they're doing now. That sales process will become easier as the Ontario plant becomes more mature, and the entities tasked with regional tire disposals can get a better idea of what they're buying.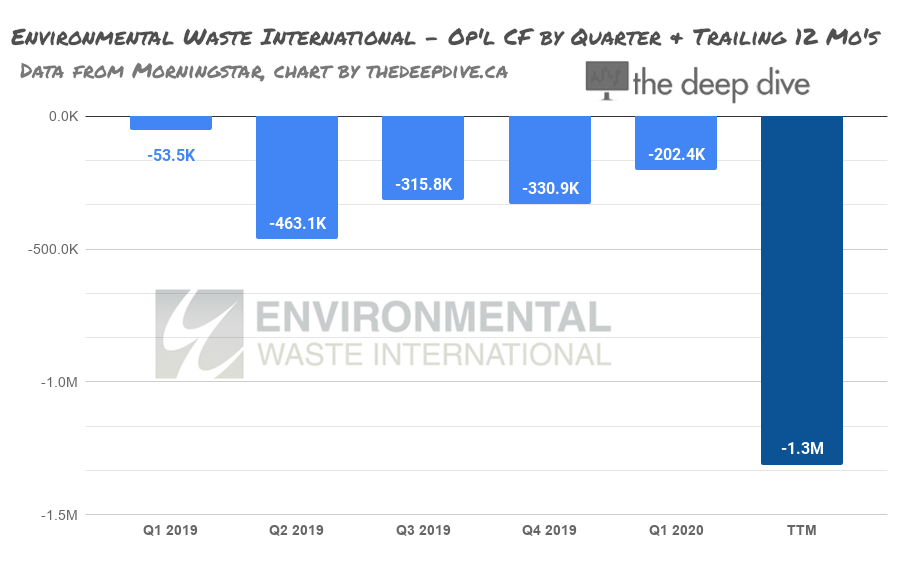 In the meantime, running the pilot plant cost EWS around $300,000 / quarter on a cash basis, before it was scaled up. The expenditure has been largely financed through debt. Much of it is debt advanced by the company principals, who have so far been amiable to the conversion of that debt into equity.
At the end of March, Environmental Waste's balance sheet carried $7 million in debt including $2 million in government debt, a $1 million promissory note owed to a director (bearing 6% interest), and $1.8 million in convertible debt, with a conversion price that climbs from $0.08 / share to $0.10 / share on September 16th of this year, so expect that stock to be added to the cap table in short order.
Add the 23 million shares created by those conversions and the 6 million shares from a July private placement at $0.065, and EWG is pushing 237 million shares for a $61 million market cap. With no other tire recycling plant making companies to compare it to, it's hard to say if that's a lot or a little.
The bet is that the Sault St. Marie plant will perform so well that the sales team will be able to convince or shame other jurisdictions into commissioning their very own versions. Such a condition would truly be the rubber hitting the road, but there's no way to tell what that will cost or how long it will take. Look for ESG to mine early throughput success for near-term catalysts, and to raise some more money.
---
Information for this briefing was found via Sedar and the companies mentioned. The author has no securities or affiliations related to the organizations discussed. Not a recommendation to buy or sell. Always do additional research and consult a professional before purchasing a security. The author holds no licenses.