Market Movers Has The Straight Goods On Turmalina Metals Corp
Turmalina Metals Corp. (TSXV: TBX) did six million shares worth of volume this past Friday, August 28th to close up $0.07 at $1.38 following morning news that it had intersected 109 meters grading 4.9 g/t gold at its flagship San Francisco De Los Andes project in Argentina. The six million shares is an all-time volume high for the young exploration company. It came out strong Monday morning in the follow-up, but cooled off later in the session to finish down a dime at $1.28 on 2 million shares.
The abnormal volume got our attention, so we took a look and found a company that's about as much of a Vancouver-based gunslinger mining story as a company can get. It's built around a no-ceiling exploration property with dazzling geology and enough prior production to make it interesting, financed through a cap table that we though of calling "fast and loose," but might be better described as fast and tied up with a slipknot. It was compelling enough that Dr. Dive has decided to bring the readers a full workup.
The Property
This is one for the heads.
Geology seems complicated, and at the level that it's practiced as a science, it absolutely is. But that complication is created through the application of jargon to reasonable guesses, to make them read like they're seasoned evaluations… which they are… when proffered by experts who know how to collect and treat the data, stitch it together with the appropriate jargon, then charge someone for it.
At its core, economic geology is an understanding that the metals humans find precious or industrially useful occur in greater concentrations in the earth's mantle layer than they do in the earth's crust, and commercial mineral exploration is all about finding the spots where the mantle layer itself, or the minerals it contains, made their way into the crust, then proving there's enough in the same place that it's worth digging a hole in as few moves as possible.
In this instance, the mantle layer fluids came up through the crust suddenly and violently. The shards of the blown-apart structure that was holding it back are still evident in the cooled down mixture that the pros describe as "turmaline breccia pipes," in sharp-edged chunks that betray the quick, hot, violent explosion that blew them into their current state. A slow grind through cooler material might have rounded their corners.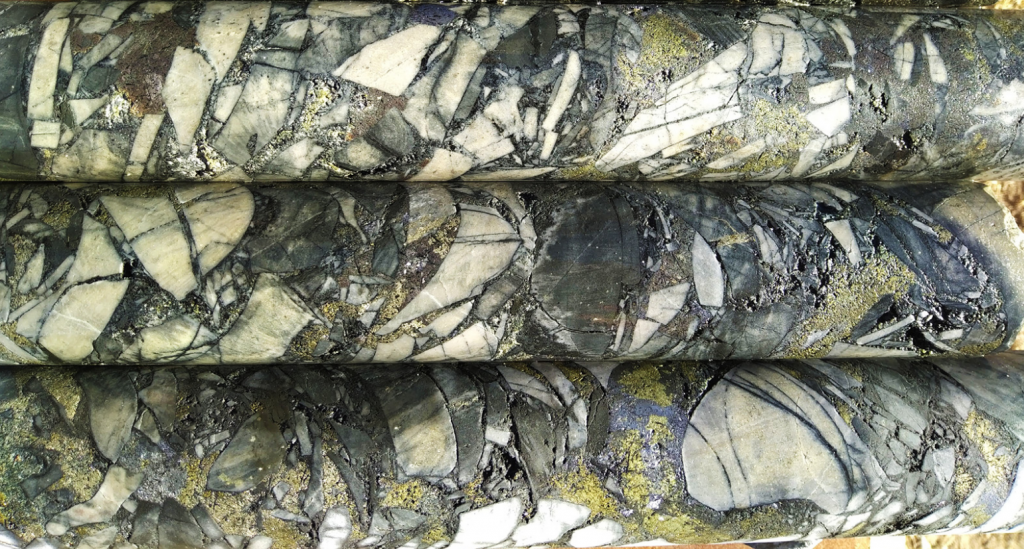 Turmalina has the right to acquire a 100% interest in the San Francisco De Los Andes property in Argentina, the home of historical production from a polymetallic deposit that was hosted in a brecciated pipe-like intrusion into the sedimentary host rocks. High-grade polymetallic material appears to have been mined and crudely processed for copper and bismuth by previous operators who are long gone. Samples taken from surface and from the shafts and adits that remain of the ancient operation indicate that the mineralization appears to have increased in grade and volume at depth, and was hosted mostly in the "lobe" edges of the brecciated pipe structure, near the contact zone with the host rock.

The property has a good number of these brecciated intrusions, and the operators have expressed that they can be located and mapped with geophysics. Whether any of them contain the same kind of high-grade mineralization as the previously exploited main breccia-hosted deposit, or if the mineralization does in fact get richer in the deeper parts of the pipes is yet unknown, and finding out is part of the fun.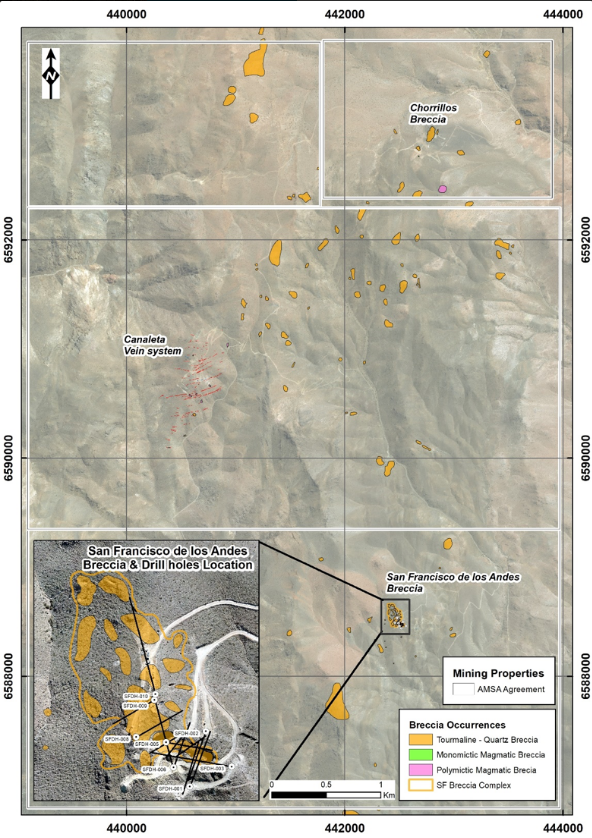 There are gold and silver bearing hydrothermal veins crosscutting the property which may or may not have been mineralized by hydrothermal fluids flowing from these same brecciated pipes, which doesn't ultimately matter as much as the sum total grade and tonnage of that notional mineralization is able to be proved with a diamond drilling program, executed through a healthy application of money.
The Issue
Turmalina's journey started in 2017 with a few scattered raises that amounted to 8.58 million shares being issued at $0.125 once the dust settled on a consolidation. The company issued another $1 million worth of paper at $0.125 in a round that included some amount of debt settlement, so we're inclined to consider its true cost to its owners to be much less. It then did a couple more $0.25 rounds to raise $1.85 million (less fees) in May of 2019, before selling another $7 million worth of subscription receipts at the equivalent of $0.50 / share in July of 2019.
The company wouldn't go public until five months later in December of 2019, and it was doing another raise by February: $0.70 units comprised of one share and one warrant at $0.90 for $9.7 million. At last count, in June of 2020, the company had $12 million in cash and 75 million outstanding shares on a fully diluted basis.
Various escrow agreements and lockup periods theoretically restrict the float to 28.4 million shares, but it's hard to ignore the kinetic resistance that all that penny stock can exert on the share price. 105 meters of 4.9 g/t gold (the company calculates the grade at a 7.5 g/t gold equivalent when accounting for the silver and copper) is a barn-burner of a hole, and Turmalina's first real crack at creating volume to churn through paper and move the price. So far, it's flat. The market is telling us that it was expected. Baked in. TBX has been out here raising money on this thing for at least two years so, trading at a 60% premium to the average cost of the outstanding shares, headline grades are the baseline. What has it done for us lately?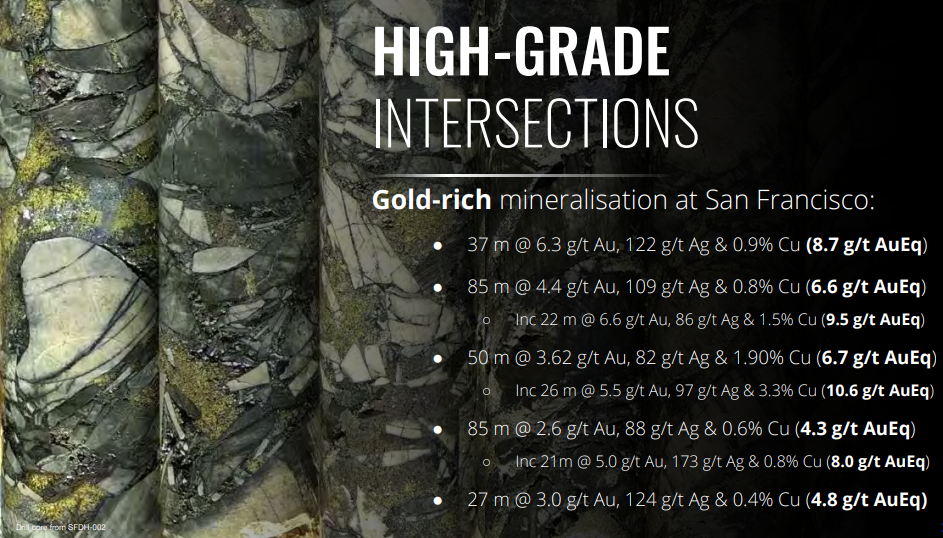 The rebuttal coming from the true believers and professional touts, surely, is, "So what? when has an absolute MONSTER like this ever been served up as a public issue except for with a bunch of cheap stock in the float? The model has these high-grade intersections improving at depth. TBX is drilling right now and if it hits one (or two in a row!) in this market, it could make a half a billion dollar market cap the floor, and still have un-drilled targets. At that point, what will it matter if you got the stock for twelve cents, fifty cents or a buck and a quarter? Do you want to wring your hands over the founders' paper, or do you want to get RICH!? Are you MAN enough to board this rocket ship, or scared of what might happen on the way to space!?"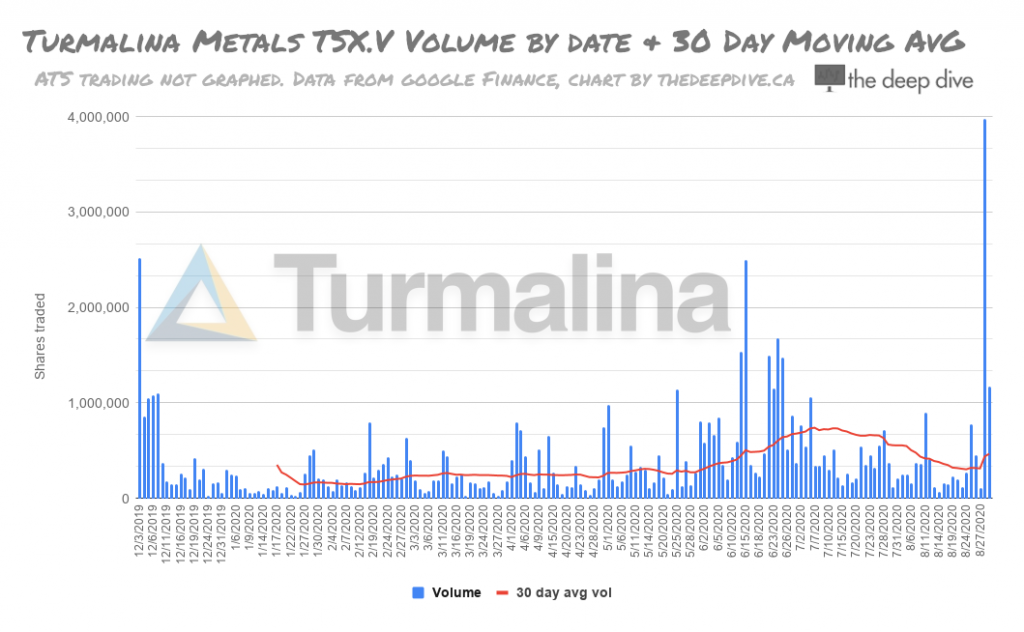 Whether or not Team Turmalina is presently engaged with a promoter capable of getting sufficiently carried away to a susceptible crop of investors isn't known. But we do know that this team is most recently notable for putting together K92 Mining (TSXV: KNT), which has made a Barrick Gold cast-off in Papua New Guinea into a daily fixture among the TSX Venture volume traders. The Kainantu mine was a great deal more advanced when it was listed than the San Francisco project is today, but it was also listed in a slower gold market, at a lower gold price. K92 is developing a known quantity that's further along the risk curve. Turmalina has a bigger dream to sell and is going about its sale in a very auspicious environment.
The bet here, as it always is for the retail investor, is whether or not Turmalina can make the dream appealing enough to create buying sufficient to shake loose the cheap paper, or make that paper's owners greedy enough to hold on. It has $12 million to spend on exploration and promotion in service of that mission.
---
Information for this briefing was found via Sedar and the companies mentioned. The author has no securities or affiliations related to the organizations discussed. Not a recommendation to buy or sell. Always do additional research and consult a professional before purchasing a security. The author holds no licenses.