Market Movers: Hive Blockchain Moves 22%
Hive Blockchain Technologies Ltd (TSXV: HIVE) has been a recent market mover, with the equity experiencing an increase of 22.22% yesterday, closing the market at a price of $0.225 on volume of 6.06 million.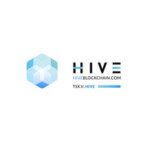 Hive is headquartered in Vancouver Canada, and is a company focused on the digital currency market, through means of creating a link between cryptocurrencies and the traditional capital market. The company produces blockchain infrastructure, which is essentially a digital record of transactions. Blockchains such as the ones produced by Hive record the transactions of cryptocurrencies such as Bitcoin, and then each of those transactions is further validated by other computers connected to the internet.
Since early December, the company has been experiencing noticeable equity increases, going from $0.095 on January 6, 2020, to an increase of $0.14 by January 28. However, there was even a more substantial sudden increase on January 30, with the equity trading at $0.185, and then even further increasing to $0.225 as of February 5, 2020. The moves come with minimal news being issued by the company, with the last news release being issued January 15 related to the mining of Ether coins.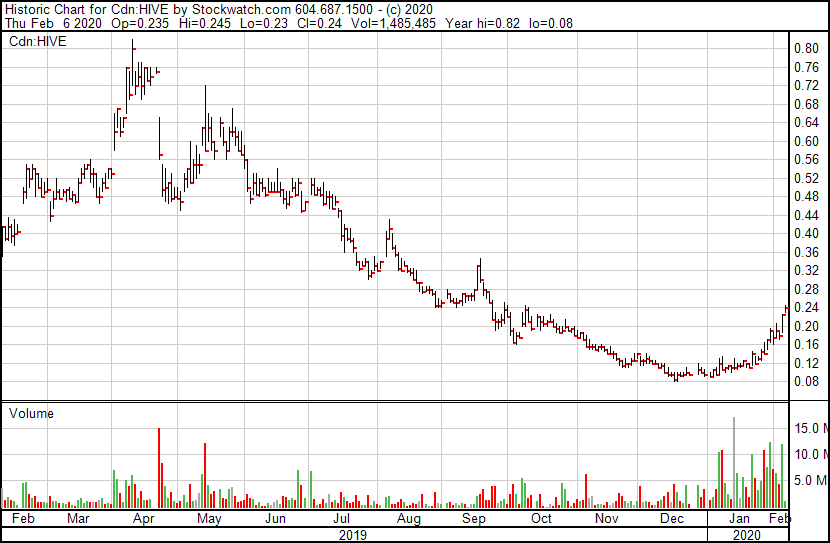 Blockchain infrastructure has strong potential to become a disruptive technology because data that it holds is not owned by a single entity, but rather each block of data is connected via cryptographics. This means that all information stored on the blockchain can be accessed by anyone, and is thus transparent. In addition, there are no transaction costs, because information is passed from one entity to another through the creation of blocks. Each of those blocks is then verified by other computers, and then those verified blocks form a chain of data. If the data within the block is false, then it would render the entire chain spanning through numerous transactions to be false as well – which is nearly impossible. Thus, such technology is highly ideal for monetary transactions.
Hive has partnerships with several mining companies, including Genesis Mining Ltd and Blockbase Mining Group. Together, these companies are constantly producing minted digital currencies. Hive also owns and operates GPU-based mining facilities in Sweden and Iceland, as well as conducts operations which utilize cloud-based mining to create digital currencies similar to Bitcoin.
Going forward, the company plans to explore other methods of blockchain computing, such as graphic rendering, artificial intelligence, as well as private blockchains. Recently, Hive announced it has experienced a production increase of 20% regarding Ether coins, which is one of the company's newly minted cryptocurrencies.
---
The author has no securities or affiliations related to any organization mentioned. Not a recommendation to buy or sell. Always do additional research and consult a professional before purchasing a security. The author holds no licenses.