Mjardin Group: A Little Known MCO With Big Plans
Today we'd like to touch on a relatively quiet, and seemingly unpopular company by the name Mjardin Group (CSE: MJAR, OTCMKTS: MJARF). The cannabis sector has no shortage of both companies and sub-sectors within it. Some operators clamouring to gain market share and staying power will choose a very specific niche to specialize in and dominate, while others will diversify and try be everything to everyone.

The high level overview
Mjardin falls under the diversified category rather than the niche category in regards to their business operations. From I.T. and education, to cultivation extraction and retail, and everything in between Mjardin defines diversity. With a long history operating in the sector and a very recently public debut, this group is anything but easy to understand or straightforward.

Unfortunately being in this early and often experimental stage means universal laws and regulations are all but nonexistent – especially south of the border in the US where cannabis remains a Schedule 1 narcotic and thus federally illegal. Now try operating on both sides of the border, not just for the purposes of being able to list your company publicly, but also operating business in both countries.

What's been described here is a recipe for a complex and extremely involved network full of moving parts consisting of holding companies, financing companies, management companies, and wholly, jointly and partly owned subsidiaries. The self proclaimed "MCO" (Multi Country Operator) – Mjardin is a shining example.
Here's an example of the corporate structure needed to be able to legally conduct the type of business many of these North American operators are involved in.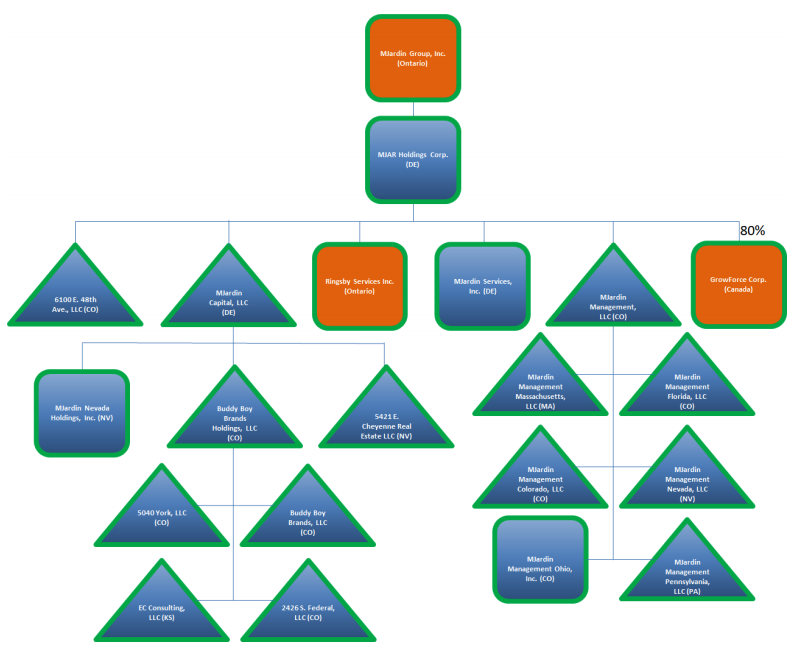 Mjardin's Attractive Float & Evolving Approach
The company was officially incepted and headquartered in 2014 in Denver, Colorado – the heart of the North American legal cannabis sector – under the name Mjardin Holdings, LLC. The company only recently went public, listing their stock on the CSE under the ticker "MJAR" via a reverse takeover that resulted in trading commencing on November 15, 2018.
With a common share count of 40,672,375 – excluding 12,436.244 Class A shares held by insiders, it is our observation that Mjardin possesses an increasingly rare low float at a fully diluted total of 53,108,619. This is assuming conversion of Class A voting shares, which are worth 1000 Class B shares each upon meeting certain conditions. The total tradable float as of November 13, 2018 is 40,684,811.244 – according to their initial listing form filed in SEDAR on November 14, 2018.
Leading up to the second half of 2017, Mjardin had generated revenue by charging fees and receiving royalties for managing and guiding smaller private firms in all aspects of running and scaling their business. From cultivation to retail, Mjardin aided their clients in all aspects of operations – from designing greenhouses, to HR management, right down to the maintaining and cultivating processes.
They do this through a suit of proprietary software specific to managing cannabis cultivation facilities, as well as a proprietary educational system used to train facility staff in every position necessary to run a cannabis cultivation and retail operation – known as "Mjardin University."
It is these areas of expertise that Mjardin claims they have leveraged and has allowed them to accomplish uniform results and efficiencies across all client facilities. And since the back half of 2017, in addition to the aforementioned services, they have taken an even more hands on approach with their clients by honing in on and converting the most promising into partners through larger strategic investments with the ultimate intention of a full or majority ownership stake.
What Mjardin is up to, and where they're up to it
With no shortage of plans on the go, we'll set those aside in this article as we're interested in what the company has going for it today. Instead, we're focused on current operations in Canada and the U.S.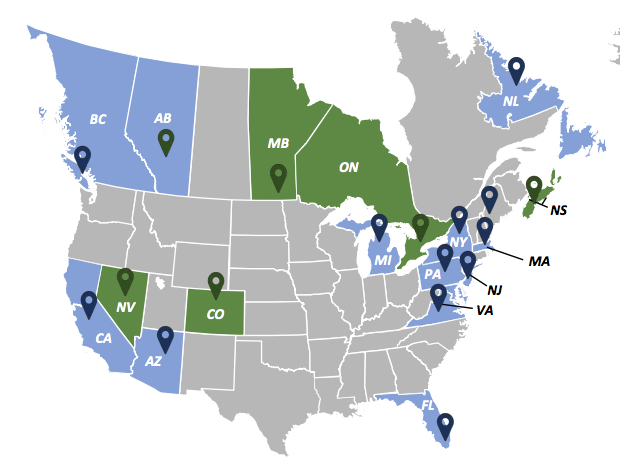 The claim is MCO, or Multi-Country Operator, and while technically true it's worth noting that currently that consists of Canada and the U.S. Although the intention is that eventually Mjardin will establish operations in additional American states, as well as Europe and Africa. From what we're able to find through our analysis today that is not a part of the equation, however the infographic on the corporate website does indicate many more states are on the horizon. In terms of Canada and the U.S., Mjardin to date has established a presence in 3 states (although upon review Massachusetts operations are suspect) and 4 Canadian provinces.
Mjardin's US Operations
Denver, Colorado – Buddy Boy Brands, described as a fully integrated operator with 5 cultivation facilities and 7 dispensaries. Officially acquired on January 17, 2018 for $40,000,000 US.
Las Vegas, Nevada – GreenMart of Nevada LLC, a 4 acre site with 2 cultivation facilities (One of which was operational as of September 18th, 2018). Acquired in August 2018 for cash and stock worth $22,000,000 ($9,088,000 cash and the rest common stock in MJAR with a portion of the stock being reserved for certain milestone achievements at the facilities).
Massachusetts – A Previously reported Strategic Partnership to manage a facility for/ with MPX (named The Canadian Bioceutical Corporation at the time of the partnership) but by all appearances it seems that MPX (Now Ianthus) has since purchased full ownership of their Massachusetts operations. Mjardin has an offshoot in it's corporate structure listed as "Mjardin Management Massachusetts, LLC" the details of which are unclear.
Mjardin's Canadian Operations
Mjardin operates in 4 Canadian provinces through its wholly owned subsidiary "GrowForce Holdings Inc," which is headquartered in Toronto, Ontario.
GrowForce was initially a spin off of Mjardin's Canadian operations in early 2018, it is suspected that the spin off took place in order for Mjardin to meet listing requirements set in place by the CSE. As of November 30th, 2018 GrowForce was officially reacquired by Mjardin Group in an all stock transaction worth $38,234,400.
These operations include
Calgary, Alberta – Announced October 16, 2018, Sweet Tree Cannabis Co. and GrowForce are to form a Joint Venture for an approved 5 retail dispensary locations across the city of Calgary with 2 currently in operation.
Selkirk, Manitoba – Through a joint venture with Manitoba's Peguis First Nation Community, the company plans to retrofit a 120,000 square foot cultivation centre. Additionally, they are to open 2 retail cannabis dispensaries – today retrofitting at the cultivation facility is under way, while the dispensaries are still in the early planning phase based on the most recent news release.
Brampton, Ontario – Purchased WILL Cannabis Group Ltd which is an LP under ACMPR capable of producing 5000KG's of finished cannabis annually.
Dunnville, Ontario – Grand River Organics partnered with Mjardin in late 2017 to open a 10,800 square foot cannabis cultivation facility, which was slated to be complete in September of 2018.
Sackville, Nove Scotia – AtlantiCann Medical Inc, a 50% owned and licensed 48,000 square foot cultivation and extraction facility capable of producing 6,000 KG's of cannabis annually.
As an aside it is worth mentioning that the companies future plans are left out of this article, but not as an expression of doubt. In the interest of keeping things at a reasonable length we've only included what we can confirm is currently active at Mjardin today. We do look forward to revisiting this company in the future if/when more concrete details are laid out with regards to future operations.
Conclusions
Mjardin takes an approach of finding small but promising private companies which they can improve upon. They then offer their suite of proprietary educational and greenhouse management software, which often results in Mjardin providing strategic financing and ultimately evolving into a partner or ownership agreement.
This company represents one of the earliest pioneers in the legal cannabis industry in North America. A depth of knowledge in regards to public markets that entered the Mjardin picture in 2014 has helped launch an organization that has had success navigating this sector up to this point. With continued execution it would be a fair conclusion to think many of Mjardin's big ideas may just come to fruition.

An attractive float, with an attractive history of acquisitions, partnerships, and joint ventures makes Mjardin an interesting company and one worth following.
---
Information for this analysis was found via Sedar, The CSE, and Mjardin Group. The author has no securities or affiliations related to this organization. Not a recommendation to buy or sell. Always do additional research and consult a professional before purchasing a security.