More Corporate Bailouts on the Way: Trump Initiates Rescue Plan for Oil Industry
This week, major US airlines have begun receiving their earmarked $22.7 billion worth of government grants, in addition to having another $25 billion available in government loans. As if that isn't a hefty enough burden on taxpayers, President Donald Trump is now ordering officials that include the Secretary's of Energy and the Treasury to set aside a bailout package specifically for the oil industry.
Oil prices have been the subject of a historic nosedive, with US benchmark oil futures contracts reduced to negative pricing – something previously believed to be you would only ever see as an example on a professor's chalkboard in an introductory economics class, and not in the real world. However, much of that can be attributed to the inelastic portion of the demand and supply curves in the short run. The demand for oil does not respond to prices fast enough in the short run, and neither does the supply of oil respond to demand quick enough, given that it is too costly and time consuming to immediately shut down wells. As a result, the demand and supply of oil is then tossed into a serious disequilibrium, with near non-existent demand and significant oversupply.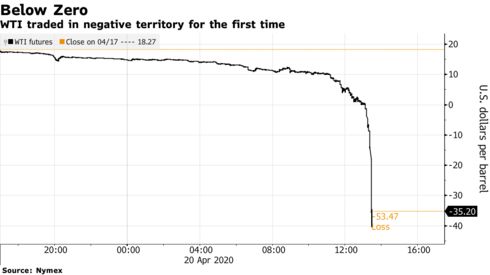 As traditional Keynesian economics would dictate however, the simple solution would be for the oil companies to simply continue operating at a temporary loss and pump the oil into storage until the inelastic oil market regains stability. Except, there is one big, ugly problem: it appears that oil producers in the US are running out of space to store the oversupply of oil, with reserves projected to fill up by mid-May. But don't worry, Donald Trump is promising to allow an additional 75 million barrels of oil to be stored in the country's Strategic Petroleum Reserve, in addition to potentially blocking Saudi Arabia oil shipments into the country. Sadly though, that is still not enough to keep the oil industry afloat during these unprecedented times, and now the US government is looking at earmarking funds to bailout US oil companies.
A US oil company bailout will most likely not go down the hatch of taxpayers too smoothly though. Well before economic implications from the coronavirus pandemic became evident, the US shale industry was already in hot water. The poor business models of many US shale companies were set up in such a way that for every dollar made, two dollars were spent – which initially worked because it created exponential growth in lieu of profitability. Then, whenever funds were low, shale companies just dug into the pockets of investors for more capital to continue drilling new wells. Now with the current historic economic downturn across the globe, oil companies are piling up on President Trump's doorstep, bowl in hand, echoing Oliver Twist's "Please sir, may I have some more?"
Trump's secretaries from Energy and Treasury will most likely have to do some extensive digging around in government pockets to come up with additional funding for US oil companies, given that there is already a strong public sentiment against additional corporate bailouts at the expense of replenishing the Paycheck Protection Program for small businesses – which by the way, ran out of funds within two weeks. And, its not like the US government will have a substantial amount of revenue pouring in to cover all of these bailouts either given that the President approved a Republican provision in the CARES Act, allowing a tax break worth $195 billion of government revenue for the wealthiest of Americans.
Information for this briefing was found via Bloomberg, MSNBC, Barron's, RT News, and NPR. The author has no securities or affiliations related to this organization. Not a recommendation to buy or sell. Always do additional research and consult a professional before purchasing a security. The author holds no licenses.