Pegasus Resources Acquires Claims With Significant Historical Resources Near To enCore Energy
This past week Pegasus Resources Inc. (TSXV: PEGA) announced an impressive addition to its asset portfolio with the acquisition of 147 lode mining claims covering an area of approximately 3,037 acres in Fall River County, South Dakota known as the Chord property. The contiguous claim block is on lands managed by the United States Forest Service, and these were optioned from Cowboy Exploration and Development LLC in a US$1.5 million all-cash transaction for 100% ownership, payable over three years.
Union Carbide (now owned by Dow Chemical) drilled the claim block during the 1970s, finding three areas of mineralization hosted within roll front–type deposits. These are typically found in the Cretaceous-age Fall River formation and in the three sands of the lower Chilson member of the Lakota formation.
Two unoxidized deposits were delineated on the property at depths of 350 ft. to 500 ft. This drilling activity resulted in a non-43-101 compliant measured and indicated resource estimate totaling 2.37 million pounds of U3O8 – and the potential for an additional 1.44 million pounds of U3O8 measured and indicated resources. At the time, Union Carbide contemplated a potential open pit and underground mining operation for this deposit, but halted its plans due to low uranium prices.

Open pit orientated deposits were also found on the property, with at least eight such deposits outlined by Union Carbide within the Fall River and Lakota formations. The resource estimate at the time was based on a 0.04% U3O8 cut-off, with drilling at these deposits conducted on 50 foot centres.
The Neighbouring Resource in Advanced-Stage Permitting
What makes Pegasus' acquisition compelling is that this claim block is located just 5.5 kilometres southwest of the Dewey–Burdock Uranium Project, an in-situ recovery (ISR) uranium deposit 100%-owned by enCore Energy Corp. (TSXV: EU) . This project is currently in an advanced-stage permitting process.
The Dewey–Burdock uranium deposit is also similarly hosted within the Chilson member sandstones, and according to its NI-43-101 technical report, contains a measured and indicated resource of 7.39 million tons of U308 at an average grade of 0.116%, or 17.12 million lbs. The underlying geological structures at the Dewey Burdock Project are very similar to the Pegasus claim block. The task now for Pegasus will be to prove up more defined uranium resources from its exploration programs – i.e. there could be a potential economically viable ISR operation if they simply follow the enCore blueprint.
enCore Energy has a market capitalization of $594.5 million – in contrast with Pegasus' market capitalization of $9.16 million.
Pegasus' Historical Resource' History
Pegasus will be reviewing all the historical data on the claims to determine an exploration strategy. The goal is reportedly to drill to confirm historical results, expand the size and scope of the existing mineralized deposits, and establish an updated, NI 43-101 compliant resource estimate.
In 2004 Can Alaska Ventures, now CanAlaska Uranium Ltd (TSXV: CVV), controlled the property. They commissioned a Capital and Cost Estimates Report, essentially a Preliminary Economic Assessment, of the Chord Uranium Project (as it was called by CanAlaska). The report was based on the work done by Union Carbide, and dollar amounts were adjusted from 1983 to 2004 prices. Most of the report centered on the two mineralized zones delineated by Union Carbide, October Jinx and Viking, and their potential for mining.
The PEA on Pegasus' Chord Property's Historical Resource
The report identified several different production options and the feasibility for each option. The preferred extraction method would be heap leaching, the precursor to today's ISR methodology. With the detailed historical data readily available, it is incumbent on Pegasus management to formulate the quickest and most expedient strategy to develop the property and build value for shareholders.
South Dakota is a mining-friendly, pro-business jurisdiction and host to several current uranium operations. South Dakota law indicates that Pegasus could initiate small-scale mining of up to less than 25,000 tons per year to allow the operation to be permitted as a limited impact operation. This could provide PEGA with some cash flow to help fund operations internally.
The 2004 PEA-equivalent determined that this option would be cash flow positive at $30/lb U308 and enable a reserve life of 5.4 years with the current resources calculation. Uranium prices are double that today, and it should be noted that costs have also risen. Intense larger operations would require satisfying more stringent regulatory and environmental standards.
Neighbour enCore's PEA and Plans
According to enCore's Dewey Burdock Project PEA, their initial capital expenditures are estimated at $31.7 million, with the project forecasted to produce 14.3 million pounds of U3O8 over its 16 years of production life. Positive cash flow is expected to be reached in the second year of production, with projected cash flows of the Dewey Burdock Project expected to be positive in the second year of production, two years after construction is initiated.
EnCore is basing its production plans upon its 17.12 million pound reserve calculation. This could bode well for Pegasus if it can successfully expand its uranium resources through its upcoming exploration activities – and eventually replicate what enCore is doing.
Perhaps the most interesting aspect of the project is the expected costs on a per pound basis – $10.46 per pound in operating costs, $5.15 per pound in local taxes and royalties, and $11.05 per pound in sustaining capital costs. Collectively, a per pound cost of $26.66 means that the geology and tax regime in the region makes uranium production interesting in an environment of $60+ per pound U3O8, and bodes well for early stage operators in the region.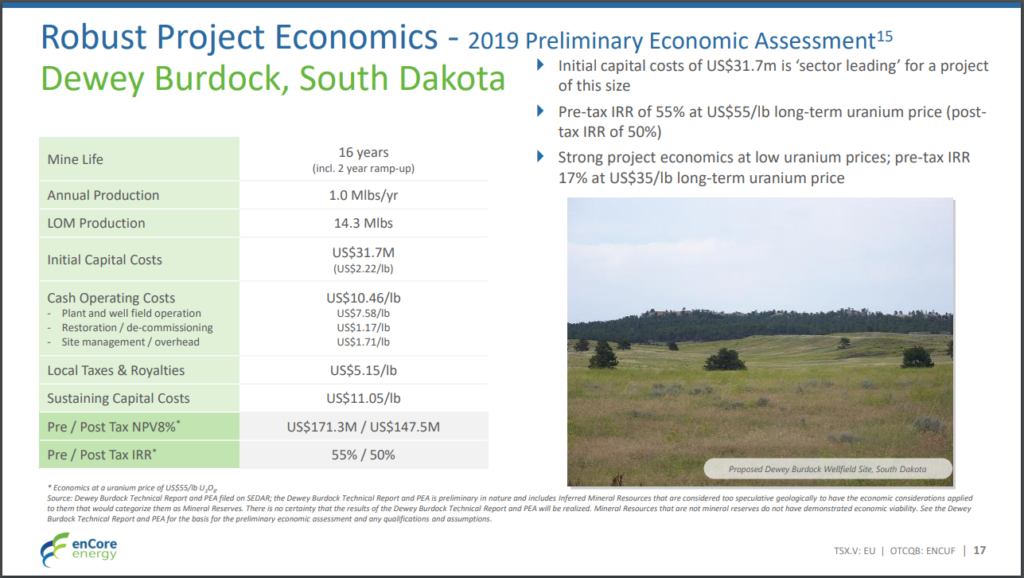 South Dakota Geology Ideal for In-Situ (ISR) Uranium Recovery Operations
The geology of this region of South Dakota is characterized by the Fall River and Lakota Formations, which host layers of shallow permeable sandstones that were formed from calcareous shale, basalt and sandstone during the Cretaceous period, and typically found within 500 ft of the surface. Uranium collects in the sandstones as classic roll front deposits that are ideal for in-situ (ISR) uranium recovery operations, which are generally more cost-effective than conventional mining operations.
In Situ Leaching (ISL) / In Situ Recover (ISR)
"In situ leaching (ISL), also known as solution mining, or in situ recovery (ISR) in North America, involves leaving the ore where it is in the ground, and recovering the minerals from it by dissolving them and pumping the pregnant solution to the surface where the minerals can be recovered."
The case for ISR operation is that ISR consumes less water and leaves no tailings, making it much a more environmentally-friendly method of extraction. The average CAPEX of ISR operations can be less than 15% of ordinary mining operations, with operating costs that can be 30-40% less. ISR operations use injection wells by adding oxygen and carbon dioxide, creating a leaching solution that the uranium dissolves into. Recovery wells then pump the solution back to the surface and into a processing facility. It is estimated that almost 60% of all uranium extraction is now ISR-based.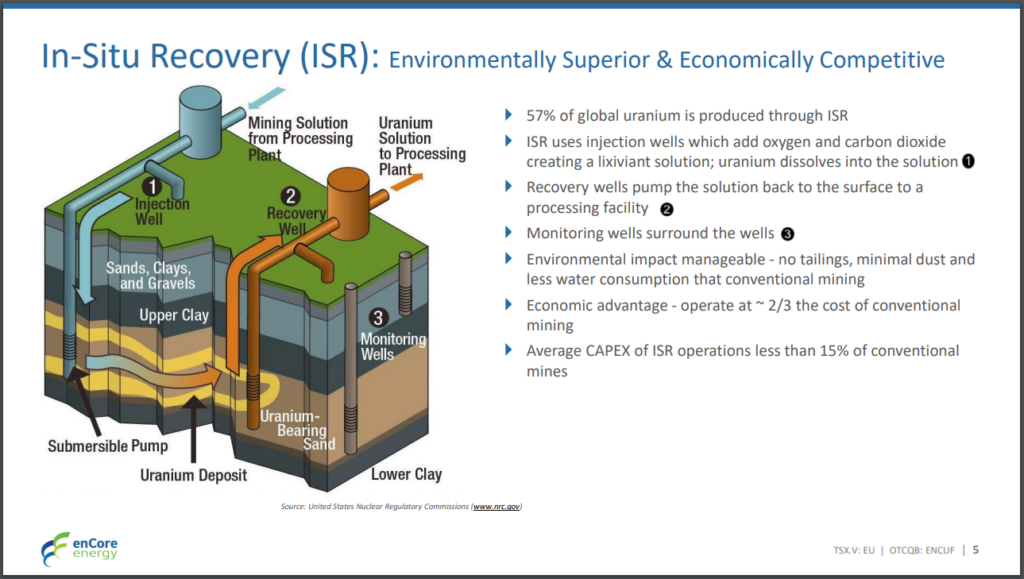 Why Uranium's Time is Now
One of the ironies of the global battle to fight climate change by reducing carbon emissions is that while energy generation from renewables such as solar, wind and geothermal have their place, nuclear energy has been demonstrated to be the safest and cleanest form of power generation – and produces no carbon footprint. Governments around the world have recognized this reality and currently more than 200 nuclear reactors are being planned or built.
The US has recognized uranium as being a critical resource vital to the Country's economic and national security. As such, the federal government has allocated $1.5 billion towards building a domestic strategic uranium reserve over the next ten years.
Several decades of fear and negative public sentiment towards nuclear energy resulted in limited uranium demand and investment, resulting in less exploration for uranium and fewer new mines put into production. Today, rapidly rising demand for nuclear power is driving demand for the uranium necessary to power the reactors – and this has sparked a global exploration boom to discover, develop and mine new uranium deposits.
The uranium boom is coinciding with the rapid growth of the electric vehicle (EV) industry as many governments have mandated a transition away from fossil-fuel powered vehicles to EVs, in order to meet global carbon emission targets. The world will require reliable and cost-effective electricity to keep these vehicles running, and nuclear power is one of the safest and most reliable sources.
These factors appear to be creating the perfect storm for junior exploration investors that is forming the foundation for a long and sustainable bull market for metals and minerals of all kinds. Add to this the global economy recovering from the ravages of the Covid-19 pandemic, and demand and price pressure for all commodities could very well continue to rise for many years to come.
Pegasus Moving Forward
PEGA is an interesting case. The company currently has a market cap of $9.16 million, and currently has several uranium projects under its belt. Presently, multiple of those projects hold historical resources, which must now be made 43-101 compliant, which potentially might bring a boost to its valuation.
Pegasus will be commencing the permitting process while concurrently reviewing all of the historical data on the South Dakota claim block to formulate an exploration strategy. The company has already indicated that it plans to drill to confirm the historical Union Carbide results, conduct exploration to discover more mineralization, and to produce an updated 43-101-compliant resource estimate. Pegasus will also perform aquifer tests to determine the property's ISR potential.
Pegasus Resources is now well diversified with properties in Canada's uranium-rich Athabasca Basin in northern Saskatchewan, and in the United States with its Utah and now South Dakota uranium properties. The demand for Uranium will only continue to grow as the world re-embraces nuclear power to drive carbon-neutral economies and infrastructures. With demand currently outstripping supply, explorers are rushing to make discoveries of potential new uranium mines around the world.
Geopolitical realities, such as the current hostilities between Russia and Ukraine, have reinforced the reality that uranium is a strategic mineral. Therefore, countries must focus on developing their own domestic supplies. Pegasus is well positioned in that regard.
The company's recent announcement of the South Dakota uranium asset acquisition has certainly sparked interest in PEGA shares, and its market capitalization has increased past the $9 Million mark in the past week – a sign that investors are quite pleased with the acquisition. Time will tell whether that interest continues as the company works to derisk the property.
Pegasus Resources last traded at $0.10 on the TSX Venture exchange.
---
FULL DISCLOSURE: Pegasus Resources is a client of Canacom Group, the parent company of The Deep Dive. The author has been compensated to cover Pegasus Resources on The Deep Dive, with The Deep Dive having full editorial control. Not a recommendation to buy or sell. Always do additional research and consult a professional before purchasing a security.