Pond Tech: Producing Algae to Help Combat Climate Change
Pond Technologies Holdings Inc (TSXV:POND) is a Markham, Ontario-based company that has developed and commercialized a proprietary technology platform that captures and converts harmful carbon dioxide emissions into protein-rich food-grade algae-based commercial products such as biofuels, animal feeds, natural fertilizers.
The company has three distinct vertical markets:
Pond Naturals: Manufactures, distributes and sells its ingredients and products to the food, beverage and nutraceuticals sectors,
Pond Biotech: Cost-effective production of complex proteins to be applied to various therapeutic and diagnostic uses for humans and animals.
Pond Carbon: Develops and commercializes proprietary technology, holds IP, which generates revenue from proprietary equipment sales, consulting, technical support, licensing and royalty fees
Pond has recently transitioned from a research and development focus and is now commercializing its patented technologies and paving the way to accelerated revenue growth and profitability. The company currently has 26 active patents, including modulation patents, which protect flow of the stack gas that is critical for industrial algae growth, while 48 patents are currently pending.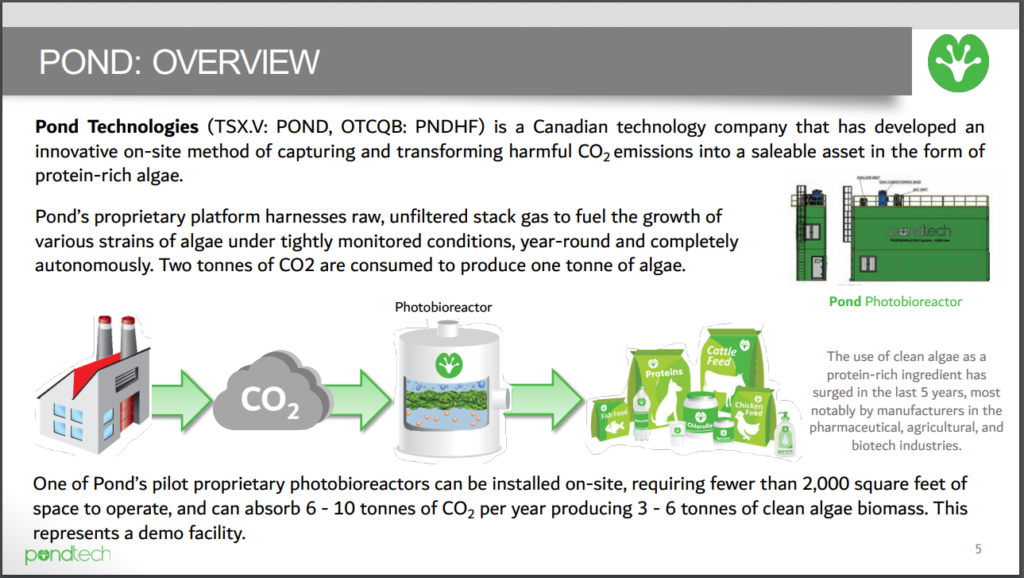 The tech begins with Pond's proprietary photobioreactor being erected onsite at the emission source, which operates automatically 24/7, year-round. The photobioreactor captures raw, unfiltered stack gas from industrial operational emissions to fuel the growth of various strains of algae under tightly monitored conditions. It requires two tonnes of CO2 to produce one tonne of algae, effectively reducing emissions by half for industrial facilities while creating protein-rich algae that can be monetized in many ways.
The past five years have seen increased use of clean algae as a protein-rich ingredient by manufacturers in the pharmaceutical, agricultural, and biotech industries. Current methods of algae farming require significant amounts of land and water, and the algae only grows during the daytime in the top few inches of the water. Climate conditions must be optimal and the growing ponds can be vulnerable to contaminants.
By comparison, Pond's enclosed photobioreactor technology uses artificial intelligence, proprietary LED-lights, and patented CO2-management protocols to automatically control and optimize all aspects of the algae growth environment such as gas, temperature and light, which enables around the clock, year-round algae production with a significantly smaller land footprint, and lower water usage, resulting in the increased yield and consistent quality of the algae biomass.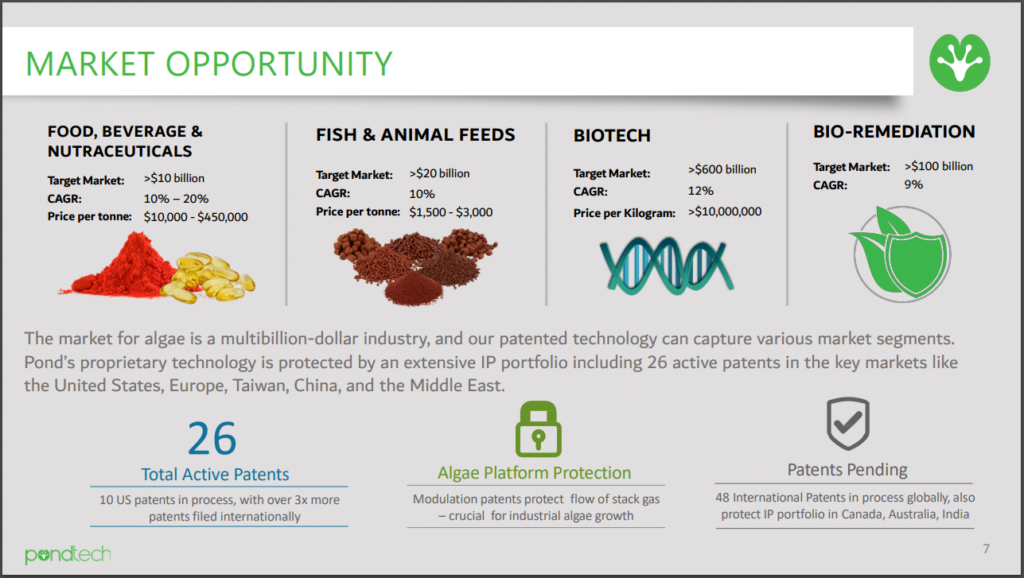 Pond's marketing and sales efforts have resulted in a quickly growing sales pipeline of potential business. In a significant development for the company, on September 8, 2021, it entered into an exclusive partnership agreement with Livalta to grow algae-based animal feed from CO2 emissions. Livalta is a division of AB Agri, which is a subsidiary of UK-based Associated British Foods PLC, a leading global manufacturer and distributor of premium animal feed products.
This agreement provides for the world's first scalable algae plant utilizing carbon emissions to produce protein-based algae used in animal feed. As an example of the benefits of the use of algae in such feeds, methane gasses from cattle flatulence are a major source of emissions worldwide. Algae-infused feed is reportedly healthier for the cattle and also reduces the expulsion of methane by approximately 50%.
The demonstration facility requires just 2,000 square feet of space to operate and can absorb 6 – 10 tonnes of CO2 per year, producing 3 – 6 tonnes of clean algae biomass. The success of this venture could quickly draw attention to Pond's technology and establish instant credibility within the agriculture industry, which in turn could serve to accelerate sales and shorten the sales cycle.
In addition to the AB Agri initiative, on August 2021 Pond announced an agreement with a major Canadian oil sands producer and fortune 500 company to grow covid-19 antigens that are produced from a unique strain of algae for use in rapid diagnostic testing, with Pond refining the growth and scale-up protocols for commercial production. This project falls under the Pond Biotech umbrella, with its development and growth of genetically modified algae strains that can produce valuable proteins for use in diagnostic and therapeutic applications. The division was created to assist biotech and pharmaceutical companies looking to grow specific proteins at scale.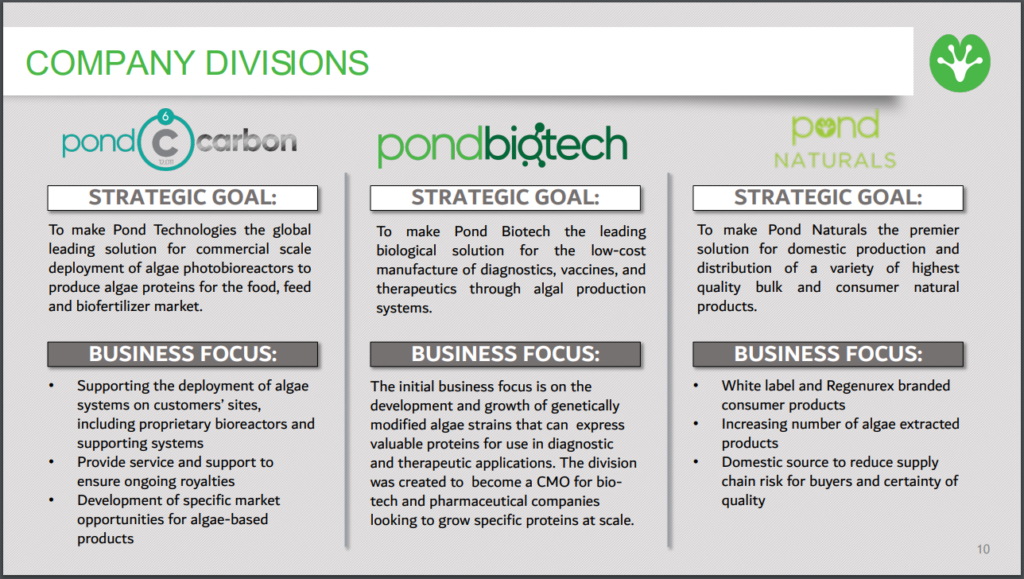 Separately, Pond also entered into an agreement with Ireland-based Malone Group, which specializes in environmental, social and governance (ESG) projects internationally. The Malone Group relationship provides Pond with access to Malone's process and safety engineering expertise, in addition to their extensive experience in delivering projects in operational and regulated environments. Malone will promote Pond to potential ESG clients on a non-exclusive basis.
The Pond Naturals Division manufactures and distributes a variety of consumer-oriented algae-based natural products that are sold into the food, beverage and nutraceutical industries. The company's British Columbia facility grows and sells astaxanthin under its own "Regenurex" brand as well through white labeling for other distributors. Pond's proprietary wet extraction process enables the extraction of astaxanthin oleoresin without the use of dehydration or harsh chemicals. The company continues its R&D activities to develop additional algae products such as astaxanthin, spirulina, phycocyanin, and other algae-based nutritional supplements products for human health.
Launching any new technology can be difficult, but having a solid reference customer can speed up the sales process significantly, and Pond will soon be able to point to agriculture industry giant AB Agri for credibility. The company appears to have been significantly de-risked for investors as over 10 years of research and development have been completed and a number of Pond's products are now commercially available. Pond's management and scientific and advisory team have extensive experience in the nutritional supplements, energy, and capital markets industries and hold substantial ownership in the firm.
Pond is well capitalized, having just completed a $1.8 million private placement at $0.20 per share, and it has been generating some revenue from its various technology initiatives. And the firm is not dependent on one revenue source due to several distinct and active business verticals, which gives the company a level of diversification. Pond appears to be on the verge of revenue acceleration as it closes on pending sales. With 53.26 million shares outstanding and a modest market capitalization of $13.3 million, Pond Technologies represents a unique opportunity in the green technology space.
---
FULL DISCLOSURE: Pond Technologies is a client of Canacom Group, the parent company of The Deep Dive. The author has been compensated to cover Pond Technologies on The Deep Dive, with The Deep Dive having full editorial control. Not a recommendation to buy or sell. We may buy or sell securities in the company at any time. Always do additional research and consult a professional before purchasing a security.