Pound Gone In Lebanon: Central Bank Devalues Currency Down By 90%
Lebanon will implement a new official exchange rate of 15,000 pounds per US dollar on February 1 according to central bank governor Riad Salameh, representing a 90% devaluation from the country's current official rate at 1,507 pounds, which has remained stable for 25 years.
According to Salameh, the move will apply to banks, resulting in a drop in the equity of the institutions at the heart of the country's 2019 financial implosion.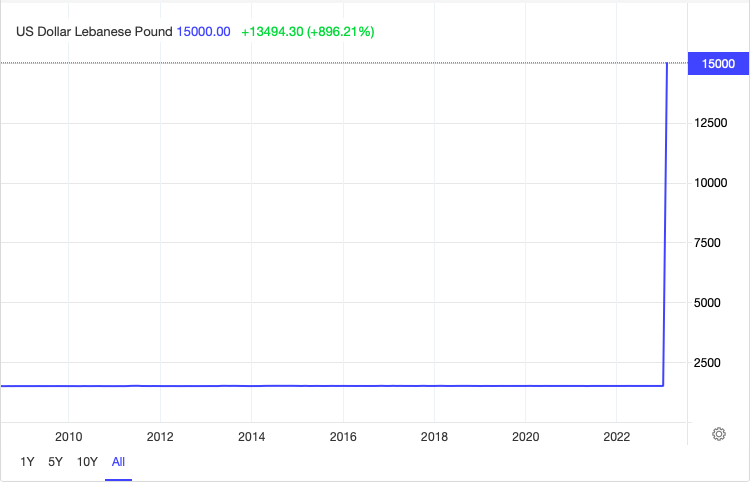 The central bank governor said commercial banks in the country "will see their pound equity decrease once translated into dollars at 15,000 instead of 1,500," adding that banks has five years "to reconstitute the losses due to the devaluation" in order to manage the impact of the change.
Salameh stated that the move to 15,000 was a step toward unifying different exchange rates, which was in line with a draft deal Lebanon agreed to with the International Monetary Fund (IMF) last year outlining the requirements for unlocking a $3 billion bailout.
The IMF has advocated for urgent rate unification and has stated that Lebanese authorities should deal with an estimated $70 billion in financial sector losses, which are largely considered the result of decades of wasteful expenditure, corruption, and mismanagement. The IMF agreement is widely regarded as the only path for Lebanon to begin rebuilding its financial system and recover from the catastrophe.
The shift in the exchange rate, however, is unlikely to alleviate one of the most debilitating parts of the crisis for regular Lebanese: the inability to readily access their dollar savings. While capital restrictions have never been formally implemented in Lebanon, banks have implemented their own controls since 2019, severely restricting withdrawals in dollars and Lebanese pounds.
Cash is king
The change from 1,507 to 15,000 is still far from the parallel market, where the pound was trading at over 57,000 per dollar on Tuesday. Since the pound began to deviate from the 1,507 rate in 2019, it has lost approximately 97% of its value.
Since banks have effectively have frozen depositors' accounts–suspending basic services and even leading some customers to hold up tellers at gunpoint in order to access their money–people and corporations today almost entirely run in cash.
Most restaurants and coffee shops have contrite signs noting that credit cards are not accepted, but dollars are accepted at the fluctuating parallel market rate.
RELATED: Lebanese Coffee Jumps 9% In Two Hours As Currency Continues To Plummet
Fleets of mobile money exchangers zoom to offices or houses to complete transactions. Highway billboards promote money-counting equipment.
On Monday, State Prosecutor Judge Ghassan Oueidat issued a memo to Financial Prosecutor Judge Ali Ibrahim, requesting that he "immediately" order the arrest of money changers and speculators who are contributing to the "collapse of the national currency."
Crime has increased as bank notes have been more widely available. According to Elie Anatian, CEO of security firm Salvado, yearly sales of safes have increased gradually, with a 15% increase in 2022.
On top of its dire financial situation, Lebanon hasn't had a president since the end of October last year when Michel Aoun's six-year term ended. The parliament has convened 11 times since but has yet to elect the country's next leader.
With the presidential vacuum and the parliament yet to decide over the formation of a new cabinet, the nation's most vital public institutions — schools, services, and municipalities — have been left in a paralysis, barely able to function.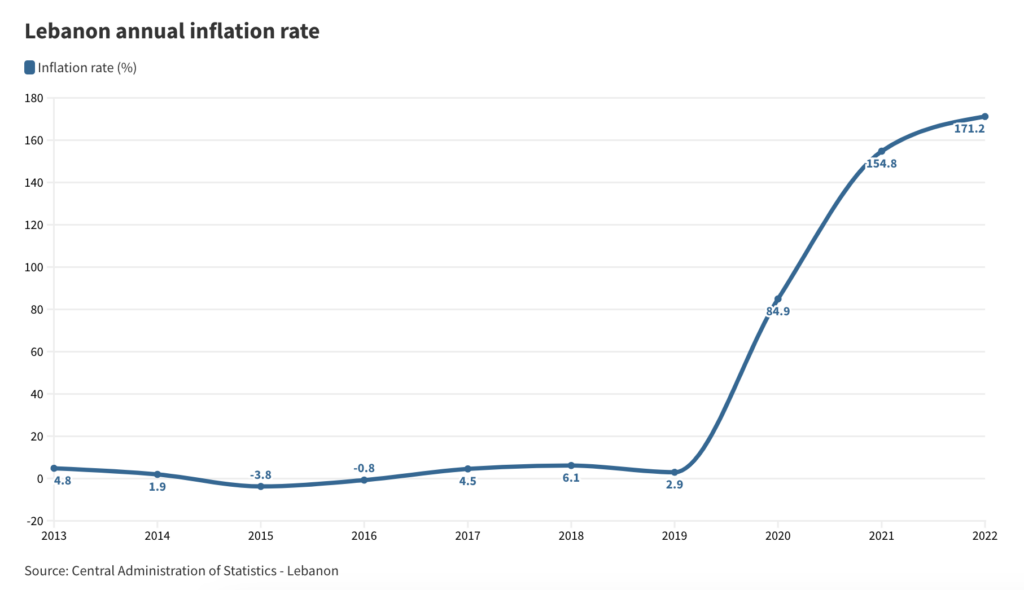 Inflation surged to 171.2% in 2022, the highest in almost 40 years. The World Bank calls this crisis one of the worst in modern history, a "deliberate depression" from the government's misuse and mismanagement of funds that has brought a tidal wave of unemployment and pushed more than half of its population below the poverty line.
---
Information for this story was found via Reuters, Yahoo Finance, Naharnet, and the sources mentioned. The author has no securities or affiliations related to this organization. Not a recommendation to buy or sell. Always do additional research and consult a professional before purchasing a security. The author holds no licenses.