President Biden's Executive Order on Cryptocurrencies Holds Risk for Bitcoin Miners
On March 9, U.S. President Joe Biden signed an executive order which calls for the U.S. to begin to regulate digital currencies, the most prominent of which are Bitcoin and Ethereum. The order lacks specifics on many matters, but it does contain details regarding the environmental costs of crypto mining that could negatively affect Bitcoin mining stocks and perhaps the price trajectory of Bitcoin itself.
Specifically, President Biden orders a cross-cabinet team, including the secretaries of the Treasury and Energy, and the Administrator of the Environmental Protection Agency, to produce a report by September 5, 2022 on the potential for mining "technologies to impede or advance efforts to tackle climate change at home and abroad; and the impacts these technologies have on the environment."
The U.S. government wants to investigate the relationship between crypto mining and energy policy. Given their significant energy usage, miners are unlikely to see any recommendations or conclusions in the report that would be considered favorable. Miners could possibly be required to purchase carbon offsets as a way to blunt their consumption patterns. Another possibility is they could face some sort of mechanism that would penalize the magnitude of carbon emissions associated with the electricity needed to power mining computers.
Enormous consumers of electricity, Bitcoin and Ethereum mining combined are reportedly responsible for the emission of 78 million tons of CO2 into the atmosphere each year, equivalent to the emissions from 15.5 million gas-fired automobiles. Phrased another way, Bitcoin mining worldwide consumes about 91 terawatt-hours of electricity, more than the country of Norway. Mining of the biggest digital currency alone consumes about 0.5% of the world's electricity.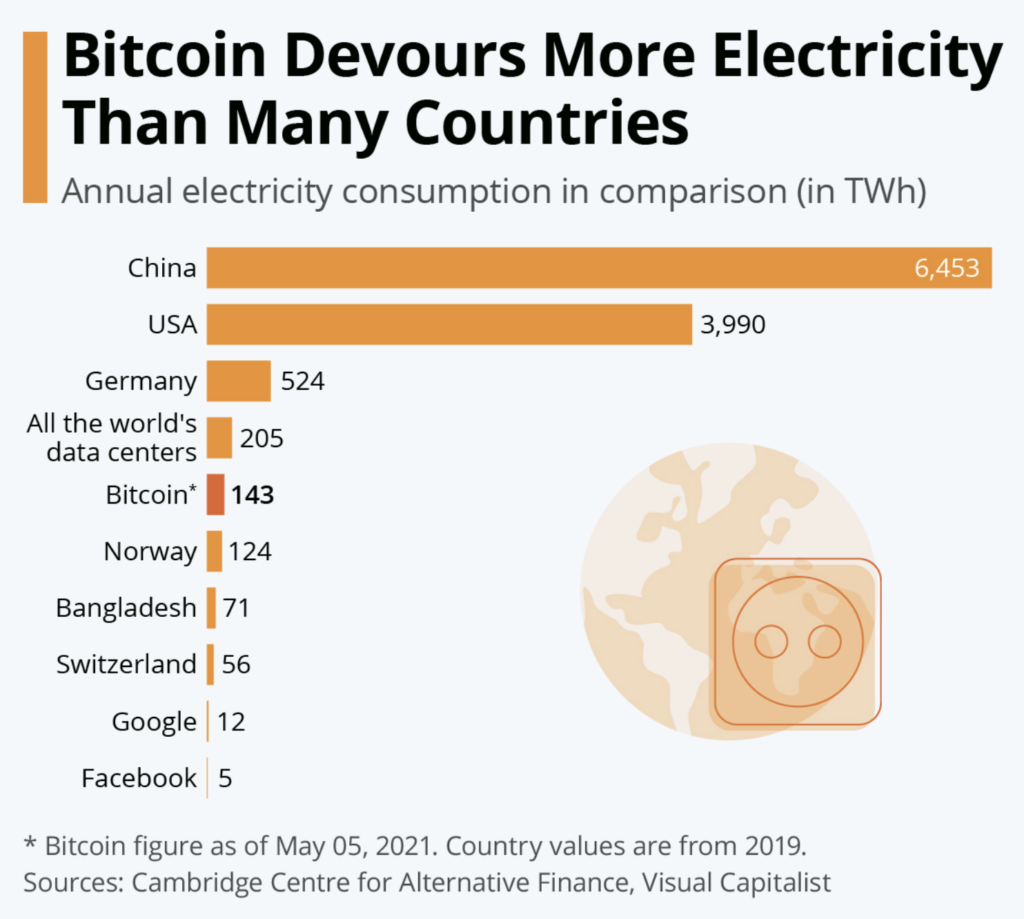 It seems possible that Bitcoin miners with operations in the U.S. could be forced to incur additional costs or levies.  These costs would presumably be structured to incentivize miners to operate more efficiently — and possibly less profitably.
Some digital currency networks operate much more efficiently than Bitcoin's. For example, Nano is a cryptocurrency that does not rely on mining. A transaction involving Nano reportedly consumes just .000112 kilowatt-hours (Kwh) of electricity. The comparable figures for single Bitcoin and Ethereum transactions are around 700 Kwh and 30 Kwh, respectively. 
As a result of all this, investors may be reticent to commit additional funds to Bitcoin mining stocks until the contents of the upcoming U.S. government crypto report is revealed. It could call for significant additional costs to be levied on the miners. In addition, direct crypto investors could decide to favor more environmentally-friendly digital currency options than Bitcoin. 
The development follows the announcement this morning that a potential ban on proof-of-work crypto mining had been nixed by the European Union.
---
Information for this briefing was found via Reuters and the sources mentioned. The author has no securities or affiliations related to this organization. Not a recommendation to buy or sell. Always do additional research and consult a professional before purchasing a security. The author holds no licenses.