Rising Rates Globally Set To Hit Spain, Australia, Canada The Hardest
Many corners of the financial and investing world are grappling with challenges that were not envisioned as recently as a few months ago, and have not been present in decades. The most prominent example is extremely high and seemingly sticky levels of inflation in many countries across the globe. This has prompted global central banks to implement a series of overnight rate hikes, and more are almost certainly on the way.
These rate hikes have caused residential mortgage rates to soar. Indeed, the interest rate on a fixed 30-year mortgage in the U.S. reached 6.3% on September 14, the first time it has crossed the 6% level since 2008. Thirty-year fixed mortgages are rarely seen outside the U.S.; that structure was implemented around 90 years ago as a way to prop up the housing market after the Great Depression. Mortgages in most other countries are shorter in term, and a large percentage of them are variable rate loans.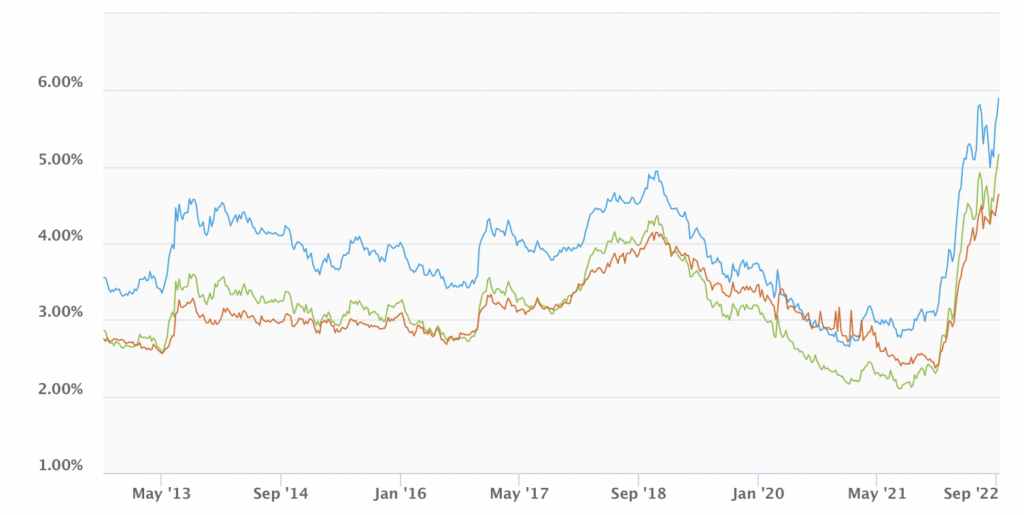 An obvious concern is that consumer spending and overall economic growth in countries where homeowners have a large percentage of variable rate mortgages could be further pressured as interest rates reset higher. The chart below lays out the approximate proportion of variable rate mortgages in major western countries.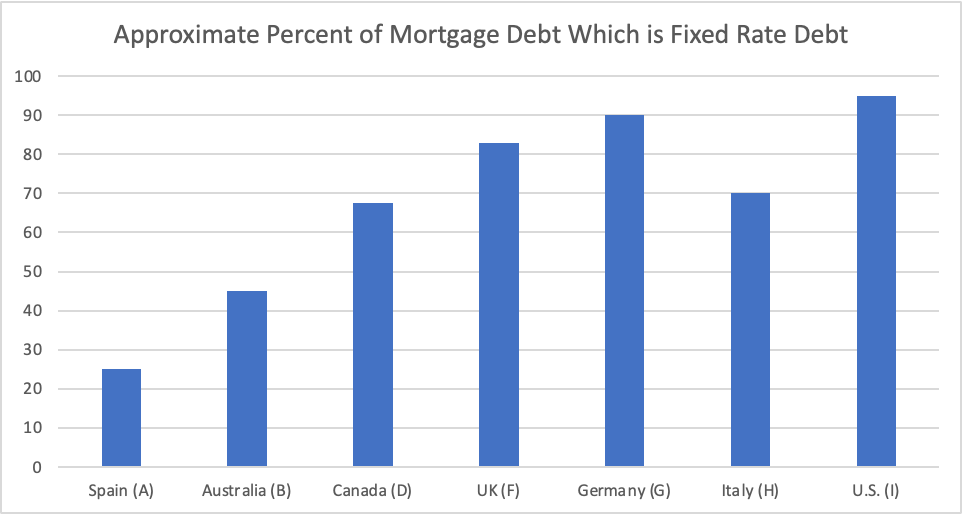 The details on the data from the chart is sourced as follows:
(A) According to a June 2022 US News & World Report article, about 120 billion euros of Spain's nearly 500 billion of mortgage debt is fixed rate.
(B) Per a June 2021 Business Think article, about 45% of new Australian mortgages taken out in September 2021 were fixed rate, up from 15% in June 2019. However, these loans are typically fixed for only three years on average, after which the interest rate reverts to a variable rate.
(D) According to a July 2022 Better Dwelling article, about 32.5% of Canadian residential mortgage loans are variable rate. Roughly half of the variable rate loans have been originated in the last year.
(F) Per a July 2022 Financial Times article, 83.1% of existing UK mortgages are fixed rate, but about a third of this group are short-term agreements of 24 months or less, according to data from the Bank of England.
(G) According to the European Central Bank (ECB), the share of variable rate mortgages in Germany is in the vicinity of 10%.
(H) According to the ECB, the share of variable rate mortgages in Italy is around 30%.
(I) According to the Mortgage Bankers Association, the national association that represents the U.S. real estate finance industry.
A significant portion of home mortgages in Spain, Australia, Canada, and the UK are variable-rate loans. Consequently, consumers in these countries will be facing larger monthly outlays as interest rates adjust higher. It stands to reason that economic growth in these nations could be pressured. In addition, consumers in Spain and the UK face rising energy bills from Russia's decision to dramatically reduce natural gas shipments to Europe. These countries are turning to more expensive forms of energy like shipments of liquefied natural gas (LNG) to replace the natural gas.
Unlike the housing crisis in 2008-2009, the U.S. seems poised to escape the worst of the impact of rising mortgage rates. Only about 5% of U.S. mortgages are variable rate loans.
---
Information for this briefing was found via the St Louis Fed and the sources mentioned. The author has no securities or affiliations related to this organization. Not a recommendation to buy or sell. Always do additional research and consult a professional before purchasing a security. The author holds no licenses.