Shopify CEO Tobi Lütke Mad At Employees Having Side Hustles, Even Though He Also Has Part Time Work
In a recent company-wide message, Shopify's (TSX: SHOP) CEO, Tobi Lütke, addressed the issue of side hustles among employees, expressing his surprise and concern. Lütke's memo, shared on Shopify's workplace page and reported by Insider, emphasized the need for undivided commitment to the company's mission.
Lütke began by pointing out that certain aspects of the company's communications, such as offer letters and information on internal web pages (referred to as the "Vault"), had been suggesting the viability of side gigs for employees. He found this surprising, given his repeated assertion that Shopify demands the same level of dedication as a professional sports team, where full attention is essential.
"We're building world-class software for millions of merchants who depend on us every second. This is not a part time job, in the same way premier league teams don't have part time players," Lütke wrote in the memo.
This sports team analogy wasn't new; Lütke had previously made similar comparisons in a 2020 memo, emphasizing that Shopify operates like a competitive sports team rather than a family, stressing the importance of daily contributions to the team's success.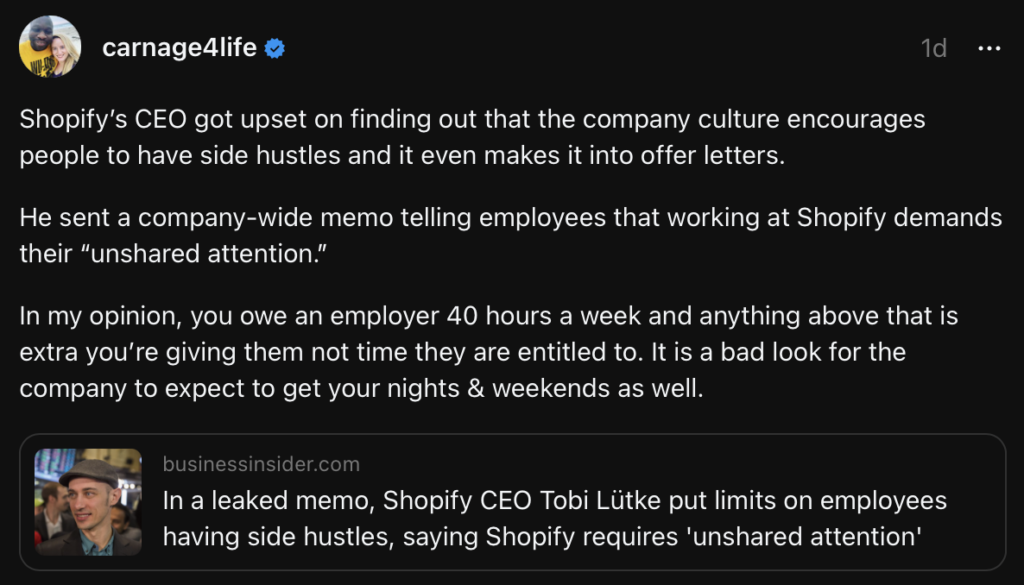 The recent memo took many employees by surprise, as it appeared to contradict Shopify's long-standing policies. The company often touts itself as "the entrepreneurship company" and encourages employees to explore their passions and side projects.
"You should run a Shopify store to learn our product. If it grows, hire help or do the thing we celebrate most: ascent to be a full-time entrepreneur. Any other commitments that drain and subtract from the creative energy that you would bring to work is not good," the chief executive even said in the memo.
Even Harley Finkelstein, the company's president, had his own Shopify store, Firebelly Tea, which he co-founded in 2021. In response to Lütke's memo, Finkelstein clarified that David Segal, co-founder of DavidsTea, took over as CEO of Firebelly Tea once it was running smoothly, emphasizing the importance of full-time commitment.
"He was someone who could devote his full attention and time to that quest," Finkelstein wrote. "When you're at Shopify, we are building the entrepreneurship company for millions of entrepreneurs around the world, and that is our main quest."
But employees should be entrepreneurs?
However, Lütke's message argued that employees should start their own Shopify stores to better understand the platform. He also expressed concerns about potential conflicts of interest arising from side gigs.
"Occasional side hustles like teaching a yoga class on the weekend or coaching your kid's soccer team once or twice a week aren't what I'm talking about. And open source contributions are welcome, but give yourself an out – don't commit to big maintenance burden or letting them become a substantial workload," he further wrote.
In response to these concerns, Shopify's General Counsel, Jess Hertz, announced that employees would receive an email outlining how to disclose side projects or external work, especially if they could potentially conflict with their roles at Shopify.
"This isn't a change. I'm trying to root cause why this was ever in our offer letters/on Vault. I seriously thought I was stuck in the Truman show for a moment when I found this one out," Lütke's memo ended.
But Tobi also has a side hustle
In contrast to his lecture memo, Lütke also has what can be considered a part-time work. He's been a member of the board of directors of one of the world's largest crypto exchanges, Coinbase.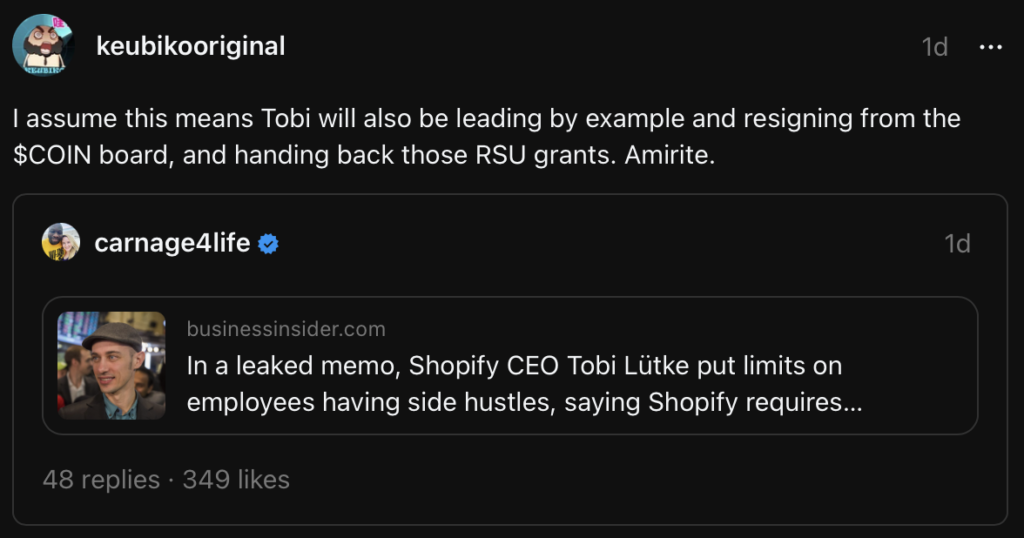 In this capacity, he has stock awards totaling $684,945 as of last filing.

Prior to this, a recent X thread disclosed a former Shopify employee breaking their non-disclosure agreement to shed light on the company's controversial actions and strategic direction. The thread exposed a series of events starting from the first quarter of 2022 when Shopify promised job security to its staff, only to carry out massive layoffs in July of the same year.
These job cuts, according to the employee, were driven not merely by a CEO's misguided "bet," but rather a shift towards replacing full-time employees with cheaper contract labor and an increased reliance on artificial intelligence support.
Shopify last traded at $51.38 on the TSX.
---
Information for this briefing was found via Business Insider and the sources mentioned. The author has no securities or affiliations related to the organizations discussed. Not a recommendation to buy or sell. Always do additional research and consult a professional before purchasing a security. The author holds no licenses.