Spey Resources: Pushing For Lithium Production In Argentina
Spey Resources Corp. (CSE: SPEY) is a Canadian mineral exploration company which holds two option agreements to acquire a 100% interest in the Candela II, Pocitos I and II lithium brine projects located in the Incahuasi Salar, Salta Province, Argentina through its wholly owned subsidiary Tech One Lithium Resources Corp.
These projects are located in South America's prolific lithium triangle, which is the world's largest brine lithium producing region and shares borders with Chile, Bolivia and Argentina. According to the United Nations Development Programme, approximately 60% of the world's lithium is found in Latin America, with Argentina accounting for 21.5%.
Spey's exploration activities in Argentina are geared towards preparing their projects for production, and the timing for Spey is ideal. The global initiative to combat climate change is driving demand for electric vehicles (EVs) which has created a supply shortage for lithium, the key component for lithium ion batteries that power EVs. Spey is said to currently be in discussions with a number of battery manufacturers and automakers for potential off-take agreements. Manufacturers are signing off-take agreements to ensure they have a continuous supply of lithium carbonate over the next decade.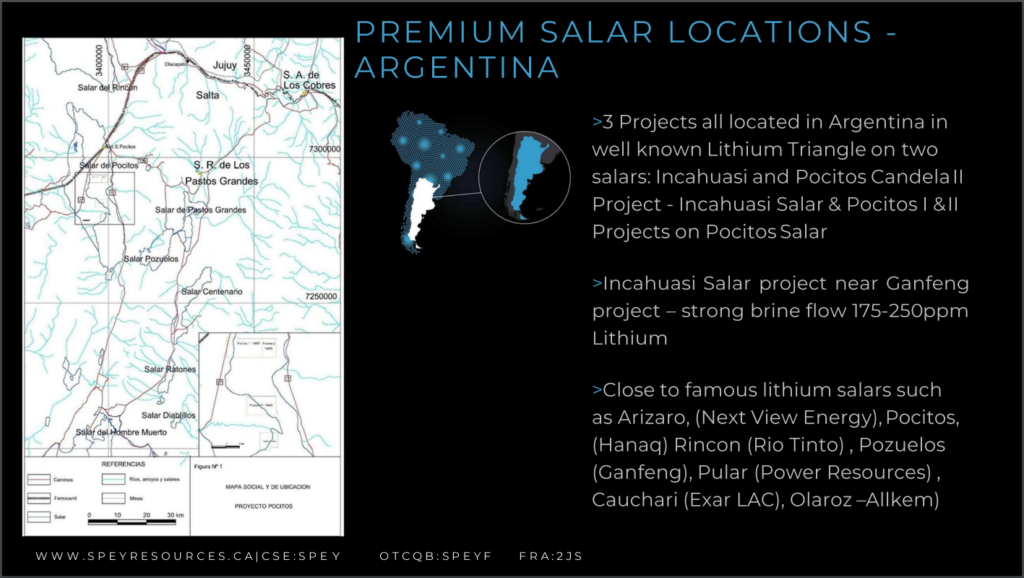 The Extraction Process
What differentiates Spey from other lithium companies is that it will be able to produce lithium carbonate from brines with a 99.5% purity, which should provide the company with a distinct market advantage. Company CEO, Phillip Thomas, is an expert in lithium brine geology who specializes in salar (salt lake) exploration, hydrology, estimation and production chemical engineering. He has previously taken a number of Argentine lithium projects to production and eventual lucrative takeouts.
Mr. Thomas is also the co-founder of Ekosolve Ltd, which developed its proprietary Ekosolve direct lithium extraction technology. The tech uses solvent exchange that enables producers to extract lithium from high magnesium content brines, resulting in significantly higher recoveries with lower costs than most other technologies. The Ekosolve process is reported to be able to produce 99.5% lithium carbonate from surface brines.
As its name implies, Ekosolve is an environmentally beneficial process that prevents water wastage when compared to typical water dependent brine extraction processes by not requiring evaporation ponds. There is no pollution because the extracted brines are sent back to the salar. Spey has licensed the Ekosolve technology and is partnering with Ekosolve Ltd. to construct a 20 tonne lithium carbonate mini plant.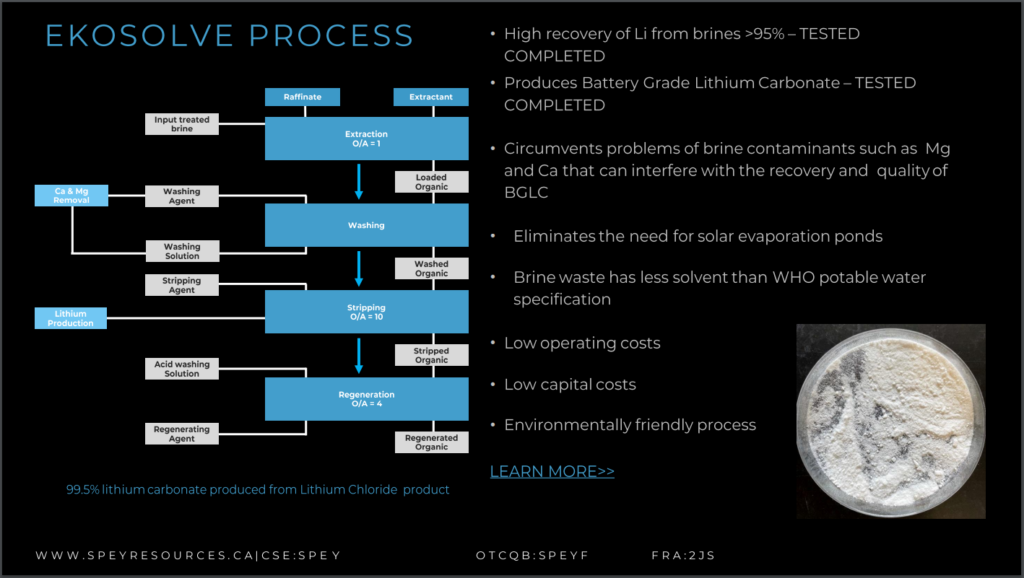 The Flagship Property
The Company's flagship Candela II Project covers 9.9 square kilometres of the Incahuasi Salar in the prolific Lithium Triangle area, Salta Province, Argentina. The project is adjacent to Ganfeng Lithium Co. Ltd's lithium project in the region. Ganfeng is China's largest battery metals producer. Candela II is also near Orocobre Ltd.'s Cauchari basin project.
On March 23, 2022, the Company, through its Tech One Lithium subsidiary, acquired an 80% interest in the Candela II project from AIS Resources (TSXV: AIS) by paying USD$1,000,000 and a commitment from Tech One to complete USD$500,000 of exploration expenditures. Spey has the right to option the remaining 20% interest from AIS for USD$6 million by March 23, 2023 if the indicated resource is greater than 45,000 tonnes lithium metal equivalent and AIS will receive USD$250,000 for each additional 5 tonnes.
WATCH: The Lithium Market Will Just Get Hotter — With Phil Thomas
The nearby Cerro Aracar and Pular volcanoes feed salt to the aquifers in the Incahuasi Salar. Brine sample analysis by previous explorers returned lithium values between 270-300 ppm taken from the Salar's top 50 metres, indicating that the lithium brines are close to the surface and are easily accessible by roads.
A TEM geophysics report identified three extensive sandy units bound by clay units that have very low resistivity values and appear to host the main aquifers. The aquifer closest to the surface is over 1 kilometre in length and about 75 metres below the surface, with sampling results showing higher lithium concentrations at the surface on the western end of the Candella II concession.
The Current Exploration
In 2021, AIS completed a successful 5-hole drill program to a depth of 600 metres and hit several lithium brine aquifers at depths of 50 to 200 metres, with sample analysis showing lithium values from 125 to 175 ppm. Spey completed a NI 43-101 report based on the 2021 drilling results, and the company is now moving towards conducting production drilling in 2023, with a planned eight production hole drill program.
Separately, Spey is currently in the process of mobilizing for its planned drill program to begin drill testing its Pocitos 2 concession with a 400-metre-deep exploration well, which is expected to commence in November 2022. Once the exploration hole is drilled and a pumping test is completed, the team will use a double packer to sample the brines to determine the mineralized content. Then a further hole or a production well will be drilled using the rotary drill machine.
If the results confirm that the Pocitos brines are ready for production, an EkoSolve lithium production plant will be built at a location that is roughly 3 kilometres from the drill site on Pocitos II, and 1.7 kilometres from Pocitos 1. Spey has already set up its operating infrastructure, which includes the camp, internet, diesel tanks, and the company's geological offices in the town of Pocitos. When drilling is completed at Pocitos 2, the drill will be moved to the Candella II project 120 kilometres away at the Incahuasi Salar.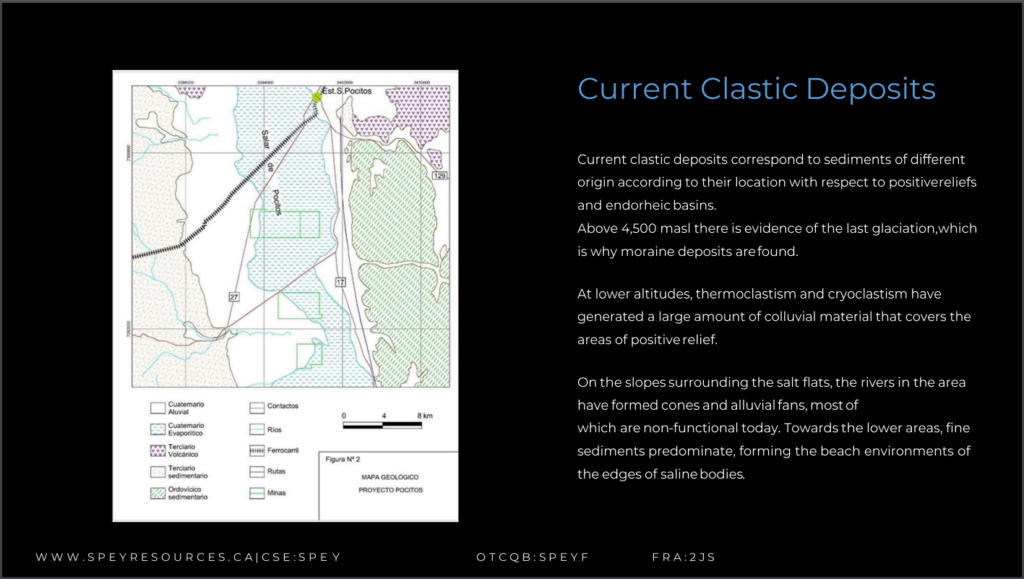 The company's exploration activities in Argentina are designed to accelerate the path to production. The ability to produce high-purity lithium through the Ekosolve extraction process gives Spey a competitive advantage, and ticks the environmental safety and social responsibility boxes. With 106.22 million shares outstanding and a modest market capitalization of $18.6 million, Spey Resources represents a pre-production lithium exploration play within the world's premier lithium brine production region.
---
FULL DISCLOSURE: Spey Resources is a client of Canacom Group, the parent company of The Deep Dive. The author has been compensated to cover Spey Resources on The Deep Dive, with The Deep Dive having full editorial control. Not a recommendation to buy or sell. We may buy or sell securities in the company at any time. Always do additional research and consult a professional before purchasing a security.