Stone Gold: The Potential of the Batchewana Bay Copper Project
In March, 2021, Stone Gold Inc. (TSXV:STG) announced the strategic acquisitions of the East Breccia and the Tribag Mine properties in the Batchewana Bay Greenstone Belt north of Sault Ste. Marie, Ontario. These properties border on the company's Coppercorp property and increase its land position to 21,400 hectares, which essentially gives Stone Gold control over most of the Batchewana Belt.
The Batchewana Belt hosts several copper-bearing deposits that produced over 2.2 million tons of copper during the 1960's and 1970's. The Coppercorp Project hosts the historic Coppercorp Mine, Richards Breccia, Kincaid Breccia, Jorgan Porphyry, and the Glenrock gold property. 
While STG's focus is on developing the project's copper deposits, the Glenrock Gold Project, which is part of the property, sits on a classic Archean greenstone structure, indicating a completely different belt may run through the property. This provides the potential for a large copper deposit and gold deposit to be developed within the same district scale project.
The company has rebranded the Batchewana Bay District into two distinct projects based on the varied geology as a result:
1. The Copper Road Project (inclusive of the two past producing copper mines and various targets)
2. The Glenrock Gold Project (under-explored Archean greenstone belt)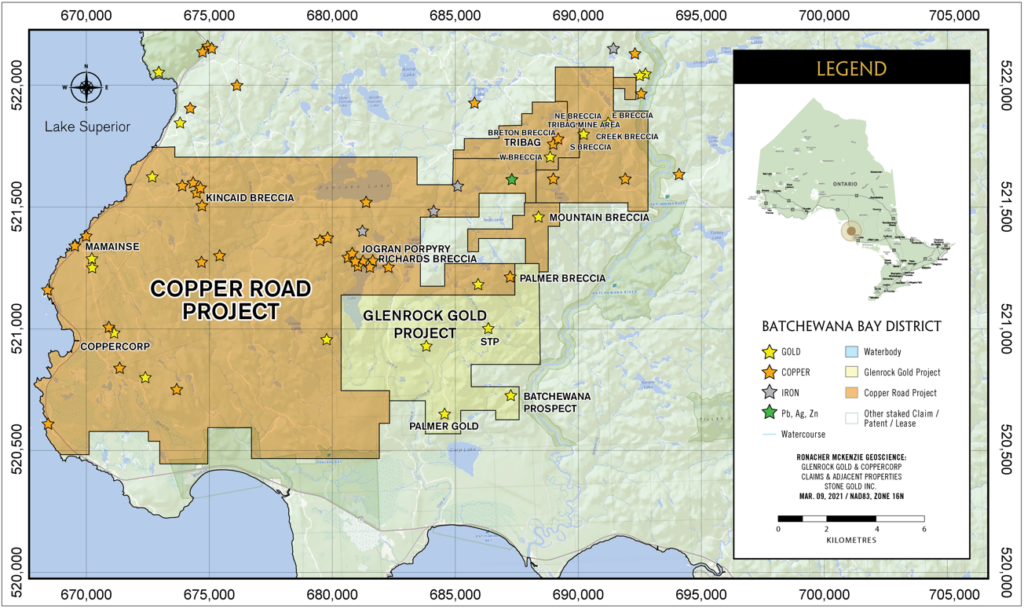 As part of the acquisition of the East Breccia and the Tribag Mine properties Stone Gold acquired a comprehensive database that included the historical geological logs and listed assays in PDF form, as well as a compilation of data from 500 historical surface and underground drill holes. The company also obtained a 3rd party digital model and a quality historic plan map, and these will be integrated into STG's existing database to create 3-D exploration models and formulate drill programs using today's advanced exploration technologies and methodologies to determine the size and scope of the underlying mineralization.
Historical brownfields diamond drilling in the breccia bodies was focused on copper for it's industrial properties, while the broader spectrum of mineralization such as tungsten, gold, silver, molybdenum, rhenium and other rare earth elements were largely ignored due to low precious metal prices throughout most of the 1960's and 1970's.
Many of the elements such as rhodium, platinum, palladium, tantalum, etc. were historically ignored because at that time there were little known uses for many of these minerals, which are today in high demand due to their widespread use in electronics and EVs. Today, any meaningful recoveries of these minerals during the copper extraction process can provide producers with added credits.
An important aspect of the Batchewana Bay project is that it is open for expansion both laterally and at depth. Historical documented data suggests that the ore at the Tribag Mine has been restricted to the Breton breccia pipe, which at surface has a length of approximately 1,400 feet and a width of 130 to 350 feet, and its size increases at depth, with the deepest drill hole of 1,613 feet bottoming in breccia. This supports a program to conduct step-out drilling at depth to further assess the size and scope of the breccia's mineralized zone, and perhaps determine whether the deposit may be connected to other breccias at depth.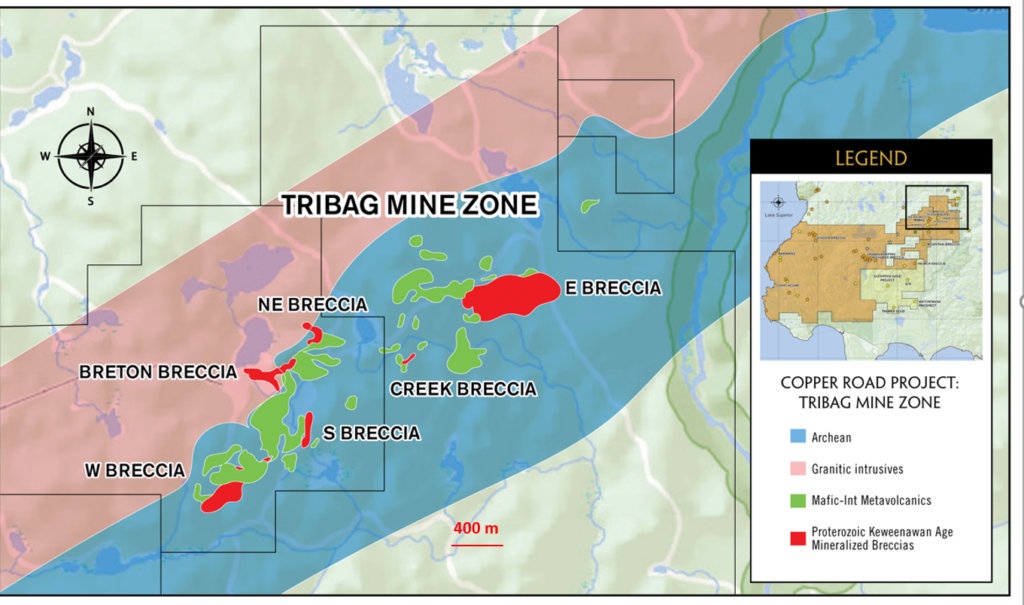 Stone Gold is modelling the Tribag Property breccias to prepare a comprehensive exploration program to further delineate the size of the deposit and to formulate an extraction plan to generate cash flow. The Breton Breccia will be the first priority due to its extensive historical data and high-grade mineralization.
Three types of modelling have been completed for the Breton Breccia (Former Tribag Mine):
The Breton Breccia Grade Model was developed from over 500 historical brownfields diamond drill holes demonstrating superior copper grades than the historical estimates and remains untested for ancillary mineralization. Management intends to initially focus on evaluating the Breton Breccia as it has high-grade mineralization and expansion potential. The copper mineralization is open at depth and laterally with good spatial continuity at greater than 0.5% Copper.
The Breccia – Porphyry Deposit Model will assess the historical resource estimates. In 1972, Teck's technical team made a rough estimate of the total copper in the Breton Breccia above the 1000-foot level. The estimate of 40 million tons of 0.3% to 0.4% copper was based on about 70 surface drill holes and additional underground holes with incomplete analysis for only copper, using acid digestion and iodine titration procedures that are not suitable for precise low-grade assays. In 1966 Teck estimated that the East Breccia contained 125,000,000 tons of 0.13% copper and some molybdenum above the 1000-foot level.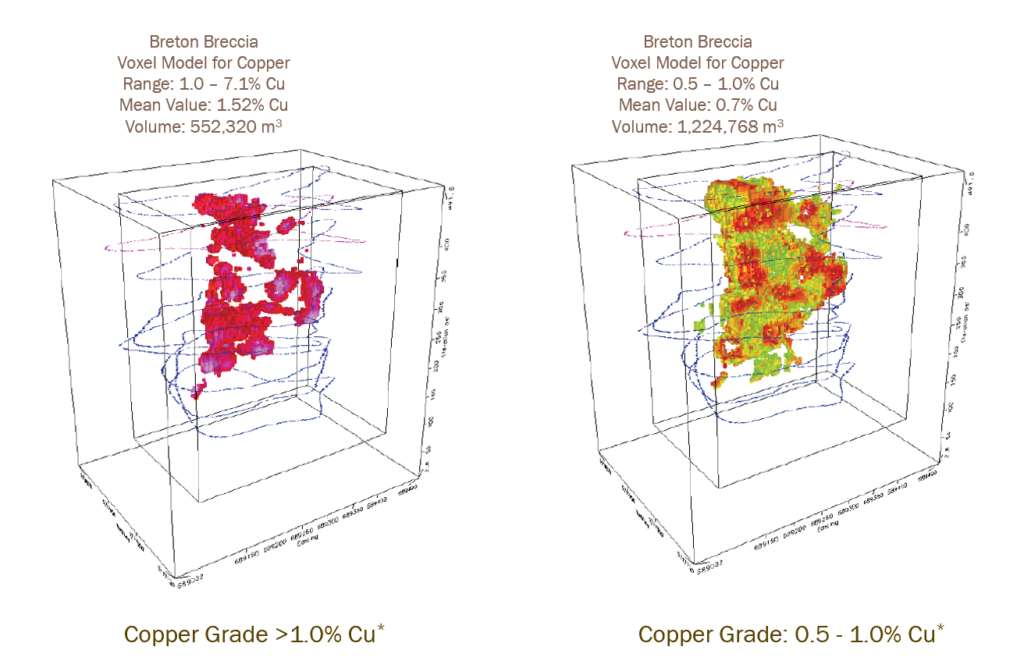 The Breton Breccia Solid Model examines existing faults and dikes, which will be modelled with a goal of conducting borehole IP geophysical surveys and several 500 foot or more vertical to steeply dipping drill holes to test the extent of the breccia mineralization at depth, confirm the model's copper grades, and test for additional mineral such as gold, silver, cobalt, molybdenum, and tungsten. Care will be taken to avoid hitting existing underground workings.
The purpose of the modelling program is to enable Stone Gold to assess the economic viability of the Batchewana Bay copper deposits for production. To do so, Stone Gold will conduct step-out and in-fill drilling to further delineate the size and scope of the mineralized zones in the breccias.
These drill programs may discover mineralization between the known zones, which could potentially connect some or all of them into one massive sized deposit. The existing resource estimates were made by Teck's technical team in 1972.
Breton Breccia – 40 million tons at 0.2% copper above a depth of 1000 feet 
East Breccia – 113 million tons at 0.13% copper and 0.03% to 0.05% molybdenum. Limited diamond drilling performed by Boxer Gold in 2012 returned favorable intersections and much higher grades than the historical estimates. Highlights from that program include 67 metres @ 0.49% Cu, 0.01% Mo, 0.17 g/t Re and 109 metres @ 0.20% Cu, 0.014% Mo, 0.34 g/t Re
West Breccia – 90,718 tons at 0.6 to 1.0% tungsten, or 1 million tons at 0.23% tungsten 
The Tribag property has not been drilled in 50 years, therefore Stone Gold plans to twin existing holes to confirm previous results and establish a historical grade. Holes will be tested for other minerals to raise the copper equivalent grade.
Management believes that the modelling and ensuing drill programs could increase the size and grade of the resources significantly. This would enable the company to produce a NI 43-101 report with documented inferred resources of (hopefully) high-grade copper. 
If future drilling programs can connect the mineralization from the various breccias to indicate a large size deposit at depth, that could completely change the dynamic of the project and potentially attract the attention of copper extraction companies to take over the project and put it into production.
Stone Gold has only 28.2 million shares outstanding in a tight capital structure and management will endeavor to keep this structure as tight as it can going forward. The recent financing enables the company to begin its exploration program and any encouraging exploration results could reasonably provide investors with a catalyst for a positive impact on the company's currently small market capitalization of only $3.68 million. 
---
FULL DISCLOSURE: Stone Gold is a client of Canacom Group, the parent company of The Deep Dive. The author has been compensated to cover Stone Gold on The Deep Dive, with The Deep Dive having full editorial control. Not a recommendation to buy or sell. We may buy or sell securities in the company at any time. Always do additional research and consult a professional before purchasing a security.