The Congo Line: Government-Rebel Clash Escalates In A Battle For Mineral-Rich Lands
More than two million Congolese facing food and gasoline shortages are caught between the battle lines.
The eastern side of the Democratic Republic of Congo has seen the long-standing ethnic tensions spark into the most deadly violence in a decade as warring militias battle for control of the territory and its mineral wealth. The M23 rebel group has pushed to within 12 miles of Goma, driving Congolese government forces out of numerous nearby towns.
The M23 group, which has an estimated 2,000 men under arms and is supported by neighboring Rwanda and Uganda, is seeking greater control in a country that has the world's greatest resources of tantalum, which is used in smartphones and personal computers.
M23 claims to be fighting to protect Congolese Tutsis, Rwanda's main ethnic group, from Hutu militias. The rebel group's rise has helped Rwanda, which produces little tantalum, become the world's second-largest exporter of the rare blue-grey metal, thanks to its control of informal supply lines that transport the Congolese-mined material across the border, according to experts and the United Nations investigators.
They are facing resistance from Congolese government forces backed by the UN, aiming to defend the region and restore peace.
Congo accuses Rwanda President Paul Kagame of using the rebel group to grab control of the region's riches. However, the African nation leader claims M23 is a Congolese group fighting for legitimate political rights, and has defied international calls to end his support for the rebel group, which is commanded by former Rwandan army commanders.
According to Rwandan government figures, the country's yearly mineral export revenues more than doubled last year to $732 million. In Uganda, gold exports have also increased in the past decade, overtaking coffee as the country's top export commodity for the first time. The U.N. reports that more than 90% of Congo's resources are trafficked into Uganda, Rwanda, and Burundi.
"The M23 are not rebels, they were sent in Congo by Kagame because his objective is to get a hold of Congolese minerals," Congolese opposition leader Martin Fayulu said in a recent interview with German television station DW. "Uganda doesn't want to stay behind, it also wants a portion of Congolese resources."
The latest advance to Goma is said to increase the threat that M23 and its foreign supporters may dominate a region that also contains tin, gold and coltan, and exacerbate a humanitarian situation in a country that currently hosts more displaced people than any other in Africa.
According to regional diplomats and analysts, the latest fighting began last year when Congolese President Félix Tshisekedi authorized Uganda to send troops to conduct joint operations against the Islamic State-affiliated Allied Democratic Forces operating in Congo. The move then pushed Rwanda to intervene, as it competes with Uganda for control of Congo's mineral wealth.
Food inventories in Goma are running low after rebels shut off the main highway to the north, driving prices of basics like beans and fish skyrocketing.
Over 260,000 people have already been displaced in the battle for Goma, risking to reignite regional rivalries and resurrect other local militants–essentially undermining Tshisekedi's recent attempts to end infighting within the region. Dozens of people have been killed since July, with hundreds of protestors destroying military and UN facilities to protest over the army's perceived failure to crush the rebels.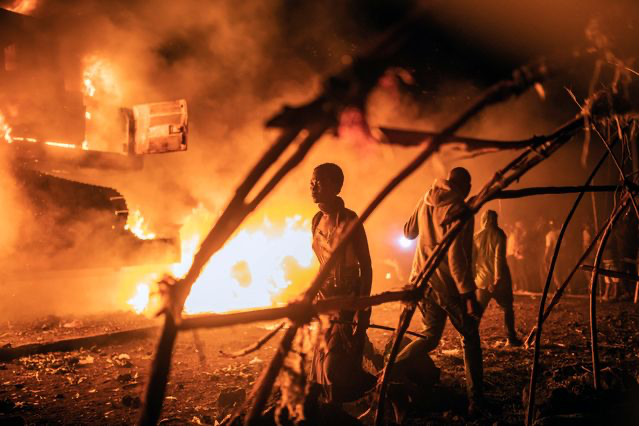 Regional leaders have attempted to defuse tensions between Congo and Rwanda, with East African Community leaders announcing on November 13 that peace talks would begin in Kenya before the end of November. Hundreds of more Kenyan troops landed in Goma on November 12 as part of regional efforts to strengthen government defenses.
---
Information for this briefing was found via The Wall Street Journal and the sources mentioned. The author has no securities or affiliations related to this organization. Not a recommendation to buy or sell. Always do additional research and consult a professional before purchasing a security. The author holds no licenses.