Trudeau, Who Wants To Charge Meta & Google For Sharing News, Decries Tech Giants' "Bullying Tactics"
Prime Minister Justin Trudeau has accused technology powerhouses Alphabet (NASDAQ: GOOGL) and Meta Platforms (NASDAQ: META) of employing "bullying tactics" in their battle against a Canadian initiative to secure financial support for news publishers.
The proposed legislation aims to compel internet giants, including Google, owned by Alphabet, and Facebook, owned by Meta, to engage in commercial negotiations with news outlets and compensate publishers for their content.
However, the United States-based technology companies argue that the provisions outlined in the bill, known as the Bill C-18 or the Online News Act, are unsustainable for their businesses. In response, Google and Facebook have conducted tests this year to limit access to news content in Canada, should the legislation pass in its current form.
"The fact that these internet giants would rather cut off Canadians' access to local news than pay their fair share is a real problem, and now they're resorting to bullying tactics to try and get their way," Trudeau told reporters in Ottawa. "It's not going to work."
The bill, which was introduced in April 2022, will force major social media platforms such as Meta Platforms and Google to create contracts with Canadian news publishers and compensate them for revenue generated by their content.
However, Google argues that Canada's bill imposes more stringent rules compared to those similar laws in Australia and Europe. The company has proposed amendments to align with international norms and address their concerns.
"We've come to the table with reasonable and pragmatic solutions that would make the bill work the way it's intended to and increase our investments in the Canadian news ecosystem," Google spokesperson Shay Purdy said.
Purdy further emphasized, "The bill has some serious problems that make it unworkable for our products and services."
The legislation passed Canada's House of Commons in December and is currently in the unelected upper chamber of the parliament, which seldom blocks legislation approved by the lower house.
The Canadian media industry is seeking tighter regulations on tech companies to safeguard news businesses from being overshadowed in the online advertising market. Earlier this year, newly disclosed records show a federal government department requested that Facebook and Twitter delete a newspaper article that it believed included mistakes — but both social media firms refused.
According to material supplied by Immigration, Refugees, and Citizenship Canada, the request to remove social media posts that linked to an undisclosed Toronto Sun article came from a director of communications on September 27, 2021.
Per the documents, staff at the Immigration and Refugee Board of Canada, which reports to Parliament through the immigration minister but is otherwise independent, thought the article contained "serious errors of fact risking (and) undermining public confidence in the independence of the board as well as the integrity of the refugee determination system."
The social media companies eventually stated that they were denying the request since the article was not their own. Many observers see this recent developments as a precursor of the proposed Bill C-18.
While US-based news organizations enjoy a sizable audience in Canada, data reveals that Canadian media outlets like CBC and CTV are still among the top sources of news for Canadians.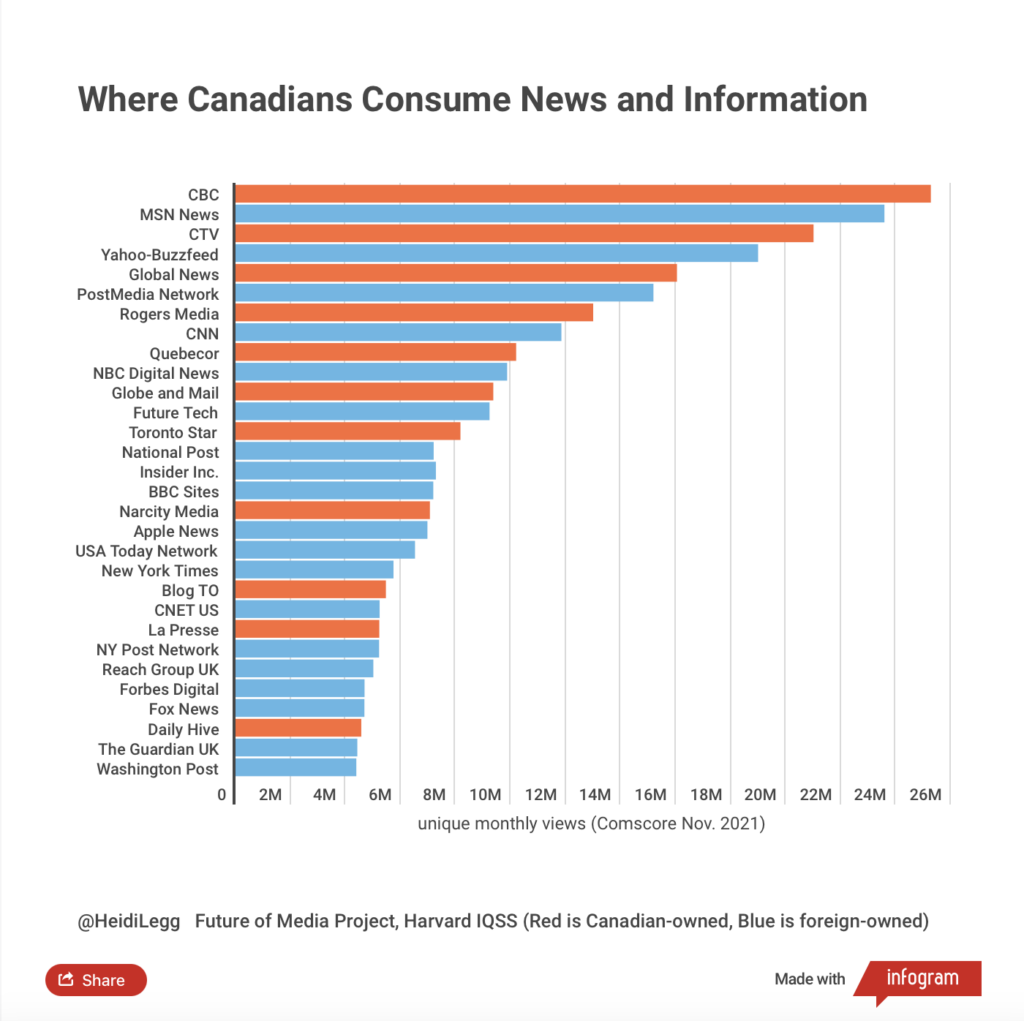 Trudeau reiterated his stance in his latest press conference, asserting, "The various internet giants, like Meta, are posting record profits every year while, at the same time, local independent news is struggling across this country. We will continue to ensure that these incredibly profitable corporations contribute to strengthening our democracy."
In a recent statement, Meta denounced the bill as fundamentally flawed, contending that news holds no economic value for their platforms. The clash between the Canadian government and tech giants persists, leaving the future of news publishers in the balance.
In a similar vein, Bill C-11, an online streaming proposal that will revise Canada's broadcast regulations and give the CRTC the authority to regulate streaming sites such as Netflix, YouTube, Amazon Prime, and Spotify, was just passed by the Senate with changes. The streaming companies would have to promote and subsidize Canadian material, such as films, TV series, music, and music videos. The measure will be returned to the House of Commons for consideration of the amendments.
Bill C-27, introduced in June, is a privacy law that would offer Canadians more control over their personal data, levy fines on non-compliant digital platforms, and establish new guidelines for the use of artificial intelligence.
---
Information for this briefing was found via AlJazeera and the sources mentioned. The author has no securities or affiliations related to the organizations discussed. Not a recommendation to buy or sell. Always do additional research and consult a professional before purchasing a security. The author holds no licenses.