US Auto Parts Factories Struggle to Fill Vacant Positions Despite 7.9% National Unemployment Rate
Although the auto manufacturing industry has nearly collapsed under the weight of the coronavirus pandemic, the rebound has been even tougher – but not due to lack of demand. Rather on the contrary: demand in the auto industry has picked up significantly quicker than the supply of labour, and as a result, auto parts suppliers are struggling to fill factory positions.
According to a Reuters report, the pandemic has reversed economic fundamentals in the US auto industry. During a typical recession which cycles through the US economy once every 5 to 7 years or so, America's auto industry is usually the first to be hit and the last to recover. This time however, the demand for new vehicles has rebounded very swiftly, especially amid an increasing number of Americans opting for alternate modes of transportation instead of public transit options.
As a result, auto factories have returned to work following pandemic lockdowns in order to meet growing demand, and are looking to rehire some of the millions of US workers that have lost their jobs as a result of the pandemic. However, all those unemployed workers are now nowhere to be found. Auto parts suppliers are struggling to fill vacant positions in their factories, and have even resorted to offering attractive incentives and enticing compensation.
In fact, many suppliers are facing absenteeism rates of anywhere between 10% to 15%, which has lead to some unions to even allow automakers to fill vacant positions with temporary workers – a move that was previously frowned upon. According to Mobex Global Chief Executive Joe Perkins, adequate staffing has become a forefront issue for the company, which serves both GM and Ford. Modex has resulted to offering increased pay as well as bonuses to entice workers to come back to factories. Perkins noted that the auto parts supplying company has been so desperate, it has been utilizing nearly 10 staffing companies to fill vacant positions, and posted employment opportunities across a multitude of job boards including LinkedIn, Monster, local news stations and papers, lawn signs, public transportation, and even church bulletins.
However, the workers are still nowhere to be found. It appears that fears of catching the virus are one of the main reasons why many Americans have refrained from returning to the labour market, as well as difficulties with caring for school-aged children amid the pandemic. This shift in employee behaviour has prompted employers to raise pay amid an unemployment rate of 7.9%, and thus defying the basic inverse economic relationship between high unemployment and wages.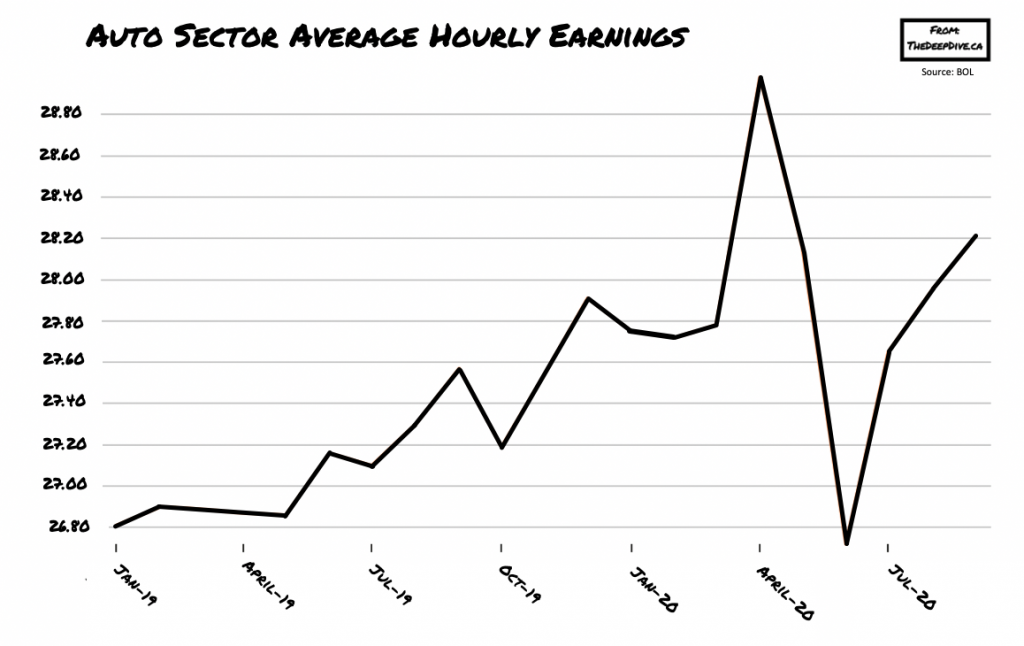 Indeed, the hourly rate of pay in the auto sector has seen a recent average increase from $27.65 in July to $28.21 in September, while overtime hours at auto plants has risen from a median of 3.8 hours per week in January to 4.3 hours in August. Nonetheless, despite the rise in average wages, it still appears to not meet the threshold for re-entering the workforce. The previous six months saw the federal government hand out $600 weekly unemployment top-ups, which essentially served as an incentive for Americans to stay home amid the pandemic.
Although the benefits top-up has been phased out since the end of July, the minimum return on investment for Americans contemplating a return to the labour market needs to outweigh the significant risk of coronavirus infection, as well as potential unemployment benefits. However, with the US president recently mulling yet another round of $1,200 stimulus checks before the election, the likelihood of auto parts suppliers filling vacant positions will become even more out of reach.
---
Information for this briefing was found via Reuters and the US Bureau of Labour Statistics. The author has no securities or affiliations related to this organization. Not a recommendation to buy or sell. Always do additional research and consult a professional before purchasing a security. The author holds no licenses.