A Look at C21 Investments Q2 Financials
Last night C21 Investments (CSE: CXXI) released their second quarter earnings. They showed a 28.6% increase in top line revenue, largely driven by growth in Nevada where they increased revenue by 17% and the addition of Swell Companies. The company posted a positive operating cash flow of $1.7M and a net loss of $3.4M for the quarter.
Something I like to do for the reader on quarterly reviews is show the QoQ changes in key metrics:
| | | | |
| --- | --- | --- | --- |
| Values in US Dollars in Millions | Q2 2019 | Q1 2019 | % change |
| Revenue | $ 9.9 | $ 7.7 | 28.6% |
| Gross Profit (pre-bio adj.) | $ 4.4 | $ 3.3 | 33.3% |
| Gross Profit (post-bio adj.) | $ 3.0 | $ 2.9 | 4.5% |
| Gross Margin (pre-bio adj.) | 44% | 43% | 3.7% |
| Gross Margin (post-bio adj.) | 30% | 37% | -18.7% |
| Cash | $ 2.7 | $ 3.0 | -10.0% |
| Inventory | $ 8.5 | $ 7.6 | 11.8% |
| Bio Assets | $ 2.9 | $ 1.8 | 61.1% |
| Receivables | $ 0.5 | $ 0.6 | -16.7% |
| Account Payables | $ 3.4 | $ 6.0 | -43.3% |
| Operating Cash Flow | $ 1.7 | $ (0.8) | n/a |
| Investing Cash Flow | $ (4.9) | $ (3.7) | -32.4% |
| Financing Cash Flow | $ 3.6 | $ (1.6) | n/a |
| Adjusted EBITDA | $ 0.8 | $ 0.4 | 120.7% |
| Operating Loss | $ 3.0 | $ 3.1 | -5.7% |
| Net Loss | $ 3.4 | $ 3.1 | 8.3% |

A Quick Recap on C21's Story
C21 Investments is a vertically integrated cannabis company that cultivates, processes, distributes and sells cannabis and hemp-derived consumer products in the United States. The company has 5 main acquisitions/holdings:
Eco Firma Farms (Oregon USA) – Cultivation
Silver State – (Nevada) – Cultivation/Manufacturing/Retail
Megawood Enterprises (Oregon) – Retail
Phantom Farms (Oregon) – Cultivation
Swell Companies Li(Oregon) – Extraction
Here are some of my key takeaways from looking at the financials:
The Elephant in the The Room, CEO Sonny's Note Payable
The biggest hurdle for C21 to get past is the the acquisition of Silver State. The company paid $49M of which $30M came in the form of a Promissory Note Payable. The following is from the acquisition completed on January 1, 2019.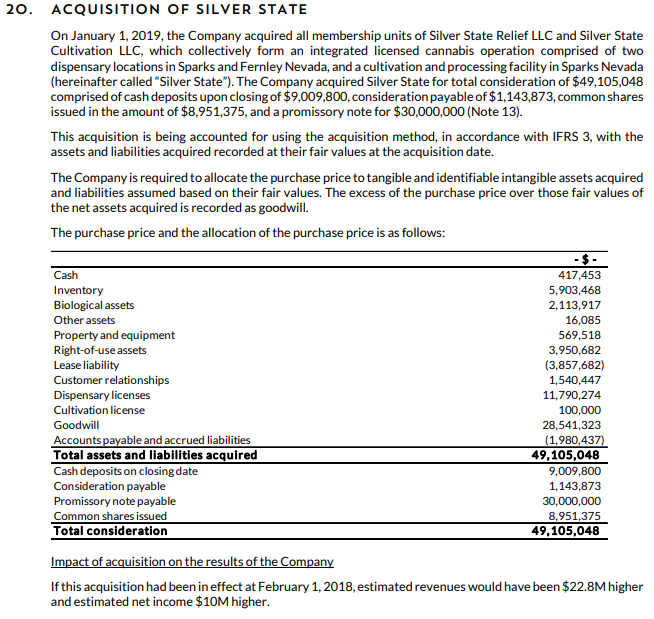 Since closing the acquisition, the company has paid off $5M of the $30M, and $18M of the remaining listed as a current liability.

This Promissory Note puts the company in a situation with an accounting note such as:
Note 1, Going Concern
The accountants spell it out for us. With a large working capital deficit (thanks Sonny!) and a series of short term debts due, the company will have to raise money or restructure to keep the lights on. Not untypical in cannabis. And a risk almost every US cannabis investor is constantly assessing.

The Good and The Bad
The good news is the Note is owed to the current CEO, Sonny Newman. The bad news is the Note is secured, meaning if the company cannot pay it's debt the company is in trouble and could face a liquidation event.
Two things need to be mentioned here. 1) In the past Sonny has shown a willingness to restructure. Sonny amended the terms of the Note on July 1, 2019 to monthly payments of $800k plus interest; which then increase to $2M/month starting in the new year.
2) The dicey part: Sonny has a fiduciary duty to his shareholders as the CEO. Whether he needs to restructure or the company goes insolvent is a difficult legal conundrum rare in public markets. We have a CEO who is owed an amount equal to approximately 80% the value of the tangible assets, which generate significant cash flow, but not enough to meet the terms of the debt.
For readers new to C21, understand that Sonny didn't necessarily create this predicament. Likely former CEO and current board member Robert Cheney convinced him that there was a prudent capital market strategy to pay off his debt in no time. In July 2019, Sonny took over as CEO.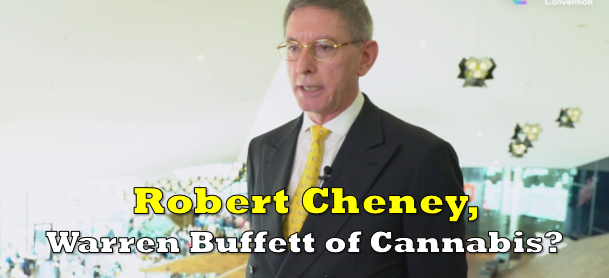 Interestingly, C21 Is Cheap On Basic Metrics
If we do a basic breakdown of where analysts forecast the large MSOs for 2019 and compare them to C21's current run rate, we quickly find the company is cheap. And yes, I am using Enterprise Value to include Sunny's debt.
| | | |
| --- | --- | --- |
| | 2019 EV/Sales | # of Analysts |
| Curaleaf | 20.6 | 9 |
| Cresco Labs | 19.3 | 9 |
| Harvest | 15.5 | 7 |
| Green Thumb | 9.3 | 12 |
| MedMen | 6.1 | 7 |
| Acreage | 5.5 | 7 |
| Trulieve | 4.2 | 5 |
| Colobmia Care | 8.5 | 4 |
| iAnthus | 5.5 | 9 |
| C21 Investments | 2.0 | *Q2 Run Rate |
Average them out and it brings us to a clear undervaluation for C21: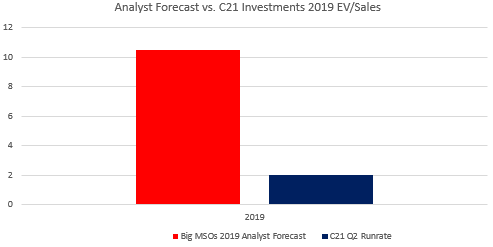 Overall Thoughts on the Quarter
Overall C21 is executing on their plan. It remains to be seen how the Orgeon acquisitions work out. Bears can easily point to Oregon as an overpay based on the non-existent additional cashflows these operations have brought. The company tells us they saved $5M in annual operating expenses in the most recent quarter, but it's hard to really assess how real this is with such a small track record. Quite frankly, the company was generating more in operating cash flow as a private company based on the business acquisition report of SilverState as a standalone.
Sill though, I think C21 had a solid quarter. They generated $1.5M in operating cash flow. I view positive cash flow from operations as a real measure of earnings quality. Something rare in cannabis.
The Nevada operations are clearly strong. This is something bears have to concede. We still need to see what the plan is with all the Oregon assets, which at this point requires investors to buy into a greater plan and accept the risk. But overall, ignoring dilution and acquisitions, the company is growing revenue on a quarterly basis.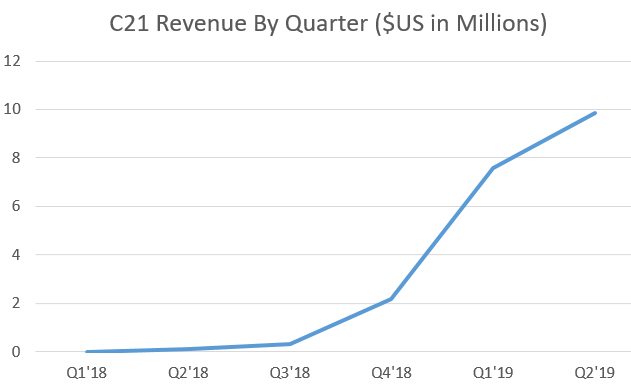 SmallCapSteve's Final Thoughts
But here's the thing, it's time to show some Onions.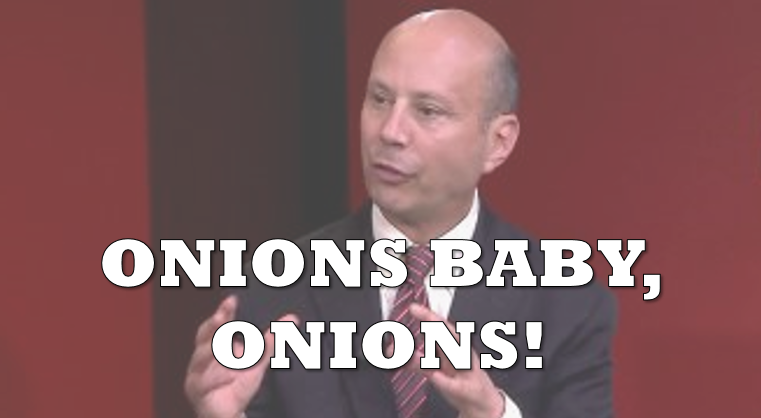 The issue is the notes owed to the CEO. Sonny Newman has to show the market some onions. It's time to show the market he believes in this thing and convert his debt to shares. How can I invest if the CEO would rather have secured debt than equity? Does he even believe in this thing?
With a clean capital structure and prudent growth strategy the world is C21's oyster. But until the company stops teetering with insolvency, and has debt owed to the guy who controls the fate of the common equity holder, it's hard for serious investors to assess the risk/reward profile.
I have always stayed on the sidelines of C21. Social media theatrics aside, they have a core asset to build a real business around. With a clean capital structure and a coherent growth strategy, I think it would be hard to make a case against them at a sub $100M valuation relative to peers.
---
Information for this briefing was found via C21 Investments, Sedar, FactSet and Echelon. The author has no securities or affiliations related to the discussed organizations. Not a recommendation to buy or sell. Always do additional research and consult a professional before purchasing a security. The author holds no licenses.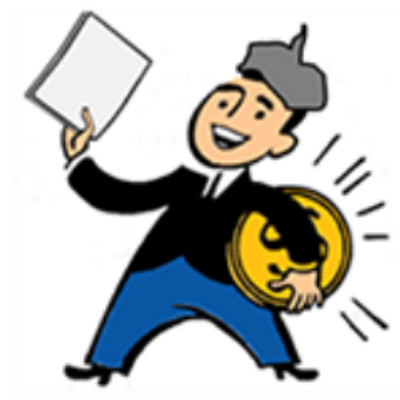 SmallCapSteve started blogging in the Winter of 2009. During that time, he was able to spot many take over candidates and pick a variety of stocks that generated returns in excess of 200%. In the time since, he has taken a heavy focus in the cannabis space with a particular affinity for multi state operators, for which he has become a known thought leader.