AMC Stock: The Show Must Go On
AMC stock is hot action right now. Is it a flash fire, or could the market be telling us something about the future of the movie business?
In March of 2020, the Motion Picture Association released its THEME annual report detailing the state of the business of making and selling movies to the public in 2019. That report had streaming revenue up 14% from the year prior, a much more aggressive growth curve than the 1% growth in revenue from movie theaters. Of the $101 billion in total gross revenue from motion pictures, 58.3% of it came from non-theatrical showings.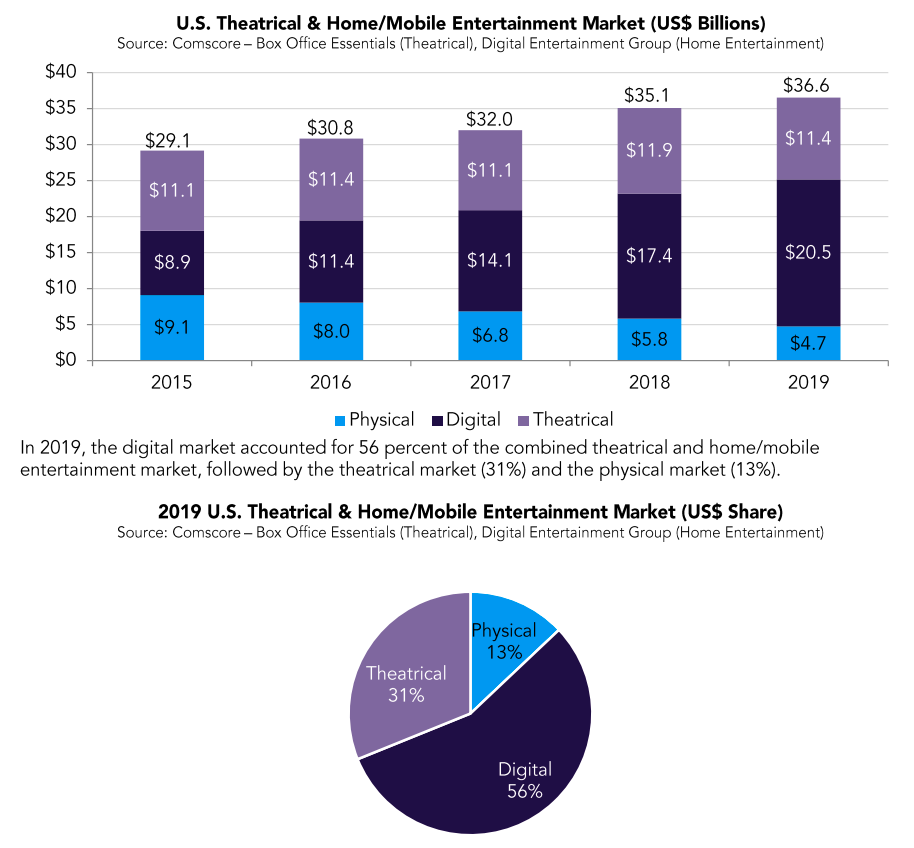 This rise in home viewing may have been discussed at the MPA's annual convention, CinemaCon 2020, had it not been cancelled along with each and every theatrical showing of any movie for the foreseeable future. The 2020 THEME report isn't out yet but, when it does drop, box office revenue is sure to be insignificant for the first time since the invention of motion pictures. As one might imagine, AMC Entertainment Holdings Inc. (NYSE: AMC), the largest operator of cinema properties in the world, had a rough 2020.
The company's first response to the pandemic shutting down materially all of its business in March 2020 was to cut its long time dividend from $0.20/share to $0.03/share. The yield junkies who owned the predictable legacy business with a flat growth profile dropped it like a hot potato, sending the stock to a low of $1.91.
The company was carrying $4.73 billion in debt, was responsible for another $5 billion in lease obligations, and when they were going to be able to open their main and secondary cash generating units again was anyone's guess. By June, the company was expressing "substantial doubt" about whether or not it would be able to remain in business. The rest of 2020 saw AMC stock rising and falling in inverse proportion to coronavirus cases, matching, roughly, the level of collective hope that conditions would be normal enough again soon for people to go see movies.
GameStonk Ex Machina
In January of 2021, "short squeeze" suddenly became part of the popular lexicon, and traders started piling in to stocks that showed an amount of shares loaned out greater than their float, the theory being that un-hedged institutional shorts looking to ride the further demise of out-dated businesses could be forced to cover if traders could create some upward momentum through the options market. The GameStop trade stole the show, but AMC stock was caught up in the momentum, and had the purchase of its options cut off by retail trading platforms, just like GameStop (NYSE: GME) did, ending its melt-up at a $20.36 top tick.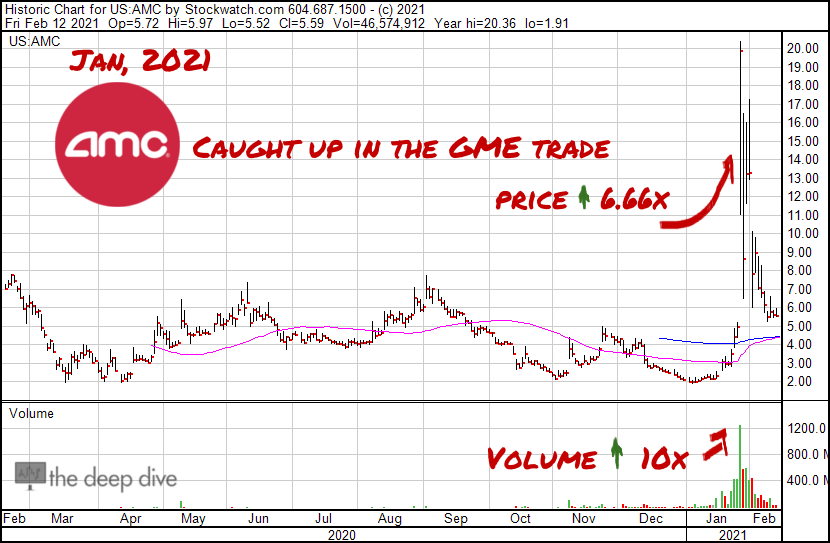 Whether there were uncovered AMC shorts in a squeeze at the end of January or not isn't something we'll ever know, and it doesn't matter. AMC has done more volume in the past two and a half months than it did in the past two and a half years, as momentum traders and swing traders piled into the newly liquid and highly volatile issue.
The shift in climate brought about by the Market Gods took AMC the business from being stranded high and dry into a flash flood of liquidity, so the team in charge at AMC did the only responsible thing and started bailing water into the boat, because the best navigation plan in the world won't matter if there's nothing to drink. 187 million shares of AMC were printed in an at-the-market offering to raise $596.9 million.
Chinese conglomerate Dalian Wanda group, which had owned 23% of AMC's equity and 47.3% of its voting rights since 2012, signaled February 1st that it would be looking for the exits, exercising a conversion right that made its position liquid and bumped its control percentage down to 9.8%.
Then, on Friday March 12th, with AMC printing stock like promo movie vouchers, its majority backer packing its bags, and no meaningful return to theaters on the horizon, AMC released year end financials for 2020 that were solidly panned by every critic who bothered looking.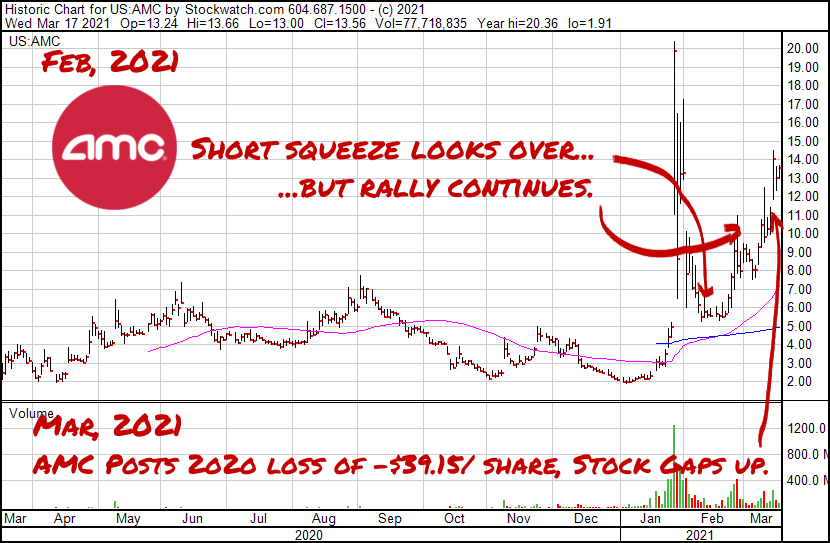 The following Monday, AMC stock jumped from $11.16 to $14.04 on 278 million shares of volume, forcing Mr. Market to lean back, squint, light a fresh cigar, and re-assess this picture. Sure, it stinks out loud. No doubt about that. But are we trying to win the Palme d'Or at Cannes here, or are we selling tickets? Because this baby is a draw in the here-and-now, and that's as solid a foundation as any for a bright future.
Fire me? You don't fire me, I fire YOU!
Before Reddit dragged AMC into the pop-investment sphere, at the beginning of a 2020 summer sure to have zero theatrical blockbusters, NBC Universal CEO Jeff Shell, pleased with the early returns of his studio's recent video-on-demand release of feature sequel Trolls World Tour, got chatty with the Wall Street Journal. Shell mused about eliminating the theatrical release window for Universal features, and sending them straight to consumers via streaming. AMC wasn't having it.
The theater chain announced immediately, that, if Universal didn't care to offer a theatrical release window, it saw no reason to carry Universal releases. Consumers could stream them to their phones for all they cared, because AMC's high-end, state-of-the-art theater experience is reserved for new, hot, first-run feature films. Anyone who wants to watch Netflix-grade pictures can stay home.
Universal walked the comments back immediately, and the sides got to work hammering out a deal that makes Universal releases available exclusively in theaters for their first 17 days, and extends that window to to 31 days for films that gross more than $50 million in their opening weekends. The deal also gives AMC a split of premium video on demand revenue that is generated through its ecosystem, which could be an easy convert for AMC, who maintains a loyalty program, presumably full of millions of dedicated movie-goers, who do screen movies at home, when it isn't an EVENT.
"It's called BOX OFFICE, baby! It's bigger than The Stones."
Presently, the number one movie in terms of domestic box office gross is Star Wars Episode VII: The Force Awakens, which brought in $936 milllion. It brought in another $1.1 billion in international box office gross. Another Disney product, Avengers: Endgame, is second in domestic box office gross at $858.3 million, and brought in $1.91 billion internationally. Domestic video sales for those films were $191 million and $107 million, respectively.
And while Disney is sure to earn a great deal from those titles as they're purchased through Disney+ and licensed to other streaming services, it's well aware that it's able to do so because of the movies' success at the box office.
The motion picture industry has an entire corps of press dedicated to covering its every move. What it's making, how it's making it, who's involved, and the gossip that holds it all together and tears it all apart. The swell of anticipation that it builds ahead of big releases creates pressure as it moves through the choke point of the movie's release date, when it will be screened in front of a limited number of theater seats.
New installments of popular franchises like Star Wars or James Bond sell out multiplexes for their first few weekends. Consumers show up in herds and put up with about a half hour of ads before another half-hour of previews, sticky floors, kids glowing the place up with their phones, and pay $25 for the privilege, and another $25 for snacks, plus parking because, to them, being the first to see a big summer release is worth it. Those are the people who get to contribute to the early discussion about new movies, instead of having that discussion ruin it for them.
AMC theaters are where people go to have movies imprinted on their brains in the high-res 3D and full Dolby Surround Sound, while dressing in costume and goofing off with their friends. It's where cinematic legends are made by plugging them into a tradition of human movie going that's been building momentum for more than 100 years. It's reasonable to expect cinemas to be as lucrative as they ever were once it's safe to pack theaters again, and for them to do more volume than ever before out of the gate.
A hardscrabble, come-from-behind underdog story about a movie theater.
AMC's time as a legacy business that paid a $0.20 divvy you could set your watch to is now over. Its next act is one of drama and suspense, in which it uses this unlikely assist from the capital markets and its well-earned experience to try and outrun the perfect villain: a pandemic lock down that threatens to make movies an at-home activity permanently. Backers of AMC at this price are buying a company with a debt-load the size of its market cap, that doesn't know when its core revenue base will be back, and quadrupled its shares outstanding in its most recent quarter. But that last part isn't so bad when you consider the fact that it's doing about 12 times the average volume.
While it's tempting to see this company's deathbed miracle as a glitch in the matrix, it could be that the pre-2020 market was selling AMC short by treating it like a mature utility business. Seen through a wider lens, AMC stock represents ownership and control of a key cog in the entertainment industry's machine, the first point of contact between the people and the product, and those people have never wanted the product as badly as they do right now.
With the protagonist's back still to the wall, new-look AMC's next act is yet unwritten. Pros will tell you that the last act is always the toughest to write. The endings that become timeless are usually the ones that give the audience what they want, but not in the way they expect it.
---
Information for this briefing was found via Sedar and the companies mentioned. The author has no securities or affiliations related to this organization. Not a recommendation to buy or sell. Always do additional research and consult a professional before purchasing a security. The author holds no licenses.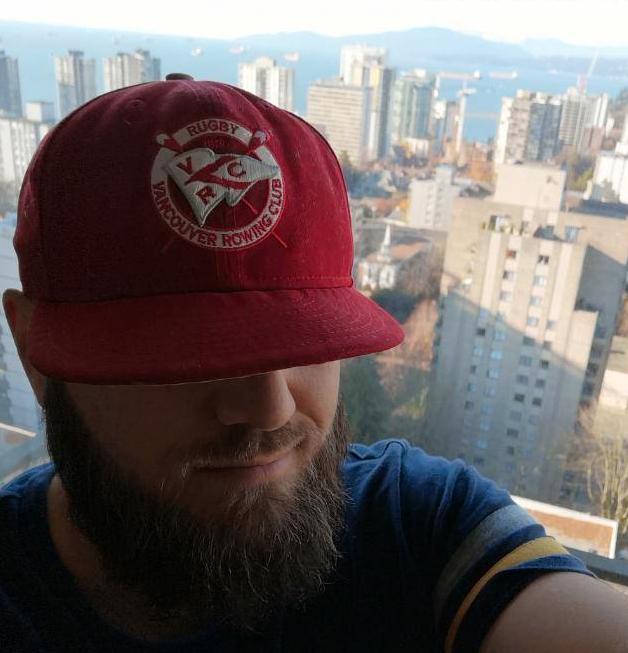 Braden Maccke is a freelance writer from Vancouver, B.C.
You can read all of his Deep Dive articles here.
He can be reached at braden@fundamentalhype.com.