AMC Insiders Profited From 'Apes', Sold Shares For Over US$888 Million In Two Years
The 'apes' are holding on but the bananas might have already been harvested.
Data from Dataroma show that company insiders such as hedge funds, private equity firms, board members, top executives, and other major investors in AMC Entertainment Holdings, Inc. (NYSE: AMC) sold US$888 million in stock over the last two years at significantly higher prices than they are now.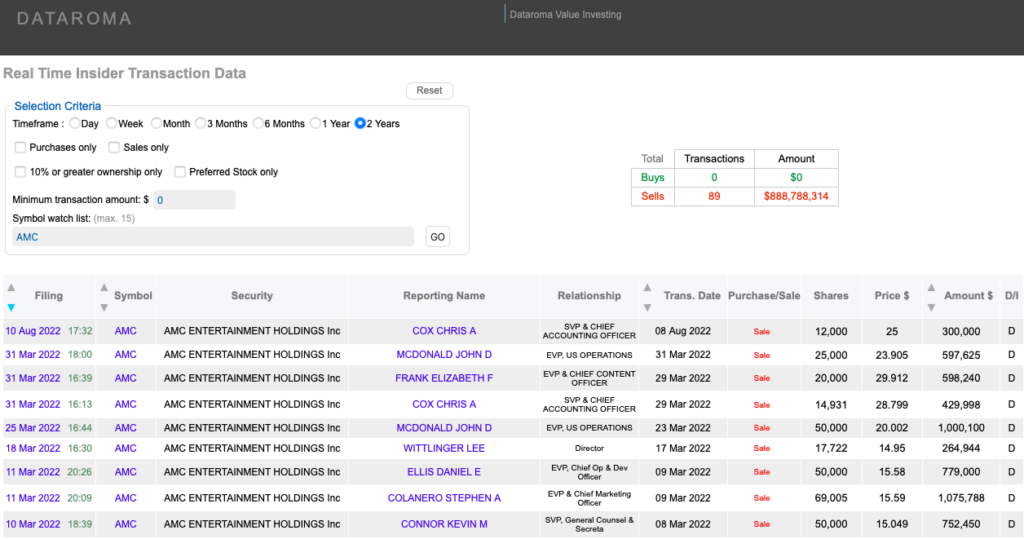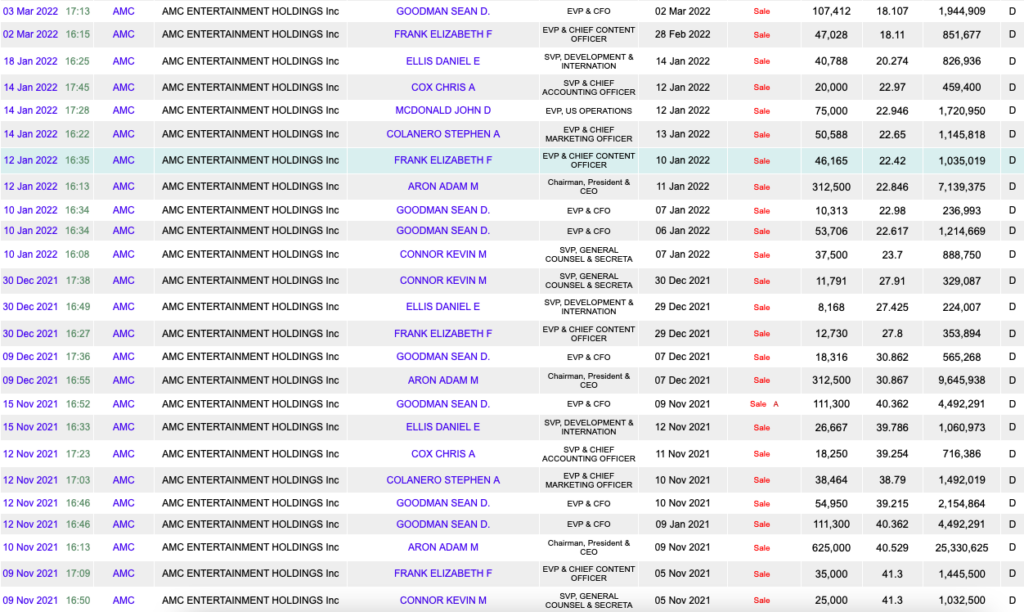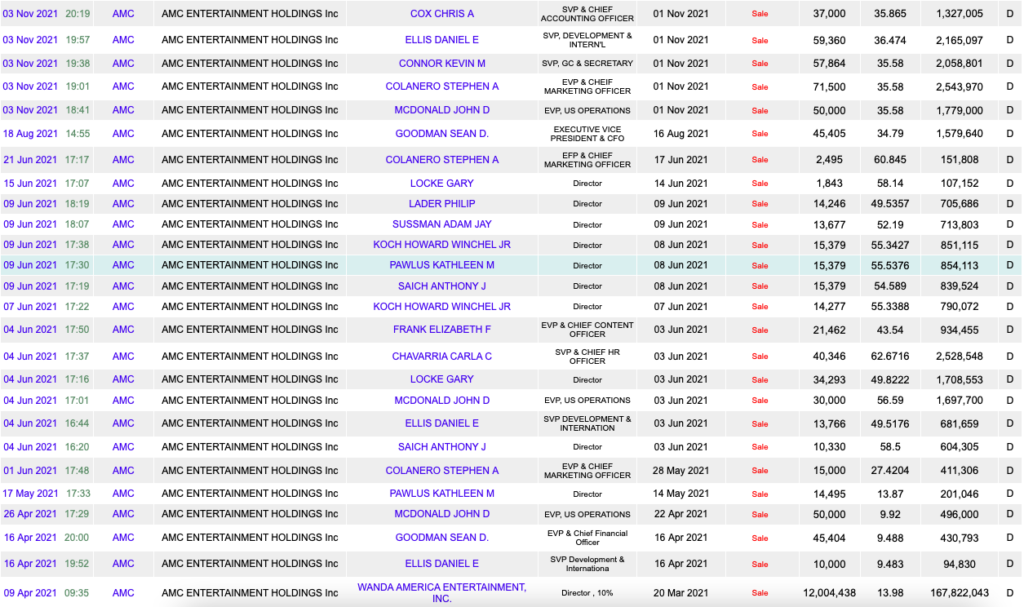 The majority of stock sales were made by private equity company Silver Lake, hedge fund Mudrick Capital, and Wanda America Entertainment, a subsidiary of China-based conglomerate Wanda Group. They sold US$782 million in stock in total.
Meanwhile, corporate executives such as CEO Adam Aron, as well AMC's financial and human resources chiefs sold around US$106 million in stock. The sales were made during the meme stock rally that occurred in early 2021.
READ: AMC Entertainment: The Short Squeeze, Explained
The short squeeze in June boosted the stock and also helped AMC to avoid bankruptcy as it was already closing theatres due to the pandemic. The increased stock price–peaking just above US$72 intraday on June 2, 2021–was then utilized by management to recapitalize and pay down debt.
While the retail investors practically saved the company, executives were cashing in on the boosted share price. Directors Anthony Saich and Gary Locke each sold shares worth US$600,000 and US$1.7 million, respectively, for US$58.50 and US$49.82–a day after the record-high.
Daniel Ellis, the company's senior vice president of global development, also sold US$681,659 at US$49.52 per share; John McDonald, the executive vice president of U.S. operations, sold US$1.7 million at US$56.59 per share; and HR chief Carla Chavarria sold US$2.5 million at US$62.67 per share–all on the same day.
Aron sold over US$42 million of his AMC shares in three tranches beginning in November 2021 at US$22.84, US$30.86, and US$40.52 per share. Also in November, Chief Financial Officer Sean Goodman made US$6.6 million by unloading his stock in two chunks at US$39.21 and US$40.36 per share.
But for retail investors–who reportedly owns 90% of the company's float–Aron rewarded them with AMC Preferred Equity (APE) unit stock dividend.
READ: AMC Entertainment: The APE Share, Explained
Investors received the APE unit dividend, and these securities can still potentially be converted to common shares. However, the company is leaving the decision to the shareholders as this move would entail increasing the authorized common shares for trading–a decision up for shareholders' approval.
In late September 2022, however, the firm filed a prospectus supplement with the Securities and Exchange Commission for the sale of up to 425.0 million preferred equity units, which currently trade under the symbol "APE" signaling that more dilution is yet to come.
AMC shares have gone down to its pre-short squeeze levels but retail-investing 'apes' are still holding on, with many refusing to sell their APEs or positions in the company as a matter of principle–overlooking the struggling fundamentals, highly leveraged balance sheet, and the tumultuous industry the firm is in.
AMC Entertainment last traded at US$6.06 on the NYSE.
---
Information for this briefing was found via Fox Business and the sources mentioned. The author has no securities or affiliations related to this organization. Not a recommendation to buy or sell. Always do additional research and consult a professional before purchasing a security. The author holds no licenses.