American Airlines Receives $5.5 Billion Taxpayer-Funded Loan from US Treasury as Air Travel Demand Remains Subdued
It appears that more government bailouts are en route for embattled airline companies, as the coronavirus pandemic continues to decimate demand for air travel around the world. American Airlines, which is the largest US carrier, announced on Friday that it has successfully entered into a loan agreement with the US Treasury for the amount of $5.48 billion, in a desperate attempt to prevent tens of thousands of industry layoffs.
Once upon a time, long before the onset of the pandemic, many US airlines, including American Airlines, allocated billions of dollars towards stock buybacks in a clever scheme to artificially inflate their stock prices. Everything was swell in the kingdom of massive US corporations, as no one dared to even whisper the potential idea of saving some cash for a rainy day such as a recession, which by the way, plagues the US business cycle typically every 4 to 7 years.
Indeed, fast forward to 2020, which not only was due for a recession, but a global pandemic as well of all things. When the coronavirus pandemic arrived on America's doorstep, it quickly crumbled the demand for air travel as governments around the world imposed lockdowns and restrictions. Airlines that were once booming with profits soon found themselves strapped for cash with no other choice then to begin furloughing employees.
The worst case scenario was averted however as the federal government quickly stepped in with its CARES Act, allocating $25 billion in grants and another $25 billion in loans for the suddenly-struggling airlines. Several major US airlines quickly jumped on the opportunity to receive a portion of the taxpayer funded bailout, in return promising to be good and not engage in anymore share buyback programs while keeping employees on their payroll until at least October 1.
However as the first of October draws very near the situation has barely improved since the beginning of the pandemic. Air travel demand remains subdued and global coronavirus cases have reached a grim 32.3 million. As a result, prince charming (ie., the US taxpayer) came to the rescue once again, this time for American Airlines. The US Treasury was able to offer a $5.48 billion loan, which American Airlines gladly accepted.
On Friday, American Airlines proudly announced it has entered into a secured term loan facility with the US Treasury, which in turn is backed by the company's loyalty program. In addition, the airline company was also advised that additional funding in the amount of $2 billion would become available come October under the CARES Act. In return for the generous prince charming (ie., US taxpayer) funded loan, American Airlines has to promise to refrain from paying dividends or engaging in stock buybacks, as well as maintain a minimum aggregate liquidity of $2 billion.
To put the situation into clearer context, American Airlines is receiving a loan size of nearly $5.5 billion, which will likely be expanded to a total of $7.5 billion come October. In the meantime, the airline company's market cap sits just above the loan size at $6.3 billion, all while sitting approximately $42 billion in debt. As a result of its deteriorating financial position, American Airlines announced in August that the company has no choice but to eliminate over 40,000 positions, including 19,000 through furloughs and layoffs come October.
However, American Airlines executives sternly noted that in order to cover labour costs for the next six months, the airline industry would need another $25 billion in aid! Well as the US financial system goes, whatever corporations want they will get on a golden platter. Nonetheless, American Airlines lived happily ever after, as US taxpayers have come to the rescue once again. Indeed, the rescue echoed across American Airlines stock, which rose by more than 3% in after hours trading before eventually tapering off into the abyss.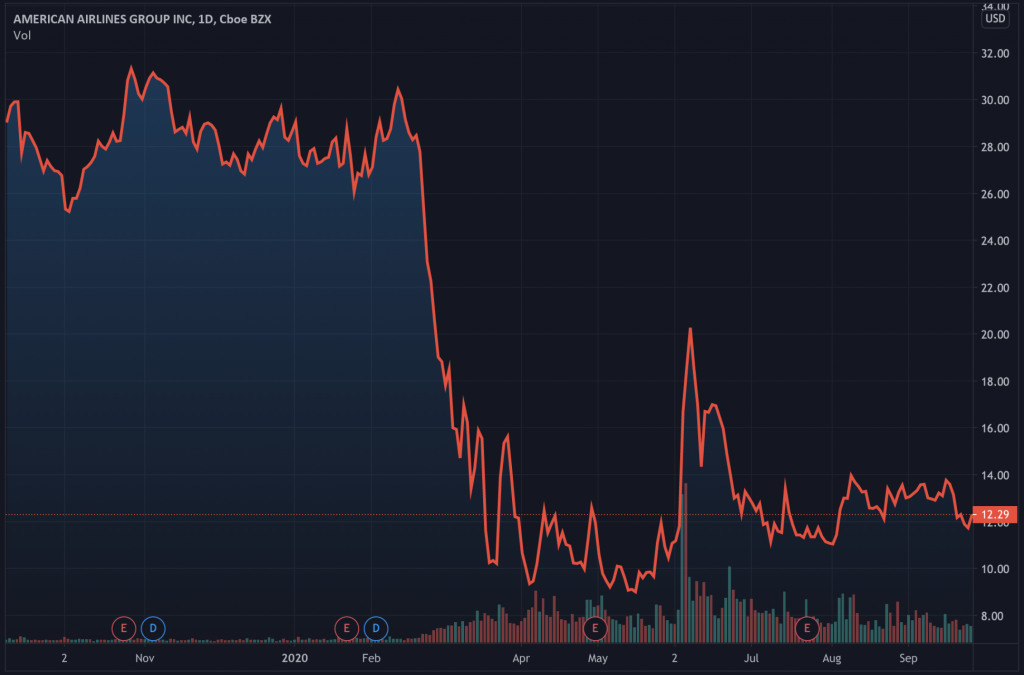 ---
Information for this briefing was found via American Airlines. The author has no securities or affiliations related to this organization. Not a recommendation to buy or sell. Always do additional research and consult a professional before purchasing a security. The author holds no licenses.