Annie Altman, OpenAI CEO's Sister, Tweets About Sexual Abuse Suffered From "Brother" Sam Altman
Trigger warning: sexual abuse
In a series of tweets, Annie Altman, the sister of OpenAI chief Sam Altman, has relayed experiencing various forms of abuse, including sexual, from her brother.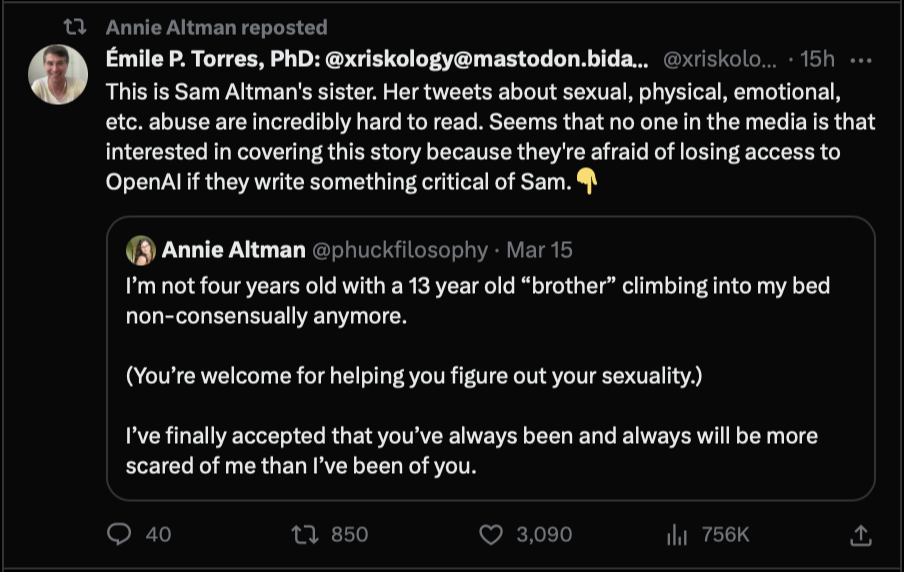 "I'm not four years old with a 13 year old 'brother' climbing into my bed non-consensually anymore. (You're welcome for helping you figure out your sexuality.) I've finally accepted that you've always been and always will be more scared of me than I've been of you," Annie wrote in a tweet.
Sam Altman is the oldest of four children, and has two brothers, Max and Jack.
Dr Émile P. Torres quoted Annie's tweet, saying these posts about the abuse are "incredibly hard to read."
Perusing Annie's X account, she has relayed her experiences with her siblings, with some posts dating as far back as November 2021.
"I experienced sexual, physical, emotional, verbal, financial, and technological abuse from my biological siblings, mostly Sam Altman and some from Jack Altman," she posted two years ago. "I feel strongly that others have also been abused by these perpetrators. I'm seeking people to join me in pursuing legal justice, safety for others in the future, and group healing."
Annie also claims that Sam withheld trust money from her after their father passed away, asserting this happened after her brother knew that she "started sex work for survival because of being sick and broke with a millionaire 'brother'."
In a tweet back in September 2022, Annie directly addressed her brothers, seemingly forgiving them for the abuse but saying these are "never forgotten."
"I know you remember my Torah portion was about Moses forgiving his brothers. 'Forgive them father for they know not what they've done.' Sexual, physical, emotional, verbal, financial, and technological abuse. Never forgotten," she said.
When someone pointed out that Sam offered Annie a house, as relayed in a profile piece on the OpenAI chief, Annie rebutted that that offer only came up after she started speaking up about the alleged abuse.
"The offer was for the house to be connected with a lawyer, and the last time I had a Sam-lawyer connection I didn't get to see my Dad's will for a year," she added.
Annie also said that Sam "forced Zoloft" on her, with later being told she'd "receive money only if [she] went back on it."
"Left out of the story"
Many have come out to show support for Annie, including journalists who've done pieces on Sam and his family. Elizabeth Weil of The New York Magazine did a piece on the OpenAI chief in September, now recounting that Annie's revelations are part of Sam's life that might have been "left out of the story."
"Annie does not exist in Sam's public life. She was never going to be in the club. She was never going to be an Übermensch. She's always been someone who felt the pain of the world," Weil wrote in her piece.
Annie references Weil as the "third reporter to ever find [her], and the first brave enough to include [her] story."
WIRED's Virginia Heffernan also said that Annie "has been left out of her brother Sam's Shiva-the-destroyer story," adding that "she's a lovely and funny and good person."
"So many of us are Annie Altman in someone else's catastrophic ego project," posted Heffernan.
Annie has been adamant on her experience, saying Sam is scared of her more than anyone, "and would not have made use of this skill without your abusing [her] in every form."
"Aww you're nervous I'm defending myself? Refusing to die with your secrets, refusing to allow you to harm more people?" Annie posted on Thursday. "If only there was little sister with a bed you could uninvited crawl in, or sick 20-something sister you could withhold your dead dad's money from, to cope."
Despite these, Annie is still a big believer of technological advancements, saying tech "must be used to help humans and help the planet first." The onset of artificial intelligence has been feared by many to replace many jobs and human-centric processes.
"Tech is one of our best ways to learn the various options to keep Earth inhabitable for humans! And implement said options. Tech needs nature (like mushrooms in landfills to help decompose) to do a lot of the things that will help halt climate change. Also tech needs nature more than nature ever has or
ever will need tech," she wrote on an Instagram comment.
As of this writing, Sam hasn't posted or commented on his sister's allegations.
Recently, in September, Sam's venture, OpenAI, the artificial intelligence startup responsible for ChatGPT, was reportedly in discussions with potential investors regarding a share sale that could value the company at an astonishing $80 to $90 billion. This remarkable valuation represents a threefold increase from its valuation earlier this year.
---
Information for this briefing was found via the sources mentioned. The author has no securities or affiliations related to this organization. Not a recommendation to buy or sell. Always do additional research and consult a professional before purchasing a security. The author holds no licenses.