Aphria Is Back: Earnings Recap
In a rousing followup to a dismal February quarter, Aphria Inc. (TSX:APHA)(NYSE:APHA) stood and delivered at year end, turning in a year end and quarterly earnings report that delighted the faithful and caused an epidemic of hope in a beleaguered marijuana sector.
The headlines centered around a big revenue number, strong sales growth, and the welcome hallmarks of a successful enterprise.
The sentiment around APHA following the Thursday August 2nd after-market earnings release was that of a baseball fan base who had just seen their team complete a decisive four game sweep of a rival that put them in a solid lead for the pennant down the stretch. It's tough to remember an after-market move that was so frequently posted about. Before the market had even opened August 2nd, pundits were calling this the beginning of a trend reversal – a big mood trying to bootstrap itself into a self-fulfilling prophecy.
Whether on purpose or by chance, the stars aligned for Aphria. CIBC analyst John Zamprano had cut his target on CIBC a week earlier, warning of a potential further write down of the controversial LATM assets, and forecasting a loss. Interestingly, Zamprano's revenue projection of $225M for the year wasn't far off the $237M that APHA printed.
The Aphria Army's visceral reaction to the report helped it spread, causing a general unease, lowering expectations and allowing Aphria to turn on a change up that they saw the whole way, delighting the home-town crowd with some solid contact. The optimism spilled over and there was strong chatter that this earnings beat would lift the sector out of its slump. It remains to be seen whether or not that's wishful thinking but, for now at least, Aphria's back. Let's go to the charts.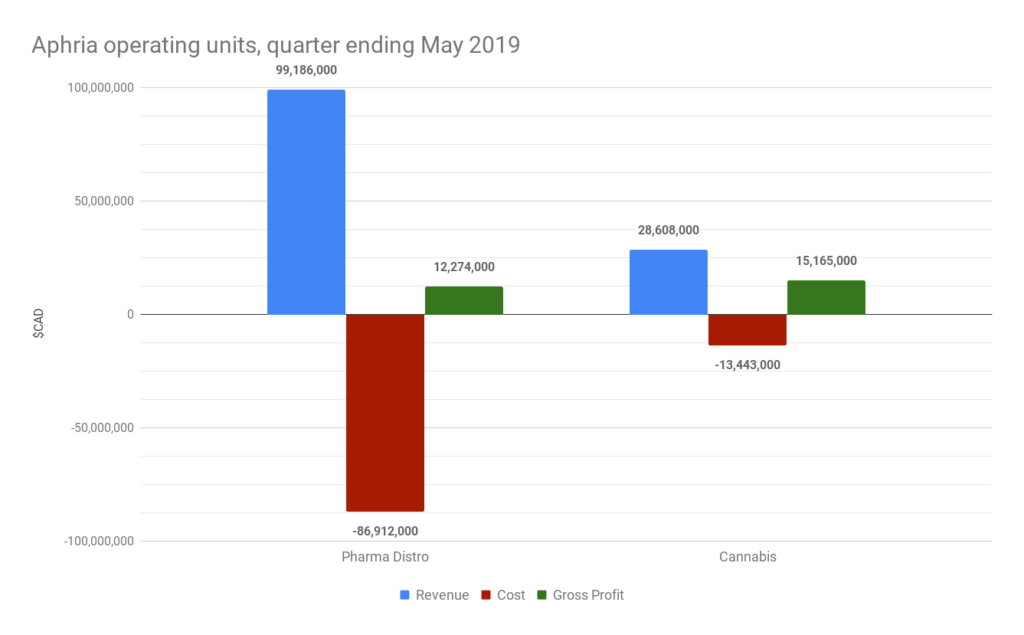 Aphria is basically two operating businesses and an investment arm. CC Pharma is a German Pharmaceutical distributor that does a lot more revenue than the Cannabis business…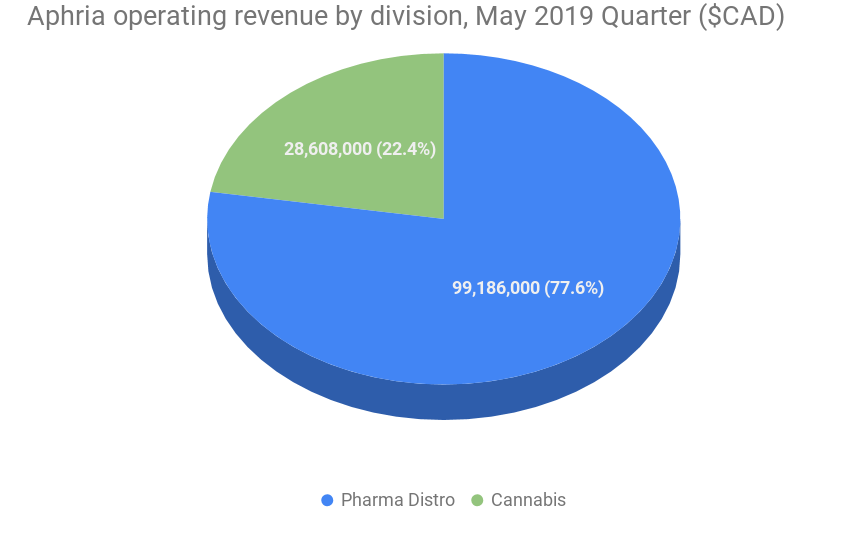 at a much smaller margin…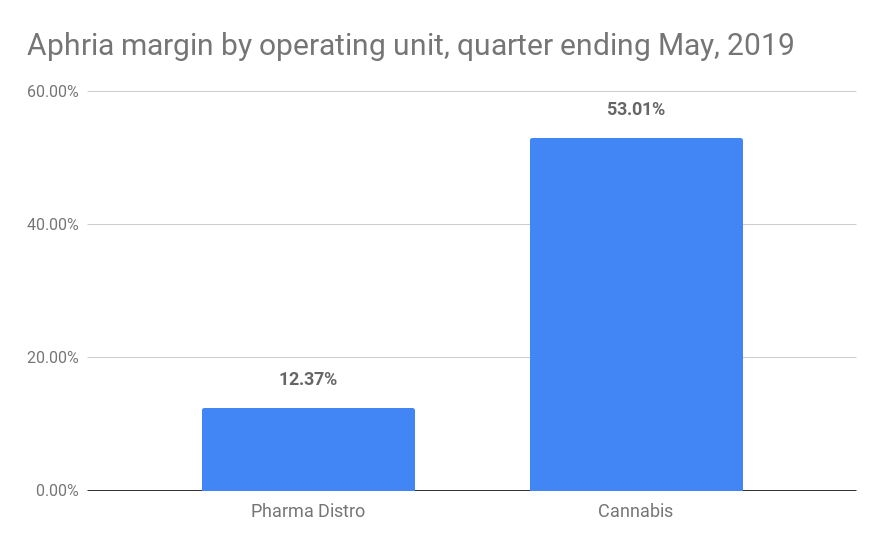 It's easy to see CC as apart of APHA's German future, but this revenue isn't a meaningful metric if we're evaluating Aph as a growing cannabis business.
Aphria's investments had a good year. They came out on top of that Green Growth Brands stunt with $50M, and expect it will generate another $39m. They also saw paper profits form the debentures that they own in various glorified penny dreadfuls, but that's a developing story. Those companies are likely to run with the market that Aphria is trying to turn around. The core business is cannabis cultivation.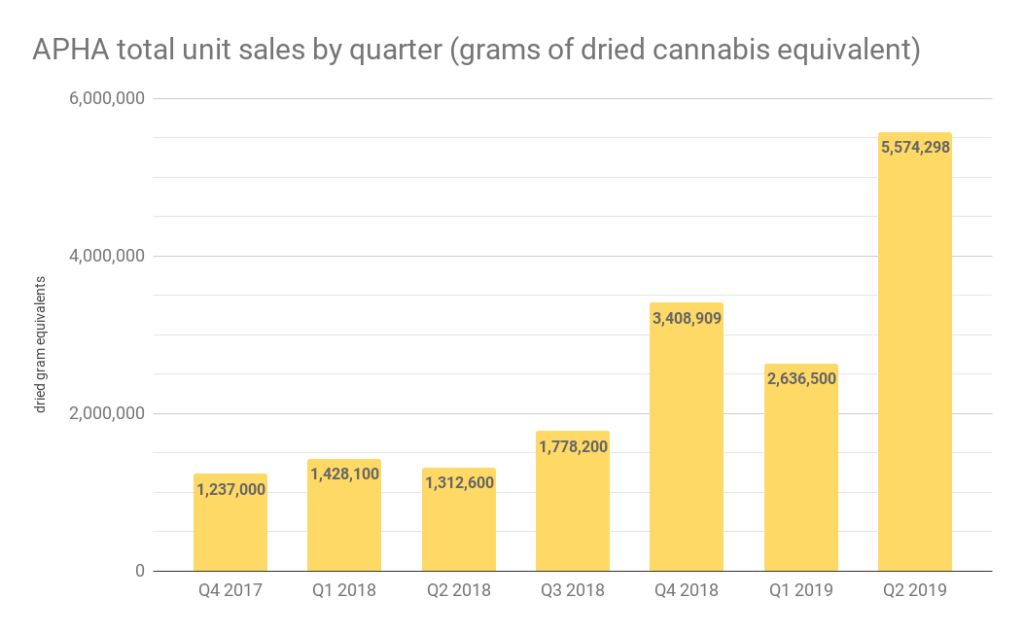 After a serious slump last quarter, Aphria delivered on both of the metrics we consider the most important. Strong unit sales and margin on cannabis are in line with the guidance the company gave for their production during a scale up quarter. The company gave operational reasons for last quarter's miss, but it's hard not to consider it a byproduct of the short report / GGB / LATAM circus that may have finally passed.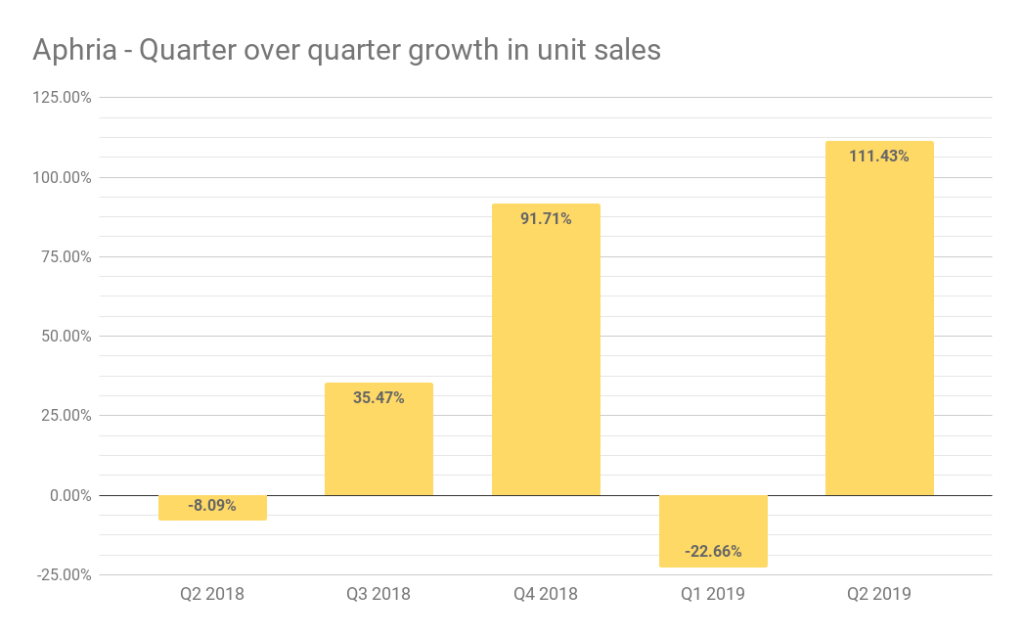 Aphria dropped the term "bespoke automation" from their description of the cannabis operations that they're building this quarter, opting instead for a more detailed description:
The Company is positioned to be the first licensed producer to bring industrial horticulture production technology into the cultivation of cannabis within a greenhouse environment. This cutting-edge technology will automate the following functions of the plant growing cycle:
Transplanting cuttings through various stages into the final pots for flowering;
Aiding in evaluation of the health and quality of plants to ensure plants meet the Company's stringent quality standards throughout the many stages of the growing cycle;
Monitoring and providing the necessary water and vital nutrients to the plants during the growing cycle; and
Transporting plants through different areas in the greenhouse including to the processing room once harvested. With this innovative technology implemented, the only human interaction throughout the plants' growth cycle for plants grown in these areas are at the initial phase of taking the cuttings and in the final phase to trim and prune the plants.
Additional state-of-the-art automation employed throughout the rest of the facilities include processes that involve:
Cutting the plants, and transferring them to be processed;
Automating the de-budding and trimming process;
Disposing of waste produced in the cutting, de-budding and trimming phase of production; and
Distributing the buds into trays in a drying rack to evenly dry and cure the harvested product.
It still sounds ambitious, but at least it's defined.
They also gave us some fresh corporate boilerplate about Aphria's "vision," "values," and "responsibility." The company's song and dance about how important people are to them focuses entirely on Aphria's clients and patience, never once mentioning the staff, which robs us of a chance to crack wise about Aphria caring about their staff so much that they're automating away their jobs.
The Bloomberg headline on Kristine Owram's treatment of these earnings proclaimed that "Aphria is first Canadian Pot Company to turn a profit," which is technically true, just not current. APHA turned a profit LAST year. This quarter's profit dug the company most of the way out of last quarter's -$0.43/share hole to finish with a -$0.07/sh bottom line loss on the year, but the apparent turn around is surely the most significant news in these numbers.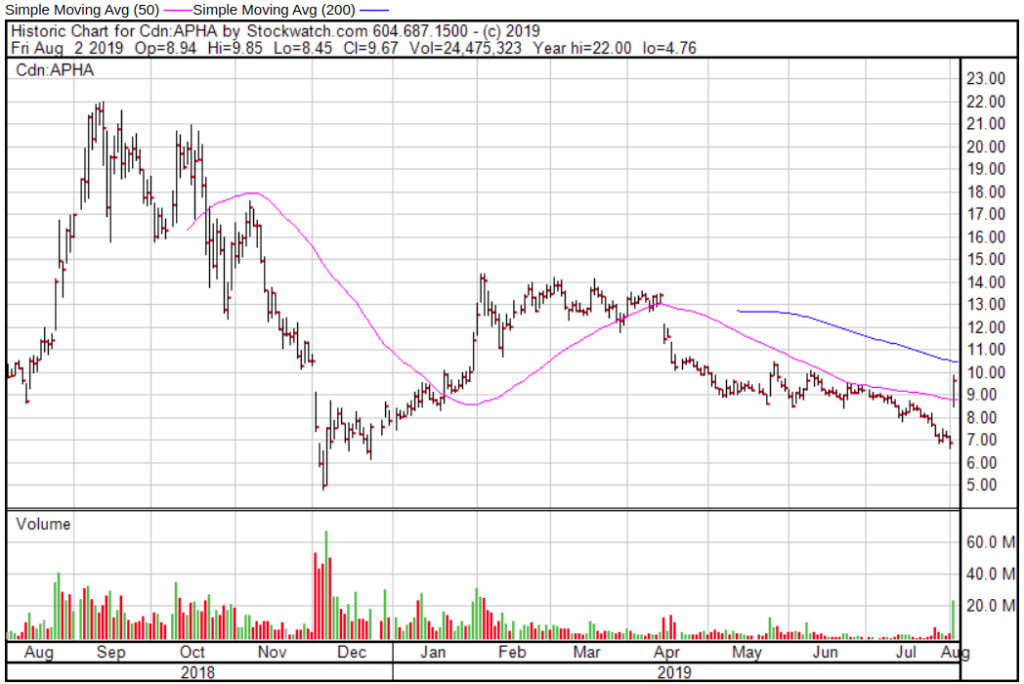 Aphria came out hot on Friday morning, pulling the rest of the sector\ with it as many hoped it would. So far, only sector-leader-du-jour Aphria made a price move across its 50 day moving average. It finished the day making a run for its 200 day MA on volume that it hasn't seen since February.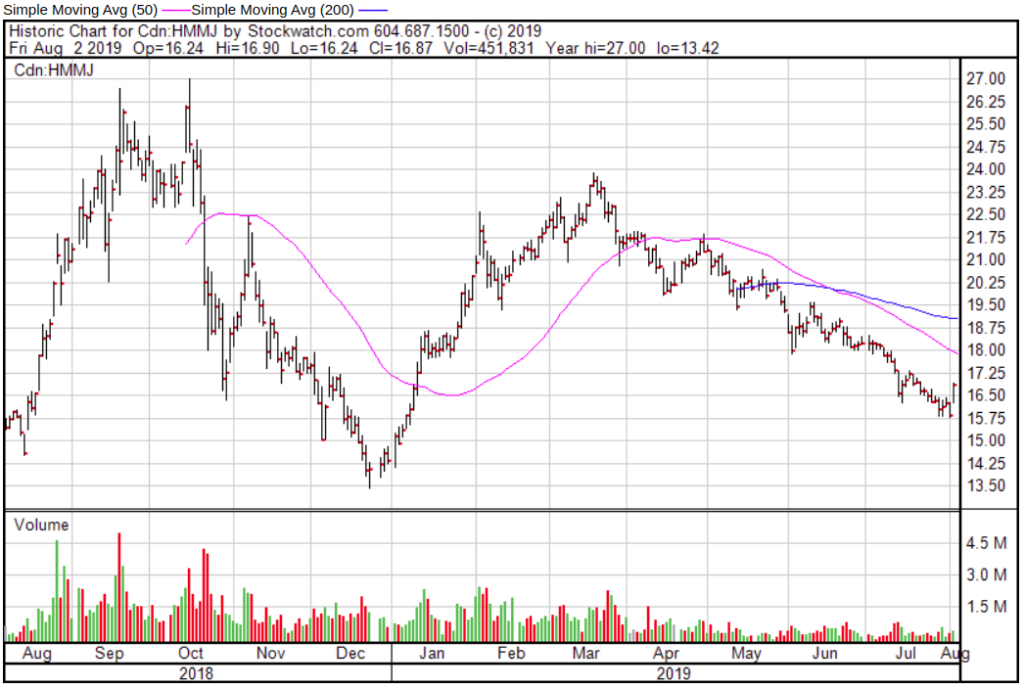 ---
Information for this briefing was found linked sources, Sedar and Twitter. The author has no position and has no affiliations related to this organization. Not a recommendation to buy or sell. Always do additional research and consult a professional before purchasing a security. The author holds no licenses.