Arizona: A Resurgence of Gold Exploration
Arizona has a history of mining extending back to the 18th century. The Spanish, who along with Mexico controlled much of what is today the southwestern United States, concentrated more on silver mining but traded with the regional indigenous peoples who brought them gold – something which the church was interested in.
Most gold mining occurred in the 20th century and was mostly placer gold with some lode deposits as well, and the recovered gold is more likely to be a byproduct from copper mining operations. Arizona is often called the Copper State because two-thirds of copper produced in the US comes from this area.
Unlike its neighboring state of Nevada, Arizona was never a significant destination for gold exploration. However, since the late 1700's Arizona has mined approximately 17 million ounces of gold. What makes Arizona compelling is that gold has historically been found throughout the state, even if much of it has been a by-product of copper mining..
Until Northern Vertex Mining Corp. (TSXV: NEE) opened its Moss Mine in 2019, Arizona's last operating mine was the Gold Road mine near Oatman which shut down in 1998. With the recent rise in the price of gold approaching $2000 per ounce, a number of junior exploration companies are revisiting Arizona with an interest in reworking old abandoned mines and areas of previous gold operations.
This follows the old axiom of exploring near existing or past producing mines. Arizona has a number of old abandoned mines that may offer exploration potential. Modern technologies enable explorers to efficiently locate potential deposits, and Arizona has a strong transportation infrastructure and power grid that can help keep operating costs reasonable.
The Geology
Arizona's geology formed during the Precambrian period when the Pacific and North American Plates collided, forming the mountainous terrain. Subsequent Mesozoic and Cenozoic geological ages added their imprints over time.
The rocks in the region are often sedimentary such as sandstone, limestone, siltstone, and shale, as it is thought that at some point in history the area was covered by a shallow sea during a period known as the Grenville orogeny. Recurring intense volcanic activity brought many types of minerals to the surface and just about every rock type as well can be found in Arizona, interspersed with granite outcrops and igneous rocks.
This volcanic activity occurred particularly during the Laramide volcanic phase that formed many pockets of porphyry copper-gold mineralization. Often called Laramide porphyry copper deposits, these are very large and found throughout the state; the areas surrounding Tucson have a number of large open pit copper mines. Gold and other minerals are often byproducts of copper production.
Some geologists believe that there could still be a number of undiscovered placer deposits in Arizona, with there also being theories that the Carlin Trend in Nevada may extend southward into Arizona due to the overall underlying geological structure of the entire southwest region of the US. Carlin-type deposits are generally very large hydrothermal deposits of oxide ore, but while the gold is essentially invisible and difficult to detect, it is relatively inexpensive to extract, often in open pits.
The geology type was named after the town of Carlin, Nevada, after Newmont Mining's massive discovery in 1961. It was thought that Carlin type deposits were only to be found in Nevada, but more recent geological knowledge has identified Carlin type deposits in the Yukon, Canada, in China, and Argentina.
Mining Activity in Arizona
According to the US Geological Survey, Arizona produced $6.97 billion of minerals in 2019, exceeded only by Nevada, and was responsible for 68% of US copper production. In 2019 Arizona had 180 active mines and mining projects that are under development. 27% of this mining activity was attributed to gold and silver.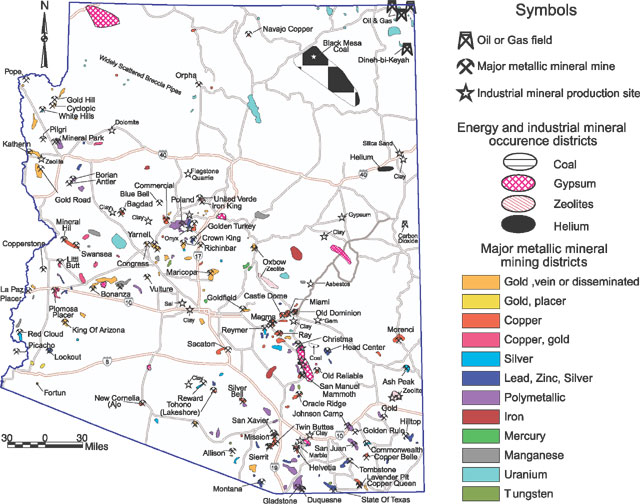 Vancouver-based Northern Vertex Mining Corp. (TSXV: NEE) announced in a August 6, 2020 news release record monthly production in July of 4,713 gold equivalent ounces (4,218 gold ounces; 37,171 silver ounces) from its 100% owned open pit Moss Gold Mine in northwestern Arizona.
According to the company's resource calculation, the Moss gold/silver mine has total measured and indicated mineral resources of 360,000 ounces of gold and 3,888,000 ounces of silver within 20,560,000 tons at an average grade of 0.0175 ounces per tonne gold and 0.2171 ounces per tonne silver. The resource estimate also has inferred mineral resources of 129,000 ounces of gold and 1,375,000 ounces of silver within 11,960,000 tons at an average grade of 0.0108 ounces per tonne gold and 0.1149 ounces per tonne silver.
Arizona's Exploration Activity
A number of junior exploration companies are actively exploring old mine workings in Arizona with a view to further develop their projects during a very positive gold market. There are many abandoned mines spread out over the state that were mined periodically in the 1800's and 1900's, and with the application of modern exploration methods and technology, offer a high probability of success.
Aztec Minerals Corp. (TSXV: AZT) holds an option to acquire a 75% interest in the Tombstone property located 100 kilometres southeast of Tucson. Aztec's option includes many of the original patented mining claims, covering a large part of the historic Tombstone silver district. The district is known for its small but high-grade silver/gold/copper/lead/zinc mineralization that produced 32 million ounces of silver from 1878 until 1939. The district has a complete infrastructure of roads, power, and water.
Aztec is focusing its attention on extending the depth of the old mine workings below their original 150 meter level. On September 10, 2020, the Company announced the completion of the first 5 holes of their current Phase One 2,900 metre, 20 hole reverse-circulation drill program. With 843 meters drilled, four of the holes intersected the old mine workings, with the deepest hole drilled down to 230 meters. A fifth hole was drilled southeast of the main pit, looking for mineralized parallel zones, intersecting two separate structures containing quartz-carbonate alteration.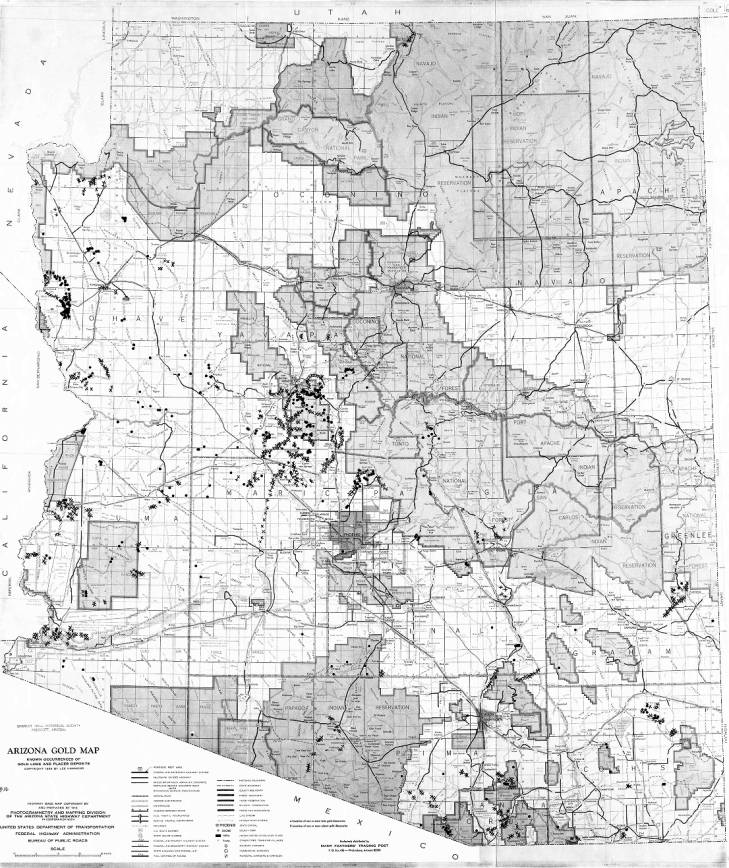 Kingman Minerals Ltd. (TSXV: KGS) is exploring the old past-producing Rosebud Mine and surrounding claims at its Mohave Gold Project situated 35 miles from Kingman in the Music Mountains in Mohave County. In the 1880's, a number of high-grade gold and silver veins were discovered in the area which were mined in the late 1920's and 1930's. The Rosebud Mine included a 400-foot shaft and approximately 2,500 feet of drifts, raises and crosscuts underground, with most mining took place at the 100 foot level.
In March of 1984, surface and below surface mapping was carried out and 139 samples of the mineralized shear zones were conducted to delineate ore zones. The resulting assay results from the sampling program were used to determine probable ore of 15,560 tons. Possible inferred ore is 176,000 tons, and additional possible inferred ore from 8 parallel to sub parallel veins total over 1,100,000 tons, and total contained gold is estimated at 664,000 ounces and contained silver at 2,600,000 ounces. The historical work is not considered to be NI 43-101 or JORC compliant so the Company is planning to confirm the accuracy of the historical data by twinning the results in a planned work program.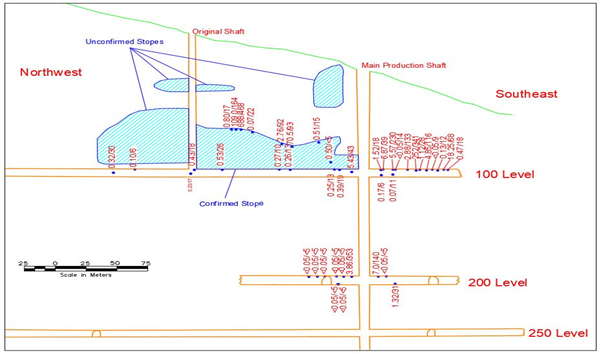 On September 10, 2020, CanEx Metals Inc. (TSXV:CANX) announced it recently received assay results from a surface sampling program at its Gold Range Project in northern Arizona. The Gold Range Property is located within an area that had historic lode and placer gold production but very little modern lode gold exploration. Numerous gold exploration targets have been identified on the property from grab samples from outcropping quartz veins that have shown values in the 20 to 40 g/t gold range, and values of 53.2 g/t gold over 0.6 metres from chip sampling.
CanEx is conducting ongoing bulk sampling, chip sampling, surface mapping, and soil sampling. In the process, it is trying to determine bulk mining potential of the property by currently undertaking a 1,675 metre reverse-circulation drill program. The program is designed to test seven different targets, all of which have shown surface exposed gold mineralization, with targets containing both narrow high-grade veins and larger zones.
On September 9, 2020, Northern Lights Resources Corp. (CSE: NLR) announced the results of an airborne geophysics survey at their 100% owned, 868 hectares Secret Pass Gold Project in Mohave County, located in the historic Oatman-Katherine Gold District near the borders of Nevada and California. The district produced over 2 million ounces of gold and 1 million ounces of silver between 1863 and 1940 from 80 separate producing mines, and there are still many abandoned mines and workings in the area.
The airborne geophysics surveys are part of the firms phase 1 exploration program for the project which will be used to refine a phase 2 exploration drilling program. The phase two program will be conducted to establish a NI-43-101 resource calculation for the Tin Cup and FM Zones on the property. Tin Cup and FM were extensively drilled by Santa Fe Mining between 1984 and 1991, and are the only areas at Secret Pass that had previous drilling, although records show at least the project area contains 15 historic workings.
Supernova Metals Corp. (TSXV: SUPR) announced in late September that it has received approval from the TSX Venture for its option agreement with Allegiant Gold Ltd. (TSXV: AUAU) on the Clanton Hills property. APEX Geoscience Ltd. will manage the exploration program at Clanton Hills. Historical data is currently being compiled and a re-inversion of historic CSAMT surveys completed on the property will be re-processed using modern inversion codes which will enable a better idea of how structures are oriented on the property for drill planning.
The Clanton Hills property comprises 32 mineral claims located in Yuma County, 112 kilometres west of Phoenix. Supernova plans to commence a drill program sometime in October 2020. Magnetic, VLF and gravity ground geophysical surveys will be completed shortly to help delineate the drill targets.
Arizona Silver Exploration Inc (TSXV: AZS) is conducting exploration on its Philadelphia gold-silver project located in the Oatman Mining District of Mohave County. The project hosts the Arabian-Philadelphia mine that entered operation in the late 1800's and operated until it was shut down in 1941 under the War Order Act due to World War Two that closed all non-essential mines, and it was never reopened.
On September 2, the Company announced assay results from its recently initiated drill program, with showings of 23.35 g/t gold, 82.3 g/t silver, and 340 ppm of beryllium over 1.5 metres. Another interval of 18.45 metres containing 3.81 g/t gold and 49.21 g/t silver and 113 ppm of beryllium was also reported. Arizona Silver is focusing its efforts on the northern extension of the strike and believes that the drill core results indicate that the primary vein target has been intersected. The continuing work will help delineate the size of the deposit on all sides and results are indicating the dip is much steeper than originally thought.
GMV Minerals Inc (TSXV:GMV) is a Vancouver-based junior gold exploration company that is developing its flagship Mexican Hat Project in Arizona into a potential mine. Located in Cochise county in southeastern Arizona, GMV, through a 100% owned subsidiary, controls a 100% interest in the project.
What makes GMV a compelling story is that the project was previously explored by gold mining giant Placer Dome during the 1980's with encouraging results for the property's potential. GMV has picked up where Placer Dome left off, continuing with its own exploration work, and on November 20, 2020, GMV released a Preliminary Economic Assessment (PEA) for the project that shows an inferred mineral resource of 688,000 ounces of gold, justifying further development to advance the property.
In Conclusion
With gold at near record levels and global instability causing a flight to gold as a hedge, gold investors are looking for undervalued opportunities. Arizona offers many opportunities to revisit old abandoned gold and silver mines, where operators can apply modern exploration techniques and technologies to reduce risk and have the best chance at success.
The state has very reliable mining infrastructure and is mining friendly. While existing exploration and production records from many decades ago may be somewhat unreliable, there is often enough good data to work from to formulate an efficient and effective exploration plan, particularly if work had been done on properties within the past 30 or so years. It may be beneficial for gold exploration investors to pay attention to what is happening within the region.
---
Information for this briefing was found via Sedar and the companies mentioned. The author has no securities or affiliations related to this organization. Not a recommendation to buy or sell. Always do additional research and consult a professional before purchasing a security. The author holds no licenses.