Nevada: America's Gold Mining and Exploration Leader
In 1961, Newmont Mining (TSX: NGT) made a massive gold discovery near the town of Carlin, Nevada, forever changing the fortunes of the State of Nevada. The discovery was made in a new kind of structure that geologists had little knowledge of. The gold was nearly invisible but was hosted in carbonate rocks formed within hydrothermal structures containing high-grade oxide and sulphide ores found near the earth's surface. This enabled extraction from open pits, with the ore treated through heap-leaching, cyanidation and other traditional means of milling ore. 
Some of the larger mines have also extended their operations underground. Geologists call these kinds of deposits "Carlin-type", named after the town where it was first discovered, and subsequently several other major Carlin-type gold discoveries were made in Nevada.
In the 1800's Nevada was primarily known as a silver mining region, until 1850, when a group of Mormon prospectors heading west to join the California Gold Rush discovered some small scale placer gold deposits. While waiting for favourable weather to cross the Sierra Nevada mountains, the group prospected the area and made a number of small scale discoveries, which kept them in the area for the next few years. 
In 1859, the Comstock Lode became one of the most significant silver discoveries in US history. It also effectively ended the California Gold Rush, as prospectors turned their attention to Nevada in search of the next motherlode discovery. The area around Virginia City became a mining camp, and between 1859 and 1919, the Comstock produced over 700 million dollars in gold and silver – and it is estimated that Comstock produced 8.4 million ounces of gold.
Other discoveries were made at Tonopah, where the Mizpah Mine produced over $114 million from 1900 until 1920. As railways arrived in the region in the early 1900's, mines came and went as ore could quickly make it to market. The discovery of the Goldfield Mining District in 1902 and the Combination Lode in 1903 ushered in another rush, aided by the arrival of the railroad in 1905. At one point there were 20,000 people in the region, as $84 million was produced in the district between 1903 and 1921. 
The Newmont discovery at Carlin and the newfound awareness of Carlin-type deposits led to several other major discoveries in north-central Nevada. Ironically, prospectors for many decades had ignored the small specks of gold found in the area, not understanding that they were finding Carlin-type gold.
In 1971 the US government ended it's fixed price policy for gold and the price of gold was allowed to trade freely, based on market conditions. With the subsequent rise in the price of gold through the 1970's, the area began to be heavily explored, and a number of major discoveries were made. While the gold grades were fairly low, the deposits were massive and relatively inexpensive to mine in open pits. 
Today Nevada accounts for 78% of the US and 5% of the world's total gold production. In 2018, Nevada produced over 5.5 million ounces of gold. Newmont Mining, Barrick Gold and Kinross are among the major gold producers in the state. While open pits are still in operation, a number of major underground operations have been established.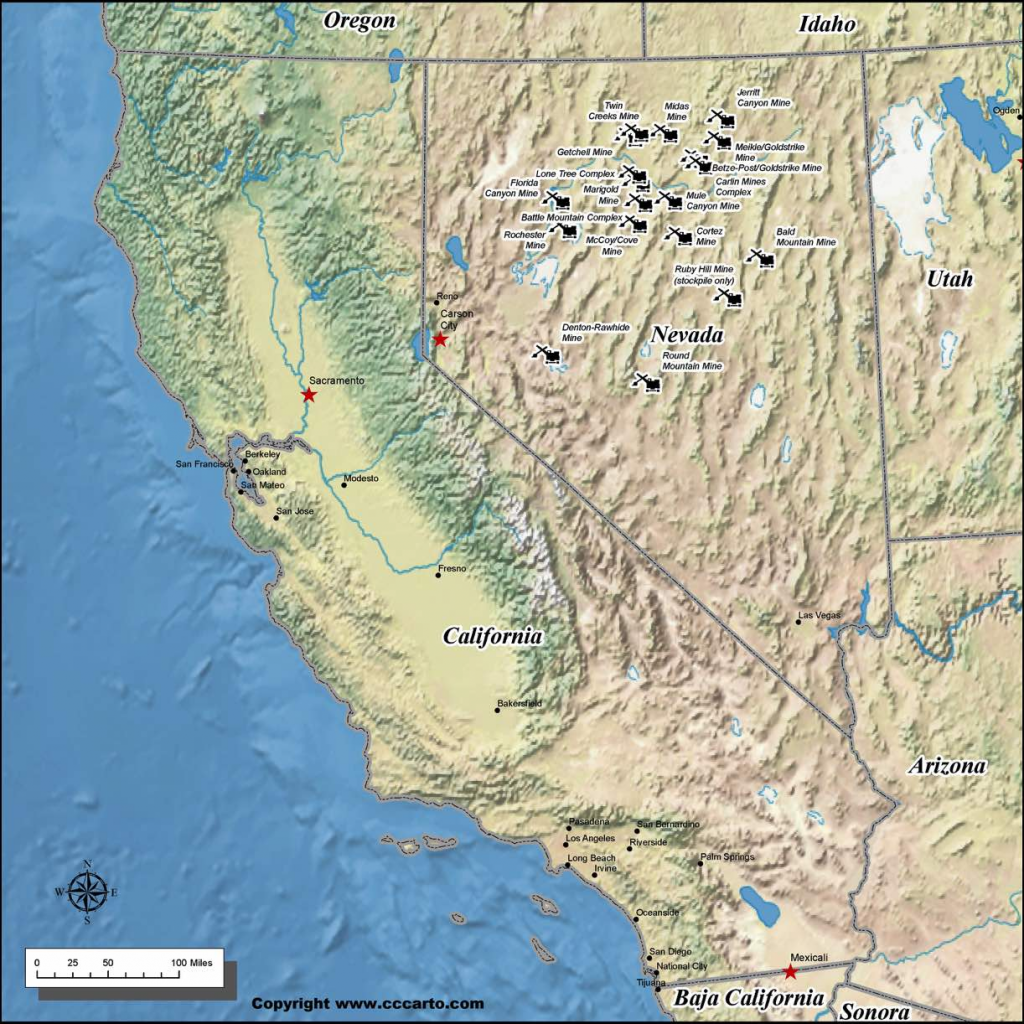 Nevada's Geology
Nevada's topography is dominated by many mountain ranges and valleys that are roughly 80 miles long and 10 miles wide. These mountain ranges were created by repeated volcanic activity and collisions of the earth's plates during the Archean and Proterozoic ages, which caused mineral-rich magma to rise to the earth's surface where it was cooled by prehistoric seas and other water bodies.
The region is dominated by faults which commonly appear on the sides of the mountain ranges. Most of Nevada's mineral deposits are largely a result of igneous activity and the rocks are igneous and sedimentary in nature, often found in veins formed by superheated water and also as magma metamorphosed with sedimentary rock. In many areas, the sedimentary layer is 20,000 feet thick; the area of southeastern Nevada contains layers of limestone, sandstone, siltstone; eastern Nevada has layers of limestone and dolomite; central Nevada has more shales and siltstone, as well as carbonate oxides.
A geological feature unique to Nevada are the Carlin-type deposits, often referred to by geologists as sediment-hosted disseminated-gold deposits hosted in dirty-carbonate rocks. Gold-bearing hydrothermal fluid rose to the surface, often settling along the long and steep faults that dominate this region. The ore is oxidized and the gold is often microscopic and attached to pyrite grains.
Due to it's microscopic nature, early prospecting was dismissive of this gold, but once heap-leaching and cyanide were used after the Newmont discovery at Carlin, large amounts of gold could be separated from the pyrite and hematite. This resulted in the ability to exploit massive deposits relatively inexpensively, making Nevada the leading gold producer in the US.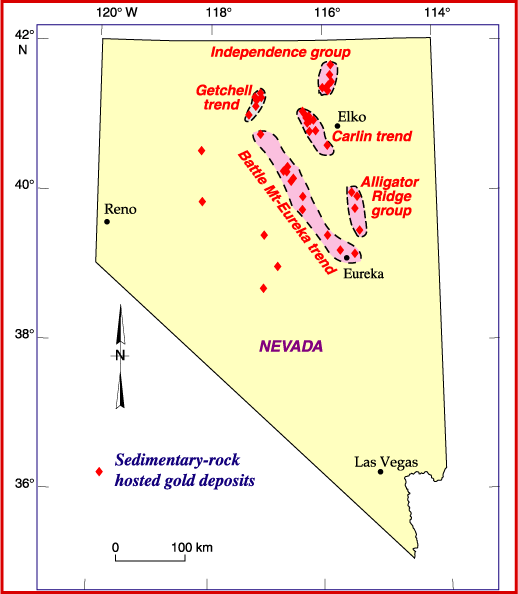 Mining Activity In Nevada
Newmont Corporation (TSX: NGT) and Barrick Gold Corp (TSX: ABX) operate the largest gold mines in Nevada. According to Barrick's reports, their 5 Nevada mines produced 2.22 Million ounces of gold in 2019 and contain 29.8 million ounces of reserves.
Newmont operates 12 surface and 10 underground mines in Nevada. In 2018 they produced 1.7 million ounces of gold and reserves, equal to 25.4 million ounces. The company also produced 42 million pounds of copper in 2018 and has 1.26 billion pounds of copper reserves at its Phoenix property in Nevada. 
In July 2019, Barrick and Newmont merged their combined gold mining assets in Nevada into a new company called Newmont Gold Mines LLC. Barrick will own 61.5% of the joint venture and Newmont the other 38.5%. This will have reserves of 48 million ounces. This move came about after Barrick abandoned its attempt to take over Newmont, and also paved the way for Newmont to subsequently acquire Goldcorp.
Among smaller gold miners in Nevada in 2018, Kinross Gold (TSX: K) produced 660,000 ounces of gold and 820,000 ounces of silver, SSR Mining (TSX: SSRM) produced 205,000 ounces of gold, and Jerritt Canyon Gold, a private Nevada gold producer, mined 145,000 ounces. Of potential interest for Canadian gold investors, in July 2020, Sprott Mining purchased a 20% interest in Jerritt Canyon.
Exploration Activity
A number of Canadian junior gold exploration companies are actively working on projects in Nevada. NV Gold Corporation (TSXV: NVX) recently announced results from a geophysical survey completed in September 2020 at its Slumber Gold Project, a 3.9 square kilometre property comprised of 55 unpatented lode mining claims owned byN V Gold as well as 5 unpatented lode mining claims leased from a third party. The company is awaiting permits for a fall exploration drill program on some it's identified targets. 
On September 21, 2020, Eclipse Gold Mining Corporation (TSXV: EGLD) announced it has mobilized a second rig to drill 6,750 meters at its Hercules Gold Project on the Walker Lane trend, an hour from Reno, accelerating its 18 hole Phase 2 exploration program. The Hercules project has all the indications of a low-sulphidation epithermal gold system.
Nevada Exploration Inc. (TSXV: NGE) is advancing it's East Golden Gorge project, a part of their South Grass valley Carlin-type project. On July 13, 2020, the Company announced a 10 hole, 12,500 ft core drilling program to test for economically feasible mineralization. This follows work that has indicated the systems that control the hydrothermal fluids that formed the mineralization found from earlier drilling. NGE believes it has completed the world's largest hydrogeochemistry exploration program in north-central Nevada, and they are advancing three district-scale projects within the Cortez-Battle Mountain-Eureka Trend.
Nevada Sunrise Gold Corporation (TSXV: NEV) owns 20.01% of the Kinsley Mountain Gold Project, a joint venture with New Placer Dome Gold Corp. (TSXV: NGLD). Drilling has intersected high-grade gold mineralization in the Western Flank target area. An initial NI 43-101 compliant resource estimate for the project was released in 2015. A February 2020 update of the mineral resource calculation shows indicated resources of 418,000 ounces of gold grading 2.63 g/t , and 117,000 inferred ounces of gold averaging 1.51 g/t. There are currently 3 drill rigs working on the Kinsley Mountain property. 
On September 21, 2020, Newrange Gold Corp. (TSXV: NRG), issued an update on the reverse circulation drilling program at its 1,670 hectare Pamlico Gold Project in Nevada. 34 holes have been drilled to date, for 3,462 meters along an 800-meter length of Pamlico Ridge, in an ongoing effort to confirm the structure and nature of the gold mineralization on the Pamlico property. 
Gold Standard Ventures Corp. (TSX: GSV) recently announced they were expanding their 2020 exploration and development program on its Railroad-Pinion project in the Carlin Trend. This is a well-funded advanced stage project that is building on its South Railroad feasibility study. This project consists of a number of advanced deposits, largely oxide gold in nature, that have built upon previous ongoing work programs. Some of these include:
The Pinion Deposit – a NI-43-101 compliant mineral resource estimate of measured and indicated mineral resource of 28.93 million tonnes of 0.58 g/t gold and 4.22 g/t silver; total of 544,000 ounces of gold and 3,929,000 ounces of silver. Inferred mineral resource of 10.81 million tonnes at 0.64 g/t gold and 3.80 g/t silver; total of 224,000 ounces of gold and 1,322,000 ounces of silver with a cut-off grade of 0.14 g/t gold at $1,500 per gold ounce.
The Dark Star Deposit – a NI 43-101 compliant mineral resource estimate of a measured and indicated mineral resource of 32.72 million tonnes grading 0.88 g/t gold; total of 921,000 ounces of gold and an inferred mineral resource of 2.48 million tonnes at 0.70 g/t gold; total of 56,000 ounces of gold with a cut-off grade of 0.14 g/t gold at $1,500 per ounce.
The North Bullion Deposit  – a NI 43-101 compliant mineral resource estimate of an indicated mineral resource of 2.92 million tonnes grading 0.96 g/t gold; total of 90,100 ounces of gold and an inferred mineral resource of 10.97 million tonnes grading 2.28 g/t gold; total of 805,800 ounces of gold using a cut-off grade of 0.14 g/t for near surface oxide, 1.25 to 2.25 g/t gold for near surface sulfide and underground sulfide respectively. 
The Jasperoid Wash Deposit – a NI 43-101 compliant mineral resource estimate of an inferred mineral resource of 10.57 million tonnes grading 0.33 g/t gold; total of 111,000 ounces of gold with a cut-off grade of 0.14 g Au/t and constrained by $1,500 per ounce gold.
Gold Standard is actively conducting exploration programs on these and other identified deposits to expand the size and scope of these deposits. It is expected that when the project eventually enters into production, the mines will consist of both open pit and underground operations.
Contact Gold Corp. (TSXV: C) holds an extensive 217 square kilometre land position throughout the Carlin Trend, as well as in the Independence and Northern Nevada Rift gold trends, and is focusing on a variety of projects; from early stage to advanced resource definition exploration projects. Contact Gold's current focus is on its Pony Creek, Dixie Flats and North Star projects that are located near Newmont's Rain and Emigrant Mines and bordering on Gold Standard's Railroad-Pinion Project in the southern Carlin Trend. 
On September 2, 2020, Contact Gold announced that they commenced a 2020 drill program at their Green Springs gold property located near the southern portion of the Carlin type deposits on the Cortez Trend, next to Fiore Gold's Pan Mine. 
Another advanced exploration company in Nevada is Corvus Gold (TSX: KOR), which is preparing a feasibility study for its North Bullfrog and Motherlode project. On August 18, 2020, the Company announced drill results at its Motherlode property that continue to expand the size and direction of the gold mineralization zones and help delineate the overall size and scope of the deposit.
Gold investors should familiarize themselves with gold exploration activity in Nevada, if only to be aware of potential opportunities when they arise. Nevada's rich history of gold mining continues to offer plenty of exploration opportunities for those companies that understand the unique nature of Nevada's underlying geology, and the prevalence of large Carlin type deposits. Due to the many current and historic mines that are spread out across Nevada, the risk-reward for exploring this region can be quite compelling – and Nevada has a strong mining infrastructure and a mining-friendly regulatory environment. 
---
Information for this briefing was found via Sedar and the companies mentioned. The author has no securities or affiliations related to this organization. Not a recommendation to buy or sell. Always do additional research and consult a professional before purchasing a security. The author holds no licenses.