Auditor General Cites $27.4 Billion COVID Benefit Payments Still Unverified, $4.6 Billion Overpayments To Ineligible Recipients
The report also noted the successful speed in obtaining and distributing COVID-19 vaccines but millions of doses were wasted due to huge surplus.
The auditor general of Canada has stated that "at least" $27.4 billion in suspicious COVID-19 benefit payments must be probed since the beneficiaries' eligibility still needs further verification. This is on top of the $4.6 billion of overpayments made to ineligible recipients of benefits for individuals.
"We found that the department and agency's approach to limit pre-payment controls, as well as the lack of timely data at the time of application, resulted in a significant amount of payments made to recipients who were ineligible or whose eligibility needs to be verified," the office said in a statement.
The report by Auditor General Karen Hogan also characterized the Canada Revenue Agency (CRA) and Employment and Social Development Canada (ESDC) relied on personal attestations to expedite issuing payments.
"They decided early on to focus less on confirming the eligibility of applicants up front and more on reviewing eligibility after payments were issued and recovering overpayments or payments made to ineligible recipients. The risk that some recipients might not be eligible for benefits they received made verifying eligibility after payment all the more important," the report also said.
Hogan also said in the report that "the department and agency did not develop rigorous and comprehensive plans to verify the eligibility of recipients."
In total, the federal government doled out around $210 billion in COVID-related benefits. In the interest of speed, the implementing agencies disbursed the benefits after having the concerned citizen attest to their own eligibility, with the verification coming post-payment.
However, some of the beneficiaries were later found to be ineligible or are still yet to be verified within two years after the benefits were disbursed. Ineligible beneficiaries are asked to repay the benefit or arrange a payment plan with the CRA.
"We found that their post‑payment verification plans did not include verifying payments made to all identified recipients at risk of being ineligible for all COVID‑19 benefit programs," the report added.
The auditor general sees that the implementing agencies are at risk of not completing all planned post‑payment verifications within the applicable timelines as delays continue coupled by the late start of collection of overpayment amounts. So far, the CRA and the ESDC have recuperated approximately $2.3 billion.
The federal government has 36 months from the time benefits are paid to verify the payment was correct, which can be extended to 72 months if the CRA suspects claimants provided incorrect information when applying for the benefits.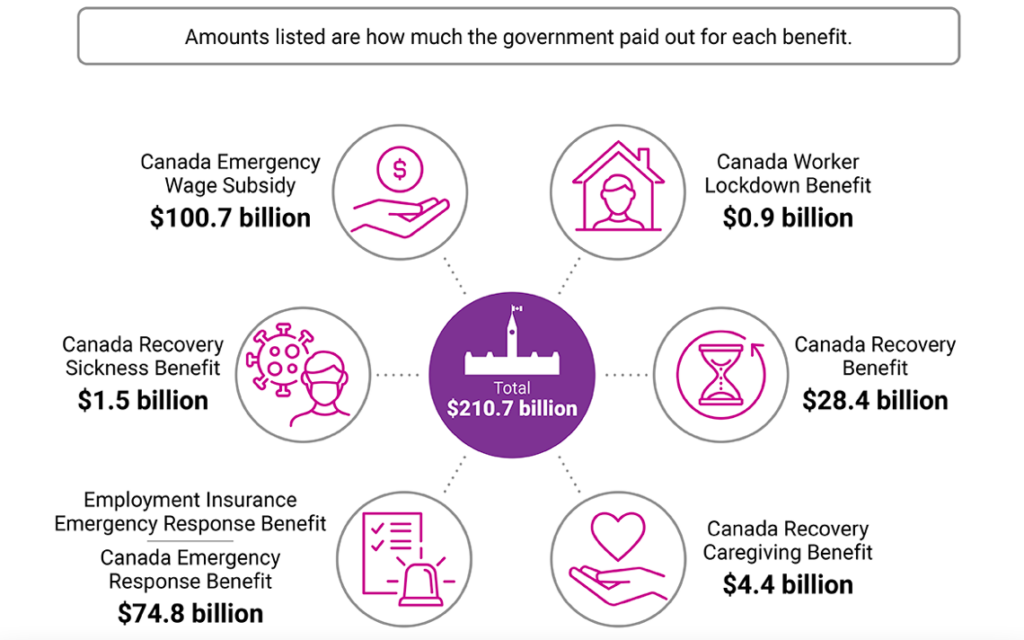 "To get funds to Canadians quickly, the government relied on applicants word and would review their eligibility after payments were made. This process got the money to those who needed it in record time, but the trade-off was that some individuals and employers received money they were not eligible for," the auditor general explained in an infographic.
Hogan's latest report is her first look at the $210 billion in payments made by the government through its six COVID-19 financial aid programs, the most generous of which are the $100 billion Canada Emergency Wage Subsidy, the $74.8 billion Canada Emergency Response Benefit (CERB), and the $28.4 billion Canada Recovery Benefit (CRB).
Many of the programs, particularly the $2,000-per-month CERB launched in April 2020, were designed to get money into Canadians' pockets as soon as possible by foregoing the typical pre-payment verifications.
The report details a different sequence of puzzling CERB payments, including $1.6 billion to individuals who appear to have quit their employment (rather than losing them due to COVID-19), $6.1 million to incarcerated recipients, and $1.2 million to deceased people.
Ministers Diane Lebouthillier (CRA) and Carla Qualtrough (ESDC) issued a joint statement in which they celebrated Hogan's findings about the positive impacts of the programs while also stating that the government would take a "compassionate" and "responsible" approach to recouping overpayments and catching fraudsters.
"It would not be cost effective nor in keeping with international and industry best practices to pursue 100% of all potentially ineligible claims," the federal government said. "This approach is evergreen, and will be adapted as circumstances warrant."
But Hogan said if the government wants to tame down verification, it should be cleared with the Canadian public.
"My advice to them is if they wanted to make a decision about recovery, one that might either forgive payments or be empathetic, then that's something they should be clear and transparent to with Canadians. But current legislation would require them to follow up with those individuals in recovery," Hogan answered back.
Vaccine wastage
Hogan's report also identified around 32.5 million COVID vaccine doses in government's inventory at the end of May 2022, majority of which are expiring at the end of the year. At that time, about 82% of people who were eligible to be vaccinated at that time had already received at least 2 doses.
"Although the government was successful in sending a sufficient number of doses to provinces and territories, the Public Health Agency of Canada ended up with a large surplus of doses. This led to vaccine wastage because some of the doses expired before they could be used or donated," the report said.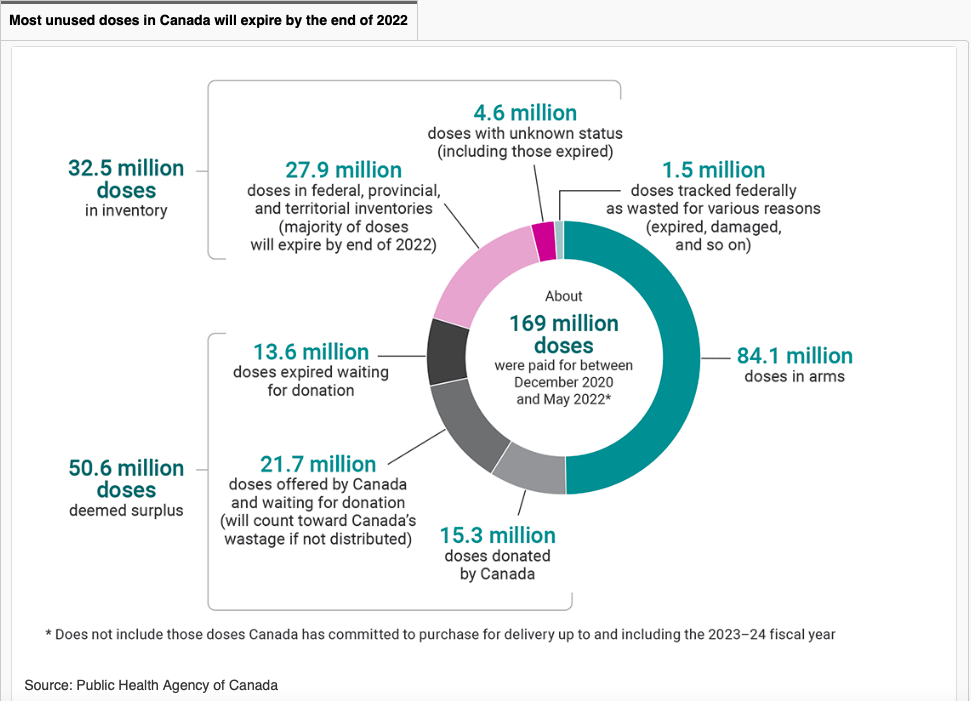 The report identified that the average cost of one dosage of COVID-19 vaccine is over $30, and the total cost of the 169 million doses purchased between December 2020 and May 2022 is around $5 billion. The current inventory of doses are estimated to be worth around $1 billion.
Around 50.6 million doses are deemed surplus: 15.3 million of the extra doses were donated, while another 13.6 million expired before they could be sent to another country in need of immunizations.
"By the end of our audit period, the majority of these remaining doses still had a shelf life and could be used in booster campaigns or donated; however, most will expire by the end of 2022 if unused," the audit said.
---
Information for this briefing was found via CBC, National Post, and the sources mentioned. The author has no securities or affiliations related to this organization. Not a recommendation to buy or sell. Always do additional research and consult a professional before purchasing a security. The author holds no licenses.