Ayurcann Holdings: Company Overview
Ayurcann Holdings Corp. (CSN: AYUR) is a small-cap Ontario-based cannabis extraction company that specializes in the processing of cannabis and hemp for the manufacture of oils and derivative products.
More specifically, Ayurcann is a rapidly growing — and profitable — post-harvest solution provider of scalable custom processes and pharma grade products for the adult use and medical cannabis industry on Canada. The services it renders to its partners span the gamut from extraction and refining to custom manufacturing solutions to branding and distribution.
Founded in 2018, Ayurcann has progressed from the successful completions of its first financing round and a Health Canada submission in that year to having the capacity to process 200,000 kilograms (kg) of dry cannabis per year at its 10,000+ square foot facility in Pickering, Ontario. Given its success and ability to reach supply and manufacturing agreements with top-tier customers, Ayurcann is currently expanding its capacity to 300,000 kg annually.
The Investment Thesis 
The investment thesis for Ayurcann is based on the following: 
The company is focused on an "asset light" model that is intended to reduce its financial risk.
Ayurcann has demonstrated excellent cost control resulting in strong operating margins.
The Canadian cannabis market is expected to triple over the next five years as per Statistics Canada and numerous sources.
Ayurcann has already reached manufacturing agreements with more than 20 clients.
Reflecting a $500,000 private placement which closed in April 2021, Ayurcann's cash totaled nearly $1.1 million on March 31, 2021
The Business Model 
Ayurcann's business model is centered around a number of processes within the cannabis value chain. These processes, broken down, enable the company to keep an asset light model while offering a number of services to its peers within the Canadian landscape. Such offerings include:
Extraction & Refinement
Bulk Oil Sales
White Label Manufacturing
Medicinal Cannabis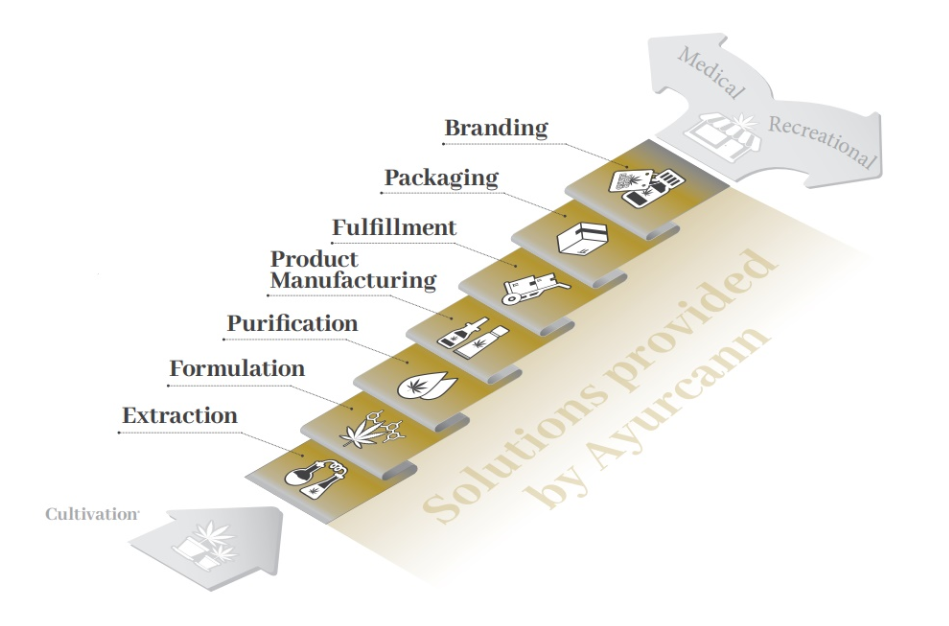 EXTRACTION & REFINEMENT
Ayurcann provides Bulk Extraction (particularly ethanol), Winterization Services and Distillation services to clients. In turn, clients can choose to receive the extracted substance and perform the processing, formulation, packaging, and distribution themselves. Alternatively, Ayurcann can perform these services on their behalf. Ayurcann is currently processing over 1,000 kg of biomass each week, up from about 750 kg per week in the quarter ended December 31, 2020.
As an example, Ayurcann recently reached a partnership agreement with Green Bee Botanicals. Ayurcann will produce Green Bee CBD- and THC-infused cannabis wellness products for the adult use market in Canada beginning this year. Green Bee produces an award-winning line of cannabis topicals, specifically designed for women.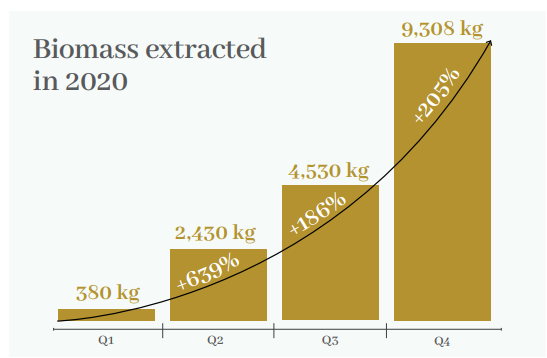 BULK OIL SALES
Ayurcann continuously secures more than 10,000 kg of biomass. It also maintains an inventory of about 300 kg of crude THC and CBD distillate and isolate for use in Cannabis 2.0 and 3.0 products. Maintaining such an extensive inventory allows Ayurcann to support licensed production of edibles, topicals & vapes.
WHITE LABEL MANUFACTURING
As discussed above, the company has successfully formulated, filed, packaged, and branded custom products for its clients. Ayurcann created 32 unique SKUs for its clients in 2020.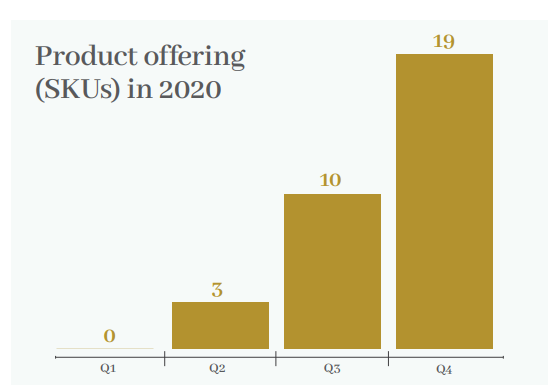 MEDICINAL CANNABIS
Ayurcann helps clients like XPLOR to produce high-quality medical products like tincture, vapes and topicals. Note the below tincture product produced by Ayurcann.
The Financials
Unlike most cannabis companies (or companies in a variety of industries for that matter), Ayurcann operates via an "asset light" strategy, thereby minimizing its financial risks. Its assets and liabilities totaled only $4.6 million and $1.8 million, respectively, as of March 31, 2021.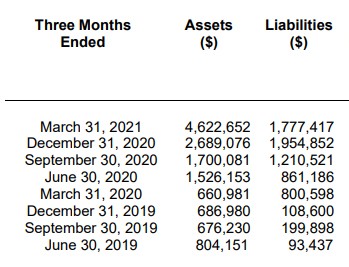 Its capex requirements have been modest (~$400,000 for the nine months ended March 31, 2021) and are expected to remain so for the foreseeable future. This business model, together with low operating costs, translates into significant operating leverage as revenues grow.
The company's revenue and gross margins have soared over the last two reported quarters. Revenue grew, on a quarter-over-quarter basis, 68% and 98% in 3Q FY21 (quarter ended March 31, 2021) and 2Q FY21, respectively. Similarly, gross margins increased sequentially over the same periods by 510% and 68%, respectively. Adjusted EBITDA reached $1.086 million in 3Q FY21.
Due to strong revenue growth and a focus on cost control, Ayurcann's gross margins are robust. In the quarter and nine months ended March 31, 2021, gross margins were around 70% and 47%, respectively.
Reflecting a $500,000 private placement which closed in April 2021, Ayurcann's cash totaled nearly $1.1 million on March 31, 2021. Its debt was about $540,000, including lease debt.
| | | | | |
| --- | --- | --- | --- | --- |
| (in thousands of Canadian dollars, except for shares outstanding) | 3Q FY21 | 2Q FY21 | 1Q FY21 | Nine Months  Ended 3/31/21 |
| Revenue | $2,627 | $1,560 | $788 | $4,975 |
| Quarter-Over-Quarter Growth | 68% | 98% | | |
| Gross Margin | $1,842 | $302 | $180 | $2,324 |
| As a % of Revenue | 70.1% | | | 46.7% |
| Quarter-Over-Quarter Growth | 510% | 68% | | |
| Operating Income | $1,009 | | | $954 |
| Adjusted EBITDA | $1,086 | | | |
| Cash | $1,067 | | | |
| Debt | $540 | | | |
| Shares Outstanding (Millions) | 101.0 | | | |
Fiscal year 2021 ends June 30, 2021.
The Management
Igal Sudman – CEO and Co-founder
Mr. Sudman is a business development specialist who brings over 20 years of experience in a range of industries from real estate development to technology and cannabis. Mr. Sudman understands the objectives and requirements needed to scale companies from seed to exit, having founded and developed businesses which have been featured on the Canadian Profit 50.
Roman Buzaker – President, COO and Co-founder
Mr. Buzaker is a corporate strategist with specialty in management and operational engineering. He has experience in industries such as logistics, digital marketing and business consulting. Mr. Buzaker has managed the expansion and the development of various online and brick and mortar companies from single location operations to multi-locational franchises nationwide.
Jaspreet Bhatia – Quality Control Manager
Mrs. Bhatia is a Quality Control Manager with a Ph.D. degree in chemistry. She has 5+ years of quality control experience. Having an in-depth knowledge of GMP, GLP, Cannabis regulations and quality guidelines, she possesses extensive knowledge and expertise in technical writing, product development and product release. Most recently, she completed a postgraduate diploma in Cannabis Regulations and Quality Assurance.
Raj Virk – Quality & Compliance Manager
Mr. Virk is a quality system expert with over 18 years of experience in the pharmaceutical industry. Mr. Virk is highly skilled and experienced in GMP, GPP, quality investigations, deviation reports, technical writing and quality audits. He holds a Master's Degree in science along with a postgraduate diploma in Pharmaceutical Quality Assurance.
The Risks 
We would advise investors to consider the following risks:
Ayurcann Competes with a Number of Companies with Larger Stock Market Valuations. Several financially stronger companies participate in the extraction and processing sector. If the major players were to aggressively compete on price, Ayurcann's long-term margins could be affected.
The Cannabis Sector Has Experienced Several Bouts of Investor Selling Over the Last Few Years. Ayurcann appears to have solid fundamentals and growth prospects. However, on a few occasions, investors have chosen to sell stocks in the sector regardless of fundamentals.
The Catalysts 
Some potential catalysts that could have a significant impact on Ayurcann's share price include:
Continued Client Adoption of Ayurcann's Services. Ayurcann has gained the trust of many clients for the quality of its services from extraction to branding. Given its tight cost structure, as Ayurcann acquires more clients, much of the incremental revenue falls to the bottom line. This was a key factor in the company's impressive revenue, gross margin and adjusted EBITDA results in the quarter ended March 31, 2021.
Valuation of Ayurcann Stock Normalizes Versus Peers. Similar extraction and processing companies, most notably Valens and Neptune Wellness, trade at 6-20 times the stock market valuation of Ayurcann. This, despite having similar (or lower) annual extraction capacity than Ayurcann. As investors begin to understand the details of Ayurcann's operations, this differential seems likely to narrow.
The Comparables 
Below we list a few comparable companies to Ayurcann.
| | | | |
| --- | --- | --- | --- |
| Company  | Ticker | Market Cap (C$ in millions) | Comments |
| Ayurcann Holdings | CSE: AYUR | $26 | |
| Phyto Extractions Inc. | CSE: XTRX | $39 | Agricultural-scale cannabis extraction, distillation and product manufacturer in Langley, BC. |
| MediPharm Labs Corp. | TSX: LABS | $108 | Specializes in the development and manufacture of purified pharma-quality cannabis concentrates. |
| Neptune Wellness Solutions Inc.   | TSX: NEPT | $169 | A fully integrated health and wellness company focused on plant-based, sustainable and purpose-driven lifestyle brands. |
| The Valens Company Inc. | TSX: VLNS | $498 | Provides proprietary cannabis processing services, as well as product development, manufacturing and commercialization of cannabis consumer goods. |
In Conclusion 
Ayurcann has reported strong results over the last few quarters, particularly 3Q FY2021 (the quarter ended March 31, 2021), yet the market has largely ignored the news. Based on an annualization of its approximate $1.1 million adjusted EBITDA in 3Q FY21, Ayurcann's trades at an EV/EBITDA ratio of just over 5x, a very low figure for a growth company, particularly for a company which has few cash needs and operates its business on an "asset light" regimen.
---
FULL DISCLOSURE: Ayurcann Holdings is a client of Canacom Group, the parent company of The Deep Dive. The company has been compensated to cover Ayurcann Holdings on The Deep Dive, with The Deep Dive having full editorial control. Not a recommendation to buy or sell. Always do additional research and consult a professional before purchasing a security.