Bayer, US Government Behind Thailand's Glyphosate Ban Reversal
It appears that Bayer and the US government may have been undertaking some shady lobbying efforts in Thailand, according to documents obtained by the Tucson, Arizona-based Center for Biological Diversity. Last year, Thailand was poised to officially ban glyphosate, a substance to allegedly cause cancer in humans, which is also a key ingredient in Bayer's controversial weedkiller Roundup. However, mere days before the ban was to officially commence, the government of Thailand suddenly reversed their decision leaving some environmental groups astounded.
According to documents and emails, which were obtained via the U.S. Freedom of Information Act, and although were partially redacted, it suggests that the US government played a strong role in the reversal of Thailand's glyphosate ban. Although a direct link between the US government's lobbying efforts and Thailand's sudden change of course cannot be established, a series of internal emails between United States Trade Representative (USTR) officials point to a particularly strong effort on persuading Thailand's deputy agriculture minister and prime minister.
The documents and emails note that Bayer had sought to identify deputy agriculture minister Mananya Thaiset weaknesses in regards to ban imposition, and how these weaknesses could be used in the chemical company's advantage. USTR officials had discovered that the main reasoning supporting Mananya's push for a glyphosate ban was that she had attended many farmers' funerals during her prior position as a mayor. In an internal email chain, the officials discussed how they could capitalize on Mananya's previous involvements.
One of the officials suggested that once Bayer is aware of Mananya's personal motivations behind the glyphosate ban, the company is in a better position to determine its counter-arguments for reversing the ban. However, Mananya was not the only government official that Bayer and USTR wanted to gain a more thorough mindset of; the documents also pointed to the chemical company's intentions of accessing Thailand's prime minister.
In an email response to USTR, one Bayer official noted that maximum efforts need to directed towards Thailand's prime minister, Prayuth Chan-ocha. As a result, USDA Under Secretary for Trade and Foreign Agricultural Affairs Ted McKinney wrote to Prayuth, urging Thailand to postpone the ban on glyphosate. Indeed, the urgency and dire necessity for ensuring that a ban on the controversial chemical is foregone certainly comes affixed with its own set of intrinsic motivations for the US.
If Thailand was to ban glyphosate, it would mean that any US crop exports that were in contact with the chemical, such as wheat and soybeans, would no longer be allowed to enter the country. According to US data, the current market for crop exporters into Southeast Asia has grown significantly over the past several years, with a valuation of $1 billion in 2019. Losing access to such a large market would have negative implications for the US and its crop producers, that is certainly evident.
Nonetheless, Thailand's glyphosate ban was to take effect in December of 2019, after the government acknowledged the chemical's negative consequences on human health. However, four days before the official imposition, the plans were suddenly dropped, stirring concern among the environmental group community. After the Tucson, Arizona-based Center for Biological Diversity gained access to an assortment of documents and emails and then subsequently shared them with Reuters, more puzzling revelations came to light.
Reuters reached out to several of the parties complicit in the email communications, including the office of the USTR, Mananya Thaiset, as well as Prayuth Chan-ocha, but received no response. However, the prime minister's office did issue a brief response, completely denying any knowledge of Bayer's or the US government's lobbying intentions despite the damning evidence found in the emails.
Although glyphosate has been determined to be allegedly safe by the U.S. Environmental Protection Agency (EPA) and other regulators around the world, it is worthwhile to mention that Bayer has recently agreed to settle almost 100,000 lawsuits in the US for a total of $10.9 billion after denying claims that the chemical causes cancer. Despite Bayer's denial efforts however, several research bodies have found that synthetical chemicals such as glyphosate do pose harmful effects to humans and the environment, but even Canada's regulatory body the Canadian Food Inspection Agency (CFIA) considers glyphosate to pose minimal risks to humans and animals.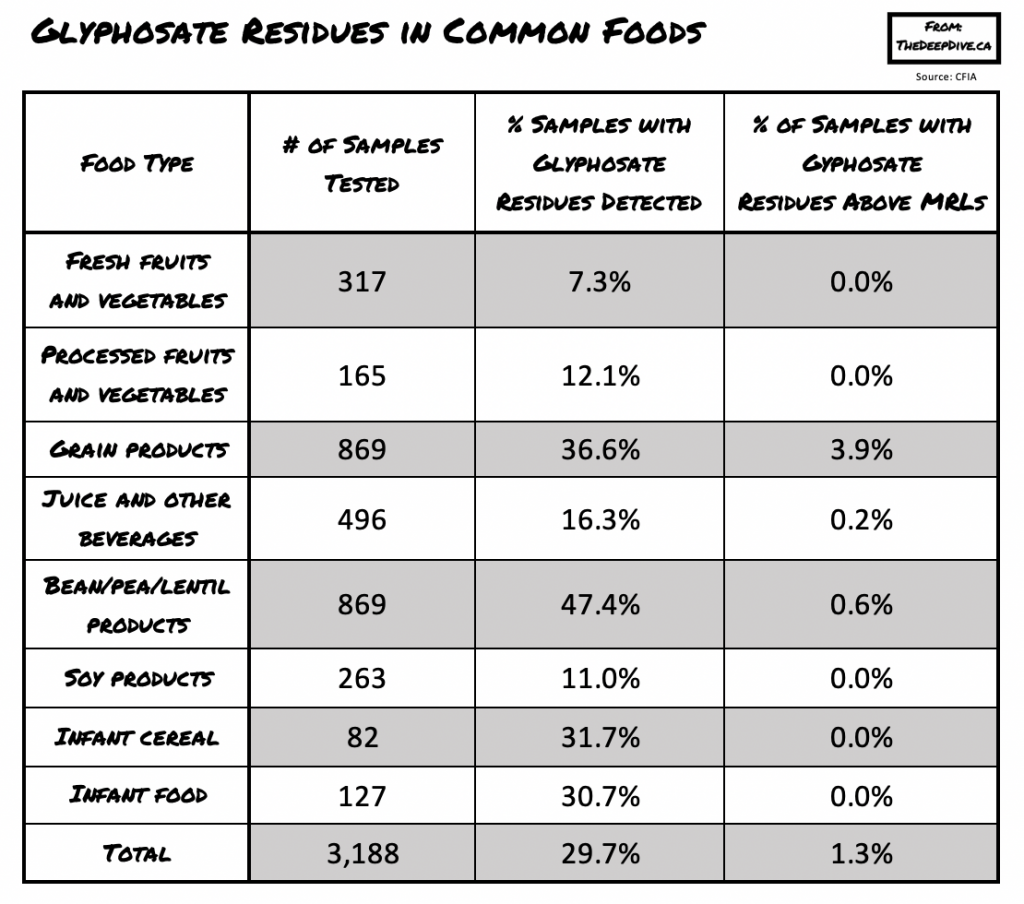 However, a recent research initiative by the CFIA in 2015 and 2016 tested a total of 3,188 random food samples in Canada and found 29.7% of the samples to contain glyphosate, while 1.3% were above maximum residue levels. As a result, an increasing number of Canadian consumers have been opting for foods that do not contain synthetic pesticides or herbicides.
The results have lead recent issues on Canadian stock exchanges to focus on providing more natural options for consumers and growers when it comes to tackling pests and disease. Issuers such as MustGrow Biologics (CSE: MGRO) have begun to focus on providing natural solutions to combat the use of their synthetic counterparts.
In the case of MustGrow, the company has created a proprietary mustard-derived formulation aimed at tackling soil-borne pest and disease in high value crops such as fruits and vegetables. The company, and others like it, are looking to provide natural solutions as synthetic chemicals are coming under increasing scrutiny and facing heavy restrictions and phase outs.
---
Information for this briefing was found via Reuters. The author has no securities or affiliations related to this organization. Not a recommendation to buy or sell. Always do additional research and consult a professional before purchasing a security. The author holds no licenses.
FULL DISCLOSURE: MustGrow Biologics Corp is a client of Canacom Group, the parent company of The Deep Dive. The company has been compensated to cover MustGrow Biologics Corp on The Deep Dive, with The Deep Dive having full editorial control. Not a recommendation to buy or sell. Always do additional research and consult a professional before purchasing a security.