BC Becomes The First Province To Decriminalize Drugs
British Columbia will become the first province in Canada to decriminalize the personal use of heroin, meth, ecstasy, and cocaine as of today.
Minister of Mental Health and Addictions Carolyn Bennett announced back in June that "adults 18 and over in British Columbia will no longer be subject to criminal charges for the possession of up to 2.5 grams of certain illegal drugs for personal use and the drugs will not be confiscated."
"This is not legalization," Bennett stressed. "We have not taken this decision lightly."
The decision, known as the "Section 56, Exemption," will be in force for three years until January 31, 2026. Opioids (such as heroin, morphine, and fentanyl), crack and powder cocaine, methamphetamine (meth), and MDMA (ecstasy) are among the illegal drugs covered by the exemption.
It is critical to note that decriminalization is not the same as legalization. Illegal drugs will not be legalized or sold in stores under this exemption. Regardless of the amount of narcotics in possession, drug trafficking will remain unlawful.
The provincial government thinks that this would lessen the stigma of addiction and encourage those who are addicted to seek help.
"Given our understanding that substance use is a health issue, not a criminal issue," said Jennifer Whiteside, British Columbia's minister of mental health and addictions, "we need to take this further step to address the shame and stigma."
Drug-related deaths and crimes continue to rise in British Columbia. According to the province's Coroner's Service, overdose deaths were 41.7 per 100,000 persons last year, more than five times the rate in 1996. In the United States, overdose deaths were 28.3 per 100,000 in 2020. As part of its response to the public health crisis, the province spends billions of dollars each year on services and facilities for drug users.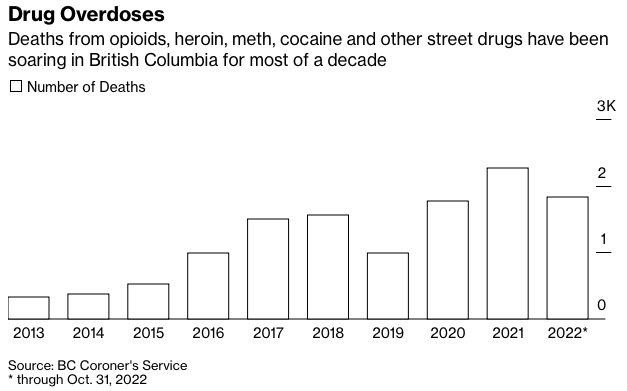 The government's move in decriminalizing drugs in BC follows similar experiments conducted in Portugal and the state of Oregon in the US.
Portugal decriminalized the personal possession of all narcotics in 2001 as part of a broader governmental shift toward a health-led strategy. Possession is now considered an administrative crime, not a criminal offense punishable by imprisonment.
Since Portugal stopped criminalizing drugs, the number of people imprisoned for drug offenses has dropped from over 40% to 15.7% in 2019. The majority of this drop occurred over the first decade after decriminalization.
The European country also recorded a significant drop in new HIV diagnoses attributed to injecting drug use.
The Health Minister of Portugal estimated that by 2021, just about 25,000 Portuguese will be using heroin, down from 100,000 when the policy was implemented in 2001.
Meanwhile, Oregon started as the state with the second-highest rate of substance abuse in the US. In November 2020, the state passed Measure 110, making it the first state in the country to legalize drugs like cocaine, heroin, LSD, and methamphetamine. The penalty was lowered to a civil citation and a $100 fee, which might be waived with a health screening from a recovery hotline.
The state wasn't able to measure the results of the initiative with sufficient data after the implementation of Measure 110, although the Oregon Health Authority reports that just 0.85% of 16,000 persons who requested services in the first year of decriminalization entered treatment.
Dr. Andy Seaman of Oregon Health & Science University contended that criminalizing people costs them housing and work, making recovery much less likely.
In Canada, Toronto has made a similar request to Ottawa, requesting an exception from Section 51. Unlike BC, however, Toronto has not specified a threshold and has asked for all medications to be exempt.
Ahead of the Section 56 exemption announcement, the BC Liberals claimed in a press release this week that there is "increased concern" from experts that youths can buy narcotics from "government-sanctioned vending machines" on the streets.
"Harm reduction is an important pillar of preventing drug related deaths as we work to address the overdose crisis, but it's critical that David Eby's NDP government ensures publicly supplied addictive drugs do not lead to unintended consequences and inadvertently cause harm and right now that's not happening," said Mental Health, Addictions and Recovery Shadow Minister Elenore Sturko. "It's incredibly troubling to learn from people working on the frontlines of this crisis that drugs accessed through government-sanctioned vending machines are being diverted for sale to youth instead on the street – this is every parent's worst nightmare."
The Liberals point to MySafe hydromorphone tablet vending machines which, while they're "meant to provide people with addiction access to a safer drug alternative," the politicians said "experts in the recovery field are raising new concerns that youth are now getting their hands on the product coming out of the machines."
"Just days before B.C. is set to decriminalize the possession of small quantities of drugs, it's imperative measures the government has in place to ensure the safer supply of addictive drugs has no gaps for these still harmful substances to fall into the wrong hands, especially when it comes to youth," Sturko added.
However, MySafeSociety, the company that operates three secure dispensing storage machines in Vancouver, points out that the safe supply scheme is only available to a limited number of members who have been pre-screened to receive prescription pharmaceuticals via a biometric scan.
"Participants consent to having their prescriptions accessed through this secure dispensing storage machine, equivalent to an individualized storage locker. Selected participants will undergo a full medical and social assessment which includes current drug use patterns and their risk of overdose," said MySafe in a statement.
According to a spokesperson, British Columbia has invested $1 billion since 2017 to improve current drug treatment facilities, such as adding hundreds more overdose prevention sites. Every year, the region spends $2.8 billion on mental health and substance-use treatment, as well as other services.
"Decriminalization is one tool in a much bigger toolbox that we need to bring to bear on a terrible and devastating problem in an unprecedented toxic drug crisis," said Whiteside.
---
Information for this briefing was found via Bloomberg and the sources mentioned. The author has no securities or affiliations related to this organization. Not a recommendation to buy or sell. Always do additional research and consult a professional before purchasing a security. The author holds no licenses.