Biden Expected To Announce Plans Of Cancelling US$10,000 Of Federal Student Loan Debt Ahead Of The Midterm Elections
US President Joe Biden is set to make good on one of his campaign promises. The White House is reportedly announcing on Wednesday the plan to reduce by US$10,000 the federal student loan debts of those with family income of US$125,000 or less.
According to people familiar with the matter, the president is expected to disclose the decision on student loan debt reduction after weighing options on tackling the issue. Among the other considerations that were floated include extending the pause of loan payments that started during the pandemic and expanding relief for those who will meet certain criteria.
"I am considering dealing with some [student loan] debt reduction. I am not considering a US$50,000 debt reduction. But I'm in the process of taking a hard look at whether or not… there will be additional debt forgiveness and I'll have an answer on that in the next couple of weeks," Biden said to reporters in a briefing last April.
The numbers
A Liberty Street Economics study calculated that cancelling US$10,000 of debt per borrower could cost the government around US$321 billion. This also eliminates the debt for roughly 12 million people.
The cost would be on top of the already approximately US$32 billion canceled student loan debt for 1.6 million borrowers from widening the requirements of student relief programs.
Based on the latest data, the country has US$1.75 trillion in total student loan debt from around 48 million borrowers. Federal debt–which accounts for 92.7%–is estimated at around US$1.62 trillion.
But the growth of student loans might not be due to more enrollees. Although the 5-year annual average student loan debt growth rate is 3.79%, the number of borrowers has roughly plateaued in the last five years.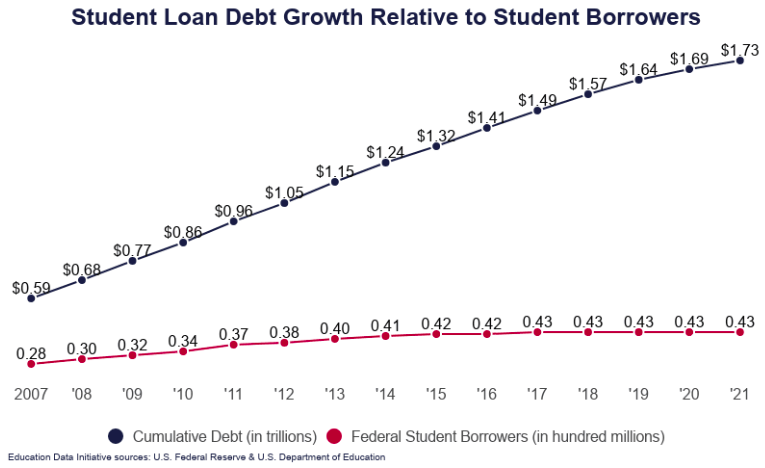 The student loan debt is endemic to the US education system. It is estimated that 55% of students from public four-year institutions have student loans, while 57% of those who went to private schools took loans.
In addition, while a majority of the debtors are fresh graduates and young professionals, around 31% of student loan debt holders that still haven't fully paid their loans are 40 years old and above.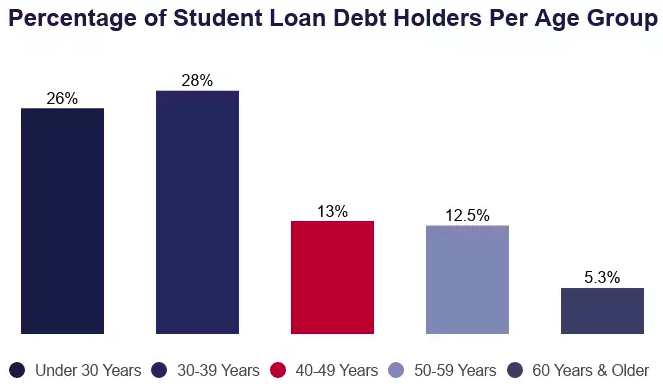 Around 96% of the borrowers with outstanding debt are paying for their own student loan while 88% are paying for a child or grandchild's education. It is worth noting that only 7.8% of all student loan debt is in default.
The economy
The analysis by Goldman Sachs economist Alec Phillips paints a bleak effect of the student debt loan cancellation plan on the country's topline economic metrics. Forgiving US$10,000 debt per borrower would cost the US about 1.2% of its GDP and boost spending by around 0.1%.
Looking into student loan debt distribution by income bracket, around 18% of the borrowers have income levels between US$40,000 – US$99,999 while 7% belong to US$100,000 and above. However, they hold 69% of the total student debt combined.
While there are more low-income earners who would benefit from the debt reduction, spending isn't expected to be as robust. The middle to high-income earners might spend off of the canceled debt but their population size might not move the spending rate needle that much, as well.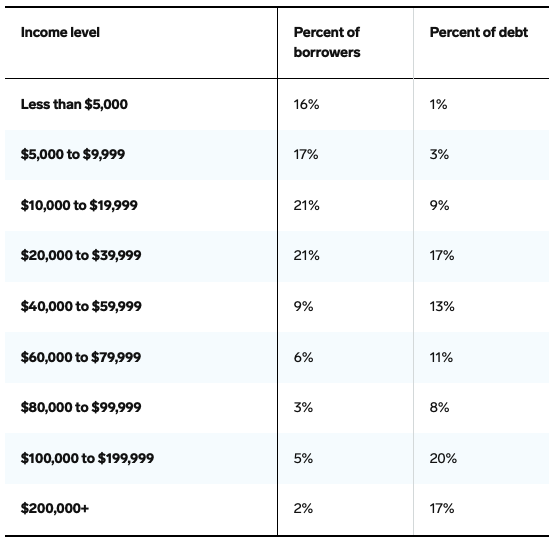 Nevertheless, the increase in spending is stoking fears amid record-high inflation. A survey done by CNBC showed that "59% of Americans are concerned that student loan forgiveness will make inflation worse."
A counterargument to inflation fears is that the debt cancellation wouldn't move the needle that much given that there is already a current pause in student loan debt repayments that started during the pandemic.
The feedback
The tricky policy is getting criticisms from both sides of the aisle. Some Democrats and supporters of the debt reduction initiative are pushing for larger cancellation or forgiving the entire loan.
Meanwhile, some critics–mostly Republicans–are taking the move as the government's expensive maneuver to gain votes in the upcoming midterm elections. Around 55% of Americans support debt reduction of up to US$10,000 per borrower in federal student loans; however, it skews to the left: 78% of the liberals support loan forgiveness initiatives while only 39% of the conservatives do.
---
Information for this briefing was found via Education Data Initiative, Bloomberg, Business Insider, USA Today, CNBC, and Zero Hedge. The author has no securities or affiliations related to this organization. Not a recommendation to buy or sell. Always do additional research and consult a professional before purchasing a security. The author holds no licenses.