Bitcoin Developments Prove Problematic For Miner Profitability
Several recent linked developments in the Bitcoin mining industry are making a difficult operating environment even more challenging. The troubles first began on October 17, when Bitcoin network difficulty levels reached an all-time high, up around 40% since early June.
Bitcoin mining is performed by a collection of many computers on the Bitcoin network where these powerful Bitcoin mining tools solve extremely complex math problems. The answer to such a problem is a long string of numbers, called a hash or proof of work. The Bitcoin network adjusts the difficulty of the mathematical problem so that a valid hash is generated – thereby enabling a block to be added to the blockchain – about every ten minutes. 
Generally, the greater the participation of miners in the network, the greater the network difficulty level. The only way for a Bitcoin miner to counteract this higher difficulty level is to add more computing power, which entails increased expenditures on computer equipment and, in turn, increased required electricity consumption.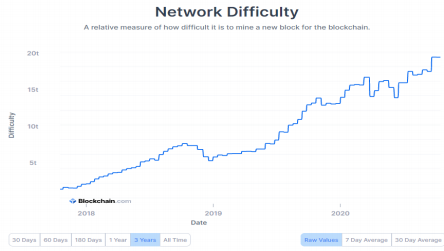 Second, there are so many computers operating (mining) on the Bitcoin blockchain that the number of correct hashes created, the hash rate, is likewise at an all-time high. The presence of so many participants working to solve problems with the highest ever-recorded difficulty level to capture Bitcoin rewards, which were cut in half about five months ago (referred to as the May 2020 Bitcoin halving event) has made operating profitably after paying electricity costs a challenging task. 
For example, even the newest-generation mining computer, a Bitmain Antminer S19 Pro, can be expected to generate an annual gross margin of around US1,460 assuming fairly low electricity costs of around $0.06 per kilowatt-hour (Kwh). This state-of-the-art computer costs around US$3,000 to purchase, so it only generates only about breakeven annual gross margin before considering all other costs (real estate taxes, salaries, etc.) prior to the end of its two year projected life. Other slower computers would generate losses comparatively.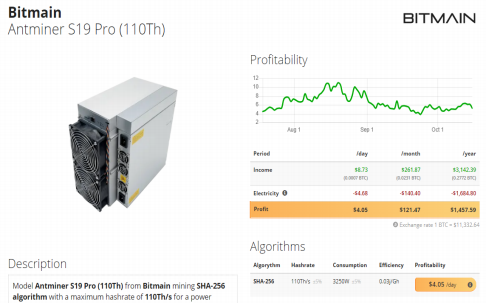 Third, in October 2020, the private Bitcoin miner Marathon Patent Group announced that it plans to build a specialized Bitcoin mining center in Montana. Marathon chose this location because it negotiated a low-cost power purchase agreement with Beowulf Energy, a private independent power producer. Under the accord, Beowulf will supply Marathon electricity at US$0.028 per Kwh from its 119-megawatt Hardin coal-fired power plant. The catch: Beowulf will also receive an undisclosed equity stake in Marathon. 
The transaction illustrates a Bitcoin miner's need to secure a reliable and cheap source of electricity in order to remain competitive, but also that the cost to secure that power can be significant. In this case, Marathon had to surrender a portion of the ownership stake. We also note that several energy companies are now participating in the Bitcoin mining industry. These new participants, in many cases well-capitalized participants with the ability to be patient and absorb subpar returns for some period, could potentially squeeze the margins of legacy Bitcoin miners. 
The Bitcoin miner Hut 8 Mining Corp. (TSX: HUT) last traded at $1.13 on the TSX Exchange. Bitfarms Ltd. (TSXV: BITF) last traded at $0.38 on the TSX Venture Exchange, and HIVE Blockchain Technologies Ltd. (TSXV: HIVE) last traded on the TSX Venture Exchange at $0.47.
---
Information for this briefing was found via Sedar, and Blockchain.com. The author has no securities or affiliations related to this organization. Not a recommendation to buy or sell. Always do additional research and consult a professional before purchasing a security. The author holds no licenses.