Canada: The Country of Renters
Canada, the nation typically heralded for the relative ease it takes to climb the social ladder, is now becoming a nation of renters as affordability issues, surging real estate prices, and shifting demographics prompt many to reconsider homeownership.
According to a report by RBC economists Robert Hogue and Rachel Battaglia, there were nearly 5 million households renting their dwelling in 2021, compared to only 4.1 million only ten years earlier. Although Census data shows that two-thirds of Canadians were homeowners last year, the number of renters has risen three-fold compared to the rate of homebuyers in the past decade.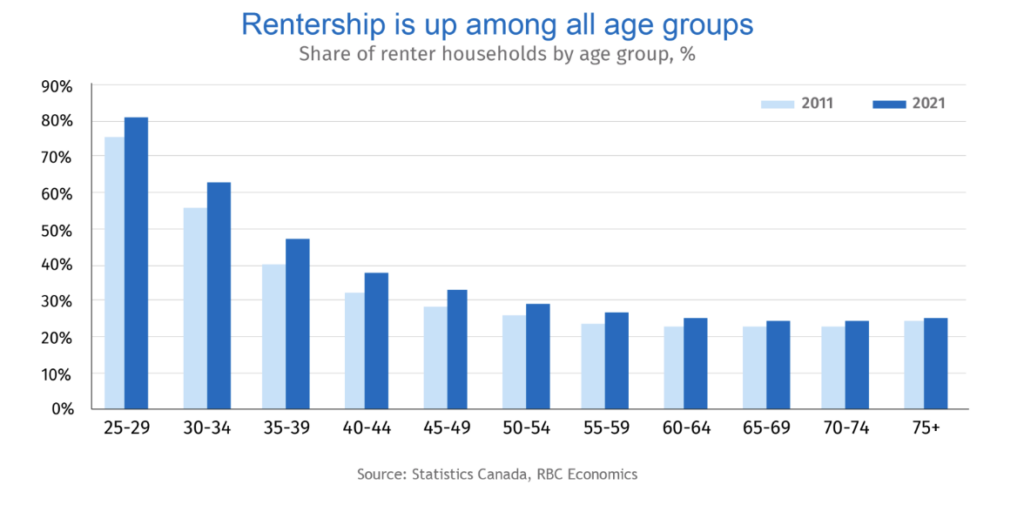 Renting once served as a brief transition period between aligning one's finances and future family prospects with eventually purchasing a home. However, Hogue and Battaglia found that a growing generation of young Canadians are taking significantly longer to transition into the homeownership stage, with some foregoing the step entirely. In fact, millennials are currently renting their dwelling anywhere between three to five times longer than the baby boomer generation.
Growing affordability problems are preventing an increasing number of millennials from reaching the epitome of homeownership, even amid numerous government programs designed to ease financial hurdles plaguing first-time house buyers. Canada's homeownership rate has been gradually trending lower, standing at 66% in 2021, inching even closer to the OECD average of 64%.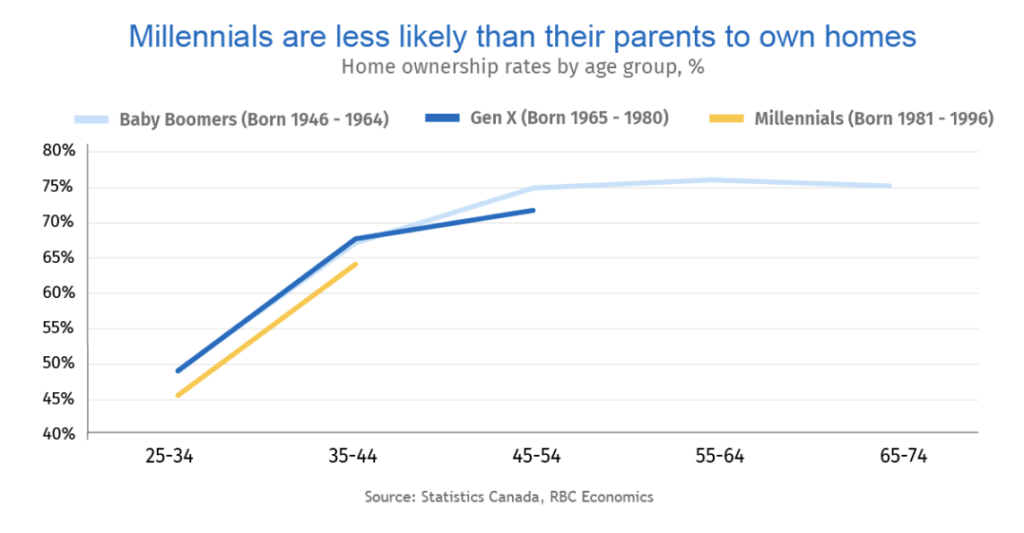 But, the issue isn't just concentrated among young Canadians. The report highlighted that renting among baby boomers, too, is becoming a widespread phenomenon. "Between 2011 and 2021, baby boomers (born 1946 to 1964, and the largest generation of Canadians) surpassed millennials (born 1981 to 1996) as the fastest growing group of renters (+4%)," the economists pointed out. Moreover, the rising share of renters isn't just focused in urban regions, but also across smaller municipalities as well.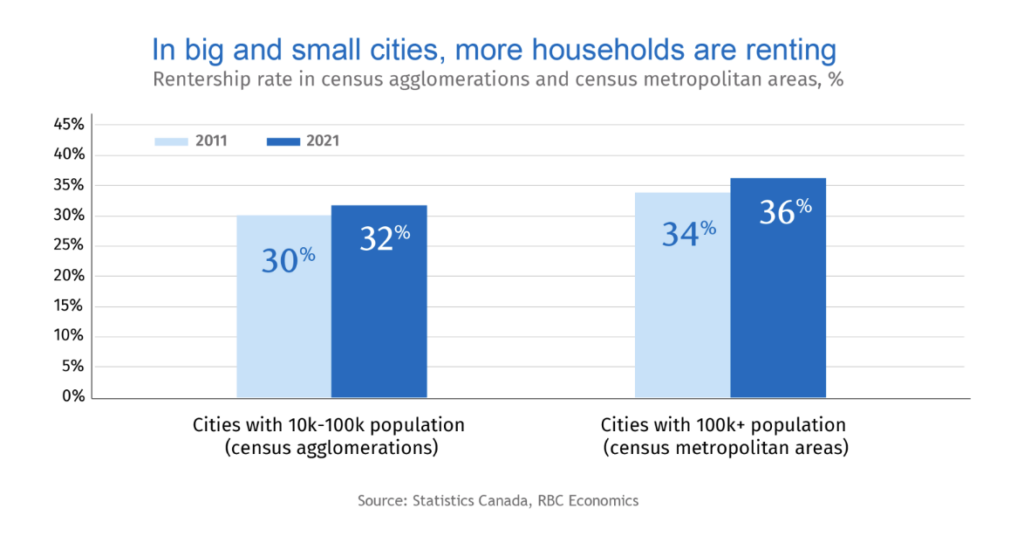 Changing demographic trends and also contributing to the surge in renting. With most of Canada's newcomers renting their residence for the first five to ten years of arriving in the country, coupled with the government's rising immigration targets, the demand for rental units is rapidly expanding. "Of the one million recent immigrants living in private dwellings, 56% were living in rented accommodation in 2018. That's nearly two-times the national average, leaving immigrants to represent a disproportionately high share of rental households in Canada," the researchers wrote.
Simultaneously, given that the expensive price tag of homeownership now requires two incomes to make ends meet, some Canadians are choosing to live alone and rent instead. In 2021, individuals living alone accounted for almost 30% of all households surveyed in the Census. "We expect these demographic and behavioural trends to continue fueling demand for rental housing in the years ahead," Hogue and Battaglia wrote. "We'll need to build more rental units. A lot more. And they'll have to be the right kinds of units to meet the population's increasingly diverse needs and income levels."
Information for this briefing was found via RBC. The author has no securities or affiliations related to this organization. Not a recommendation to buy or sell. Always do additional research and consult a professional before purchasing a security. The author holds no licenses.