Capital Flows To East From US, Swiss Markets Following Bank Runs
The recent bank failures of Credit Suisse and Silicon Valley Bank may have resulted in a capital migration to Hong Kong as Chinese investors seek a safe haven in domestic capital markets.
According to state-owned media, Chinese people have withdrawn $76 billion in assets from the United States, as well as $165 billion in assets from Switzerland, with the majority of these funds flowing east to the Asian financial centers of Singapore and Hong Kong.
The intensity of capital movements has pushed Hong Kong banks to postpone staff vacations, with HSBC offices stepping up operations to operate seven days a week, according to sources.
According to one Hong Kong bank source, it has "returned to a peak period" as a result of the increased number of people traveling to Hong Kong to create accounts and deposit funds as a result of the SVB and Credit Suisse crises. To satisfy the increased demand for services, three HSBC branches are testing special Saturday and Sunday hours.
Maybe, outflows only come from US?
Sight deposits at the Swiss National Bank, however, reveal that deposits have increased in the past week.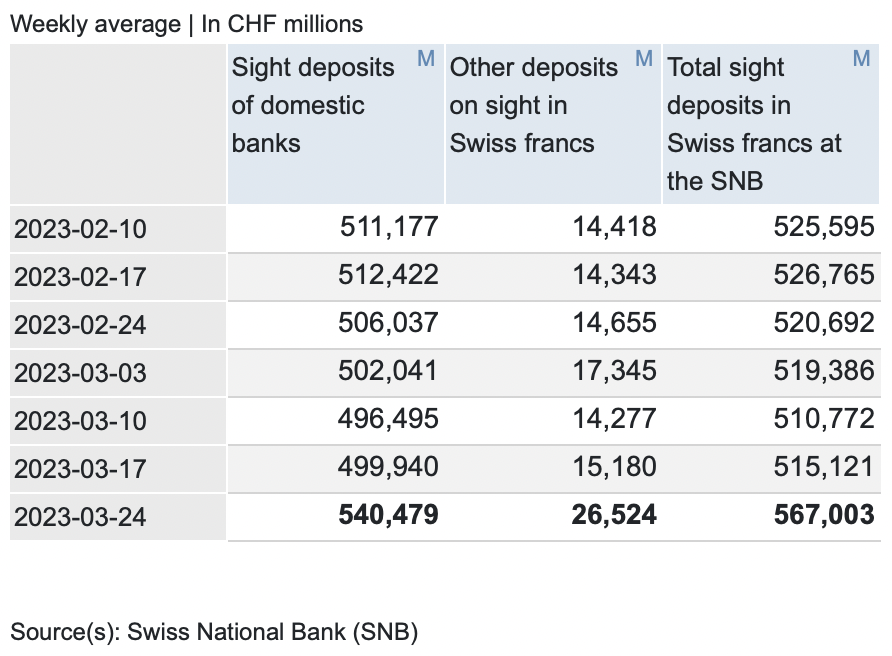 Rival UBS agreed to buy Credit Suisse for 3 billion Swiss francs ($3.2 billion) last Sunday, with Swiss authorities playing a significant role in the deal as nations sought to halt global banking system contagion.
Analysts at JPMorgan Chase & Co believe that the "most vulnerable" US banks have lost approximately $1 trillion in deposits since last year, with half of the outflows coming in March following the failure of Silicon Valley Bank.
"The uncertainty generated by deposit movements could cause banks to become more cautious on lending," they wrote. "This risk is heightened by the fact that mid- and small-size banks play a disproportionably large role in U.S. bank lending."
Customers' rapid withdrawals from the two banks raised fears of a bank run spreading to other institutions, pushing US regulators to backup their accounts. Customers were also alarmed as a result of the failures, and they rushed to move their money to larger banks, which were regarded to be safer and to hold a larger share of insured deposits.
According to JPMorgan analysts, almost $7 trillion in deposits are not guaranteed by the Federal Deposit Insurance Corp out of the $17 trillion of total US bank deposits.
"Fed rate hikes have been inducing a deposit shift via another channel: via creating losses in banks' bond portfolios which in turn made depositors less comfortable with keeping uninsured deposits in banks with large unrealized losses on their bond holdings," the analysts wrote.
Analysts believe that a government guarantee on deposits could assist to curb the exodus from small and regional lenders.
However, that option became less likely following US Treasury Secretary Janet Yellen stating on Wednesday that such a proposal, which would require legislative approval, was not being considered. She stated that bank risks were being evaluated on a case-by-case basis.
According to the analysts, half of the $1 trillion in deposits withdrawn from the most vulnerable US institutions went to government money market funds, while the other half went to larger US banks.
The failure of Silicon Valley Bank and the emergency bailout of Credit Suisse last weekend shook investors and heightened concerns about the banking industry's overall viability at a time of rising interest rates and increasing inflation.
The contagion is feared to be spreading across the banking industry. Deutsche Bank shares have tumbled recently after default swaps on the bank's euro senior debt increased to the highest level since they were introduced in 2019, when Germany revised its debt structure to include senior preference notes.
---
Information for this briefing was found via Reuters, China Banking News, and the sources mentioned. The author has no securities or affiliations related to this organization. Not a recommendation to buy or sell. Always do additional research and consult a professional before purchasing a security. The author holds no licenses.